Shinola's Detroit Image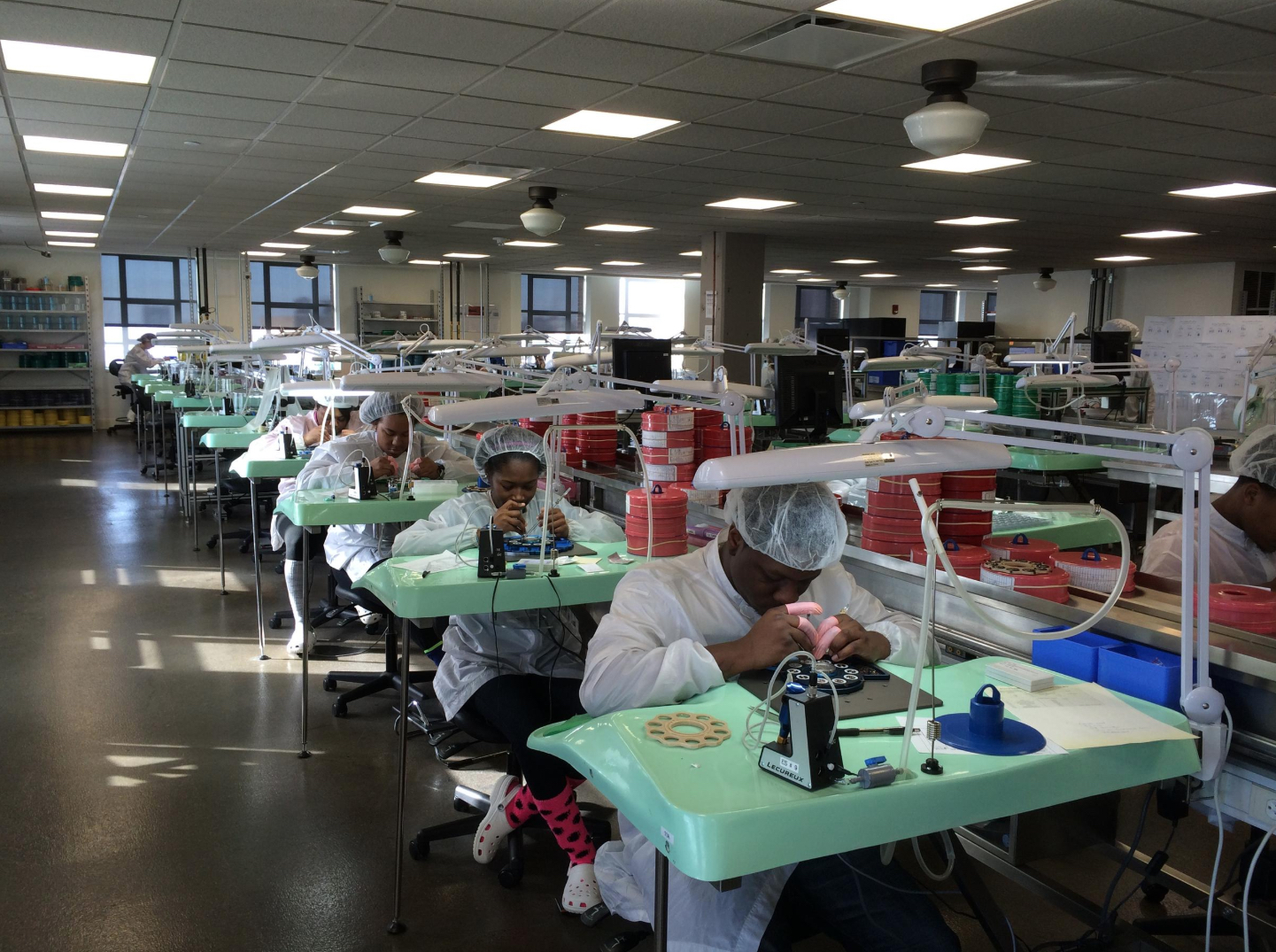 Workers assemble watches at Shinola's headquarters | Photo by Adam Allington for Marketplace
Shinola is saving Detroit—at least that's what "Green Book" director Peter Farrelly thinks. During the Oscar award speech for Best Picture at this year's Academic Awards, Farrelly thanked a slew of supporters before moving on to Shinola: "and Shinola watches – unbelievable, they're saving Detroit!"
Instantly, Shinola was hit with massive amounts of criticism from several native Detroiters, including a tweet from Rep. Rashida Tlaib stating that "we just need the 1% to stop taking our land for nothing + shifting our tax dollars towards for-profit development that makes them richer." In response, Shinola put out a press release stating that "without the city of Detroit, there would be no Shinola."
This is not the first time Shinola has been hit with criticism. The brand has previously been criticized as gentrifying and inauthentic. The idea of a 'foreign' company moving in and claiming Detroit as its own feels disingenuous at best. One outspoken critic of Shinola, Jon Moy, wrote in Complex Magazine: "Shinola is using my city as its shill, pushing a manufactured, outdated and unrealistic ideal of America," condemning Shinola's ad campaign, "A snapshot of life in the Motor City," in which an idyllic version of Detroit is posited, with residents riding around on Shinola bicycles.
"This idea that people would be surprised by how human and artistic and talented Detroit's citizens are if they just came and visited is ludicrous and emblematic of a new type of gentrification," Moy writes.
Shinola's branding seems to be intrinsically tied around how "Detroit" it is.
"The Detroit piece just struck a chord. Here was the idea of Detroit as the underdog," Shinola's former Marketing Director Bridget Russo told the Washington Post, adding that people would want to buy from Shinola because "they do good in the world."
There is no doubt that Shinola has created a brand based off the city. From marketing videos depicting an idealized Detroit to "The Journal," an "editorial hub" on their website "dedicated to the spirit of Shinola," often showcasing places and people in Detroit, Shinola markets itself as being distinctly Detroit. Even former U.S. president Barack Obama can be spotted sporting a Shinola watch, and Bill Clinton has been quoted as saying that we "need more American success stories like Shinola in Detroit."
Shinola's beginning, however, is decidedly not very Detroit. Texas native Tom Kartsotis—also the founder of Fossil, Inc.—founded Shinola in 2011. The rights for the name "Shinola" was purchased from an old New York-based shoe polish company that went out of business in 1960. In 2012, Shinola set up their watch and leather factory on the fifth floor of Detroit's Argonaut Building, previously used by General Motors as a research facility and eventually donated to the College for Creative Studies in 2007.
Earlier this year, Shinola opened up a hotel in Downtown, bringing with it a slew of food and drink venues operated by New York-based Noho Hospitality, including the hotel's restaurant San Morello and the nearby beer hall, The Brakeman. In addition, Shinola owns the alleyway behind the hotel named Parker's Alley, for which they have brought in a mix of both national and Detroit-owned businesses.
In addition to the watch factory and hotel, Shinola operates two retail locations in Detroit—one on Canfield Street in Midtown and the other adjacent to the Shinola Hotel on Woodward Ave. Shinola also partnered with Midtown Detroit, Inc. to open a dog park on Cass Avenue and West Canfield Street.
While Shinola's watches and bicycles are assembled in Detroit, most of the parts are primarily sourced from out of the country. In 2016, the Federal Trade Commission ordered Shinola to stop using the slogan, "Where American is Made."
Shinola's focus on hiring Detroit-based employees, though, is hard to deny.
"I did not want to build another watch company," Kartsotis told the New York Times in 2016, "This company really started as a job creation vehicle."
One Shinola employee, Krystal Bibb, told Inc. that she was first hired in as a part-time janitor at the factory, eventually working her way up to a quality supervisor. "I never thought I'd be doing anything other than cleaning sinks," she says. "I never thought I'd be a supervisor anywhere."
Another employee, Willie Holley, went from being a security guard to a being a line supervisor at the Shinola factory, earning over the starting pay of $11 an hour, and was offered health benefits and paid holidays.
"Shinola is helping shape the way the city is trying to grow," he told the Washington Post, "I realize how important it was for something to be made here that had value."
Share it now!