Ladling Out Lessons One Dish at a Time
Gallery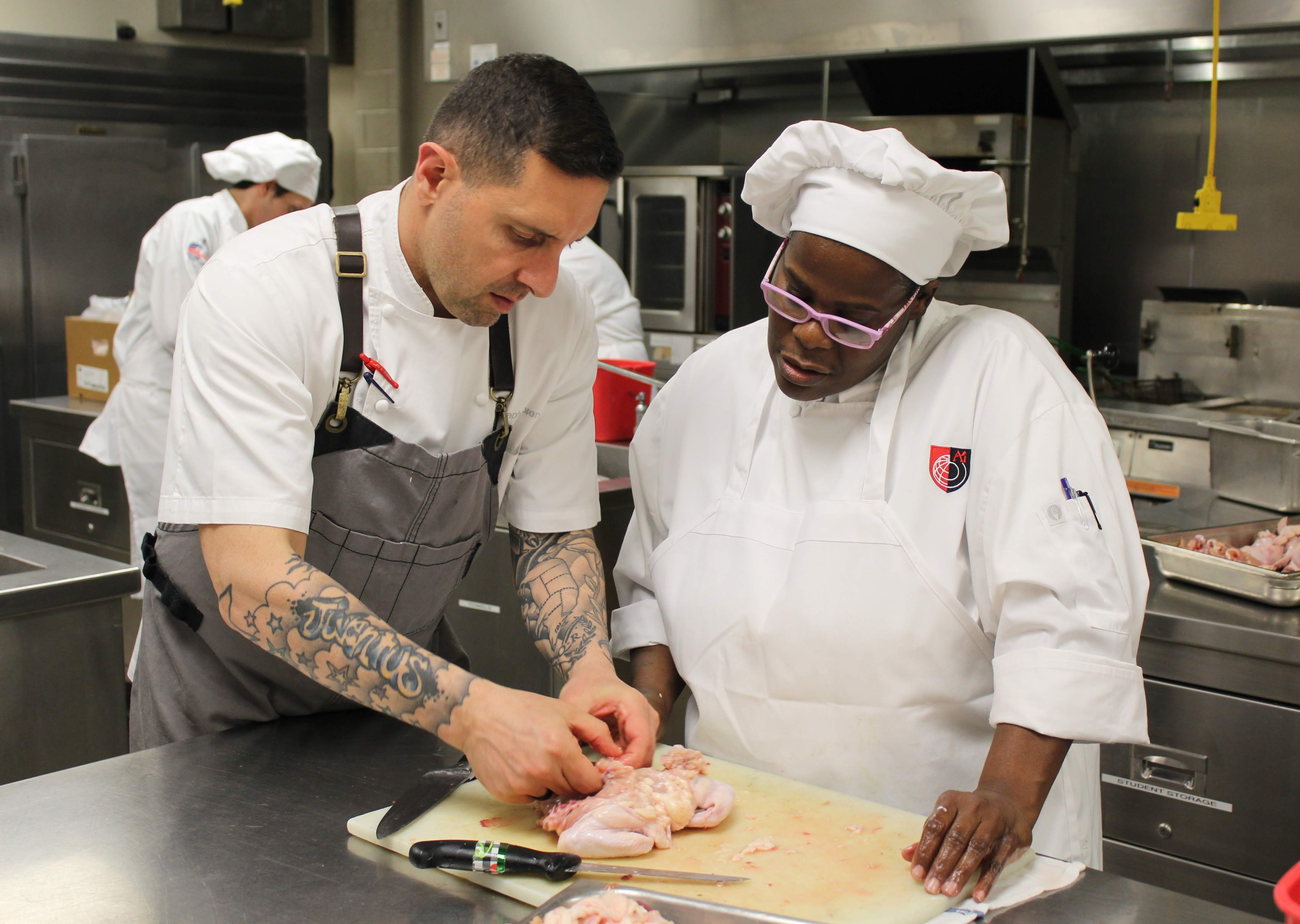 Chef Cosenza in a teachable moment with Priscilla Holmes | Photo by Justin Randles
Henry Ford College's Fifty-One O One is a student-run fine dining restaurant on campus. With every flip of the spatula, every stir with a spoon, every seasoning, and every sizzling frying pan is a lesson. A delicious lesson.
The Fifty-One O One is located on HFC's main campus in the Culinary and Student Arts Center, 5101 Evergreen Road, hence the name. For those in the know it is simply building M. It is located near the campus radio station, cafeteria, and short order eatery.
HFC's culinary arts program offers an accelerated degree program designed to save students time and money and tailored for those with an undergraduate degree or high school students with a vocational education program with an HFC articulation agreement. Culinary arts is HFC's first four-year degree program, allowing HFC to award students who complete the program with a bachelor's degree with earned accreditation from the American Culinary Federation (ACF).
Over the years, HFC's culinary arts program has sent chefs to high-end fine dining restaurants all over Michigan like M. Cantina, Grey Ghost, Selden Standard and Oakwood Common. Students have been featured on WDIV Local 4 in preparation for their involvement with the Girl Scout Cookie Gala in 2018.
To say that this program is garnering attention as a true fine-dining experience would not be an understatement.
Enter French-trained Chef Joseph Cosenza, HFC's culinary arts program new head chef.
Chef Cosenza obtained his education at Le Cordon Bleu in Chicago, a bachelor's degree from Wynonna State University in Minnesota, and a master's degree from Johnson & Wales.
Cosenza said, "I spent a lot of time in Chicago. I worked for a couple of big chefs and the focus was always on seasonality and local food and the best ingredients and then technique. Working for one gentleman, his name is Bruce Sherman, and he is responsible for starting one of the largest farmers markets in Chicago and in doing that it also helped drive his ability to get more products from more farms into the restaurant for us to use."
Cosenza says of his journey to become HFC's head chef, "I've worked for Michael Mina. We opened two restaurants inside MGM Grand Detroit back in '07 called Saltwater and Bourbon Steak and that was a lot of fun. We were a little bit before our time. 2009 rolled around and there was a huge recession. I thought we were insulated from it being in the casino, but we were still slow, and we still felt the pain of that. In working for Chef Mina we got to see a lot of high end fine dining food and what four star and five star dining was all about and that really drove my passion for making sure that things were perfect and striving for excellence and striving for production and setting those same standards here."
Bruce Sherman and Michael Mina are both celebrity chefs with multiple nominations and awards from "Food & Wine" and the James Beard Foundation.
Part of Chef Cosenza becoming the new head chef at Henry Ford College's Fifty-One O One was bringing in his own food philosophy to the dining table.
"The way I approach it [food philosophy] is simple: I find the best ingredients available; do the least amount of work to them that you can; let the ingredients speak for themselves; then take influences from around the world and the influences and the cuisines that I've worked through and apply those techniques to Midwest ingredients," Cosenza says, "We get things like amazing ramen and they may not be authentic and traditional but it's authentic to me because I'm using Midwest pigs and Midwest cows and Midwest chickens and leeks and all the stuff is raised here and it's grown here. It'll never be completely authentic because we're not in Tokyo, right? But it can be authentic to Michigan."
After bringing his philosophy into the culinary arts program the logical next step was to structure the restaurant and teaching in accordance with his fresh food philosophy.
Fifty-One O One and the culinary arts program focused primarily on regional cuisine. Until Cosenza announced a quick maneuver in a different direction.
"We're not doing it [regional cuisine] anymore. Let's focus on ingredients," Cosenza says, "Let's focus on seasonality and local food."
Some of the more frequent guests were used to the traditional way of doing things. Cosenza says it is change for the better.
"We changed to mimic what's going on in the industry, so that our students, when they go out, they're better prepared. Nobody's making chicken cordon bleu anymore unless you're making it at home," Cosenza says of the current culinary arts landscape, "So, why teach them how to make chicken cordon blue when they can learn to work with things like radishes and turnips and watermelon radishes and work with those ingredients and learn how to either braise them or grill them or do something with them that is outside of just slicing them super thin and throwing them on a salad."
"Because that's what everybody thinks a radish should do. We had one dish where we braised them in white balsamic vinegar and butter and they were super tender but they were yet still kind of crunchy and we cooked them with a house-made bacon and people just went crazy for it and it was this awesome dish and people love this dish." It was so well received that Cosenza wanted to keep them on the menu for the entire year, but radishes eventually go out of season and then they wouldn't be the same locally sourced and fresh root vegetable anymore and that goes directly against Cosenza's philosophy.
When something like radishes are no longer in season and a fan favorite dish is taken off the menu, Cosenza doesn't worry because when one thing goes, it creates an opportunity for something new and exciting to take its place. Something that is in season and stands true to Fifty-One O One's philosophy.
"Not only are we educating the students about how the seasons change and what ingredients are available, we're teaching our guests that too," Cosenza says, "Because now they're starting to see that maybe tomatoes that are sitting at Meijer's right now aren't the best and I shouldn't eat them."
With the change in philosophy comes a change in teaching practices. In the past the program would teach through eleven different regional menus. They would open shortly after the semester begins and stay open through 11 weeks. With each new week came a new international menu.
The menu would go through southern Italian cuisine to French to modern French to northern Italian, German, the Caribbean, the deep south and then the cuisine of the Pacific Northwest.
"[Doing this] was cool because the students got to see all this food from different regions and what they realized was the cooking techniques are the same," Cosenza says, "The flavor profiles may change but the cooking technique is the same."
Though this had its educational benefits, Cosenza says that is not the way the industry works any more. The proper way to cook and the approach to cooking is locally sourced ingredients that are in season.
"Now I get products that are picked exactly at their peak ripeness. They come to me and I must do less to them in order to put them on a plate. They go out to the guests. The guest has this amazing experience," Cosenza says, "In the classroom we would talk about it but then in like November we'd be serving things like asparagus and in December and January we'd be serving tomatoes and I was pulling my hair out and I'm like we can't do this anymore. So, a year ago we decided that we have to change the way we approach food in a restaurant."
Locally sourced ingredients mean a couple of things. The first, working with Grow Eastern Market (GEM), Cherry Capital Foods, and the Kalamazoo Valley Food Hub, Cosenza can access every farm in Michigan and Ohio and some in Indiana. Acquiring ingredients from local small farmers lends to fresher and healthier produce. The second way locally sourced produce comes to the restaurant is through the pastry chef, a master gardener that grows vegetables for direct use at Fifty-One O One.
With a change in philosophy comes a change in teaching style. Cosenza achieves that by teaching to the menu and planning learning objectives to the menu.
"We're so good at mapping menus to learning objectives so there are certain things in each class that a student has to learn how to do," Cosenza says, "Can they cut vegetables correctly? Can they sauté correctly? Can they grill correctly? Can they braise correctly? Can they correctly identify ingredients? So, when we're writing the menu we have to say, okay, when the student cooks this dish, they're learning how to do these four different learning objectives. That maps right back to our syllabus which maps right back to the ACF."
During the Fall and Winter semesters Fifty-One O One operates in the farm to table philosophy and has a menu that is split into two parts: the first part is full of salads and other first course menu items and the second is traditional entrée style cuisine. This portion will feature seafood, pastas, steaks, chicken dishes, and many more. The fall and winter semesters will have different hours of operation. Fifty-One O One is open 11:30 a.m. to 1:00 p.m. Tuesday, Wednesday and Thursday for lunch, and from 6:00 p.m. to 7:30 p.m. for dinner.
Fifty-One O One is open this spring from 11:30 a.m. to 1 p.m. Thursdays and runs through June 20. With the spring comes the international buffet. During this time your mouth can travel the world.
The next buffet will feature a Mediterranean Cuisine featuring roasted salmon, Moroccan chicken, and a pasta station. A Spanish New World buffet will follow, featuring shrimp ceviche, bronzed tilapia, and carnitas. Then, there will be a Western European buffet featuring swiss spätzle and carved round of beef. The series of buffets will finish with an International Brunch featuring carved Dearborn ham and corned beef hash.
"The last thing we do [in the spring] is a brunch and the brunch is really cool because I teach a kids camp that week," says Cosenza, who was the 2018 Eastern Market Volunteer of the Year, "Then we let the kids from the camp get involved with the brunch buffet and they'll come out and work in the dining room and they'll make omelets to order, so, we get some little kids in there. It's fun."
Part of the inspiration for the buffet is to teach students a different style of cooking that could open them up to different career choices. They are many facets to the culinary arts industry. A student can become a banquet chef, a buffet chef, a restaurant chef, or a pastry chef.
The buffet opens every Thursday and costs $12.95 per person. Chef Cosenza and his students need participants to enjoy their food. Without participation then the students are unable to learn.
"If people have been worried, nervous, scared, or anxious about our menus, they're just really delicious and give it a try," says Cosenza, "We're open to the public, you know, students, faculty, staff, and people from off campus. The more people we have in the dining room the better my students will be out in the real world."
Reservations are not necessary but recommended. To make reservations or find out more information call Fifty-One O One at (313) 206-5101.