Highlights of Hawks Spring Season
Gallery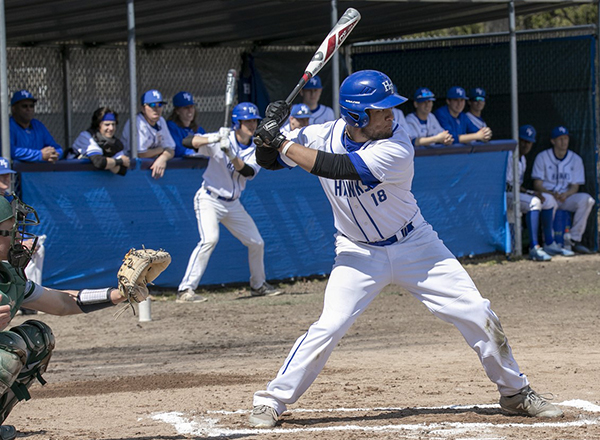 Noah Wise of the HFC Men's Baseball Team | Photo by Joshua Tufts
The spring sports season at Henry Ford College ended with success and lessons for next season. This year saw the return of women's basketball, along with the return of the first female golfer in school history and back to back division wins for the men's basketball team.
Baseball
The baseball team welcomed new head coach Mike Abney. The team went 13-27, a five game decrease from last season. As infielder/outfielder Collin McHugh said, "I believe we had a solid season, even though a handful of our players had injuries." McHugh added, "A lot of crucial players got injured and it hurt us, but we will bounce back next season and be stronger for it."
Women's Basketball
After three years, women's basketball returned to HFC. Although ending the season 2-20, the team is eager for next season.
Kaylee Patton will take over as the new head coach, replacing Gwen Burton, who took a head coaching position at Columbia State Community College in Tennessee.
Men's Basketball
The men's team improved from last season as they won the division, won a state title and made it to the region 12 finals. Although the team fell short of a national title, Coach Chris Shepard is preparing the team to make it to the championship game next season.
Softball
The softball team was under the direction of Coach Steve Brown for a second year, and the team saw a six win improvement from last year's 9-28 record to finish 15-25. The team also improved in the conference as they won nine games compared to being winless in 2017-18.
The team will look to continue to improve next season as 11 of the 13 players from this year's team will return.
Golf
This year's golf team featured Alana Jones, the school's first female golfer in the history of the school. Alana Jones went to Nationals where she placed 38th out of 127 golfers and she finished in 7th place among individual golfers.
Both Matthew Kosiba and Juwaun Banks finished the season in the regional tournament. Kosiba finished in 23rd place finishing 37 shots above par, and Banks finished 27th, shooting 54 above par.
The golf team is in good hands as both Jones and Kosiba will return next year, hoping to improve on their standings.
Share it now!