Henry Ford College Presents "Lobby Hero"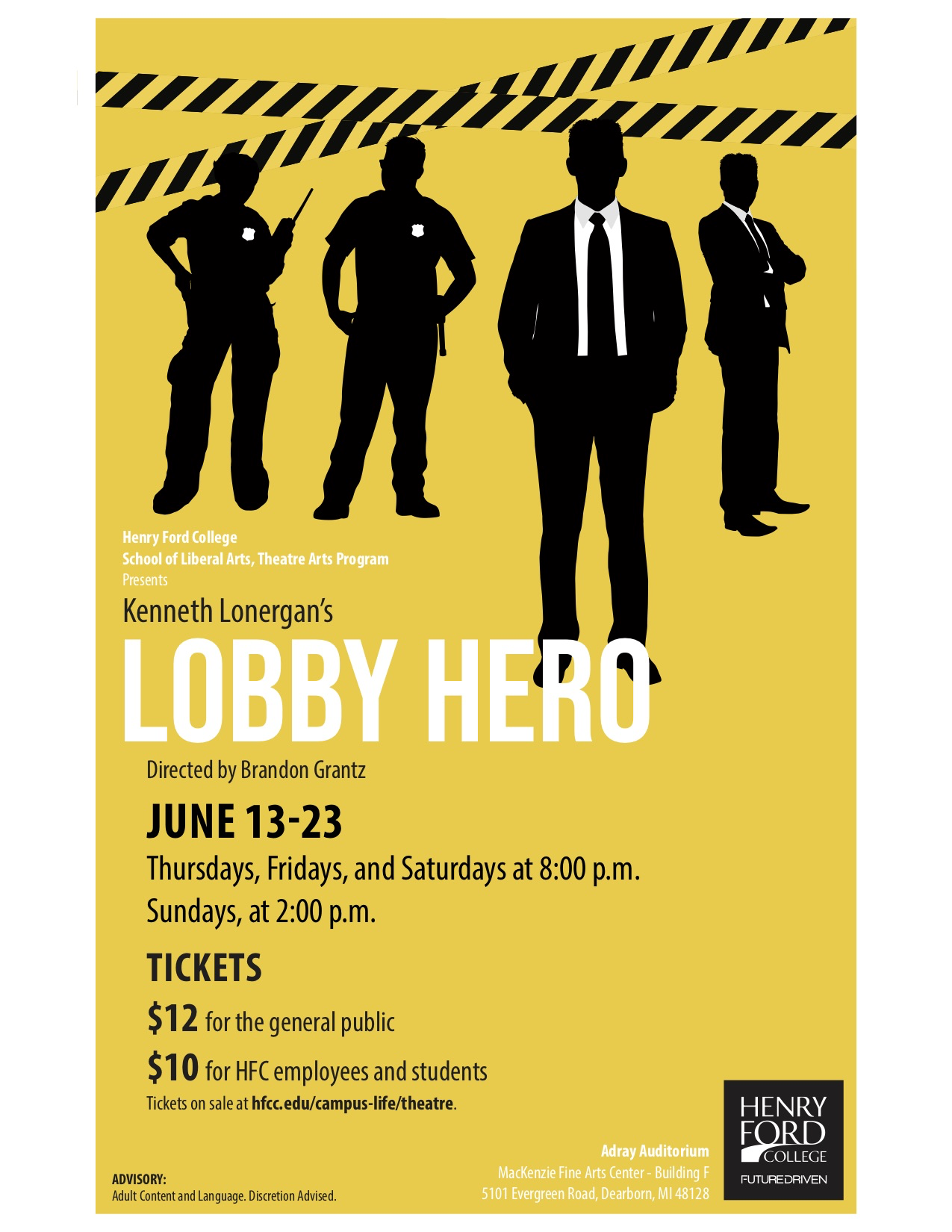 The 2018 Broadway hit, "Lobby Hero," by Kenneth Lonergan, is set to take the stage this spring semester at Henry Ford College.
Known for his contemporary selections, HFC theatre instructor and director, Brandon Grantz is working on a comedy/drama that gounds itself in its realism and focuses on the lives of four characters. The story is described on HFC's theatre page: "When Jeff, a luckless young security guard, is drawn into a local murder investigation, loyalties are strained to the breaking point. As Jeff's tightly wound supervisor is called to bear witness against his troubled brother, and an attractive rookie cop finds she must stand up to her seasoned partner, truth becomes elusive and justice proves costly."
Taking place in the lobby of a high-rise New York City apartment building, "Lobby Hero" is a show that is built around the interactions between its four characters. With every conversation, you learn more about their lives, experiences and motives. Life is never as black and white as it seems. The show captures the complexities of the human experience and how people can be both good and bad at the same time.
Familiar faces are returning to the stage to bring these characters to life: Bill, a senior cop known for his acts of heroism and getting the job done, will be played by Nathan Wilhelm, who most recently played the lead role in the winter production of "The Foreigner." Bill is a no nonsense kind of cop who has seen it all, and those experiences have molded him into the man he is today. While the public sees him as a hero, behind closed doors, Bill has a few secrets he makes sure stays hidden.
Sasha Johnson, who is on her fourth production at HFC, will be taking on the role of Dawn, the rookie law-enforcement officer training under Bill in order to learn what it takes to make it on their beat. As feelings begin to develop for her partner, she needs to decide what is right and wrong, and what type of officer she truly wants to be.
Carlos Shows will be taking to the stage for the first time as William. William is the security captain of the guards of the high-rise apartment building, and he takes his job a little too seriously. Known for his authoritative demeanor, integrity and being a hard-ass, William works the third shift because that is where the most mistakes are known to happen, and he is determined to root them out. With William's brother on trial for a heinous crime, his integrity and love for his family begin to clash.
The role of Jeff, the third-shift security guard on duty will be played by me, as I step onto HFC's stage for the last time before transferring to the University of Michigan. Formerly in the Navy, but current bum, Jeff is loud, sarcastic and makes jokes so often it's even hard for him to even tell when he is not joking. He's just had a "little bad luck" in life as he likes to say and is working to get back on his feet again and out of his brother's house. His big mouth never stops moving, and unfortunately, it is always getting him in trouble.
The realism of the characters is what Director Brandon Grantz loves to see on stage, and it is what helps make "Lobby Hero" such a challenging and rewarding experience for actors and audiences alike.
"I chose this show because it is relevant to the world in which we currently live in," says Grantz, "Even though this play was written 18 years ago, you feel like it is one of Kenneth Lonergan's newer works. Great writing can transcend time."
"Putting a show together and working as a collaboration is always such a fascinating journey," Grantz states, "I am always most excited to see where the journey takes us, but even more fascinating is watching the actors progression throughout the entire process."
In regards to the types of shows Grantz enjoys bringing to life on the stage, he says, "I like directing contemporary shows where the focal point is based on the relationships between the characters and the actors. I would like the audience to be invested not only in the relationships, but also the struggles for which each character finds themselves. Based solely on the shows relevance in today's society, I feel that audience will have a much greater appreciation and understanding of its content."
"Lobby Hero" opens June 13 and will run until June 23, with showings at 8 pm Thursday, Friday and Saturday with a 2 pm Sunday matinee. All performances will be held in the Adray Auditorium located in the Mackenzie Fine Arts Center – building F. Tickets will cost $12 for the general public and $10 for HFC employees and students. They can be purchased at the door or ahead of time online at hfcc.edu/campus-life/theatre. For more information, please contact Brandon Grants at: bsgrantz@hfcc.edu.