Fight for Reproductive Rights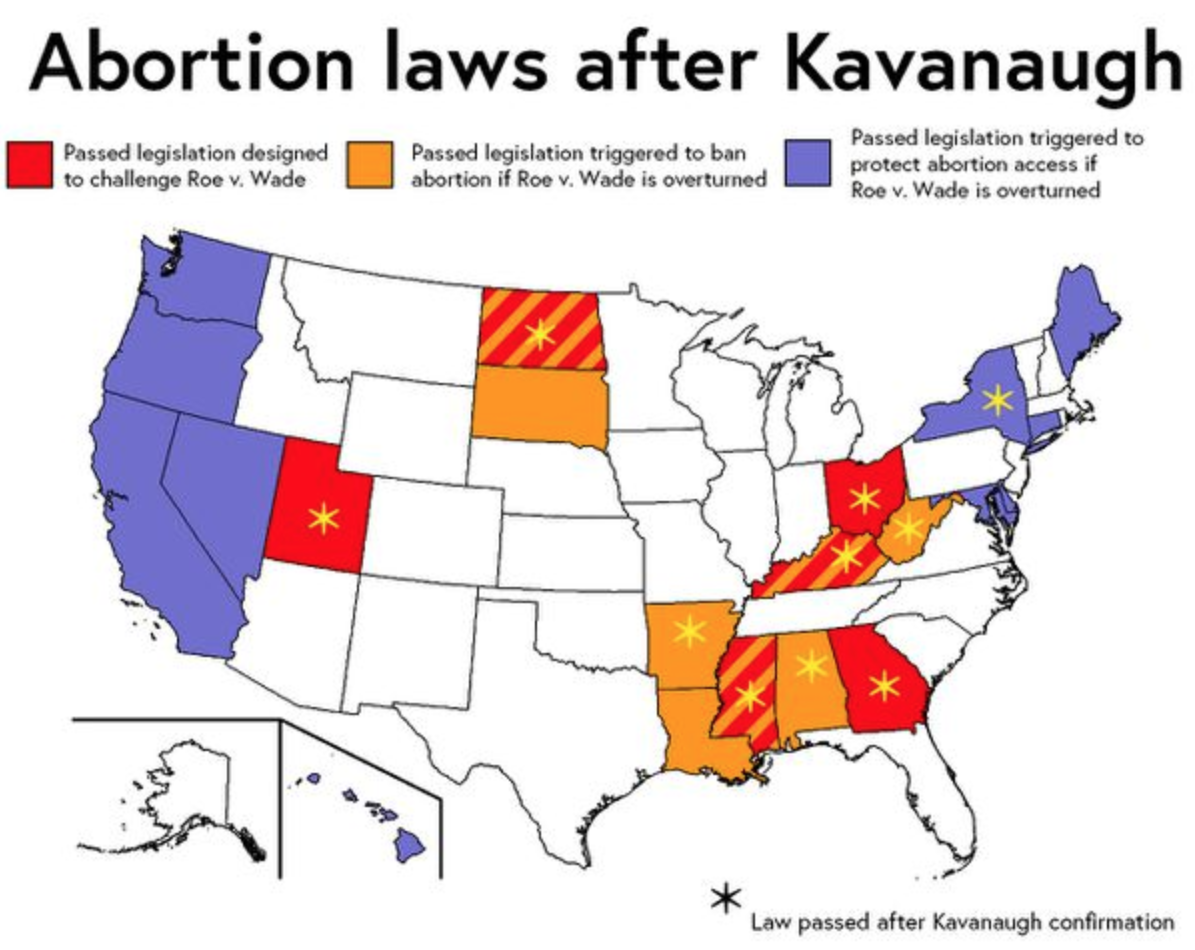 Graphic courtesy of Abby Crain of al.com
This month, Michigan lawmakers voted to ban the dilation and evacuation abortion procedure, in an effort to further limit abortion rights in the state. Following the vote, Michigan Governor Gretchen Whitmer vetoed the bill preventing it from being enacted as law.
The procedure is a rather safe and common one that is used to abort a pregnancy during the second trimester. While it does serve as an abortion method, the procedure is also commonly used during miscarriages, to remove tissue and the fetus from the uterus, and to terminate pregnancies that endanger the health of the mother.
While the D&E ban has been vetoed, the fight for abortion rights still rages on. As reported by Jonathan Oosting of the Detroit News, a group of "religious and political conservatives" calling themselves the Michigan Heartbeat Coalition is trying to push for a ballot proposal that will limit any and all abortions following the detection of a heartbeat. In order for the group to have the proposal placed on the ballot, they will first have to secure 340,000 signatures from Michigan citizens. Due to the language of the proposal, if enacted, it will virtually ban all abortions after 6 weeks of pregnancy, which stands in direct opposition to the constitutionally protected right to an abortion that was set as a result of Roe v. Wade.
Following Roe v. Wade, the Supreme Court decided that abortion was protected under the 14th amendment, and that no abortions within the first trimester could be prohibited by any state. Within the second trimester, state governments could regulate abortions based only on health risks, and that only in the third trimester could abortions be prohibited, but only in non health threatening pregnancies. Despite this ruling the Republican party has continuously fought to undermine the right to abortion, taking to passing laws in various states that make it increasingly difficult to have access to a healthcare provider who can perform an abortion at any stage in the pregnancy. As stated by FiveThirtyEight's Amelia Thomson-DeVeaux, "Many of these restrictions didn't directly challenge the constitutional right to abortion; instead, they whittled away at access to legal abortion by imposing regulations on clinics and abortion doctors and adding requirements like mandatory ultrasounds, counseling and waiting periods." Despite the history of anti-abortion legislation, this is the first concentrated attack on Roe v. Wade, in recent memory, that has resulted in unconstitutional laws being passed.
As of writing this, eight states this year have passed laws restricting access to abortion. Of these, Alabama has passed what is arguably the most restrictive law, banning all abortions in the state. The ban has also outlawed abortions for cases of rape and incest, and punishes doctors who perform abortions with up to 99 years in prison. For reference, Alabama places sexual abuse under a Class C felony, which serves a maximum sentence of ten years in prison. This ban has led many to claim that as of now there are more protections given to rapists in the state than to women. As the Rolling Stone's EJ Dickson reports, senior counsel for If/When/How, Farah Diaz-Tello, stated in an interview that the new law " sends an unfortunate message to people who have been raped, that the penalties for ending the pregnancy are stiffer from causing the pregnancy through rape in the first place. I think that sends a very clear message to Alabamians that the state really doesn't care about their well-being, even though anti-abortion laws are couched in the supposed well-being of a pregnant person."
In Georgia a fetal heartbeat bill, similar to the one proposed in Michigan, was signed into law by Governor Brian Kemp. The Georgia law however, also prevents citizens from seeking abortions from other states where abortion is legal. This stands as a direct violation of states rights, and unconstitutionally seeks to regulate a woman's actions in a state where Georgia law does not apply.
Nearly all these abortion bans have components to them that are deeply unconstitutional. This is no accident; this is as a new strategy adopted by the Republican party to try and overturn Roe v. Wade once and for all. As Anna North of Vox reports, Alabama Governor Kay Ivey stated that "the lack of exceptions is necessary to get the ban in front of the Supreme Court, where it could result in the overturning of Roe v. Wade." With the addition of Neil Gorsuch and Brett Kavanaugh to the Supreme Court, the bench is tilted slightly right, with five of the nine judges being appointed by Republican presidents, and only four being appointed by Democratic presidents. Now, for the first time in years, those who stand in opposition to abortion rights have the chance to take these new laws before the Supreme Court, and have the five conservative judges overturn Roe v. Wade. This unique opportunity is what has led to the onslaught of anti abortion legislation within the last few months.
What is extremely troubling is that in an effort to win political points, Republican lawmakers are risking the lives of countless women across the country. As Wired's Adam Rodgers observes, states that have the highest abortion restrictions also have the highest maternity and infant mortality rates, resulting in hundreds of thousands of unnecessary deaths. In addition to this, states that deny easy access to abortions have a poorer citizenry than states who enforce abortion rights. Put simply, as a result of these laws, "more women and babies are going to get sick, be poor, and die."
Share it now!