Boldly Go Where No One Has Gone Before with the Henry Ford's "Star Trek" Exhibit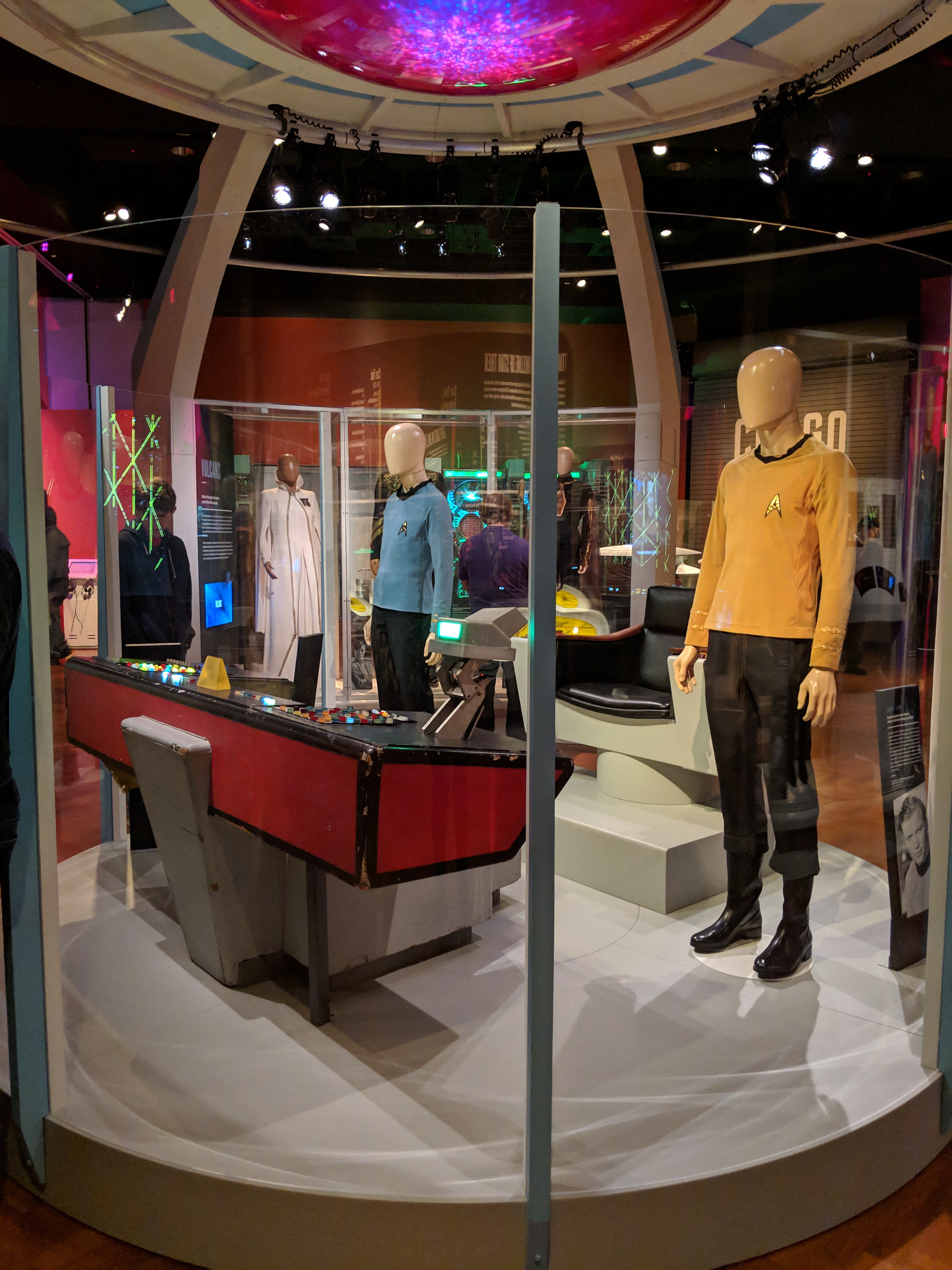 Enterprise Bridge replica including Kirk's and Dr. McCoy's costumes | Photo by Jessica D'Alfonso
On May 11, the Henry Ford Museum of American Innovation debuted a new temporary exhibition, "Star Trek: Exploring New Worlds," dedicated to the cultural phenomenon spanning over 50 years. With seven television series, 13 movies, and numerous novels, comics, and games, Star Trek's influence can be seen everywhere.
Some of the influence for "Star Trek" comes from creator Gene Roddenberry's personal experience. Roddenberry enlisted in the Army Air Corps shortly after Pearl Harbor, flew over 80 missions and eventually earned the Distinguished Flying Cross. Following World War II, Roddenberry worked as a commercial airline pilot and police officer, eventually becoming a writer and producer for television.
Created by Roddenberry in 1966, "Star Trek" was originally pitched to Lucille Ball's and Desi Arnaz's production company, Desilu Productions, as "a Wagon Train to the stars." The show was initially rejected by CBS, and was purchased by NBC. However, NBC rejected the first pilot, and Roddenberry was forced to come up with a more action-packed script for the second pilot. According to the exhibition, the board of Desilu Productions were concerned with the high production costs of the show and wanted to cancel it. Lucille Ball, however, stepped in and greenlit the show.
Although a science fiction show was not a novel concept at the time—it joined the likes of 1958's "Twilight Zone" and 1965's "Lost in Space"—"Star Trek" was somewhat unique in its approach to cultural and societal issues.
"Star Trek" posits a utopian future free of inequality, poverty, or war. The exhibition delves into this idea on several occasions, explaining that Roddenberry's history of promoting equality was a long-held belief. In 1959, Roddenberry turned down a job on the show "Riverboat" when he learned there were no black characters, and in 1963, the Pentagon allegedly dropped support for his show "The Lieutenant" due to an episode that featured a friendship between black and white Marines. Roddenberry felt that setting a story in the future would allow him to more easily slip "controversial" ideas past the censors.
Though set in a utopian future, the show drew much of its inspiration from current events. The episode "A Private Little War" is a clear allegory to the Vietnam War. In "The Omega Glory," the Enterprise crew visit a planet that ended up fighting their own Cold War to disastrous results. The original series also pushed boundaries at the time, airing one of television's first interracial kisses in 1968's "Plato's Stepchildren."
In an interview with the Detroit Free Press, Kate Morland, The Henry Ford museum exhibits manager, explained why The Henry Ford wanted to bring the exhibit there: "I find a lot of similarities between the way that 'Star Trek' examines future cultures and possible cultures to the way we look at society in the past and why things were the way they were."
Morland added, "I think that's a perfect fit with our mission here. We're looking to innovators of the past to help shape a better future. This is looking to the future to shape a better today."
From concept art to costumes to replica models of the ships used throughout the series, "Exploring New Worlds" features a plethora of items spanning from the original series to "The Next Generation" and the most recent iteration, "Discovery," a TV series on CBS.
The exhibition showcases numerous displays of costumes and biographies for iconic characters throughout the show's history, including Captain Kirk and Spock, Deanna Troi from "The Next Generation," Kathryn Janeway from "Voyager," and Philippa Georgiou from "Discovery." It also offers thorough outlines for the various alien species depicted in the show, including the Klingon, the Borg, and the Gorn, detailing their first appearances and important plotlines throughout the series' history. The highlight, however, is a life-size recreation of the Enterprise's bridge from the Original Series, featuring the original costumes worn by DeForest Kelly (Dr. Leonard McCoy) and William Shatner (Captain James Kirk), as well as the original helm and navigation control console, which were fully restored in 2016.
In addition to displays of costumes and replicas, there is a large interactive aspect to "Exploring New Worlds." There is a section where patrons can 'create' an episode of "Star Trek," allowing them to select standard storytelling elements, choosing a protagonist and antagonist, a conflict, and a lesson learned. Patrons are also afforded the opportunity to "be an actor on 'Star Trek,'" where they act out a scene in the transporter, "beam" down to a planet to complete a mission, and watch afterward. There is also a life-size Jefferies Tube—used in the show by the Enterprise crew to make repairs or as secret passages—that museumgoers can crawl through. Visitors are also invited to 'put on their best Kirk face' in a "Khan Booth," a reference to William Shatner's iconic scream in the 1982 film "Star Trek II: The Wrath of Khan."
The end of the exhibit shifts toward the overall impact "Star Trek" has had on society. There is a large timeline outlining many important popular culture moments relating to "Star Trek" including Nichelle Nichols meeting with former U.S. President Barack Obama, various Star-Trek branded products such as Monopoly, and the Netdragon Websoft headquarters in China designed to resemble the U.S.S. Enterprise. There is also a section dedicated to the personal meaning the series has had for fans. It features a wall full of quotes including "Spock told me it was okay to be smart" and "It taught me a lot about politics that I didn't get from school," as well as a sound booth where one can listen to various stories about "Star Trek," ranging in topic from diversity, politics, identity, and fandom.
The exhibit has been met with positive reception, even earning a visit from George Takei—who played helmsman Hikaru Sulu in the original series.
Takei pointed out that the continued existence and celebration of "Star Trek" is thanks, in large part, to the fans.
"Its longevity is created by our devoted fans generation after generation," Takei said to the Detroit Free Press.
"Star Trek: Exploring New Worlds" runs at the Henry Ford Museum of American Innovation through Sept. 2. General admission is $24 for non-members of the museum.
Share it now!