What does Manafort indictment mean for the Trump administration?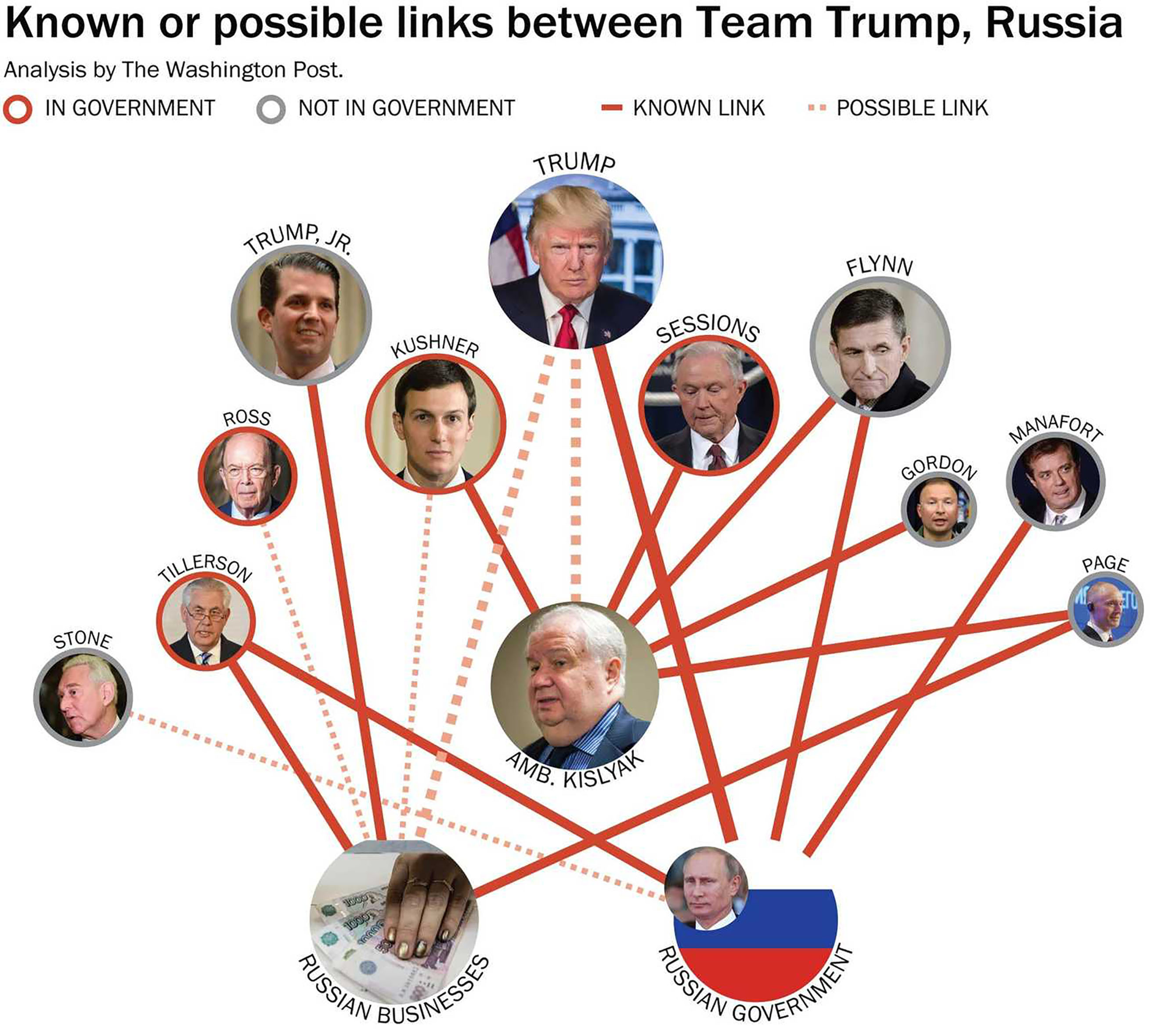 Graphic of Trump's ties to Russian actors (published March 3) Philip Bump/Washington Post
On Oct. 30, President Trump's former campaign manager and chairman, Paul Manafort, was indicted by special counsel Robert Mueller as a part of the investigation into Russia's interference with the 2016 elections. Manafort was indicted alongside political consultant, and associate Rick Gates. The two, as reported by Politico, are the first to be indicted in the investigation, and are being charged with 12 counts, including conspiracy to launder money, conspiracy against the United States, and being an unregistered agent of a foreign principal. The charges were in relation to actions the pair had taken for the Ukrainian and Russian governments. According to Dan Berman of CNN, these charges stem from false statements provided to the FBI by Manafort, in which he had not disclosed earnings made from pro-Russian entities, in addition to laundering money for Putin allies.
Though Manafort played a large part in the Trump campaign, and the two have maintained a long-standing financial and personal relationship, no evidence has surfaced in the Mueller investigation that has been deemed substantial enough to implicate the President. Potentially after Mueller's indictment of Manafort and Gates, one of the pair will release information that can help shed more light on the President, and whether he, or any other high-ranking official, has any nefarious ties with Putin and the Kremlin.
Manafort began working on the Trump campaign in early 2016, and his relationship with the President dates back to well into the '80s. As reported by Eliza Relman and Natasha Bertrand of Business Insider, Manafort had first established a connection with Trump, when he was hired as a political consultant for the Trump Organization. Later in 2006 Manafort had purchased an apartment in Trump Towers due to his personal relationship with Trump. Manafort was recruited by the Trump campaign prior to the Republican National Convention to aid the campaign in gathering more delegates to secure Trump the Republican nomination. After the RNC, Manafort was promoted to campaign chairman and chief campaign strategist, and later filled the role as campaign manager after then manager Corey Lewandowsky's resignation, following battery charges.
Manafort subsequently resigned from his position within the campaign after a New York Times report by Andrew E. Kramer, Mike McIntire and Barry Meier in August which cited documents allegedly originating from an anti-corruption center in Kiev revealing "$12.7 million in undisclosed cash payment had been payed to Manafort from [Ukrainian President] Yanukovych's pro-Russian Party of Regions for Manafort's work with the party from 2007 to 2012."
As Relman and Bertrand of Business Insider report, in 2010, Manafort assisted in the Ukrainian presidential elections, securing a victory for "pro-Russian strongman" Viktor Yanukovych. Yanukovych was later ousted in 2014 after mass protests following actions he took to pull Ukraine out of a deal with the European Union that would see the country improve relations with the EU and distance itself from Russia. In the protests that ensued, 53 protesters were killed by riot police in what Ukrainian prosecutors believe was a deliberate attack on protesters ordered by the president.
Manafort had also established close ties to Russian oligarch and billionaire Oleg Deripaska, the owner of one of Russia's largest industrial groups, and close ally to Vladimir Putin. Relman and Bertrand of Business Insider went on to report, legal complaints from the Cayman Islands, filed on behalf of Deripaska allege that Manafort had been paid $19 million a year to invest in a Ukrainian TV company. However, the project was never executed, and Manafort ran away with the money.
Before that, in 2006, Deripaska had paid Manafort $10 million a year to lobby the United States government in an effort to, as Jeff Horwitz and Chad Day of the Associated Press say, "greatly benefit the Putin government." At the time of Manafort's involvement in the Trump administration, Mike McIntire of the New York Times reported that Manafort was $17 million dollars in debt to strong pro-Russian entities and allies of Putin. Some political analysts suspect Manafort's debt played a role in the changing of the GOP's position in relation to the Ukrainian conflict. According to Tom Hamburg, Rosalind Helderman, Carol Leonnig and Adam Entous of the Washington Post, the GOP reformed policy regarding the Ukrainian conflict, changing language that had denounced the actions carried out by the Putin government as being an "ongoing military aggression" to a more pro-Russian stance on the issue. This change happened only 10 days after Manafort had contacted Oleg Deripaska to facilitate a private meeting.
While the Manafort indictment does not explicitly implicate the President, suspicion is raised by the number of associates the President has surrounded himself with who do have connections with Putin and the Kremlin. According to Dan Berman of CNN, 11 close Trump associates currently have potentially compromising ties to Russia, including Attorney General Jeff Sessions and former National Security Advisor, Michael Flynn. The reported also includes new information surrounding Commerce Secretary Wilbur Ross, revealing non-disclosed investments in a Russian shipping company with close ties to Vladimir Putin.
Manafort has surrendered his three United States passports, and is currently under house arrest, out on a $10 million bond. As part of the agreement, Manafort will remain under GPS tracking to deter him from fleeing the country. Judge Jackson has issued a gag order on additional information surrounding the case as to not jeopardize the integrity of the trial. Manafort has plead not guilty.
Share it now!