Music for the Good of All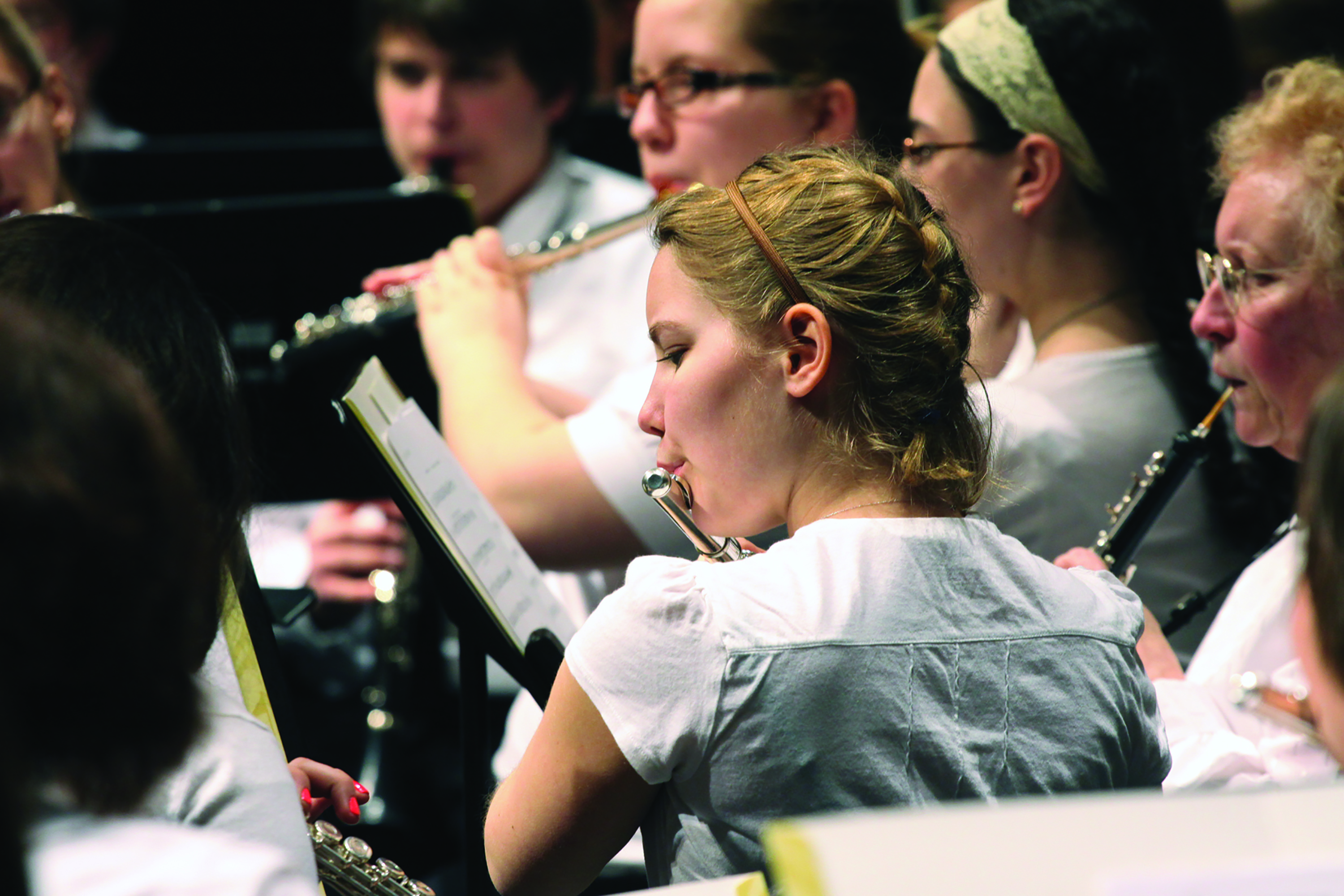 President's Concert 2016 - Courtesy HFC Marketing
The door to the Fine Arts Building lobby swings softly shut and I'm standing in an unfamiliar hallway, one I didn't know existed. Immediately aware of my foreignness, as a non-music major, I tiptoe forward, hesitant to disturb the sacred space where notes of song, instrument and laughter are kept secret and dulled by thick walls. It's early, 9 a.m. Too early to be creative in the world I come from. But not here. Here music has been awake for hours.
As I turn the corner, I am welcomed warmly by Darius Jones and Jasmine Young. They glance around for a talk space, then casually herd us into a tiny studio practice room, laughing at our cozy predicament of three chairs where there is better room for one. Their relaxed and amiable manner is one you might receive from a host inviting you into a home, and I find it surprising in such an institutional setting. But the air is different here, and I begin to suspect the natives are also. We get down to talking about music and the program they both love.
Jones dreams of becoming a music producer. He is passionate about putting positive music out to a world of listeners. After completing the Recording Arts Certificate program at Henry Ford College, Darius is now working on his Associate in Arts in Music degree while singing in two vocal performance groups – the HFC Chorus and Blue Fusion, a vocal jazz group. He plans to transfer to Wayne State University to study recording engineering, but knows already that when the time comes, he will travel back several days a week to keep singing with his friends at HFC. "Nothing compares to the atmosphere here." Jones explains. "If you want to learn to enjoy music, I would say come here. I took band in high school and the atmosphere was so strict. I got kicked out of band because I wasn't good enough." Jones continues, "When I came here, I tried to be strict, and Kevin (Kevin Dewey-HFC Music Department Chair and Director of Choirs) was like, 'Relax man, put your shoulders down. Breathe.' After a while, I was like, I can learn things. I can feel good about this. I can actually enjoy music."
Young is a 19-year-old saxophone player working on her Associate in Arts in Music degree before heading off to HFC's Nursing Program. She joined the HFC Symphony Band, Studio 110, as a junior in high school, and was immediately welcomed into performance opportunities. She credits instrumental directors Rick Goward and Randy Knight with teaching her how to dive deeply into various types of music, attacking instrumental challenges and recognizing the importance of teamwork. Young is excited about her upcoming solo in, "Moten Swing," an upbeat jazz number, to be performed in the HFC Winter Jazz Concert on Dec. 12. "Jazz band here is amazing," she says. "I started my junior year of high school, and there's an 83 year old named Pat. I play the saxophone; she also plays the saxophone. There's a very wide range of ages, all different ethnicities and different talent groups. It's very open. And it's a performance group, so you will get on stage." Young says that even when she is in the Nursing program she will always keep music with her, and hopes one day to reach the Big Band level.
The HFC Big Band, led by Instrumental Director Goward, which Young describes as the "top of the top jazz band" has performed at major jazz festivals throughout the world as well as at four Presidential Inaugural Celebrations in Washington D.C. The group of seasoned musicians, many of whom are former HFC students, will be joining the vocal jazz group, Blue Fusion, to accompany native Detroit artist Karen Newman in her upcoming "Christmas Eve on Woodward Avenue" holiday concert. The HFC bands established a professional relationship with the iconic Detroit Red Wings anthem singer years ago. In an interview with Dearborn Press & Guide, Newman says, "These musicians are so talented. I love how Rick gives them tons of opportunity to perform in a real world music setting – you just can't get this kind of experience in the classroom."
Creating opportunities for students is a strong goal for HFC music directors. Young loves to play sax, but never considered herself a singer until Director Dewey encouraged her to give her voice a try by inviting her to come sit in the HFC Chorus class. Now she says she's been in every class since. "It honestly feels like a big stress relief. It's so nice, really fun. Everybody is very welcoming, like a big family." Jones chimes in, "You'll leave understanding music even if you don't understand it when you walk in the door. I grew up playing drums, not knowing how to read music. I take the HFC Chorus, and I think I learned more about music taking the chorus class than I ever did taking any music fundamentals class. It's because he (Dewey) takes the time to break it down."
Jones continues, "My first time doing Blue Fusion, I was sitting in the hallway listening to them sing and he (Dewey) said, 'Darius, come here, sit in as alto.' And I was like okay, that's nice, alright... I don't know what I'm doing. And then we sing. And I enjoyed it! I've been a part of it ever since. What I love about it (Blue Fusion) is the fact that we blend together very well. So what happens is we sing chords that are like, very jazzy. When you hear it as a vocal group, it's amazing because you hear this chord and you're like, 'Wait a minute, WE'RE singing that?"
Young and Jones say they've learned that singing is not talent you were either born with or not but instead, is something you can really learn. "Kevin focuses on structuring how to do vowels," Jones explains, "and how to shape your mouth when you're singing, and how to breathe properly. Those things make the biggest difference whether you know it or not."
In one word, Jones describes the music experience at HFC as "joy," and I'm ready to see that joy for myself. Stopping by the choral room, I ask Dewey if I may sit in on his afternoon chorus class to observe this facet of the program. "Do you sing soprano or alto?" he asks, grinning. When I return hours later, I am welcomed in and seated among the vocalists, where Dewey hands me a song binder. "I don't know if you read music," he smiles, "but here you go."
And we're up. And we're singing. Students are practicing Christmas carols for their upcoming show, and Dewey is breaking down the verses of "Jingle Bells," isolating and explaining each rapid word and antiquated phrase. "The King of Puns" as they call him, is mixing humor with education in a way that isn't distracting from what he's trying to accomplish. Instead, everyone's relaxed, and when it comes to more sacred solo moments, students are genuinely cheering on their peers with great admiration and delight.
The room is divided into four parts for "Carol of the Bells." Dewey takes his seat at the grand piano from which he plays and conducts. The teamwork that builds this number as it swells from soprano to alto, to tenor to bass rivals the Red Wings dancing the puck down the ice for a winning goal. I remember what Young said this morning, "Everyone has chemistry when it comes to music. It really brings people out of their shells, especially here." For a moment I stop trying to capture what's happening, and am instead stilled, engulfed in the tangible quality within the room. Darius was right. It's joy.
Dewey tells me later how that thrills him. "When we have all four parts covered — soprano, alto, bass and tenor. They sing with great energy and great spirit, and they have a great time. They appreciate the art of choral singing, but they are also having fun singing. They're young, and their minds are open to listening and learning and performing quality music too, not just popular music."
He talks about the upcoming Winter Choral Concert on Sunday, Dec. 3, and how although all four HFC choral groups will perform there, it's the big one for this group. "I actually got a little 'verklempt' last Wednesday," he shares, (at the Michigan Community College Choral Festival in Grand Rapids), when the kids sang, 'All the World is Winter,' because they rose to the occasion and performed it the best they had ever sung it this semester, and that's what you want. They just sang it so beautifully, that when I heard them singing it, I felt a sensitivity to what the words were about. They were not only singing well, with all the right notes in tune, but I actually felt like they conveyed the meaning of the song to the audience too, which is something you can't always get."
From classics to Broadway, to popular and jazz, Dewey loves all kinds of music. While growing up, his mom was a concert pianist and his dad played the trumpet in the University of Michigan marching band. Dewey says he would wake in the morning to the sound of great classical composers like Chopin, Liszt and Beethoven being played on the grand piano and would spend evenings and weekends listening to his dad's jazz albums and marching band recordings, particularly on game day. Dewey learned to play piano and trumpet in school bands and to sing in choirs. He received his Bachelor's Degree in Jazz Trumpet from WSU and his Masters Degree in Classical Choir Conducting from the same. "So they're like complete opposites," he says, referring to his majors, "and that's me. I like to do a lot of different styles."
With no plans on teaching, Dewey dreamed of being a composer, maybe a music score writer like John Williams. He had conducted church choirs, using unique combinations of classical, jazz and pop and had filing cabinets full of his own music. At WSU, he got "bitten by the choral bug, discovering the higher level of choral singing." He wanted to conduct great choirs but was hooked on the idea of community and education rather than leading professional groups. Although teaching wasn't the original plan, the position at HFC as music director and teacher was the perfect fit for someone wanting to be involved in many different types of things.
Twenty-four years later, Dewey still feels this way, although teaching five music classes, directing five different vocal groups and organizing and collaborating with each instrumental ensemble is often exhausting. "It's very organized. It has to be," he tells me. From selecting music, to booking venues, choosing uniforms, supplementing outside musicians and coordinating groups for performances, keeping it all straight is a feat for only the deeply committed. "It's exciting, it's fun. It's taxing at times," he admits, "but it's good."
Dewey not only leads student choirs, but also community vocal groups who are in resident at HFC. The city of Dearborn sponsors a choir in the summer along with "Renaissance Voices" and "Vanguard Voices" who perform throughout the school year. This "handshake across Michigan Ave." is one that Dewey is proud of. He enjoys receiving requests from Dearborn Mayor O'Reilly Jr. whenever special music is needed, such as a 9/11 observance or a MLK Day, Flag Day or Veteran's Day ceremony.
"That's why I was sad when they took the word community out of our name," he says. Henry Ford College was once named Henry Ford Community College. "In the music department especially, we are very community involved."
The other disappointment Dewey faces is the restriction of non-major classes for students put into effect by Federal Financial Aid this year. Due to this change, along with additional college class fees, he says, "We aren't getting any chemistry students singing in the choir. We aren't getting any nursing students." Dewey explains his idea to combat that challenge with a non-credit option. The HFC Chorus class, which meets from 12:40 p.m. - 2:00 p.m. each Tuesday and Thursday, can be taken for non-college credit at a one time fee of only $80. This registration can not be done through HFC WebAdvisor. Students should contact Director Dewey at kdewey@hfcc.edu to register and set up a non-competitive audition. Dewey is hoping this option will build back the numbers the chorus had before and give back the joy of vocal music to those pursuing other majors.
"I grew up surrounded by humanities," he says. "And so to me, that's what life's all about. That's the reason we're here. I'm constantly dismayed by the dearth of humanities in the educational process. We're getting to the point where grown up adults don't see the value of it, and that's the problem. In the past, you'd have grown up adults trying to get kids to see the value in it but now, grown up adults don't see the value in it, so how are kids ever going to?"
Every work day, every rehearsal evening, every performance, Dewey strives to demonstrate the value of music to those around him. Though it's an uphill battle, if you ask his students, they'd say he's succeeding. Dewey composed the HFC school song based on the college motto, "Pro Bono Omnium." Whoever he is able to reach with the love of music, art and community, it is "For the Good of All."
Share it now!