Insights into Writing from "American English, Italian Chocolate" Author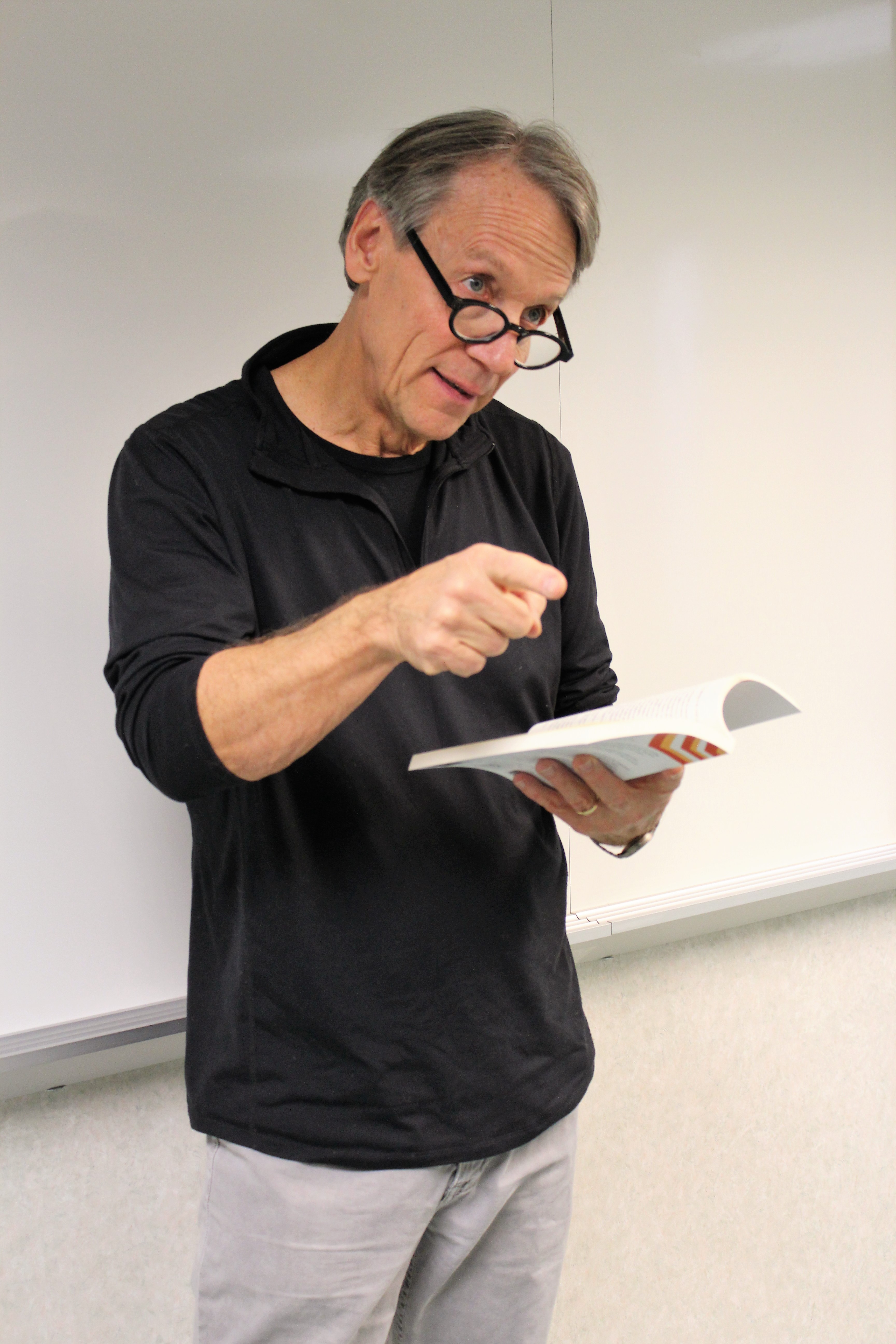 Rick Bailey reads "American English, Italian Chocolate" - Photo by Sarah Wiliams
In celebration of National Novel Writing Month, Rick Bailey, retired Henry Ford College English professor and published author, visited HFC on Nov. 15 to read aloud excerpts from his recent memoir and talk openly with students about the creative writing process.
Bailey, who spent almost 40 years building rapport with students, broke the ice immediately with young writers timidly seeking out the back row of his presentation. "I promise I won't call on you," he said quietly as he ventured back to connect with them before getting started. "Ponder that for three minutes, and you can move up closer if you want to."
The Vogt Room in the HFC Eshleman Library was crowded with former colleagues welcoming back the beloved professor and rows of creative writing students curious to learn more about the art of essay. With storytelling charisma, Bailey read from his memoir, "American English, Italian Chocolate," a collection of 40 essays ranging from his early life to more recent observations. For the last 20 years of his teaching career, Bailey said he wrote with his English classes, penning the material students would digest and pattern. He told the audience that some of the essay selections within his memoir are written with and for HFC students.
The Michigan native narrates earnest boyhood memories set within an American Midwest backdrop. He approaches matters of performance belching, covert smoking and equestrian courting mishaps with poetic precision and engaging humor evocative of Roald Dahl's "Boy." In further recollections, he's a father caring for a son fresh out of wisdom teeth and a husband adventuring through Venice and Florence with his Italian wife of 40 years. Bailey writes frankly and eloquently of his parents' humanity, of his mother's dementia and his father's fight to tenderly care for her to the end.
In non-fiction prose, Bailey illustrates the beauty in everyday occurrences. From the Italian catch of the day, "pezzogna," to ripe, tangy Michigan tomatoes, and all the wines in between, Bailey's love of food, travel and, most of all, family are highly relatable. He advises budding writers to think small and to try and tell a story, stating freely, "I don't trust myself to make profound statements that explain the meaning of life." By thinking small, he compares writing a novel to building a house. He asks, "Before you build a house, can you make a chair that someone will want to sit in, and that will be reasonably comfortable, and that won't collapse under the weight of somebody?"
Bailey stresses the importance of moving the story along quickly or starting in the middle, leaving out the prologue, or as Elmore Leonard talks about, "leaving out the parts the reader tends to skip."
"In essay writing, description can be death," he warns. "It's static. When you are describing something, the action stops." To counter this, Bailey urges students to learn to write dialogue. "Writing dialogue is really, really fun," he says. "Having some dialogue in the piece you are reading relieves the continuous narrative quality."
"I love that his writing is so crisp, clear and cheeky-just like him," expresses former colleague, Deborah Al-Najjar who says Bailey was very welcoming of her into the HFC English department where they held next door offices.
Bailey came to creative writing late in life. After teaching for a handful of years, he went to a doctoral program at U of M where he had an encounter with a teacher who had a profound impact on his teaching style. The instructor provided him with a model of being a very attentive reader, writing with classes, and using models of good writing as a way of learning to be a good writer. "I probably wrote poetry for five years before transitioning to writing longer pieces because I didn't really trust my imagination to get me out of a piece that was longer than 18-20 lines."
"I can't underestimate the importance of the reading that you do," Bailey states. "As a writer, you want to make your reading something you are always involved with. I learned so much from being an attentive reader."
Bailey encourages young writers to find authors they admire, to try and understand what it is that they like about the writing and to not be afraid to imitate that. He also encourages writers to write as often as possible. Bailey says when he's on a roll he tries to write every day, giving himself a quota of 250-500 words a day. "And then I stop," he says. "And then I have the pleasure of walking around during the day with this thing that I'm working on sort of as a lens for the way I'm looking at the world. When I taught writing, and my students were working on something, I would always say that especially with narrative writing, when you're telling your stories, we think it's primarily about going into the past and encapturing that. But I would tell students, 'What you're writing right now, something is going to happen this afternoon, or maybe tomorrow that's going to ring, that's going to be relevant, and so you want to be alert to those possibilities.'"
He also emphasizes finishing what you start. "Let's say that you want to be a ceramist, and build beautiful ceramic dishes. You're getting started so you work at this, and work at this, and at the end of 6 months to a year you have 25 clumps of clay that aren't really recognizable as much of anything and you've got one dish. I would say that it's better at the end of the year to have 10 dishes, some of which are very flawed, than only one dish."
Lastly, Bailey says that eventually writers should start sending things out. He describes his own rejection letter from Poetry Magazine early in his writing career and how it made him want to wait a long time before taking that risk again. However, a writing teacher advised him to look at a returned piece, fix it up, and put it back in the mail the very next day.
Bailey says his 38 years at HFC were rich and rewarding, providing him many opportunities to grow and learn. He was one of the first people to start teaching online at HFC. He co-directed the Center for the Study of Work in Dearborn, Michigan, as part of , "The Workers' Own Words," an "NEH-supported project that trained eight professors at Henry Ford Community College (HFCC) to collect oral histories," which, according to the NEH, "have been transcribed and made available on the web, as well as incorporated into course curriculums."
Bailey says he had the best colleagues at HFC, brilliant and resourceful. Former colleague and friend, Pedro San Antonio of the HFC English Department recalls Bailey's wisdom in teaching and says, "I miss him every day."
Bailey continues to write as he travels between homes of Michigan and the Republic of San Marino, enjoying the slow pace of retirement and family. His other publications include textbooks for McGraw-Hill: The Creative Writer's Craft (2009), On the Go (2011), and Going Places (2011) as well as "Tittabawassee Road," a blog he describes as "largely made up of essays on family, food, travel, current events, what he reads and what he remembers."
Bailey says he will write a novel someday and that it "will probably include a retired English teacher as its protagonist. One who solves crimes and illuminates the wonder and mystery of the Detroit metropolitan area."
Share it now!