Guns on Campus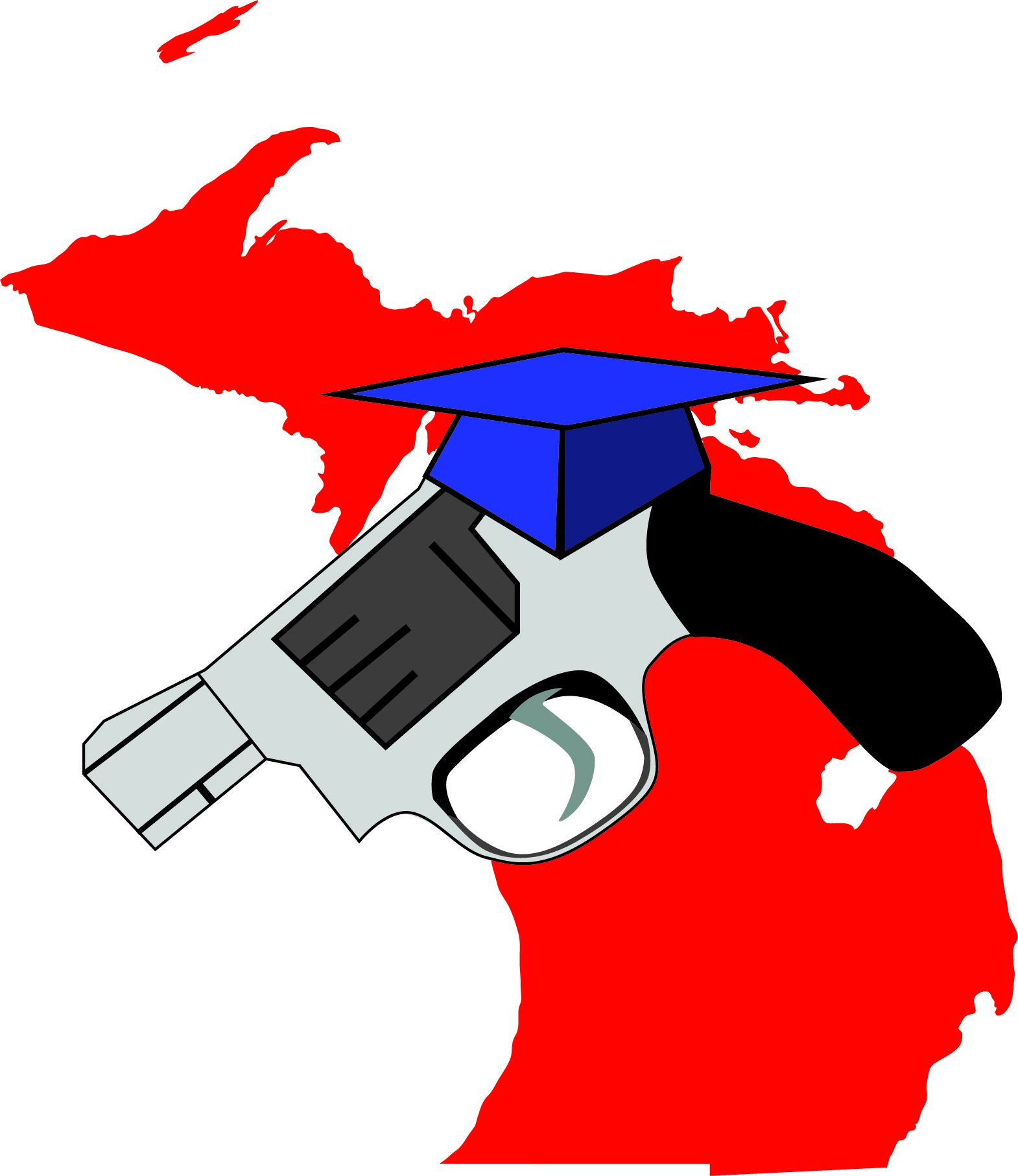 Illustration by Zainab Saleh
On Nov. 5, a gunman opened fire on church members at the First Baptist Church in Sutherland Springs, Texas, killing 26 people and injuring 20. Days later, the Michigan Senate passed legislation that would allow individuals to carry concealed weapons in bars, stadiums, churches, schools and other public places that are currently considered gun-free-zones, and lowered the age to obtain a concealed pistol license to 18.
As reported by David Eggert of the Associated Press, Michigan Senate Majority Leader, Arlan Meekhof (R), who introduced the legislation to the Senate earlier this year, said that anybody who wished to exercise their right to protect themselves should be able to do so wherever they needed to.
Meekhof referred to the events in Texas as justification for the expedition of the process for the state to pass laws to allow licensed individuals to carry concealed weapons in gun-free zones in the hopes that they could possibly thwart would be shootings. A 2017 report by John Hopkins Bloomberg School of Public Health's Center for Gun Policy and Research titled, "Facts vs Fiction: Concealed Carry," however, highlights research that disputes Meekhof's claim. In the report, researcher Louis Klarevas analyzed American mass shooting incidents between 1996 and 2015. The analysis reveals that of the 111 incidents, zero were successfully thwarted by an armed civilian. The report also highlights an FBI analysis of active shooter situations which found that unarmed civilians were more than 20 times as likely to successfully end an active shooting than were armed civilians.
Under the new Michigan concealed weapons legislation, gun owners that undergo an additional eight hours of firearms training, or licensed gun instructors, qualify for an enhanced open carry license. Though these qualifications have been deemed sufficient by proponents of concealed-carry policies, the John Hopkins Bloomberg School of Public Health's Center for Gun Policy and Research report points out that requirements for hands-on use of a firearm, should not be equated with demonstration of proficiency in safe firearm handling, proper decision making about whether to use a firearm, or the ability to effectively use a firearm in various situations a civilian might encounter if they routinely carried a concealed firearm.
Meekhof also stated that people should be allowed to carry concealed weapons in public spaces to protect themselves because public spaces are a target-rich environment for would-be shooters. The John Hopkins Bloomberg School of Public Health's Center for Gun Policy and Research report provides research to suggest that there is no conclusive evidence to support this claim. Rather than choosing a target because it is perceived to be "gun free," perpetrators often have some prior connection to the location and/or the victims targeted.
Henry Ford College is currently a gun-free zone. Regardless of whether one possesses a license to carry a weapon, a concealed-carry permit, or wishes to open-carry, the college's policy strictly prohibits guns on college property. Exemption to this prohibition is extended only to qualified federal, state, or local law enforcement officers who are required to carry firearms in the course of their duty; individuals wearing a weapon as part of a military or fraternal uniform in connection with a public ceremony for a limited duration with the permission of the manager of campus security; or to individuals granted a written waiver from the President or his/her designee for a limited duration and scope.
Strict enforcement of the college's gun-free policy has over the years ensured the safety of students, faculty, staff, as well as visitors on campus. The last recorded fatal incident of gun violence was a murder-suicide in April 2009, when a 28-year-old theater student, Anthony Powell, shot and killed 20-year-old fellow student and aspiring actress and dancer, Asia McGowan, before shooting and killing himself in an empty classroom in the Mackenzie Fine Arts building.
With the 2009 incident in mind, eliminating the restrictions on permitting the carrying of guns on campus may be a justifiable cause for concern. Under current law, universities which have autonomy in their constitutional authority may impose restrictions on concealed guns on their campuses, but the proposed gun legislation offers no opt-out option for public school districts. Public school boards, however, may adopt and enforce policies regulating the possession of guns by students on school property within those districts.
What this essentially means is that to prohibit students from carrying concealed guns on campus, Henry Ford College along with other schools in the district would have to have Dearborn Board of Education approval. But, neither the Dearborn Board of Education nor Henry Ford College will have the mandate to issue restrictions on carrying guns on campus to qualifying licensed non-students.
Passed by a vote of 25 to 12 in the Senate, the legislation now sits in the state House. It is most likely that the House will pass the legislation too, but the decision rests on Governor Snyder to sign it into law.
In 2012, following the tragic Sandy Hook Elementary School shooting in Newtown, Connecticut, Governor Snyder vetoed similar legislation which would have permitted concealed-carry of guns in schools because the legislation did not offer the opt-out option for public school districts. Speaking to MLive, Governor Snyder expressed that his position remains the same.
Share it now!