"Stronger Together": The Ladies of Bagley/Trumbull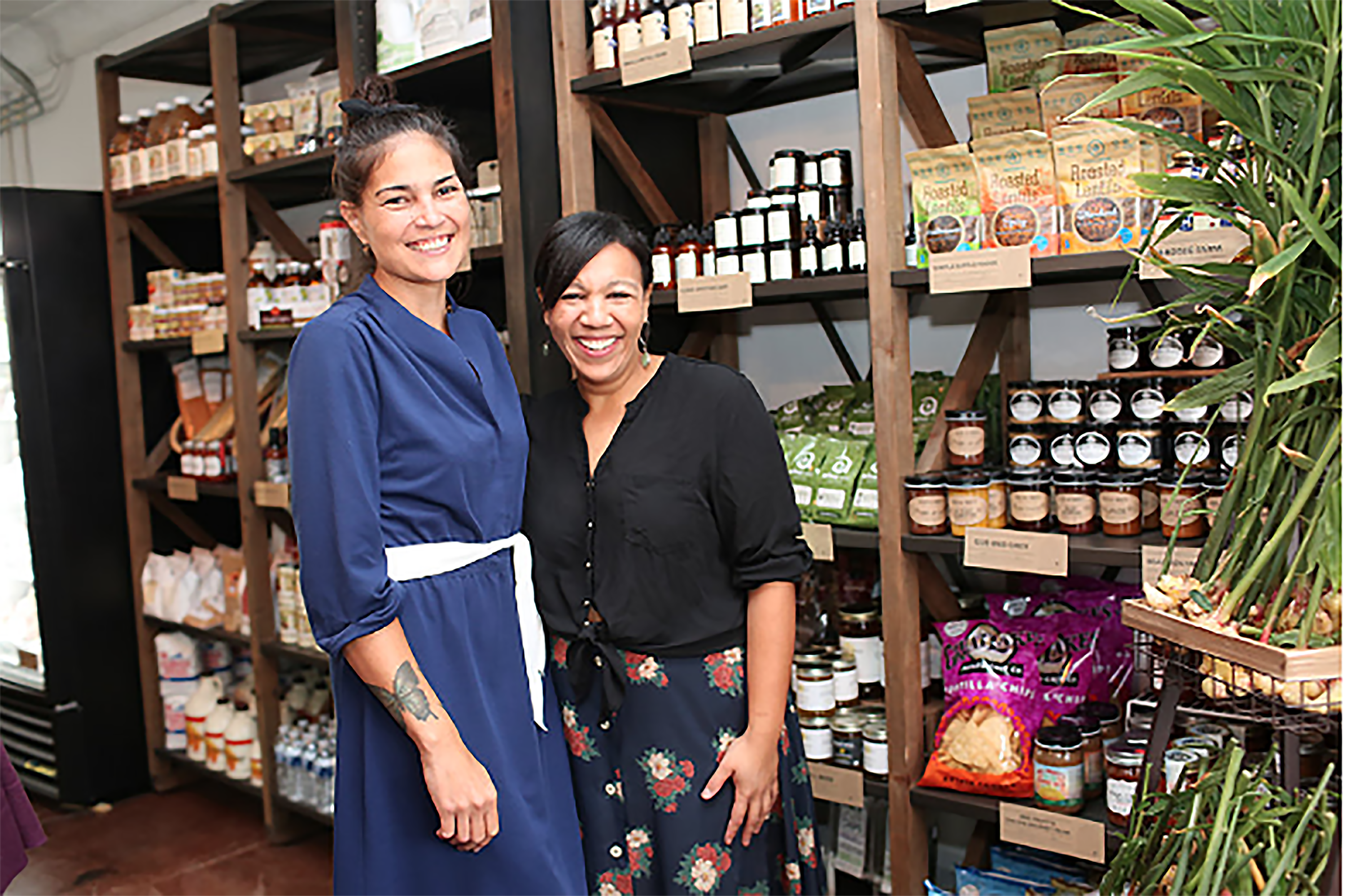 Photo by Sarah Barthlow Photography for The Detroit Metro Times
If you don't recognize names like Mama Coo's Boutique, The Bearded Lady, and The Farmer's Hand you must not be living in Corktown Detroit, where independent small business is thriving. Nestled at the corner of Trumbull and Bagley St., this collection of unassuming shops are hitting the sweet spot between artisanal and affordable. On Sunday, Sept. 17, the Ladies of Bagley/Trumbull celebrated one year of success. To signify this, a block party was thrown offering food, drinks, haircuts, live music, and a smack at the pinata. Though each business has an individual mission and style, the collaboration enjoys a shared passion for the community and support of one another's achievements.
Ash Hipps never planned to end up "doing hair" like her grandmother and aunt before her. "I was against it for a long time," she explains, "I was determined to go my own way and not follow in their footsteps." Yet she had the yearning to be her own boss, set her own schedule, and to have something she could lay claim to."It just comes naturally for me to do hair," she sighs, conceding almost to powers beyond her control. "I finally told myself, you can have everything you want. Just stick to the family biz."
A painted sign over the door of the old Bagley Trumbull market building, now newly remodeled, reads The Bearded Lady: Beauty and Barber Shop. "So that's how it started," Hipps recounts. "I was attracted to Detroit because it's in a rebirth stage and the clientele happens to be more down to earth than in the suburbs. I just wanted that, people sharing mutual respect for one another. I can accommodate those who kind of fall between the cracks of salons." She gazes up from under her newsboy cap. "You know, fill that gap. People want something affordable and good. I did research on prices in Detroit and picked the most appropriate from what I found citywide, not just from salons in affluent neighborhoods."
When asked about her clientele Hipps replies,"I get people from every demographic you can think of. Young, old, different cultures, everybody... but they all share the same sort of personality type. For the most part, they're easy going and laid back." It's pretty clear with this description that Hipps' clientele is a reflection of herself. As she sits cross-legged in the sunlight, relaxed and genuine, she embodies her own shop's "no-gimmick" promise. A chalkboard sign sits atop the bookshelf next to her. 'Self serve: coffee, tea (Keurig), beer (fridge), water. Framed photographs scatter the walls, mostly black and white, some perhaps family. Golden Girls' Bea Arthur makes the frame on Ash's station. "I didn't want a designed space that felt sterile. I just wanted a bunch of stuff that felt like me." The room is alive with laughter and conversation as fellow stylists, Vanu Gant and Mavis Saunders, chat with patrons, color hair and apply make-up. "I'm very intentional about who I hire," Hipps states as she glances with pleasure in their direction. Accents of style on this staff may include highlights of violet and lime, tidy dreadlocks, a tattoo, a pair of horn-rimmed glasses."I called it the Bearded Lady because I wanted something a little weird, a little different. I wanted something welcoming to all kinds of people. A neighborhood place."
Around the corner, Kiki Louya and Rohani Foulkes are reconnecting shoppers with their food sources by providing easy access to fresh, artisanal and local. Inside the market and modest cafe, farmers stop by daily, dropping off seasonal vegetables, fruits and herbs, as well as humanely-raised and antibiotic-free meats, eggs and dairy. Small batch pottery, single-origin coffee, organic olive and coconut oil soaps, finely crafted honey, and heirloom chocolate. These are a few more of the intentionally selected items you will find here. Partnering with over one hundred Michigan food producers to offer high quality groceries, The Farmer's Hand is exactly that. A short and single bridge between those that produce with intention and their mindful consumers.
Though Foulkes hails from Cairns, Australia, and Louya is a native of Detroit, both have a background rich in culinary arts education and notable professional chef experience. The co-owners share a love for non-profit community work, from Gleaners Food Bank, where Foulkes taught nutritional education and managed community outreach programs to Louya's success as an event planner, raising substantial monies for non-profits such as Vista Maria, The Charles H. Wright Museum and the New York Public Library. Both are committed to honest, wholesome food and a simpler, healthier way to shop. In their individual searches for the right small business opportunity that would allow them to connect their passion for food with Detroit, Louya and Foulkes continued to cross paths. "We finally reached out to one another and decided to sit down and have coffee." Foulkes smiles, "A year later, here we are."
Tucked into the neighborhood at Trumbull and Bagley, the building has historically been a market. The partners were drawn to both it and Corktown for the strong small business association. With many established independent businesses working collaboratively with one another, it seemed exactly the right spot for this vision to take root. Foulkes says that since they have settled here, both she and Louya have joined different boards and organization in the community, working together through neighborhood events and shared interests. "The one year anniversary is an iteration of that collaboration. We all turned one around the same time and decided to celebrate together rather than separately" Foulkes says, "It was really important to us from a business perspective to be a part of a community here."
When asked what may have been unexpected, she answers, "What has been surprising is that our clientele has been far broader than we expected it. We understood from our research that certain folks have certain consumer habits and like to purchase certain things but it's gone far beyond this type of person or this age bracket. It's everybody, at every age, that's seeking to support something that offers them a value when they spend their money in a store. That has been a pleasant surprise."
"Our mission is to support Michigan agriculture and Michigan value added products and artisans,"Foulkes adds, "and we bring it together in one little space. We are primarily a market, and what makes us different is that we work directly with our partners. In doing so we are able to return a higher profit margin because we don't have 4-7 people touching that product, working logistically to get it from a farm to a consumer. The value proposition for customers is that when they come to us they know that when they hand over a dollar, seventy cents goes back to building the food ecosystem, to the farmers that grow their food."
Just next door, at "Mama Coo's Boutique," Lana Rodriguez is redefining "upscale vintage" by offering one-of-a-kind pieces at every price point. The Southwest Detroit native, United States Navy Officer, and Political Science and Art History major is no stranger to the hard work and imagination needed to realize a dream. As an established artist, or "maker," in her own right, Rodriguez had been showcasing her work through local galleries and successful pop-ups in Metro Detroit and New York. It was while consulting for a local creative non-profit, that the idea for "Mama Coo's Boutique" was born. Rodriguez had envisioned opening shop in the Southwest Detroit neighborhood where she grew up before she stumbled upon what seemed like the perfect space on Trumbull, next door to The Farmer's Hand. When she showed her mother a photograph of the brick storefront, her mother just laughed. Little had Rodriguez known that the space over the shop had been her grandparents first Detroit home when they moved here from Texas in the 1950s. Unable to deny that type of Providence, Rodriguez set up shop under the name her Grandpa used to call her, "Mama Coo."
The shop, though tiny, is a treasure trove of unexpected finds. You could spend all afternoon exploring in here. From vintage clothing, to handmade soaps, jewelry and dolls, from classic men's ties and decorative scarves, to unique home furnishings, it's a feast for the eyes. The space is artistically designed and decorated, more akin to a huge walk in closet or bedroom than a store. "If I don't make it, I've picked it up somewhere or know the artist who has made it," Rodriguez says. "Everything here is bought outright, no consignment. The artist gets their cut right away." Community, family and local art are strong values to this store owner. Rodriguez's Mexican-American heritage is celebrated throughout the room with colorful paper flowers and lanterns, vibrant folkart, Frida Kahlo charms, and an unique collection of English to Spanish children's books called "Lil libros."
"It's really cool to see my neighbors coming to shop here." Rodriguez adds. "We try to keep it affordable and accessible to everyone." Customers may find $1 earrings, a $3 purse bin, a $5 clothing rack, and some days you can fill a bag for $20. There are also beautifully crafted items and imported pieces from Guatemala, Africa, Mexico and Turkey. "When people come and buy gifts here, that's really special to me. It takes time to find and curate each item and when people receive it well, that's very personal and touching to me."
The Ladies of Bagley/Trumbell are uniquely different yet stronger together through what they all have in common. As many new and elite Detroit developments are outpricing majority residents, these businesswomen are committed to high quality goods and services for their neighborhood and beyond without the high end prices. The tightly knit group is excited to welcome the incoming upstairs resident, Meta Physica Wellness Center. With the help of a 2016 Hatch Detroit grant for $50,000, the four year old business aims to support community by creating a gathering place focused on health and wellness and by offering Detroiters a local, affordable oasis within the city. Foulkes (The Farmers Hand) says Meta Physica has been a strong supporter of their businesses as they plan to be of them.