Feather Bowling is more than Light Entertainment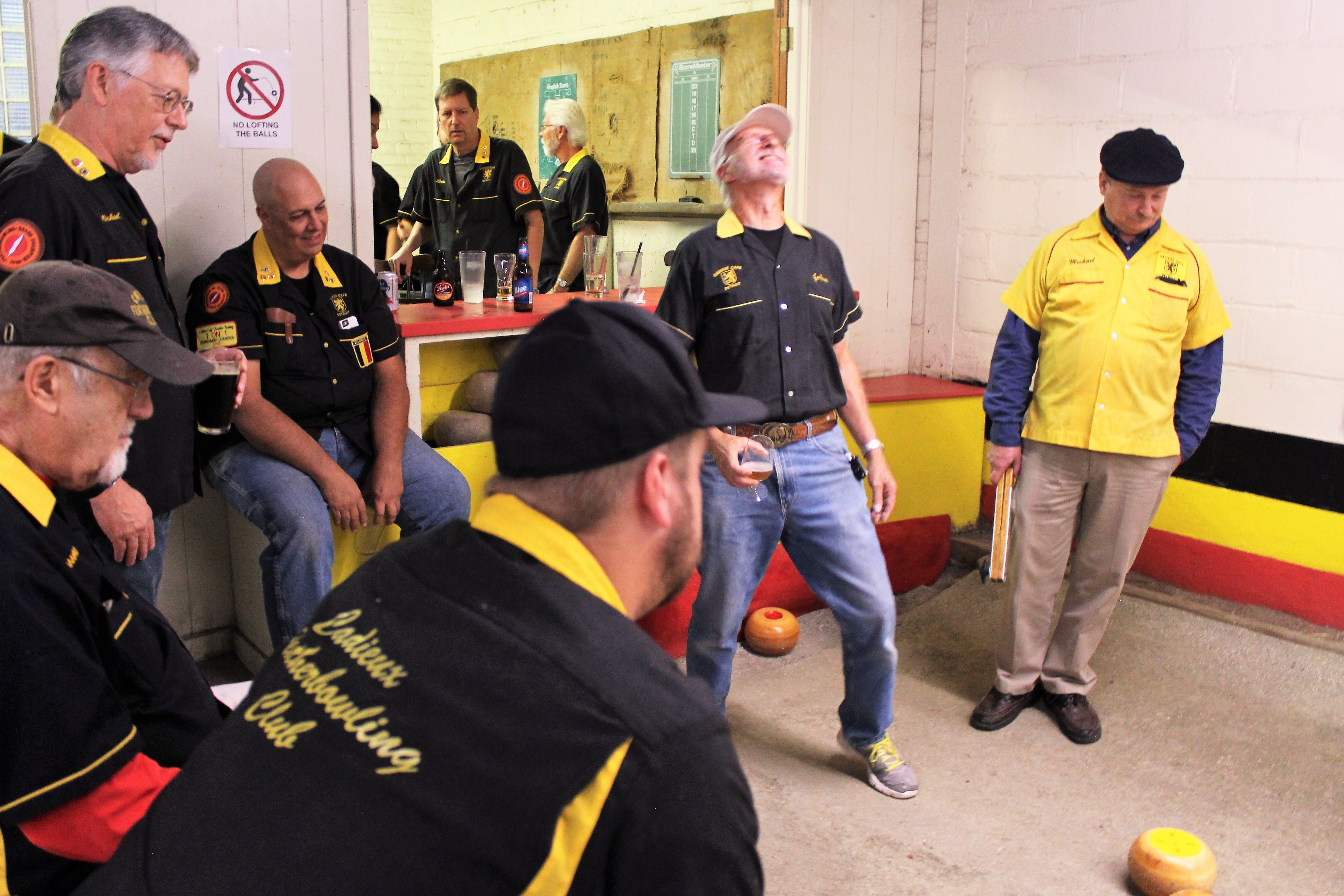 "It's Beautiful to be Belgium" boasts the Cadieux Cafe in Detroit, a cultural hub of rich history and tradition, famous to the locals. Nestled on the East Side, this unassuming neighborhood bar has been keeping it real since the 1930s, when it served as a Prohibition speakeasy. From the wall over the parking lot, visitors read, "America's only Feather Bowling." I saw first hand the merits of that claim. This one-of-a-kind establishment keeps its status by paying true homage to the fading Belgium sport with every authentic detail.
On opening league night young men and old stand shoulder to shoulder, eyes on the door, waiting expectantly, hats are swept off heads and placed across broad chests as the conductor leads the band in swelling notes of "La Brabanconne" (The Belgium National Anthem) and "The Star-Spangled Banner." From street clothes, to monogramed league shirts, to Scottish kilts, all pause in anticipation inside the walls that make them one. The door swings open, casting a shaft of light over the seated dinner crowd, and through it passes a gleaming wooden ball. The ball is handmade in Chicago, polyurethaned hardwood maple, and slightly weighted for movement. Shaped like a wheel of Edam cheese, with reverent motion the ceremonial ball snakes around the room, passing gently from hand to hand. Trumpets blast the importance of this occasion. Though balls are buffed and refinished each summer, this is the first time in forty years that they have been completely replaced. When the last man in line crates the very last ball, the treasure trove is ready to be lifted over the threshold. The room explodes. It's time. Let the games begin.
This is how feather bowling happens at the Cadieux Cafe. The neighborhood south of I-94 was once an early settlement for Belgium immigrants migrating into the city. The bar became a touchstone, connecting families to their roots by serving native cuisine and encouraging homegrown pastimes. Clubs were formed around pigeon racing, archery, bicycling and darts, and, most popularly, feather bowling. A combination of horseshoes and bocce, feather bowling is played by rolling wooden disks, or balls, toward a pigeon feather stuck upright near the end of the 72 ft. earthen lane. On league night, beers are poured and names are drawn from three wooden boxes, determining teammates and opponents for each round. Players get to work, jockeying to make the best collective shots with points gained by one team at a time. The game ends at ten points and though it's handshakes all around, personal scores are earned by each individual and it's every man for himself. Members play both with and against others in the room, taking their victory or loss as red and yellow marked balls wobble and weave closest to the feather.
"It's an odd little sport and it's unique," says club president Michael John. "It's easy to play, but hard to master." The lanes, originally outside but now enclosed, are dirt packed, convex trenches. The ball can be rolled straight toward the mark or finessed with an "up and down" sides of the lane, around other balls until it topples into place. A player can "shoot" the ball if his captain gives the go ahead, barreling it down the lane at top speed to blast out whatever is in the way. When a play is too close to call, a referee steps in with his compass-style measuring "stick" and declares a winner. If a ball teeters and falls directly on top of the pigeon feather, shouts of "Op De Pluim!" fill the room. A hole-in-one!
"I like the old world part of it," says Ron Devos co-owner, "It brings me back to my roots. The guys are just great. It's a gentlemen's game." The Devos family took ownership of the bar in 1962. Both Ron and his nephew and co-owner Paul Misuraca grew up here, helping parents and grandparents in the bar and restaurant. Now both owners play with their sons as well as one another and they aren't the only competing family on the floor. On club night, a variety of fathers, sons, nephews, brothers and friends come together. Some are from the neighborhood; others travel a long distance like Duane Murphy who has been driving from Port Huron every Thursday night for years to get his fix of good beer, healthy competition and rare camaraderie.
"What other sport do you know that has players from twenty year olds to guys in their eighties and nineties?" one player asks, "And the old guys can whip the pants off these young whippersnappers," he laughs
. Co-owner Misuraca shares what he love about the game, "It's inclusive. If you have a bad leg or hip, you can't play baseball, but even if you're not an athlete you can compete at this. The speed of the ball is everything. There are so many intricacies. They say that baseball is a game of inches," he chuckles, "This is a game of centimeters. It's addictive. Just when you think, 'I've got this,' you can have a horrible night. But win or lose, everyone shakes hands. There's great sportsmanship here. The elder statesmen of the league set the example for the younger guys. It's always been that way."
The fluorescent lit room of dirt and cinder block is hallowed ground to those who gather regularly. On the wall, a large Belgium map signifies each town linked to the heritage of participants over the years. A large wooden case pays deep respect to members who fought in the Resistance movements of WWII and never returned. The guys take ownership of this shrine, volunteering to repaint walls and re-gravel lanes when needed. Along the ceiling, dozens of framed portraits depict each year's Grand Champion. The pastel drawn likenesses have been a labor of love for seasoned member and renowned courtroom artist Jerry Lemenu. "I discovered feather bowling at my mother's wake, which was right here in this room," Lemenu explains in an interview with Alina Simone of PRI's The World. "And while I was here, I peeked through the door and some of these old men were playing this strange game that I had never seen before." In the interview, Lemenu explains that with league funerals and changing demographics, he was struck with a desire to capture and record the history of great players and true gentlemen before their memories were gone. Using photographs, he sketched those who had won prior to his arrival in the early 1980s, men he had never met. Now the promise of a Lemenu portrait spurs on competition. On opening night, fabric is pulled off the wall to reveal the new image of last year's Grand Champion. The unveiling is met with a raucous of cheers and applause. With fresh resolve, first balls are rolled. Each player longs to be memorialized in this way.
Although Thursdays are reserved for men's night, on Tuesday, a co-ed league takes the alley. "My mom was Grand Champion when she used to bowl," Devos reflects with pride. "At that time my Dad was always busy working just to keep things running." The quirky sport was mainly played by friends and family until the mid '80s when patrons in the restaurant and bar started poking their head into the alley to see what was going on. Devos and Misuraca realized there may be more of a public interest in the sport than had been imagined. They began keeping the bar open until 2am, renting the alleys out on the weekends and non-league nights, and bringing in local bands to play. The phenomenon caught traction and now Cadieux Cafe is a gathering place for the 21-35 year old crowd as well traditionalists.
You don't have to be Belgium to dive into a pail of freshly steamed mussels topped with garlic lemon butter or smothered with bacon, spinach, onions and Holland cheese. Other authentic dishes include braised rabbit with potatoes, apples, bacon and brown sugar, Belgium sausage, and the roast beef dip. For those a little less adventurous, simple homemade sandwiches, burgers and fish dinners remain an option. Every sandwich is paired with delicious, salty pomfrites, or french fries.
As restaurant chains come and go, and metro Detroiters seek the unique and authentically local, the Cadieux Cafe is an original. Not since "Cheers" has there been a more welcoming place to relish in satisfying comfort food, drink good beer; maybe while playing on a vintage Galaga arcade game, or just chill to live music and tunes on the jukebox. All of these of course play second fiddle to stepping into the sacred alley, palming the dusty wooden ball and with reverence, joining the ranks of those who have surrendered it down the dirt packed lane toward greatness.