Pistons stars Cade Cunningham and Jalen Duren off to a dominant start in the 2023-2024 Season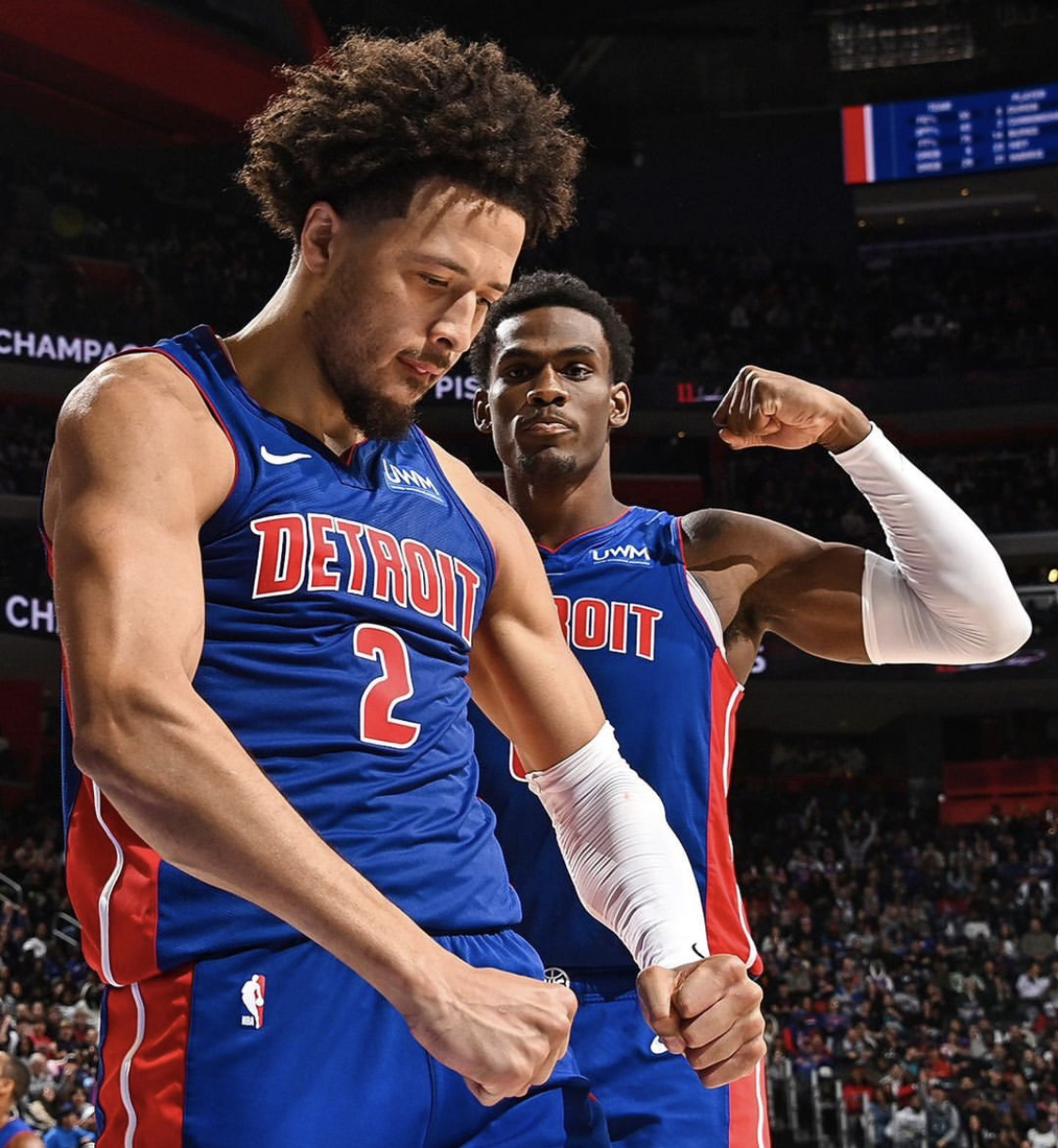 Cade Cunningham and Jalen Duren during home opener Oct. 28, 2023, Little Caesar's Arena, Detroit, MI. Photo courtesy Pistons.com
Oct. 28 - The Detroit Pistons hosted the Chicago Bulls at Little Caesars Arena in Detroit for their home opener.
After the decisive 118-102 win, Cade Cunningham opened up to the press with a smile when asked about what he and Jalen Duren could accomplish this season.
Cunningham and Duren are starting to look like the league's next great big and guard duo. "He's grown so much as a leader; it's remarkable." said Pistons head coach Monty Williams. Cunningham has proven to be one of the most efficient young playmakers in the NBA.
He is able to blend elite playmaking with a valuable ability to score. Cunningham is currently averaging 22.8 points per game with 6.8 assists. An already significant improvement from his 2022 campaign with 17.4 points per game and 5.6 assists.
"I just feel like there are a lot of different aspects to my game that helps us play winning basketball" said Cunningham.
Cunningham and Duren combined for 48 points in their win over the Chicago Bulls. Cunningham with 25 points and Duren putting up 23 points and 15 rebounds. This was the 22nd double-double of Duren's career, breaking the tie he had with Lebron James for the most by a teenager in NBA history.
"I think Cade and I are just kind of a match," Duren said. "He's got a high IQ and I've got a high IQ and we know the type of players we are. When he's got the ball in his hands, good things are going to happen. So I'm trying to get the ball to him."
The Pistons average 15 points per game when Cunningham and Duren play compared to when they don't. "Continuing to develop our young players, especially them, is vital," said head coach Monty Williams, referring to Cunningham and Duren. "They bring a special flair that helps our system run smoothly."
The Pistons were able to overcome a career-high 51 points from Chicago Bulls all-star Zach Levine.
The Pistons look to improve to 4-4 as they face the Phoenix Suns and the Golden State Warriors in back-to-back games at Little Caesars Arena.