Mochi Dough and Bober Tea Bring Popular California Franchises to Dearborn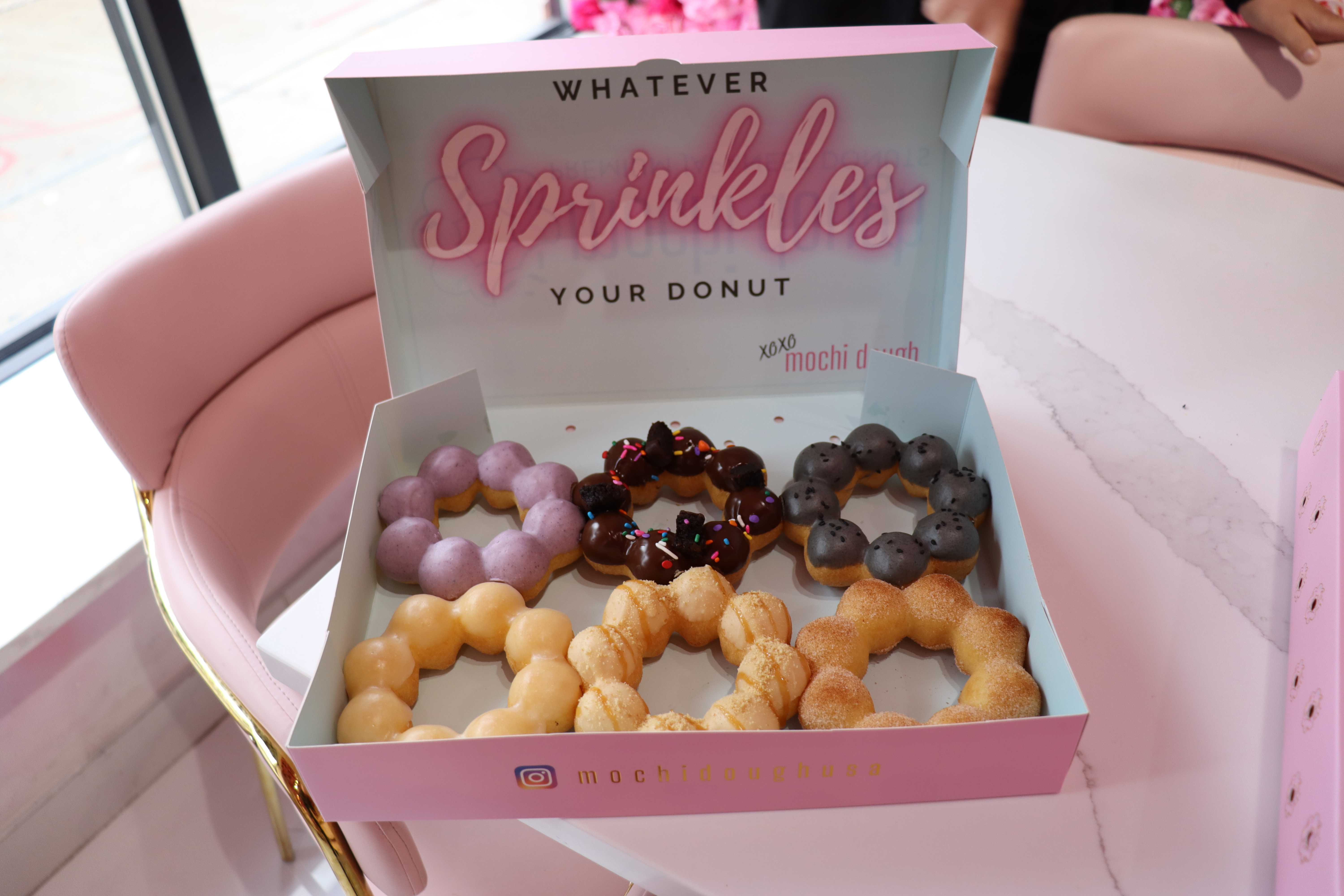 Half dozen Mochi Dough donuts photo by Ashley Demario
The beautiful and bold decor of Mochi Dough and Bober Tea, Dearborn, MI Photos by Ashley Demario
Mochi Dough and Bober Tea had their grand opening this summer. Co-owners Abeer, Zeinab, Mohamad, and Kathy Sobh knew they wanted to open a food business but were unsure of what until they came across the Mochi Dough franchise in Troy, Michigan. Since there was nothing like it in the community, they decided to reach out to the franchise headquarters in California to bring it to Dearborn. Abeer explained, "We flew out to see it in operation, and we loved it so much."
A mochi doughnut is a mixture of Japanese mochi ice cream and a regular donut, but rice flour is used instead of traditional yeast to create a uniquely airy and chewy inside with a perfectly crisp outside. Japanese mochi dates back to the 1800s. The mochi donut, also called a pon de ring, became popular in the early 1990s in Hawaii.
The Mochi Dough franchise is one of the largest in the U.S. and currently has 24 locations, with 16 in California and more locations coming soon. Mochi Dough and Bober Tea in Dearborn is the second franchise in Michigan. Bober Tea is a bubble tea franchise, also based in California, that has partnered with Mochi Dough.
With bright pink flowers covering the ceiling and walls, swings hanging from the ceilings, and marble flooring and pink wallpaper, Mochi Dough catches potential customers' attention while they're walking down the street. The decor makes for Instagram-worthy pictures.
"We wanted a place that made people feel comfortable. You come in here to hang out. You feel like you know it's a positive vibe. We have people who will bring in their laptops and then do their work. Sometimes we'll lower the music with them. Sometimes people like the music, so it just all depends," Abeer said.
The donuts get changed every two weeks. A pumpkin spice donut will be coming out next week. Abeer expressed excitement about introducing the "Ten Yen Cheese Coin," which is mochi dough with a pancake-like texture with melted cheese on the inside.
Since Mochi Dough is paired with Bober Tea, patrons can enjoy milk teas, iced coffees, hot lattes, boba tea, fruit teas, and smoothies. Soon they will be including "stir-fried boba" drinks, where the tapioca pearls are stir-fried with brown sugar, caramelizing them.
With over 20 employees, Abeer appreciates the dedication of her staff. "It's all teamwork. We all help each other. They help us. We were blessed with a good team."
Based on their success in Dearborn, the Sobhs hope to expand the franchise to additional locations.
Mochi Dough and Bober Tea is open from 11:00 a.m. to 8:00 p.m. Tuesday through Thursday, 11:00 a.m. - 9:00 p.m. Friday and Saturday, and 11:00 a.m. - 6:00 p.m. Sunday, and is located at 22370 Michigan Ave, Dearborn, MI.