Local Arab American Artists Featured in "For the Love of Humanity" Exhibit at the Padzieski Gallery in Dearborn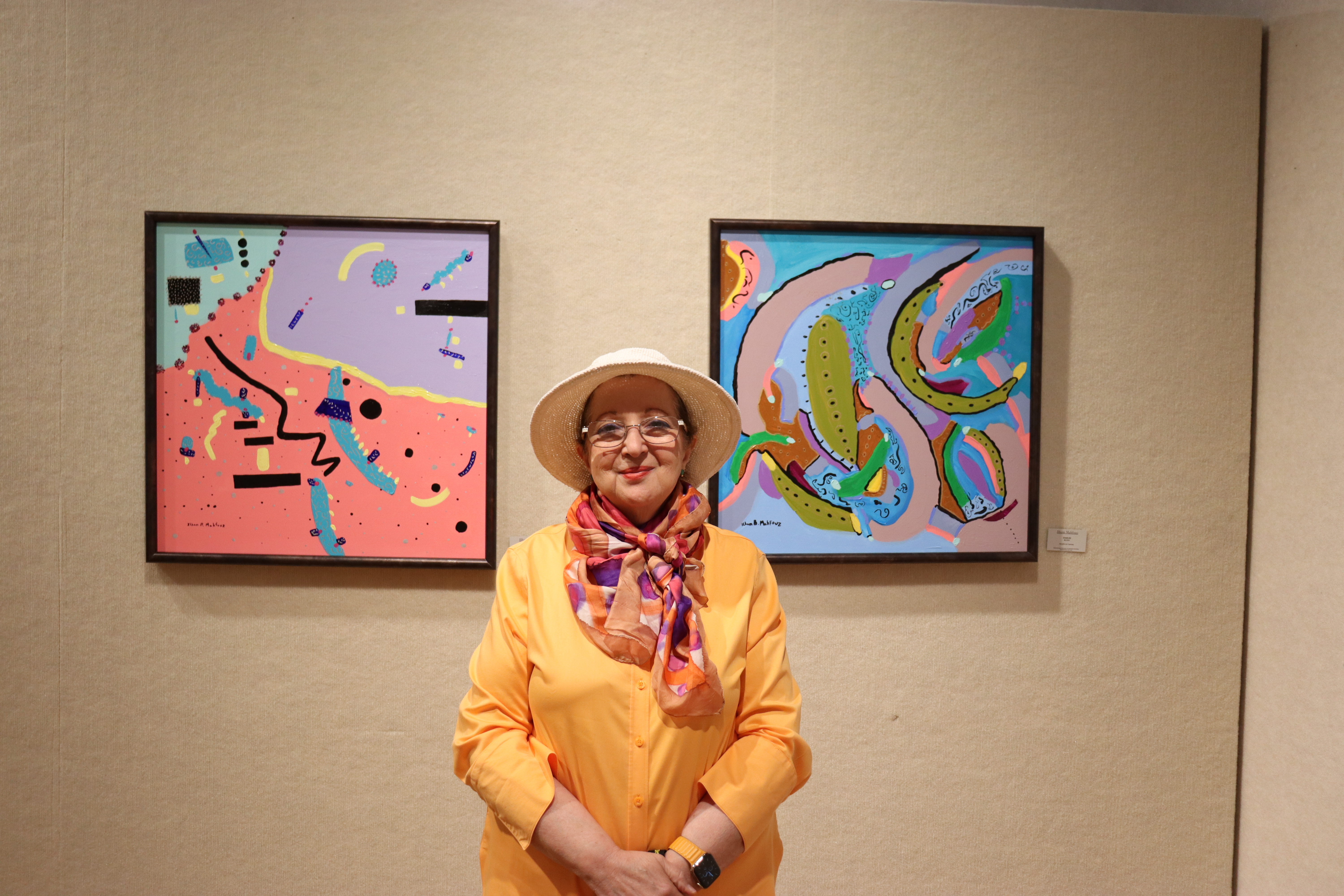 Ilham Mahfouz in front of her artwork on display as part of "For the Love of Humanity" exhibit, Padzieski Gallery in Dearborn, MI. Photo by Zynab Al-Timimi
"For the Love of Humanity, Arab American Artists & Friends" at the Padzieski Gallery in the Ford Community & Performing Arts Center's west wing showcases artwork created by recognized and rising Arab American artists.
Exhibit co-curator and artist Haydar Alyasiry connected with Sasha Corder, the previous curator of the Padzieski Gallery, and proposed forming a group of diverse Arab American artists to create an exhibit showcasing various art styles. Once Corder agreed, the artists who desired to participate sent a proposal. Ilham Badreddine Mahfouz, co-curator and artist, stated, "We agreed to name the exhibit 'For the Love of Humanity' because it conveys the message of companionship."
The exhibit started to emerge when Arab American artists united from all different parts of the world. "I am from Syria, and some of my fellow artist friends originate from Iraq, Lebanon, America, Africa, and Ukraine," Mahfouz explained.
"I feel stronger with my colleagues and friends when exhibiting together because we think of each other as family. Whereas when I am in a solo exhibit, everything is on me. I have to transport the artwork, I have to coordinate, and I have to work hard." Yet, Mahfouz still enjoys solo exhibits when she gets the chance to reach out and converse with new people because she always finds it a terrific opportunity to make connections.
Due to the diverse group of artists in the exhibit, there are a variety of art styles ranging from realism, surrealism, and abstract art that give the collection its distinctive brilliance, where each artist sheds light on the viewer through their creative expression.
Mahfouz believes this exhibit, which features local Arab American artists like herself, is significant for two reasons: "First, the media tends to misrepresent Arabs and assume the wrong stereotypes. Therefore, the exhibit represents a new side of Arabs that conveys the message of each artwork and silences misleading stereotypes. Second, it is vital to keep in mind that as long as a person lives to be a painter, poet, journalist, or any form of artist, they have a unique way of speaking up. Whether it be through writing, singing, sculpting, or expressing a message through colors on a canvas, they are all forms of communication." Mahfouz recalls the adage, "Your pen is mightier than the sword."
The exhibit's message is expressed in the title, "For the Love of Humanity," with art intended to express the love of all people by accepting each artist's style, skill, and background. Mahfouz mentions, "We have to love and support one another because we are all human beings, hand in hand, as one equal entity. That is the moral I hope visitors grasp when they come to the exhibit."
Mahfouz used this exhibit as an analogy between the artwork and the importance of neighborliness. Mahfouz encourages positivity by being outgoing, introducing yourself, always smiling, and lending a helping hand to a neighbor. Mahfouz is guided by her Muslim faith, stating, "Prophet Muhammad, peace be upon him, said, 'You are responsible for your seventh neighbor on each side. So you must ensure they are not hungry or sick and are always taken care of.'" That is the beautiful lesson Mahfouz believes is our duty as human beings and the moral she hopes visitors hold onto.
Some artists in the exhibit express their feelings through the reflection of calligraphy, Persian art illustrating stories, woven photography, landscapes displaying a love for playing with nature, and designs associated with African art.
One of the artists in the exhibit, ​​Reem Al-Taki, is a Syrian artist who studied French literature at the University of Damascus. She then moved to Jordan and taught French in Syria and Jordan. During her time, Taki met an Iranian teacher who introduced her to Persian art and calligraphy.
After four years of hard work, Taki obtained a certification in Persian art. She notes that this art helped her learn patience. Taki first learned traditional Persian designs by imitation and started drawing her own designs using vibrant colors and paint made with gold.
Eventually, Taki began using her imagination to paint scenes from her favorite oriental stories that her grandmother used to tell her when she was young and full of optimism and beauty.
Taki's mixed-media piece "Moonlight Secret" is her favorite artwork that she has made so far. The painting is composed of birds, flowers, and a beautiful woman admiring nature, illuminating a specific story. Taki mentions that this type of art is rare in America, making people more drawn to her artwork.
Mohamed Fradi is another talented artist at the gallery. Fradi worked as a professional artist, illustrator, and designer for the Iraqi Art magazine in Baghdad from 1971 to 1988. He was also a designer and artist for the Iraqi film and theatrical groups.
Fradi eventually earned a Bachelor of Fine Arts and a Master of Fine Arts from Baghdad University. His scenic artwork at the exhibit called "Fifth Season" is made with acrylic paint on canvas, illustrating landscapes around Michigan.
Graciela Bustos is also one of the skilled artists at the gallery. Bustos is an immigrant from Neiva, Colombia. She works with multiple mediums to convey the sense of light and hues in their original form. Bustos moved to the United States to study art and received an Associate in Liberal Arts degree from Oakland Community College.
Most of her works create a sense of conceptual expressionism and reflect controlled chaos. Her idea of light and creating shadows is also a theme that is evident in her art. For instance, Bustos has a brilliant section in the exhibit that showcases two different prints systematically cut to create a neatly woven mesh of photographs.
Co-curator Haydar Alyasiry is a portrait artist. He received his diploma from the Institute of Fine Arts in Basra-Iraq. Alyasiry started his career as a portrait painter in Iraq and as an art designer for several newspapers and journals.
Alyasiry teaches art and the history of Arabic and Islamic art and is one of the founders of the Iraqi Association of Iraqi Artists in Michigan. One of Alyasiry's intricate artworks in the exhibit, "Women From My Country," is composed of oil paint on canvas that brings recognition to women in Iraq.
As we toured the exhibit, Mahfouz told me that as she grew up, her primary focus was literature, poetry, and journalism. "When I was a child, I used to draw on my desk and books at school." Mahfouz also played piano in her youth. "Music still moves me. Art, painting, and drawing still move me."
Once she started taking courses at Oakland Community College in Farmington with Professor Robert Vikander, he introduced her to ceramics. "He got me hooked! Ever since that day, I never looked back," Mahfouz says. Vikander was a famous Raku artist who used Raku firing, an ancient Japanese ceramics technique used for centuries to create a remarkable finish to wares. Mahfouz became mesmerized by this form of craftwork and ultimately decided to major in art.
Mahfouz credits Robert Vikander for inspiring her to become the artist she is today. After Mahfouz graduated with an associate degree in art, she followed in Vikander's footsteps and applied to Eastern Michigan University. After years of hard work, Mahfouz earned a Bachelor of Fine Arts in Ceramics and Painting and a minor in Art History.
During the pandemic, Mahfouz was able to use social media to expand the reach of her art. "I am an optimistic person! During that time, I was determined to stay positive and hopeful." Focusing on the good, she started reaching out to several magnificent artists from all over the world on Facebook. She assembled connections with artists from Italy, France, Turkey, Korea, the Dominican Republic, and beyond. Mahfouz also participated with them in online exhibits and had her work shipped to numerous countries, such as Korea. Of all the places Mahfouz has exhibited her art, New York was her favorite location.
Mahfouz finds inspiration for her artwork from the news. She notes, "Though we are all one big family, each of us lives in our own bubble. When I see homelessness on the news and people suffering, I feel for them. I suffer with them, especially during the war in Syria, the earthquake, the flood—all that affects me." Mahfouz paints her feelings, which vary. Depending on the moment or her subconscious, it is all conveyed through her artwork.
"I use all media, whatever I can get my hands on. For example, I once created a bird using the peels of paint and some wire to hang from the ceiling," Mahfouz says. She also uses acrylic paint, oil paints, watercolor, wood, and styrofoam to create her remarkable art.
One of her pieces in the exhibit, "Meditation in Blue," represents a sense of calm and peace within oneself when meditating or praying. Mahfouz made this piece of art by ripping the canvas and stapling it into wood to give it a 3D shape that brings the painting to life.
Since becoming a professional artist, Mahfouz mentions that she has gained incredible opportunities, such as being interviewed by various journalists, traveling the world, and showcasing her art at numerous exhibits.
Mahfouz shared a story when The Oakland Press in Pontiac, Michigan, interviewed her about the ceramics class she used to teach. Mahfouz taught her students how to make ceramic bowls and create paintings employing mixed media. One day, a director called and said that there was a child who was ten years old and in a wheelchair. He was terminally ill, but his only wish was to make a ceramic cup for his mother before he passed away. Mahfouz agreed and met the child and helped mold the clay in the shape of his hands to form a cup. Mahfouz asked the boy, "What color do you want?" He said yellow, his mother's favorite color. She told him the cup would need a few days to be "fired" in the clay oven. Once the cup was ready, Mahfouz brought the cup to the boy, and he gave it to his mother the night before he died. For Mahfouz, the experience of helping others through sharing art is what she most values about her work.
Mahfouz advises, "The most important thing I would recommend for students who may be interested in becoming artists is to do whatever you desire. If you don't nurture your interests and try, you'll never know the skills you may uncover."
"Whether you are interested in art or not, it's a great place, even as a student, to interact and build connections," Mahfouz says.
The Padzieski Gallery arranges and supports events that establish contact between artists and the public with a dedication to community development. In 1988, the gallery had its grand opening and was called The City Gallery. It was previously located at City Hall in East Dearborn on the fourth floor. Years later, the gallery closed down when City Hall moved.
Chris Bennett, gallery manager and coordinator, explains, "Frank and Mary Padzieski (Pad-jes-ki) were long-time Dearborn residents, philanthropists and patrons of the arts." They contributed money for the naming rights and to help fund the gallery.
The Padzieski Gallery was built into a space with elegant glass walls in the Ford Community & Performing Arts Center and opened in 2001. Currently, the gallery is funded by the city of Dearborn and generous donors.
Bennett became involved with the gallery when he moved to Dearborn in 2017. "I'm a landscape photographer and small business owner. I do fine art and photographic printing for artists and photographers," Bennett says. He started seeking anything arts-related and came across the Padzieski Gallery, where he began volunteering in his free time. A few months later, his business became busier, and he had less time to volunteer.
Nonetheless, Bennett started submitting for the annual photography show at the gallery. Bennett states, "Four months ago, I noticed that they were looking for a part-time gallery coordinator position. So I applied and got the job!"
The gallery has an open submission slot on its website with submission forms to present a proposal or group show of two or more people. The proposals are then reviewed as they come in. "The first two shows I managed- the one that's up now, 'For the Love of Humanity,' and the annual photo show, had good turnouts from the community," Bennett says.
People were supportive by submitting to the open calls, and most shows involved people from the community. "We conduct public school shows during homecoming for students and teachers where they paint in the park. The workshops and lectures we hold allow for community engagement," Bennett mentions.
The Padzieski Gallery holds six exhibits annually. Bennett says that "For the Love of Humanity" took approximately one month to organize. The artists and staff communicate via email to set a "drop off' time for their art along with letting the artists know what is needed to display their work, such as hanging hardware wires."We hope visitors notice the art made of various mediums from a creative and cultural standpoint. Most importantly, we want people to just have an enjoyment of looking at art," Bennett says.
The biggest challenge the gallery faced since the pandemic was "hitting the reset button" and employing new staff members. ​​Bennett notes, "At that point, we had a clean slate. It became easier to re-engage with the community because people had been stuck at home making a lot of art during the pandemic and were eager to share their work. So we got the gallery back up and running pretty quick."
The gallery continues to engage the community with its annual art shows at Dearborn schools. Bennett hopes to keep receiving intriguing proposals from incoming artists. "Our mission is to show diverse work and bring an interesting lineup of art and artists to the community for their enjoyment," he said.
The closing reception for "For the Love of Humanity, Arab American Artists & Friends" is at 1 p.m. on Oct. 28 and includes an artist discussion that is free and open to the public.
The Padzieski Gallery is open from 12:00 p.m. to 6:00 p.m. Wednesday through Saturday and is located in the west wing of the Ford Community & Performing Arts Center at 15801 Michigan Avenue, Dearborn, MI 48126.
Ilham Mahfouz's art is available at: https://www.artistilham.com, Follow her on Facebook @ILham-Badreddine-Mahfouz-Gallery and Instagram @ilhammahfouz.