Henry Ford College Student Sells Wares at Michigan Renaissance Festival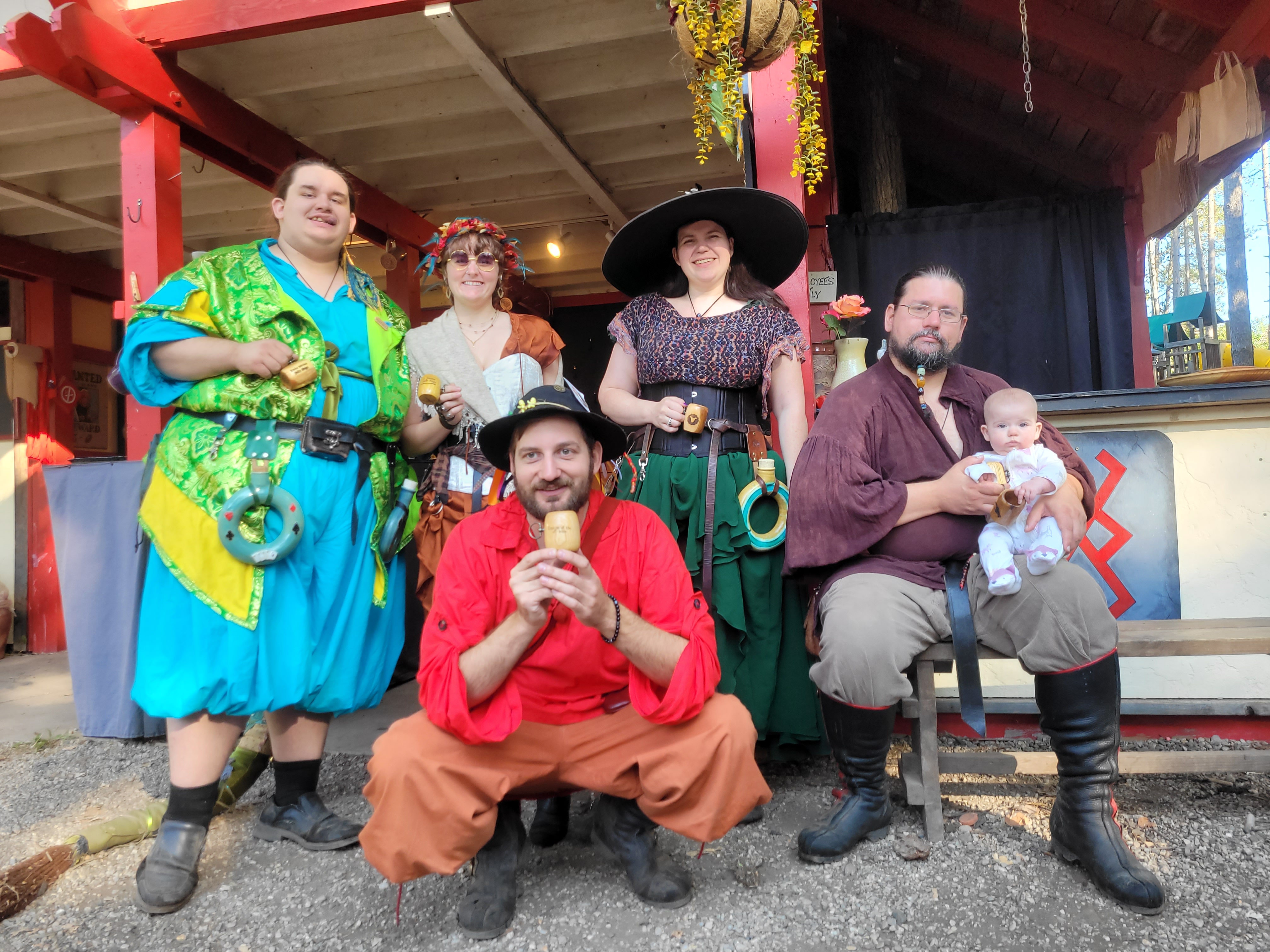 Brent Massey, Lindsay Turner, "Squeezer," Tori and Mike George and their baby Guinevere at the Renaissance Festival, Holly, MI. Photo courtesy Mike George
For forty-four years Holly, Michigan, has hosted the Renaissance Festival, which transports attendees back to the 16th century in a village called Hollygrove. There, one can see knights in armor jousting, magical fairies and mermaids, and eat medieval-inspired food from a gigantic turkey leg to a breakfast pickle.
In addition to these attractions, various artisans and vendors sell their wares, which can range from clothing for the time period, soaps, candles, and everything in between. One of these vendors is first-year Henry Ford College ceramics student Victoria "Tori" George.
Tori and her husband, Mike George, co-own Ram's Head Craftworks. While Mike has been doing ceramics for over twenty years, as a high school art teacher and now as a full-time business owner, Tori didn't start to do ceramics until the COVID-19 pandemic changed their work setup.
One of Tori's main roles in Ram's Head Craftworks is to book shows, take and figure out the orders placed by customers, and complete the paperwork that keeps the business running.
Prior to helping establish Ram's Head Craftworks as a permanent vendor at the Renaissance Festival, Tori began as a flag carrier for the parade that happens each day of the festival for two different shops.
For years, Tori's husband, Mike, would work in Henry Ford College's ceramic studio, helping students advance their techniques; however, the pandemic forced him to be at home working at all times. The family set up a home studio in the basement, and Tori began to go into the home studio to be with him and began to work in clay herself.
Two years later, Tori enrolled into first-semester ceramics classes with Mike's former teacher, Steve Glazer. For her, there has been a little bit of an adjustment to working around others, though it has allowed her the ability to bounce creative ideas with fellow students and vice versa. Outside of the classroom, Tori finds that her specialty lies in functional ware, but more specifically, carved plates and platters. Her style is whimsical, but with a clean feeling. She utilizes a variety of clays to help get the feeling of her work across. When at the Renaissance Festival, both Tori and Mike run their booth, making sure stock is always full and helping people choose the pieces that fit them best, and Mike demonstrates how to wheel throw on his kick-pedal potter's wheel attached to their booth.
A portion of what Tori and Mike sell goes to help support the charity, Renaissance Entertainers Service Crafters United (RESCU), which is a 501(c)3 non-profit organization established to help with the health and medical well-being of vendors and performers through financial assistance, advocacy, education and preventative programs. This charity is near and dear to the Georges and it has helped some of their friends.
Follow Ram's Head Craftworks on Facebook @RamsHeadCraftworks.