Collaborative Crescendo HFC24!'s Symphony of Artistic Fusion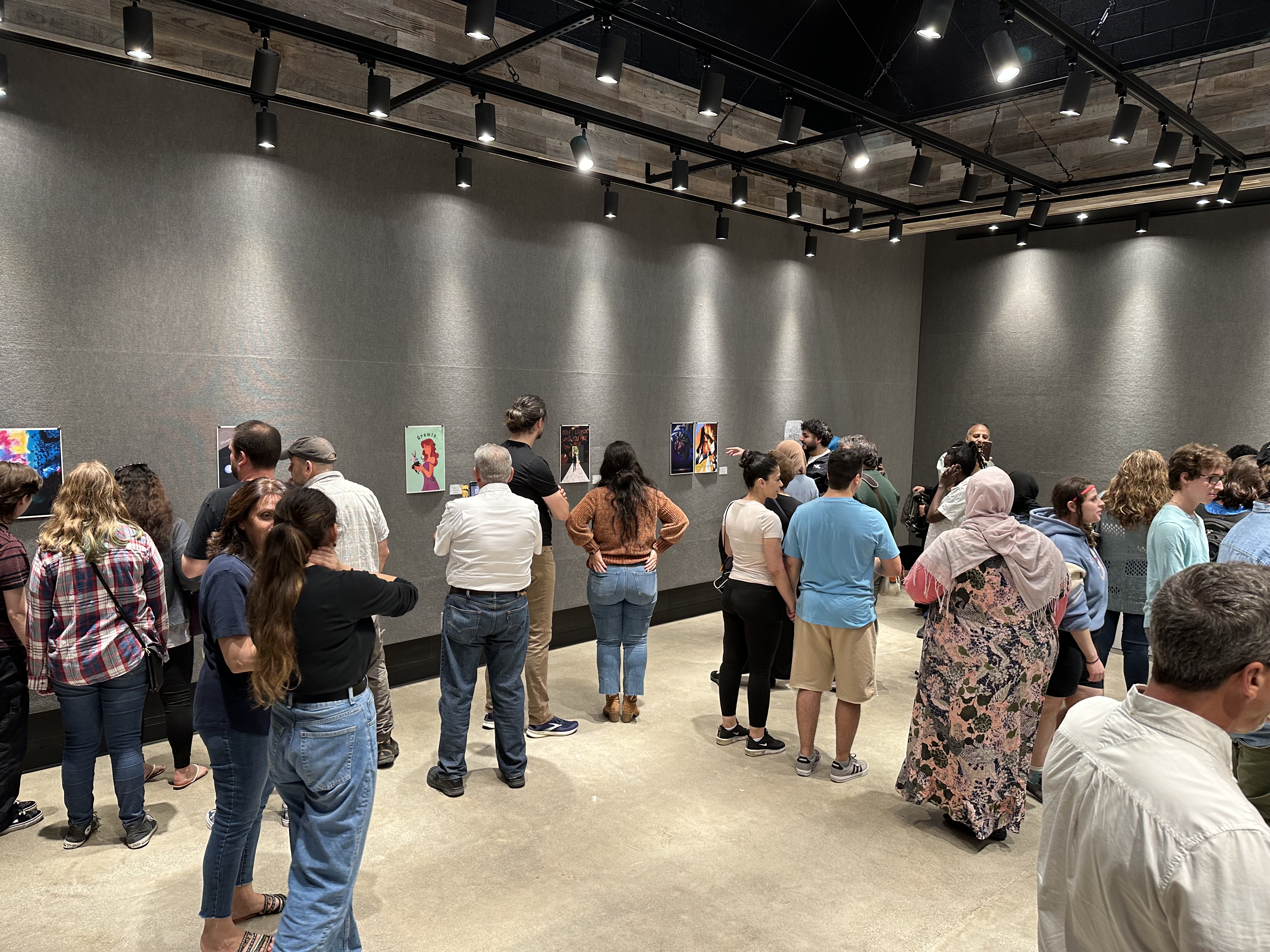 HFC24 Reception photo courtesy Steve Glazer
HFC24! was an innovative 24-hour collaborative arts project hosted by the Henry Ford College Fine Arts department that unfolded from 7:00 p.m. on Friday, Sept. 29, to 9:00 p.m. on Saturday, Sept. 30, in the Sisson Art Gallery and the Adray Auditorium within the MacKenzie Fine & Performing Arts Center on the college's main campus. Admission was free, with cash donations collected and distributed to student-run clubs in Fine Arts and the Hawks' Nest, HFC's food pantry for students.
What made HFC24! truly intriguing was the intentional secrecy surrounding its specific details. According to John Michael Sefel, HFC Director of Theatre, the rules were deliberately shrouded in mystery, creating an air of anticipation and surprise. During the kick-off ceremony, students received their instructions, initiating a 24-hour period of artistic exploration.
The collaborative spirit behind HFC24! was a result of the collective efforts of the heads of each Fine Arts program—Sefel, Susan McGraw from Media Communication Arts, Vicki Shepherd from Graphic Design, Steve Glazer from Ceramics, and Anthony Lai from Music. Inspired by the success of HFC23!, last year's event organized by Sefel, which focused on creating new plays in just 23 hours, HFC24! expanded the scope by involving students from five different fine arts departments. The goal was to explore how students could collaborate across disciplines, fostering exciting artistic conversations, creating artwork, compositions, and performances in a mere 24 hours.
Sefel underscored the importance of breaking down barriers between artistic disciplines and encouraging students to view their peers in all artistic realms as potential collaborators and partners. "It's easy to get caught up in your own discipline or medium. HFC24! reminds students that the artistic process often looks very similar across styles, despite using different tools and vocabularies," Sefel said.
Despite the time constraint, the focus of HFC24! remained focused on having fun and making meaningful connections. Faculty members were dedicated to ensuring a positive, non-competitive, and healthy experience for students. While the 24-hour concept may have seemed intimidating, the students did not work for the full 24 hours.
Sefel explained that HFC24! was inspired by the rhythm of 24-hour theatre festivals and 48-hour film challenges. This unconventional celebration of artistic chaos defies the norms of polished art, embracing the inherent beauty of mistakes in the creative process. One of the goals of the event was to recognize the challenge artists face in liberating themselves from perfectionism.
Sefel observed, "So many artists struggle to move their art from their studio to public exhibition, always trying to perfect it and find that final touch to save it from the harsh realities of criticism. HFC24! is designed to short-circuit those fears: as we say in theater, 'the show must go on,' and HFC24! ensures that – ready or not, warts on all – students' efforts will be on display by the deadline."
In its inaugural year, HFC23! featured twenty theatre students. Due to its success, the event expanded this year encompassing the collaborative endeavors of an impressive forty students across various artistic disciplines.
As the curtain rose on the 24-hour creative whirlwind, participants faced unique challenges crafted to mirror real world scenarios. HFC24! plunged students into a professional model of creation with strict deadlines and external prompts. The hope is that these experiences will fortify them for the challenges of the artistic world, where adaptability and resilience are paramount.
"Much like working in real-world applications, artists must work with what they have, using outside prompts and rules, and must get it done by a strict deadline," Sefel said.
"I think many students are terrified to let others see their work before it's 'just right.' HFC24! intentionally takes that choice away from them," Sefel explained, "and, repeatedly, students found that our audience responded extremely positively to their work, despite not having the time for 'polishing' or 'finishing touches.'"
The Media Communication Arts (MCA) department played a big role, adding its own flavor to the mix of artistic expression. McGraw describes how students were excited to be part of this "crazy and challenging experience," getting a chance to contribute to an event usually connected to the fine and performing arts.
"The opportunity for students and all these different disciplines to connect and showcase their own special skill sets was truly invaluable. It felt a little bit like going to camp for smart, creative, and passionate students," noted McGraw.
"My goal was for the students to feel connected through working side-by-side and be able to see each other's creative process, leading to a deeper respect for other areas of the creative arts," McGraw said.
"There's something exciting yet risky about showing others what you're creating, and the more time you can get the spotlight on your work, the more confidence you build," McGraw observed.
Looking ahead, McGraw hopes for even more students participating in future HFC24! events.
"I hope there will be more students wanting to participate moving forward. I think one more opportunity for everybody to get together and just socialize even before the official kick-off on Friday evening could be a bonus for everyone," she remarked.
Referring to the MCA department short film "Time's Up," McGraw said, "Although exaggerated, the short film captured the essence of the pressure, challenges, and overall need to not take things too seriously when working on a creative project. It was an homage to art imitating life."
Sefel said, "I loved how the Media Communication Arts students decided to create a 'meta-film' about HFC24!." Sefel added, "Their film, named 'Time's Up,' focused on the conflict and stress over trying to pick a prompt and how to create the work, all while working under an imposing deadline. It was a wonderful way to sum up what all the students felt, allowing them all to watch and laugh as a community."
McGraw acknowledged the role of HFC colleague, Tom Hopkins, who teaches video production, in keeping the team on track and providing support. "The biggest challenges involved staying focused enough to manage within the time constraints. One can understand that writing, producing, directing, acting in, and editing a film, even a short one, can take weeks or months, so in a 24-hour period, snap decisions had to be made, committed to, and executed," McGraw explained.
Reflecting on faculty-student interactions during HFC24!, McGraw said, "As instructors, our natural instinct is to jump in and 'teach' when we see something that could be improved upon. For this event, however, we tried to stay as hands-off as possible."
Jana Tourfa, an HFC Graphic Design student who participated in HFC24!, found the experience was a departure from her usual methodical approach, urging her to trust her instincts and embrace spontaneity.
"HFC24! made me go with the first idea I thought of. Usually, I make a few thumbnail sketches before working on a piece of artwork, but for the sake of the event, I had to be quick and put my indecisiveness behind," Tourfa said.
As the event reached its climax, Tourfa grappled with a common artist's struggle—the growing dissatisfaction with her work. "During the final stretch of the event, I was starting to dislike my work. The more I looked at my artwork, the more the imperfections showed. It was difficult to tell myself that the point of the event was to not make perfect artwork, but just to do what you can even if it were unfinished," Tourfa reflected.
Amidst her self-doubt, Toufa found solace in her group. Their thoughts and encouragement became a powerful antidote to her artistic insecurities. The collective energy and mutual support within the group transformed the challenges into opportunities for growth.
"The group I was in helped me feel a lot better about my artwork; it helps to hear the thoughts of others," Tourfa said.
The diversity of artistic fields represented in HFC24! added an extra layer of excitement for Toufa. "It was fun to see what the other fields put together in the end. It did not affect me much what they were doing, but I think about what it would have been like if I had chosen a different field to work in just for that day," Tourfa mused.
Sharing a work in progress can be a vulnerable experience, especially when it diverges from the group's theme.
"Showcasing my work in progress was a bit difficult since what I was working on was not similar to what the rest of my group was doing. I'm usually shy about my artwork, but I had an incredibly supportive group who had nothing but good things to say. They even helped me during the times I would get stuck and not know my next steps," Tourfa said.
A standout moment for Tourfa was witnessing a fellow student take a selfie.
"A student was taking a selfie with my work, which boosted my confidence a lot. It was the first time my work was ever displayed somewhere, so it was nice to see something like that happen. It motivated me to create more artwork and put it out there," Tourfa said.
Tourfa recognizes the relevance of this experience beyond the event.
"In the real world, I think there will be instances where an artist, graphic artist, animator, and so forth will be required to make something in so little time with groups of people or even by themselves," Tourfa observed.
For Meghan Muzzin, HFC24! was a challenge that pushed her. "Participating in HFC24! was definitely outside of my comfort zone as far as creative processes go. Having only 24 hours to create something to showcase was nerve-wracking," she said.
Muzzin added, "However, the experience of seeing so many passionate creatives come together from HFC to make this event a success was truly amazing."
The challenge, though initially daunting, became a source of personal triumph.
"I'm proud of myself for participating in this fun challenge," Muzzin acknowledged.
"I think I'll carry this experience with me throughout my career, and I urge other students to take part in the future!" Muzzin said.
Recruitment for HFC24! varied across disciplines, ranging from auditions for theatre to sign up lists for others. The inclusive approach welcomes anyone interested in the arts, with a primary focus on students majoring in one of the Fine and Performing Arts or Media Communication Arts programs.
By the end, the audience, a crucial element in shaping the student experience, played a pivotal role in HFC24!
"The audience was the first to see the work created by students after the professors did, so what they thought must have mattered most," Tourfa said.