Pickleball Rising Interest Among Young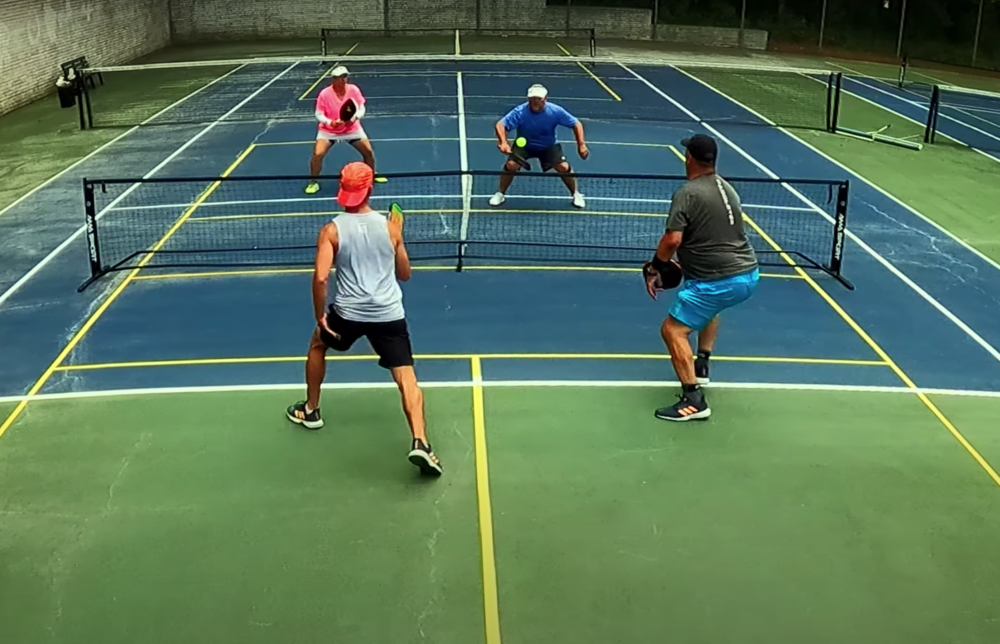 Pickleball indoor court photo courtesy Pickleball University.com
Pickleball is one of the fastest growing sports in America. A report by the Sports and Fitness Industry Association (SFIA) shows pickleball participation grew by 85.7 percent in 2022. It also shows the fastest growing age group is under 24 years old and the 6–17-year-old age group makes up 21.7 percent of pickleball players, and that number is growing.
Young people are climbing the ranks and wreaking havoc on the sport in a way that is (almost) making grown men cry.
Dominic Osborne, 13, sponsored by Selkirk Sport, didn't have the warmest welcome to the sport when he first started playing.
When he was ten, he played in the 2022 Chicago Open, and had another shot at an opponent who beat him 11-0 at the same tournament two years before. Jenee Osborne, Dominic's mom, said of the opponent, "He walked up all cocky like." She added, "He kind of had an attitude about it."
Dominic Osborne won the first game. The second game, his shot was called out by the opponent. Dominic asked, "Wasn't that in?" His opponent replied, "Not even close kid, so shut the fuck up."
Jenee said, "He got away with it because there wasn't a ref."
Osborne voluntarily took a timeout after the comment and was in tears. He told his mom during the timeout, "This is horrible, I've never been talked to like this." In the third game, the tiebreaker, Dominic won 11-0.
At the 2023 Chicago Open, Osborne and the opposing player both attended, but didn't play each other. Osborne has since reached a new, higher rating that his old opponent isn't in.
Jenee said her son's calls being in question has become a theme. "He's been known to give some points away because he doesn't want to stand firm to his calls."
A common act of sportsmanship in pickleball is to tap paddles at the net after the game, similar to tennis players shaking hands or hugging at the net after a match. Osborne said he has played older opponents who refuse to tap paddles, or if they do, they hit his paddle hard and aggressively. Opponents will follow that up with comments like, "You don't belong here. You shouldn't be allowed to play kid," Osborne said.
At a recent doubles tournament in Grand Rapids, Osborne's team beat a team of 63-year-olds 11-0, who recorded and submitted the score incorrectly as 11-6. The rating system calculates the margin of victory. Ratings can determine a player's access to sponsors, tournaments, contracts, and endorsements. His mom, who recorded the entire match on Facebook Live, called the tournament director to correct the score.
As he is getting older, taller and more skilled, Osborne said these things are happening less. "They know I'm a good player and I can actually play now. It's not as bad."
His mom said, now "everyone knows when we're at tournaments; people always say hi to Dom."
Wyatt Stone, currently an 18-year-old professional pickleball player, also faced adversity when he was competing in tournaments as a youth and climbing the ranks.
At a doubles tournament, Stone and his partner unknowingly gave away their serve to their opponents. The opponents created fake rules and got away with it. The opponents said they couldn't hear Stone and his partner announce the score before they served, and that was a foul, which resulted in Stone's team losing their serve. The opponents went on to win the match by a narrow margin.
Because there were people in the stands watching, someone went to tell the tournament director, but it was too late. The scores had been submitted and another match started. "We just didn't know any better," Ashley Stone, Wyatt's mom said.
Ashley went on to observe, "Could they have not known themselves that really wasn't a rule, quite possibly. Should they have been a little kinder to 13, 14-year-old kids? Yeah."
Wyatt said local recreation centers have kicked him out during their scheduled pickleball times, after he began playing. "I was probably the same level as them, maybe even better," he said.
Ashley said, "It was obvious some seniors were not happy about having a young kid. Even though he was clearly following all the rules and not making a nuisance of himself, they just wanted it to be senior-only play. Over time, that changed because so many people, young people under the age of 50, were getting excited about the sport."
Overall, she said, "There were certainly way more people that were welcoming."
Wyatt and his mother noticed a learning curve in competitive pickleball environments in regard to minors playing.
After winning the Oklahoma State Pickleball Championship at the 3.0 level, Stone's mom said tournament directors still wouldn't allow her son to play. The only way they would make an exception was to have letters of recommendations sent on his behalf.
"They didn't have legal precedence to have minors on the court." The U.S. State Games of America prohibited Stone from entering their tournament because they didn't have insurance to cover minors on the court. Three months later, they called Stone's mom and said they figured it out and said her son could play.
Both Jenee Osborne and Ashley Stone agreed that referees should be mandatory at all tournaments, and they should all be paid. According to Osborne, the aforementioned problems do not exist at professional tournaments.
One possible solution to improve the environment for young players could be mandatory sportsmanship rating at sanctioned tournaments. The rating could be anonymously reported. This could combat disrespectful, unethical players. And to be eligible to join certain tournaments, players would be required to meet a minimum sportsmanship score.
No matter how you slice it, young people have a place in the sport and they're here to stay.
The top ranked female player in the world, Anna Leigh Waters, made history as the youngest professional pickleball player ever at age 12. In October 2022, she hit the trifecta with a #1 Professional Pickleball Association ranking in singles, doubles, and mixed doubles. The 13th best player in women's singles, Jorja Johnson, is 16.
The #1 male player in the world, Ben John, is 24 years old and #5 ranked doubles player, JW Johnson, is 20. The #14 ranked singles player, Hayden Patriquin, is 18 years old and the #17 ranked player Gabriel Tardio is 17.
Pickleball is popping up in public school physical education classes across the U.S., and some high schools have formed teams.
Pickleball is a social sport, affordable, easy to learn (hard to master), and causes far less injuries compared to other sports.
There are currently eight colleges in the U.S. registered as official members of USA Pickleball.
Some colleges are vehemently opposed to the idea of pickleball becoming an NCAA sport, while others are pushing for it.
Schools everywhere cannot ignore the irrefutable impact of the sport as communities continue to build pickleball courts, and competitive and club teams continue to grow nationally across all age groups.