Movement 2023: Resonating Rhythms and Harmonizing Hearts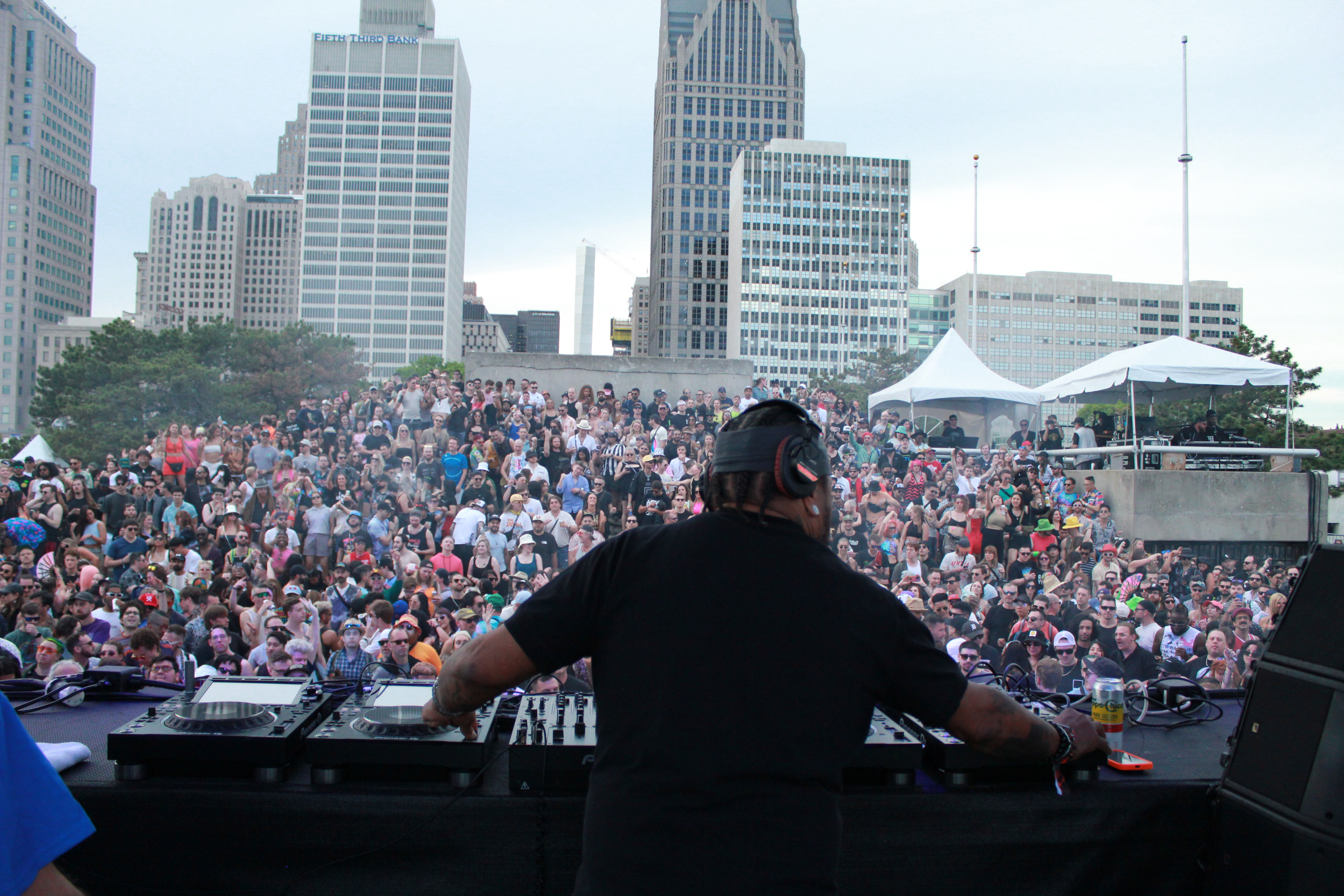 Derrick Carter on stage facing crowd at Movement 2023 electronic music festival in Detroit, MI, May 27, 2023. Photo by Christopher Namyst.
Arriving at Movement is always part of the fun. Walking through the city, you get to feel the pulse of Detroit's rich music history. The busy metropolis yet again was transformed into a mecca for electronic music lovers from around the world. The music, fashion, art, and sense of community were all very thick this year.
With over 115 performances spread over 6 stages and plenty to eat, drink, see and do - Movement 2023 was one for the books. The production quality, the staff, and all of the sets I witnessed were top-notch and far exceeded my expectations.
Movement 2023 boasted an incredible lineup, with a diverse range of established artists and rising stars. As I transitioned between stages and dance floors, I was never underwhelmed and had a unique experience at each one. The festival grounds were transformed into a well-thought-out playground of creativity and around every corner was a new experience waiting to be had. The VIP area was massive and had some great talent playing at their own stage in the back.
Eli from Soul Clap held it down with House of E - Funk party vibes at the pop up VIP stage on Saturday. Winding my way through the crowd confirmed that VIP was the place to be and absolutely worth the money spent for that type of access. It was reported that over 30,000 plus people were in attendance for each of the 3 days this year, and you could certainly feel it.
Some of my favorite sets were from TSHA, who warmed up the crowd for my all time favorite duo - Mark Farina (Great Lakes Audio and Mushroom Jazz), and Derrick Carter (Classic Recordings) who played a funky B2B house set while the sun went down. Being up on stage to see them play was a huge treat for me as I am a Chicago native, not to mention the visits they received from some absolute all stars like Heidi, Dj Sneak, Jason Hodges, Chuck Daniels and Kaskade. It was great seeing so many respected artists in one space.
The KMS and Defected Records Stage was stacked on Sunday with Detroit's own Kevin and Dantiez Saunderson closing it out. The Detroit Stage was also packed with talent all 3 days including SillyGirlCarmen, WhoDat, AUX88, Scan7, Asher Perkins, and Dru Ruiz.
Skrillex played a list of his hits and some new material that fit the mood perfectly to a packed Movement Stage on Monday, followed by UK Legends-Underworld which was epic and a perfect way to close out the festival. Massive respect to Charlotte De Witte who also put on a great show with some harder, thumping techno to close out Sunday night as the first female to close out the main stage in the festival's 23-year history. Bravo!
The festival's spirit of unity and joy through music was contagious and awe-inspiring. As I moved through the crowd, I was captivated by the sense of camaraderie and shared passion for music that brought us all there. I saw strangers become friends, share dance moves, and have conversations about life and the city of Detroit with smiles galore. It was an immersive and transformative journey for me as an artist and I am grateful for the opportunity to have been a part of one of Movement Festival's best years yet. I cannot wait to see what Paxahau has in store for us next year at Movement 2024.
Crowd at Movement 2023 electronic music festival in Detroit, MI, May 27, 2023. Photo by Christopher Namyst.

Giorgia Angiuli on stage performing at Movement 2023 electronic music festival in Detroit, MI, May 27, 2023. Photo by Christopher Namyst

Mark Farina on stage at Movement 2023 electronic music festival in Detroit, MI, May 27, 2023. Photo by Christopher Namyst

Eli from Soul Clap on stage at Movement 2023 electronic music festival in Detroit, MI, May 27, 2023. Photo by Christopher Namyst