Finishing Touches on Sisson Gallery Renovations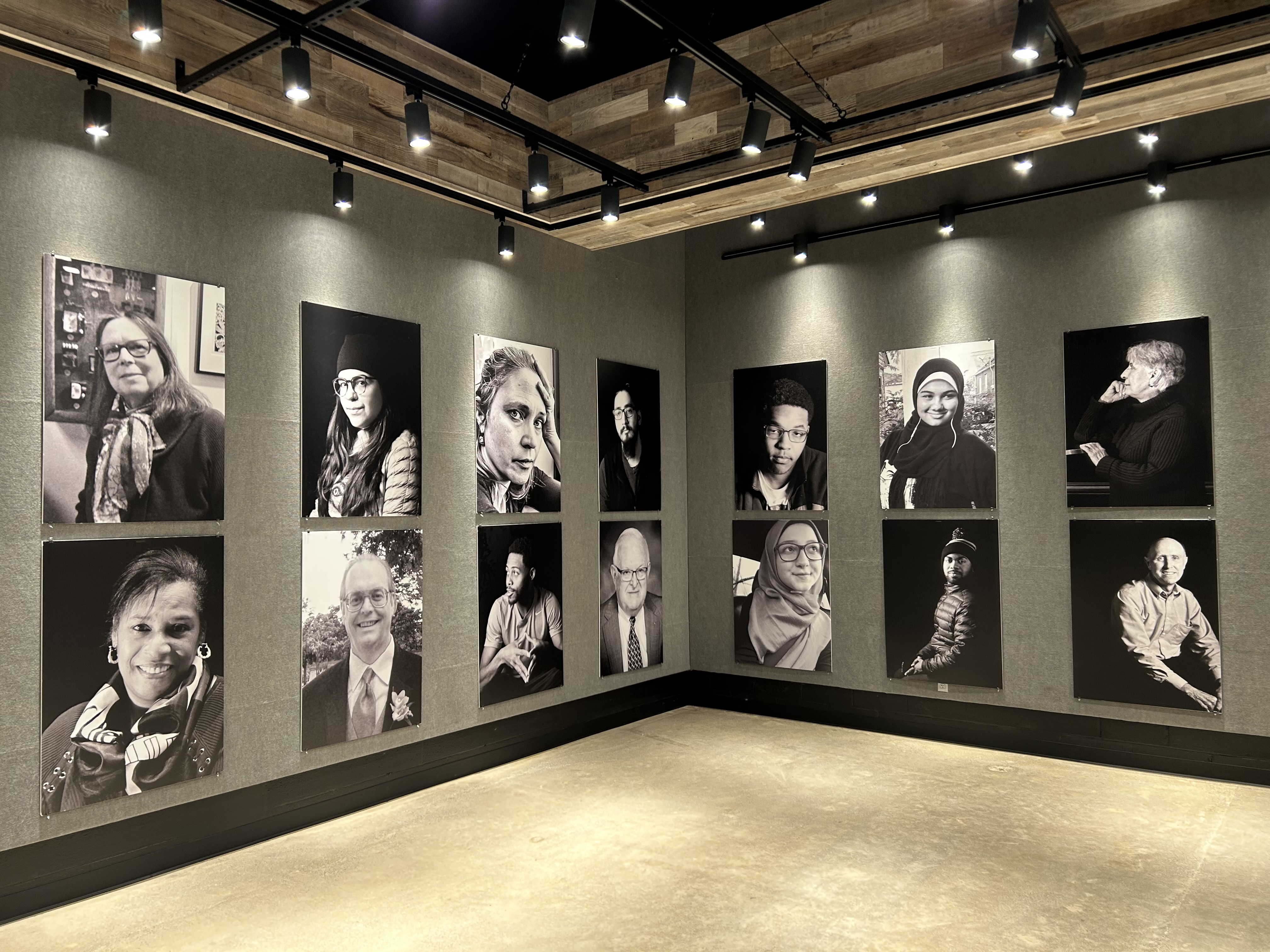 Most recent Sisson Gallery exhibit, "We Are Dearborn" - Photo by Meghan Muzzin
The four-year journey spent updating Henry Ford College's Sisson Gallery is finally coming to an end as the Winter 2024 semester approaches.
Since 1979, the Sisson Gallery has served as a space for students, faculty and guest artists alike to share their talents with the campus and greater Dearborn community. It hosts exhibitions and special events to promote collaboration across the creative arts.
The gallery's renovation is thanks in large part to Henry Ford College's Technology Improvement Fund, which connects students with quality materials for instruction. The improvements to the Sisson Gallery were needed so art students can continue to learn and thrive on campus.
"If you want art students to grow, it's just like if you want music students to grow. You have to study the work of other musicians or theater. You read plays and watch others perform. And in art classes, it's important to look at art," Fine and Performing Arts Chair Steve Glazer said. He has been an instructor for over 40 years and was recently named Deaborn's Art Educator of the Year for inspiring minds through Art education.
Plans to update the Sisson Gallery were initially approved in 2019 by the college's Board of Trustees. However, the COVID-19 pandemic proved to be a significant barrier and caused delays."The last three years we couldn't even have our usual [student exhibition] because of COVID-19," Glazer said.
After operating for over four decades, the Sisson Gallery began to show signs of aging and struggled to maintain its ability to compete with other modern exhibition spaces. Glazer talks about some of its issues: "The floor was carpeted for many years. [There was] a skylight area at the far end that leaked since the time the building was built. Various stains like coffee spills and water stains from another leak in the building. It was really dated looking by contemporary art standards."
Aside from cosmetic wear, there were also electrical problems that interfered with the gallery's functionality. Glazer continues, "There were no lights placed down the center sides of the room, so you couldn't get great lighting, and adjusting one bulb would make the entire panel of lights cut off."
Concrete floors, improved lighting structures, new metal slats, change of color scheme, technical display capabilities and a raised ceiling are just some of the upgraded features of the renovated Sisson Gallery.
Glazer believes the changes to the gallery will be transformative for the Art Department and beyond. "We have a really great department. In fact, we're the only studio art program in the region at a community college that has [transfer agreements] with [larger universities] like Wayne State and Eastern Michigan. This arrangement could help students expand their reach," he shared.
A reprisal of the "We Are Dearborn" exhibition was in the Sisson Gallery at the start of the semester and just closed this past weekend. In 2018, "We Are Dearborn" was a project composed of various portraits of people who reside, work or attend school in Dearborn to paint a diverse picture of the city.
Pointing at the portraits from the "We Are Dearborn" exhibit scattered throughout the improved Sisson Gallery, Glazer observes how the gallery will help students expand their artistic depth, knowledge and understanding.
"If you look around the room you'll notice that some [photos] have staged black backgrounds, and others are just wherever the people were. There are differences between the people, how they're set up and the environment they're in. So getting students to understand composition is important. Gallery walls are not much different than the composition on a piece of paper or canvas," Glazer explains.
The future of the Sisson Gallery is bright, with plans to cultivate community through collaborations with alumni and local artists. There are also hopes to expand the Art programs' transfer agreements to include Detroit's College for Creative Studies.
Glazer speaks about the aspirations for the program: "Trying to do something that reflects community and alumni will be a focus. Possibly selecting people from one of our transfer agreement schools. Most of the fairly known artists around Metro Detroit have shown here at one point or another." One can support the gallery by attending the annual student show that takes place at the end of each semester.
"We traditionally have a large student show at the end of the school year. Students apply to submit their work, or works are chosen by a juror or faculty member. We also do a graduating show for people that are finishing up their associate's degree," Glazer said.
For more information on the Sisson Gallery and upcoming exhibits, visit: sisson.hfcc.edu.