"Barbie" Comes of Age Through the Lens of Greta Gerwig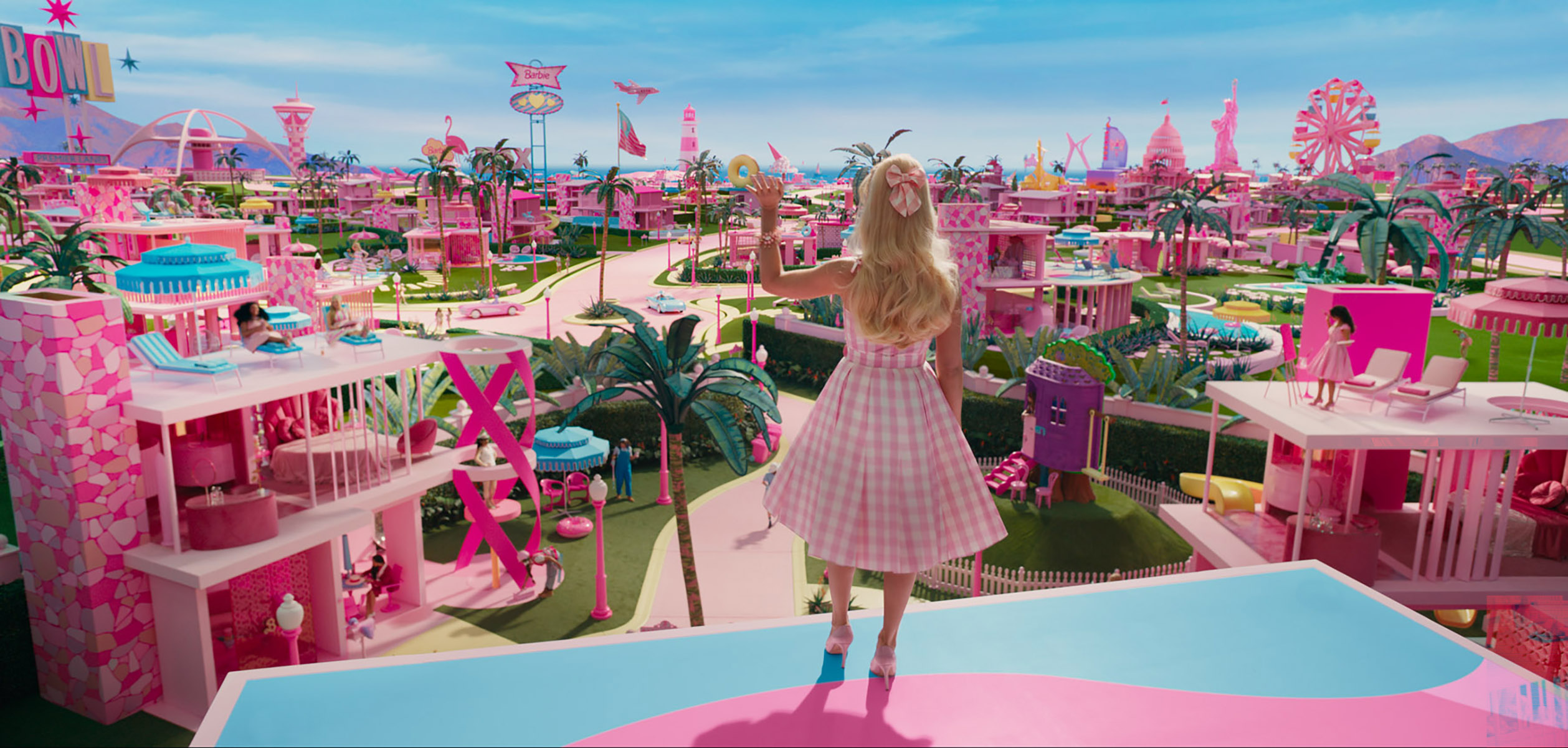 Barbieland photo courtesy Warner Bros. Pictures
The "Barbie" movie had the highest opening weekend of 2023, making nearly $155 million. With "Barbie," Greta Gerwig directs a coming-of-age movie that is filled with humor, pop references, heartfelt emotions, and an inclusive vision of feminism.
"Every little girl needed a doll through which to project herself into her dream of her future," creator of the Barbie doll, Ruth Moskowicz Handler, told The New York Times in 1977. Handler co-founded Mattel with her husband, Elliott Handler, and served as the company's first president from 1945-1975.
Handler was inspired by the German Bild Lilli Doll and by her daughter Barbara. The first ever Barbie was launched in March 1959. She wore a black and white striped bathing suit and cost $3. At the time, girls were primarily given baby dolls, making Barbie the first toy doll depicting womanhood that girls could play with, or as Handler saw it, where they could project their future selves.
Gerwig's "Barbie" begins in the fantasy world of Barbieland where Barbies of all backgrounds and careers rule with the support of their Kens. For the main character, "stereotypical Barbie" (Margot Robbie), Barbieland seems safe and pretty and pink until the "real world" starts to shake her dreamhouse. Barbie discovers that her world is affected by whomever is playing with her in the "real world," and that someone is not happy. Barbie must go on a quest to the real world before Barbieland is radically changed. In the real world, Barbie faces challenges, including realizing how women are held to unrealistic expectations by society. Barbie observes the sacrifices mothers and grandmothers have made. In a pivotal scene, Barbie discovers the ghost of Ruth Handler (played by Rhea Perlman), who says, "We stand still so our daughters can look back to see how far they have come." Barbie discovers in the wisdom of that line the beauty in growing old and being able to look back at the progress to come. Meanwhile, in Barbieland, the Kens are there to look handsome and support the Barbies while constantly trying to gain their approval. The Ken (Ryan Gosling) who wants approval from "stereotypical Barbie" (Margot Robbie) follows her to the real world, where he discovers the power men have.
Barbie learns how teenagers have grown up and pulled away from playing with Barbies. With a nod to feminist criticism of the doll, Barbie observes that in the real world, "Men look at me like I'm an object, girls hate me." When Barbie is in the real world she gets sexualized and gets blamed for destroying girls' innate sense of worth and beauty. When Barbie enters the real world, she experiences the contradictions of being a woman.
Perhaps one of the most poignant moments in the film is when Gloria (America Ferrera), an employee for Mattel, gives a rousing monologue about how, "It is impossible to be a woman." Gloria goes on to say, "Society makes us feel like we are never good enough." Not only is Gloria explaining what womanhood is like but she also explains how not being good enough is also true for the iconic Barbie doll. Barbie has been influencing children for over 60 years. The doll was made to inspire girls to explore their creativity and possibilities, including over 200 careers. However, in the end, Barbie is just a doll and can never be good enough. Women must believe in themselves and remember that they are good enough.