Why the U.S. wants to ban TikTok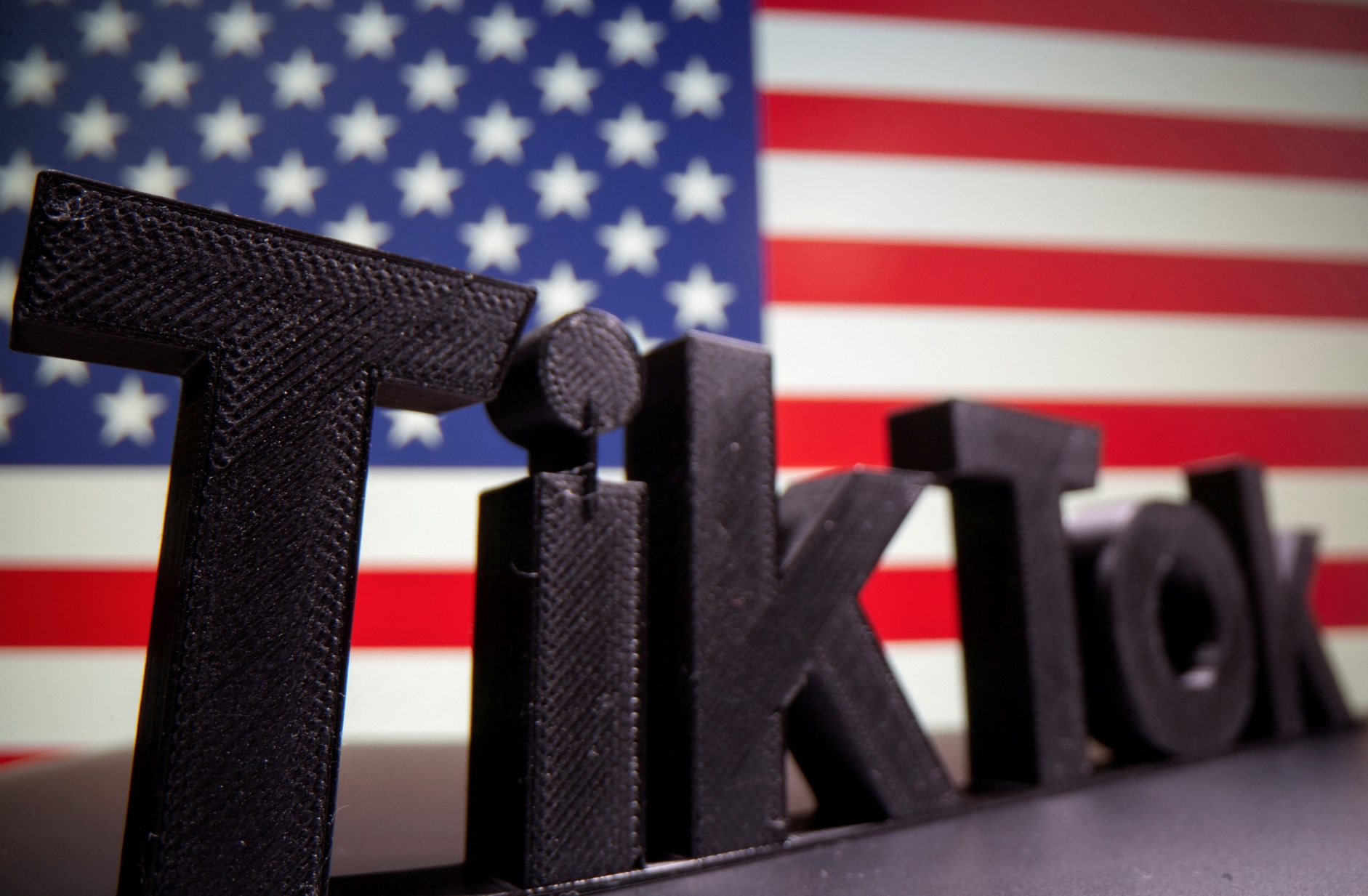 A 3D printed Tik Tok logo is seen in front of U.S. flag in this illustration taken October 6, 2020. Picture taken October 6, 2020. REUTERS - Dado Ruvic - Illustration
TikTok has over 1 billion users in more than 150 countries. It's estimated that five million businesses actively use TikTok and that users consume an average of 1.5 hours on the platform per day. According to a Pew Research poll, 67 percent of teens use TikTok.
The United States government has taken notice of TikTok's influence, with attempts to ban the app in the U.S. over the course of two presidential administrations. TikTok is owned by its parent company ByteDance, which U.S. government officials claim has ties to the Chinese Communist Party (CCP).
On March 7, Senator Mark Warner (D-VA) introduced the RESTRICT Act, which stands for Restricting the Emergence of Security Threats that Risk Information and Communications Technology. The act gives authorization to the Secretary of Commerce to review and prohibit certain transactions between persons in the United States and foreign adversaries, and for other purposes. Tik Tok is considered by the U.S. government as a potential threat.
In the March 23 Congressional hearing with TikTok CEO Shou Zi Chew, Congresswoman Cathy McMorris Rodgers (R-WA), chair of the House Energy and Commerce Committee, said, "TikTok surveils us all, and the Chinese Communist Party is able to use this as a tool to manipulate America as a whole." She added that CCP laws require companies like ByteDance to "spy on their behalf." Rodgers claimed that the app promotes suicide, self-harm, eating disorders, and drug use.
There is no evidence proving that the CCP collects sensitive data about American TikTok users, which is the main concern of U.S. lawmakers pushing to ban the app.
Congressman Frank Pallone (D-NJ), in the same hearing, said, "Big tech has transformed the information superhighway into a super spreader of harmful content, invasive surveillance and addictive and damaging features. That is TikTok's biggest commodity."
Is TikTok guilty of collecting user information and promoting harm that American-owned platforms do not? Snapchat, Facebook, Instagram, Twitter, and YouTube users have repeatedly expressed privacy concerns. Facebook whislteblower Frances Haugen testified to Congress in 2021 that the company hid data that had shown it was knowingly harming teens.
Aside from the hypocrisy of doing little to stop the potential harm of American-owned social media apps, the lack of awareness from Congress members about how social media technology works were glaringly apparent throughout the hearing.
Congressman Richard Hudson (R-NC) asked, "Does TikTok access the home Wi-Fi network?"
Buddy Carter from Georgia asked about users, "How do you determine what age they are?" CEO Shou Zi Chew responded by saying, "age gating," which is simply asking users how old they are during the signup stage. He continued by saying TikTok checks videos posted to the public to confirm their age matches what was claimed during the user's sign-up. Buddy Carter responded, "Boy that's creepy," to which Chew said, "It's public." How else can TikTok verify a user's age? Congressman Carter seemed very concerned about this issue but neglected to offer solutions.
Congresswoman Diana DeGette (D-CO) expressed concerns about harmful medical advice posted on the influential app. DeGette explained one video that made its way to TikTok explaining how to make hydroxychloroquine from grapefruits. She explained that hydroxychloroquine is not an effective COVID-19 treatment and can't be made from grapefruits. She went as far as to say, "It's being pushed on" users. TikTok, like other social media platforms, including Facebook and YouTube, has a disclaimer at the bottom of every video regarding COVID-19, suggesting users to "get the facts" about COVID-19 by clicking a link attached to every video.
Similar to other social media platforms, TikTok has systems in place to fight misinformation, but not every video or post will be caught. TikTok users and the company's security team and measures are in a constant battle of cat-and-mouse. For example, videos that mention "covid" can be masked using different characters such as "c0v1D." This avoids setting off any security alarms within the app.
Many people compared this hearing to the one in 2018 with Google's CEO Sundar Pichai, where one Congress member asked if Google would know if he moved to the other side of the room because he had an iPhone with Google installed. Before being able to explain that it depends on if tracking services are turned on, the CEO was interrupted with, "It's a yes or no question." Let's follow the money. Many of Congress members have stock in Meta (Facebook's parent company), Alphabet (Google's parent company), and others that stand to benefit in the event of a TikTok ban. The conflict of interest is striking and makes a lot of people wonder about what's influencing such a serious push by Congress members to ban specifically TikTok.
Political Science professor at Henry Ford College, Dr. Anthony Perry, weighed in on the difficulty of the situation: "Targeting a specific company has its own set of challenges. Because even if Congress passes it and the president signs it, that doesn't mean that it's the law because the courts can still weigh in." Perry poses the question, "How do you regulate something like this?" Countries like the United Kingdom, India, Australia, and France have already banned the TikTok on government devices, and most recently, the state of Montana approved a bill that would ban the app. Governor Greg Gianforte has not clarified whether he will sign the bill into law.
Many American citizens believe that "we can protect ourselves" and that the government shouldn't have to. Some are saying that TikTok users can sign up using a fake name and an encrypted email address while using a VPN. Others have waived the white flag at data collection in general, completely numb to it, citing Google, Facebook, and other companies using similar collection efforts as TikTok.
It's obvious that American government officials are afraid of what they don't know, and they do not know if TikTok is really sharing information on users with the Chinese government.
At the end of the hearing, TikTok's CEO Shou Zi Chew promised to firewall protect U.S. users' data from unwanted foreign access. He also stated, "We will be transparent and we will give access to third-party independent monitors to remain accountable for our commitments." Saying is one thing, doing is another.