Treat You Batter Bakery Shows Family Pride in Dearborn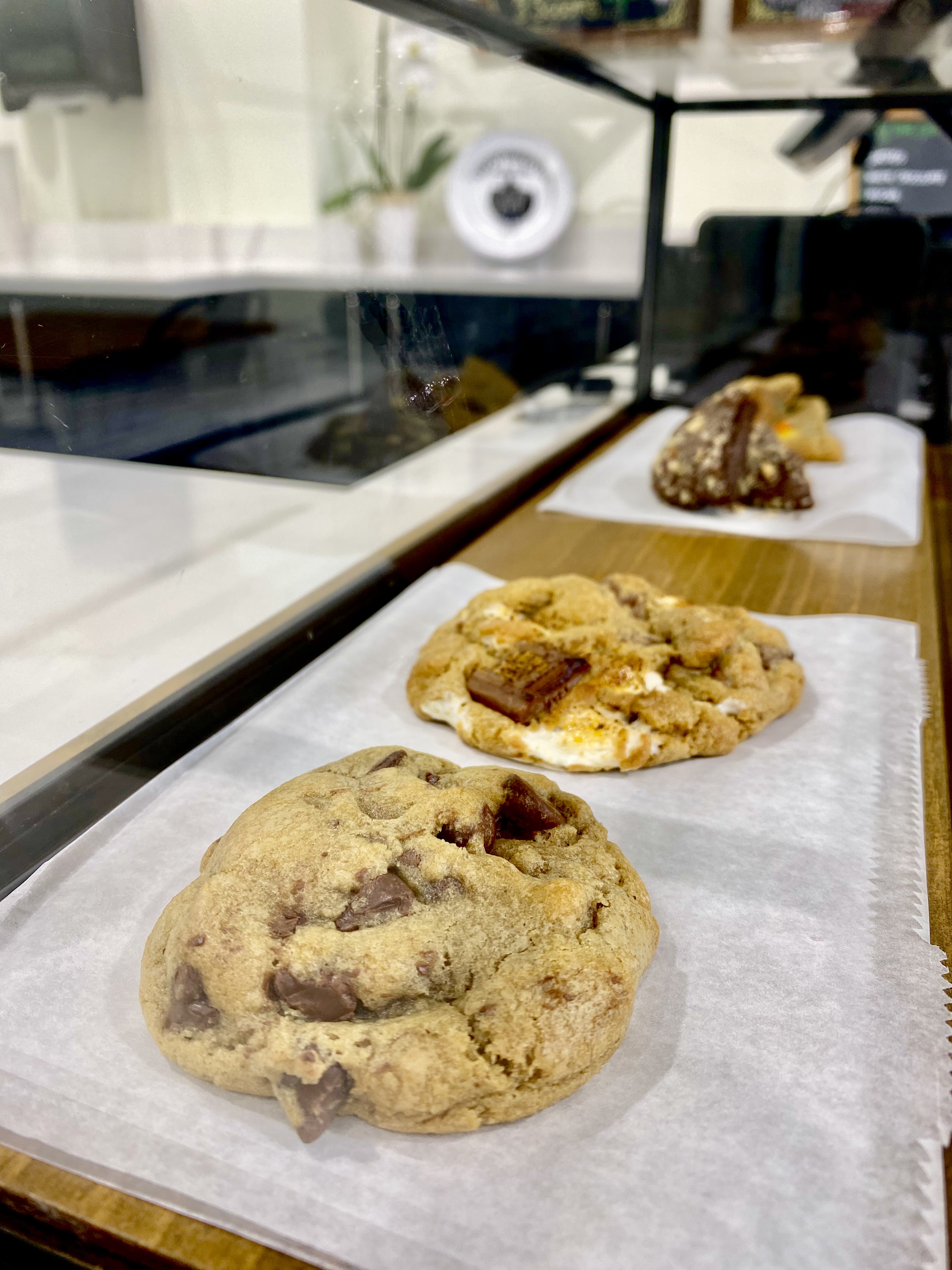 Treat You Batter's assortment of cookies for the day- Photo by Zynab Al-Timimi
Treat You Batter owner, Sara Altimimy, and her family are from Iraq. Altimimy was born in Saudi Arabia and moved with her family to America around 1993 when she was still a baby. Before becoming a business owner, Altimimy accepted a job as a data analyst at an automotive company after graduating with a degree in math from University of Michigan-Dearborn.
In 2018, Altimimy's younger brother, Ali, came up with the idea to open a bakery. They started selling chocolate chip cookies from their house for about two years and gained a solid customer base. At first, she was hesitant because "selling something is like putting yourself out there," she said. Unsure of how she would react to criticism, Altimimy stated that she was surprisingly good at dealing with it.
Altimimy says there was a moment when she felt she was "plateauing" in her career and did not want to continue working a corporate job. So on February 28th, 2020, just before the pandemic, she resigned from her employment. She wanted a change, and her family encouraged the idea of opening a new place since it was a reasonable time to do so. Eventually, they decided to expand to a brick-and-mortar store located on Greenfield Road in Detroit.
"We pride ourselves on customer service and making people feel at home when they walk into our bakery. Along with the second biggest forte for us, which is quality," Altimimy emphasizes. The Altimimy family does not compromise anything for quality. "Even if we take a hit in other areas, like the cost of goods increasing, we do not change anything that will affect the quality of the cookies."
The bakery opened on March 7, 2020, at the start of the pandemic, and started to notice a gradual decline in customers and sales, which they expected. "Initially, we assumed that the pandemic would last a month or so and everything would go back to normal. However, we were wrong, and there came a time when we needed to close our storefront for about a month," Altimimy said. Accordingly, they relied on curbside pick-up and delivery.
The biggest negative impact the pandemic had on the business was that it slowed down their initial growth. Altimimy, however, saw a silver lining in the slowdown in sales since it allowed her family time to adjust and understand how to sufficiently manage a business. For instance, Altimimy mentioned that when they were selling cookies from their home, what then seemed like a large batch of cookie dough, was barely enough in the brick and mortar store. Therefore, how to effectively scale up the business had to be considered in order to succeed.
Altimimy attracted customers through Instagram, Facebook, and Tiktok. Using these platforms, they started posting every week, hopping onto the latest trends, and making humorous short clips to connect with whomever came across their page.
Younger brother Ali Altimimy runs their social media accounts. Sara heartily says, "I just do the baking!" But initially, a lot of it is word of mouth. "We also have a very supportive family and close friends who help spread the word about our bakery."
Treat You Batter sells Smores, Peanut Butter, Biscoff, White Chocolate, M&M, Chocolate Chip, Coconut Caramel, Salted Caramel Butter Pecan, and Nutella Stuffed cookies with a selected assortment designated to each day of the week. Chocolate Chip and S'mores cookies are freshly baked and sold daily; meanwhile, the rest of the flavors change depending on the day. "The most popular baked good we sell is our Chocolate Chip cookies, as they should be. Our S'mores cookie comes in second, and the other cookie flavors fluctuate in popularity. But if I had to choose, the White Chocolate macadamia with Biscoff filling cookies would stand in third place."
In addition, they offer cakes during the warmer seasons, such as their delicious carrot cake. As well as a variety of ice cream flavors, too. However, due to their limited number of workers, custom orders are very limited. Lastly, they make handcrafted coffee and lattes, such as Cuban, Caramel, Mocha, Biscoff, Cortado, White Chocolate, and Lavender.
Furthermore, Treat You Batter has a mixture of unique cookie combinations they put out, like the Pistachio White Chocolate, White Chocolate macadamia with Biscoff filling, and Cheesecake Stuffed cookies.
Altimimy mentions that when a customer first walks into the bakery, they should expect a "homey welcome." She notes that the workers try to adequately explain what they have, especially if it is the customer's first time at their bakery.
During the pandemic, it was merely Sara and her family who worked to keep the business running. Now the bakery has employed several people they trust to uphold what they built themselves upon.
At the moment, the bakery does not have any concrete plans. Sara comments, "It has been a handful trying to juggle two places at once, so our future plans are just to stabilize what we have now."
Since Dearborn has one of the largest concentrations of Muslim Americans in America, the bakery changed its closing hours during Ramadan.
Altimimy advises anyone interested in becoming a business owner "to test your product on a small scale by advertising. I say: welcome the criticism. From there, you can grow and adjust your business how you envision it to be."
Students interested in working at Treat You Batter can message them on Instagram or by email before applying. New employees are required to be trained on their first day of work. Inquiries can be emailed to: treatyoubatter1@gmail.com
Treat You Batter Bakery is located at 1021 Mason St., Dearborn MI. Hours are 1:00 p.m. -9:00 p.m., Monday - Saturday. More information can be found on their website: treatyoubatter.com and on Instagram, Facebook, and TikTok.

Treat You Batter Mocha Iced Latte- Photo from Instagram @treatyoubatter