Sen. Debbie Stabenow presents federal sustainability funding to Henry Ford College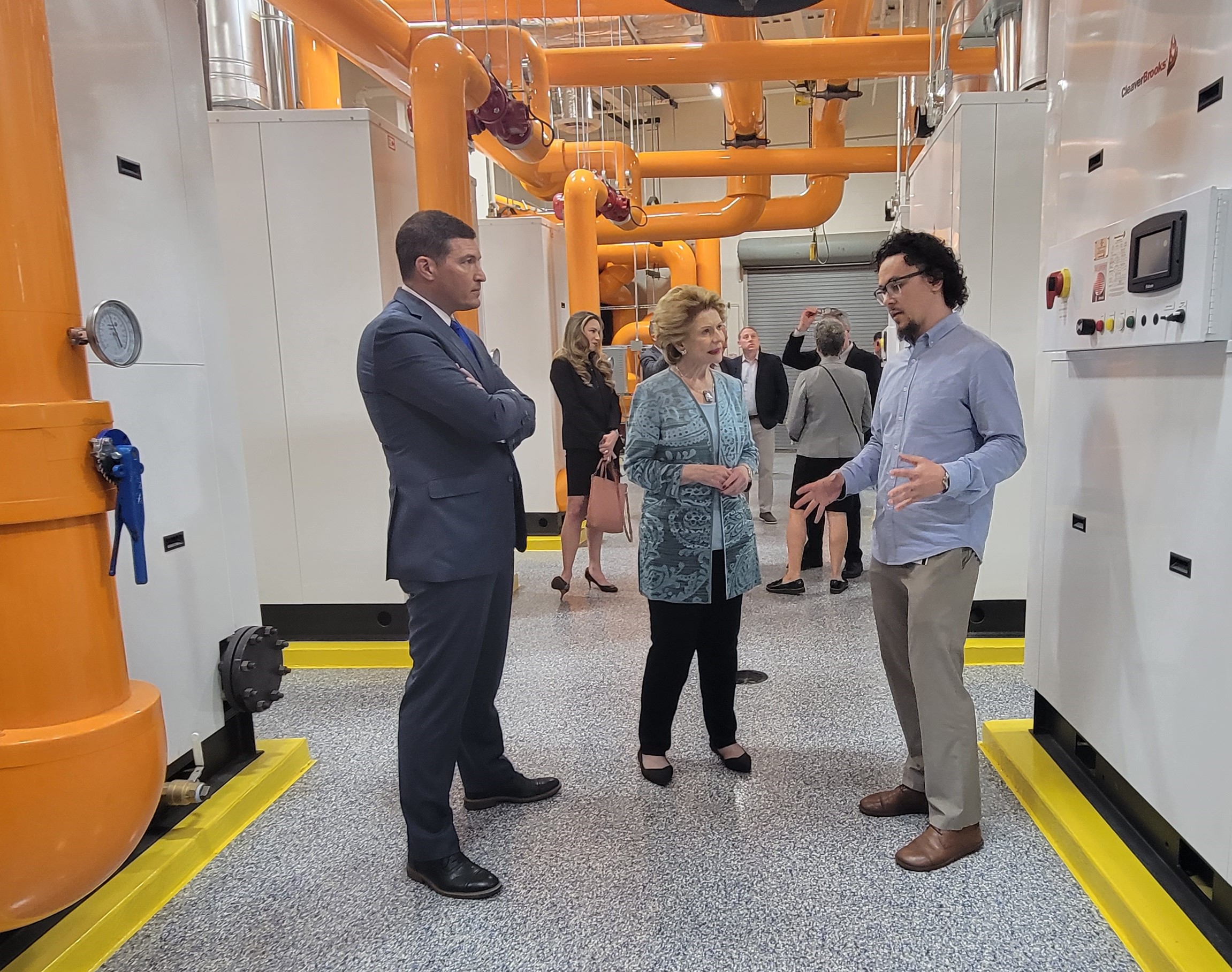 Nicholas Paseiro, Henry Ford College's IEMP Coordinator, speaking to Sen. Debbie Stabenow and Henry Ford College President Russ Kavalhuna during a tour of HFC's state-of-the-art Energy Center. Photo courtesy HFC Marketing and Communications
On April 13, U.S. Sen. Debbie Stabenow (D-Mich.) visited the Henry Ford College main campus in Dearborn to present $3.1 million in federal funds that had been appropriated to support the college's sustainability initiative.
Among those in attendance were President Russ Kavalhuna and representatives from the college's partners at Johnson Controls and Garforth International.
Much of the funding will go toward training the next generation in being energy leaders. Students will be participating in "Living Learning Classroom" experiences in the newly expanded Technology building E. Construction is already underway and once complete will include multidisciplinary labs combining the architecture, interior design, and construction programs; renovated and expanded automotive labs; construction of new breakout and collaborative workspaces essential for student success; and, a new physical plant and adjoining classroom related to the College's energy program.
Observing that climate change is one of the defining challenges of this generation, Stabenow acknowledged the challenges being faced by energy-related industries and businesses across Michigan, specifically of finding trained and effective workforces that will fit with future needs.
To meet sustainability targets, the college has created the Integrated Energy Master Plan, or IEMP, with the goal of net-zero emissions by 2040. This will be accomplished in stages including increasing energy efficiency by 60%, cutting the college's greenhouse gas emissions by 50%, and increasing the efficiency of the campus's water use by at least 40%.
According to Stabenow, the federal funding will help give "students hands-on experience and training with state-of-the-art clean energy equipment, while benefiting the College with greater energy efficient systems." Stabenow went on to say, "That's why I was so excited to secure these funds in last year's federal budget."
Across the main campus immediate changes are taking place to meet the IEMP. Students will see immediate improvements such as the installation of a lower-temperature energy network to replace the current 60-year-old inefficient heating system; improvements to the air conditioning, which will create a better control of the comfort and air quality on the campus; LED lighting across the campus; upgrades to the water fixtures, toilets, and roof upgrades.
The IEMP includes a comprehensive energy-forward curriculum. HFC offers a variety of certificates and programs for technicians and students looking to receive a degree in energy production. President Kavalhuna stated, "At Henry Ford College, our mission is student success in all its forms. We are grateful to Senator Stabenow for her unwavering support, and for her hard work in securing this appropriation, which will support our students in valuable ways. We believe a better future for our students and community includes a healthy planet, community, and a sustainable energy model."
A critical part of all of the IEMP curriculum is the Johnson Controls Community College Partnership Program, which is a philanthropic initiative that is investing $15 million dollars into community colleges across the country, which as of now has has invested $190,000 in HFC since 2021, supporting over 50 students who are prepared to be pioneers into the future of energy. Students who are graduates of the HFC program will be given priority hiring by Johnson Controls.
Kavalhuna stated, "We are pleased to partner with companies like Johnson Controls to invest in the sustainability of our facilities and the career pathways of our students. We hope our College will serve as a model to like-minded institutions that are ready to embark on their own sustainable energy and curricular innovation journeys."
Sen. Stabenow's visit ended with President Kavalhuna accompanying her on a tour of the Technology building's new Energy Center, of which Sen. Stabenow stated, "This is hope come to life."
Information on the college's IEMP can be found at: hfcc.edu/sustainability