Henry Ford College Men's Basketball Championship Season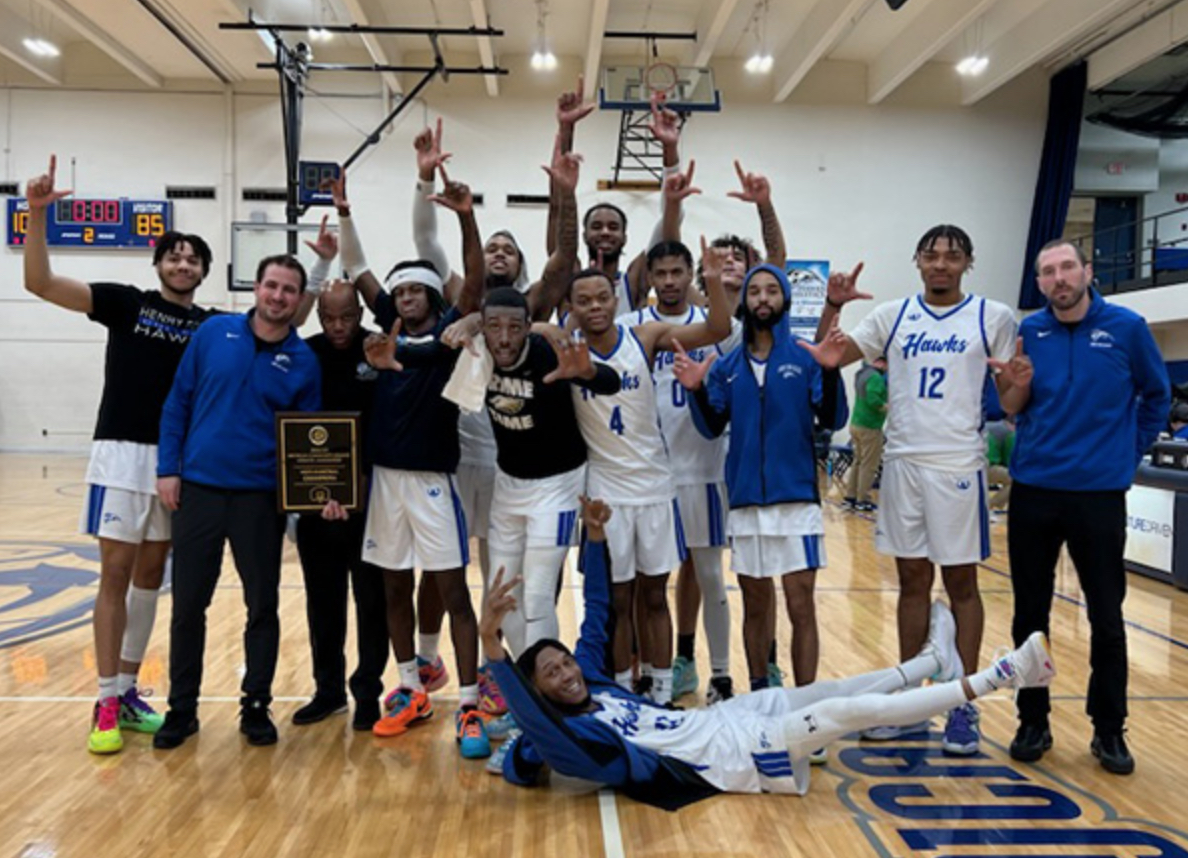 Henry Ford College Hawks Mens Basketball 2023 MCCPA Conference Champtions photo courtesy HFC Marketing.
The Henry Ford College men's basketball team had another dominant year, solidifying their program as a local and national powerhouse.
A third straight Elite Eight appearance was halted by a 102-87 loss to No.6 seed Orange County. Henry Ford College and Davison College in North Carolina are the only two teams in the NJCAA that have made three consecutive Elite Eights.
Although HFC couldn't accomplish their ultimate goal of winning the national title, they still achieved a lot that other teams didn't. They won conference and state titles, district, and 24 of their last 26 games.
"We were good enough to win it. It's hard to be good enough to win a national title," Coach Shepherd said.
While last year's team was very good, Coach Shepherd said this year's team had its differences. It featured nine players that regularly saw double-digit minutes every game, as opposed to seven players last year. Also, the 2022-2023 team intentionally played a tougher schedule than the 2021-2022 team against opponents in Division I. The result was an undefeated conference record and a record-breaking season for the Hawks.
What made this year's team special?
With 371 three pointers made, Henry Ford College was first overall in the nation in Division II, which has 137 teams. While they were 34th in 3-point field goal percentage, modern basketball analytics prove this high-volume shooting to be effective. The Hawks were unselfish by sharing the basketball and ranked 7th in assists per game with 20.7. They averaged 91.4 points per game, landing them 8th in the country. The Hawks shot an impressive 47 percent from the field, which was good for 22nd in the country.
But what does this all mean? Individual team stats can be misleading. Thankfully, offensive efficiency averages how many points a team scores per 100 possessions. It's a sufficient sample size to assess whether individual team statistics are converting to points. HFC ranked 11th with 1.115 points per 100 possessions.
Coach Shepherd said that he and his staff have been blessed to successfully recruit to fit their brand of basketball. They run a "4 out 1 in" system, much like the dribble drive, but more spaced out, for you basketball junkies. Coach Shepherd mentioned that his offense is very similar to what Jay Wright ran at Villanova during their reign. "We think we can beat you off the dribble, and if you decide to help, we recruit shooters. We play really fast," Shepherd said.
Defense was not this team's strong suit, but they clearly did enough to make a serious run in the national tournament. They ranked 87th in points per game, giving up 77.8. But they were 11th overall in defensive rebounds and 11th overall in defensive 3-point percentage, holding opponents to 28.5 percent per game. They blocked 2.2 shots per game, which ranked them at 24th, and held the team's field goal percentage to 41.3 percent, which was the 35th-best in the nation.
There's no doubt that basketball is a team game, but outstanding individual performances play a role in any team's success. D'Quarion Cole received a First Team All-American award. He had the third most 3-pointers made with 115 and the second most defensive rebounds with 256.
D'Juan Seal received Second Team All-American, ranking 28th in points per game with 19.7.
Curtis Jackson was First Team All-Conference. He had the most assist per game (8.4) with an assist-to-turnover ratio of 2.8, the 22nd-best nationally. "They don't make em' like him, he's the heart and soul of our program," Coach Shepherd said.
As with the actual team, the coaching staff is its own unit, and Coach Shepherd extended his appreciation. "Kirk Bradley and James Payne worked incredibly hard. Coach Bradley: he's the most important person in our program. He's the real deal," he said.
Let's face it, Henry Ford College is a two-year school for most student-athletes, so what does that mean for the basketball program? Each year's team looks a lot different. Especially when HFC's players perform how they did, NCAA Division I and II schools compete for their commitment. Last year, seven of the team's top eight players transferred to four-year schools.
This year, several changes are on the way. D'Quarion Cole recently committed to Oakland University in Rochester Hills, Michigan, a Division I program in the Horizon League. Tyler Mack, Caleb Bates, and Tyrhe Fortney all have Division I interest but have yet to commit to a school. D'won Seal turned down multiple Division I offers to play Division II due to his eligibility, allowing him to play two years at Division II instead of one year at Division I. Curtis Jackson has offers from Grand Valley State and Saginaw Valley State, both Division II schools.
Coach Shepherd said, "Kids want to come play at Henry Ford, so we're lucky that we've been able to build our brand and move this thing in the right direction."
As for incoming players, Coach Shepherd says it's too early in the recruiting process for players to commit to HFC because of the transfer portal, but they are actively recruiting. He adds, "It sounds more nerve-wracking than it really is because everybody in our league is in the same boat."
Players aren't the only ones looking to climb the basketball ladder, and it's hard to ignore Coach Shepherd's consistent success at HFC. Thankfully, he plans to continue coaching at Henry Ford. But his ultimate goal is to coach in the NCAA. He said, "I'm going to stay at Henry Ford as long as they'll have me and as long as there's not an opportunity that would make sense for my family and me."