You Betta Work! Campus Drag Show Displays How Self Expression Strengthens Identity and Yields Personal Growth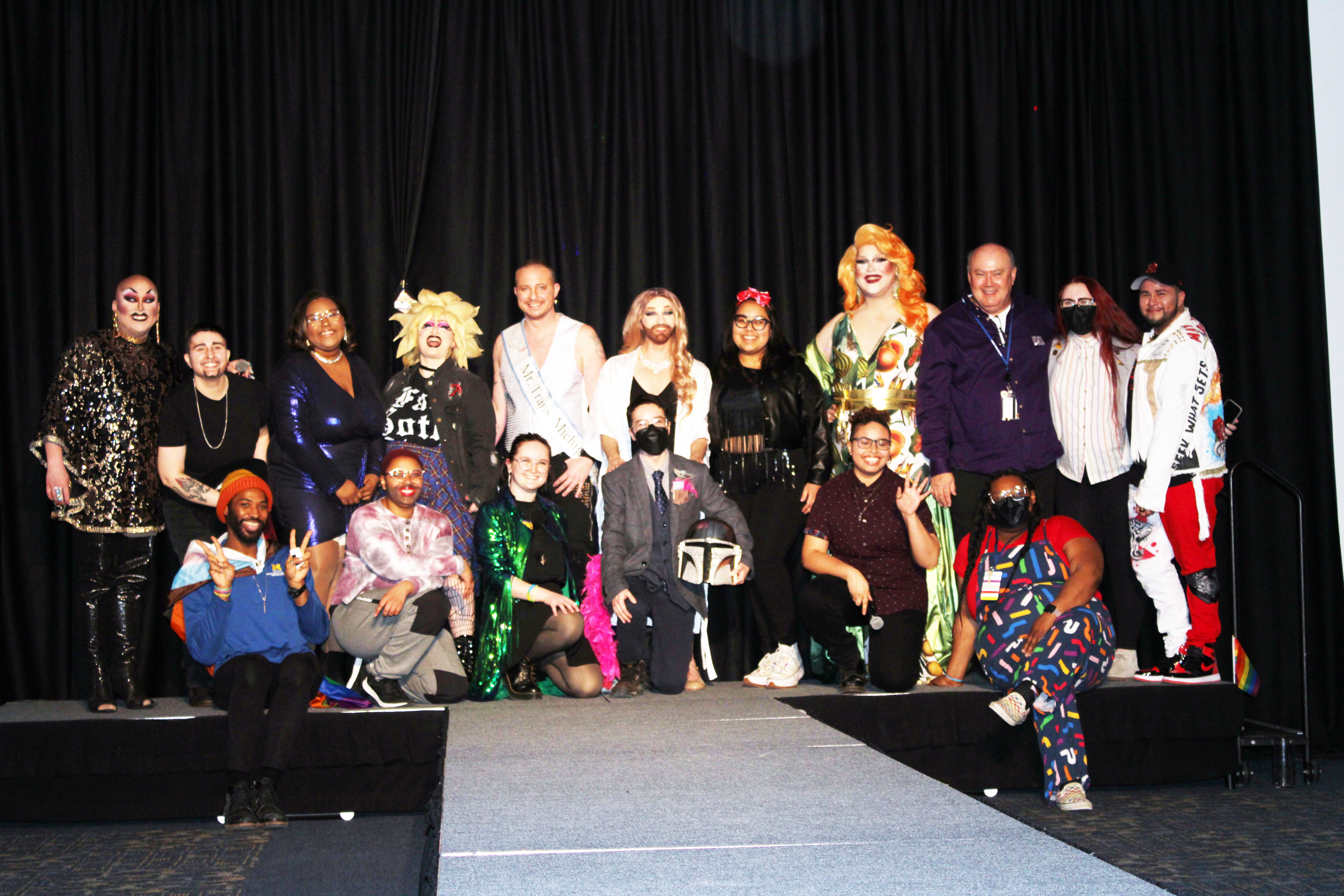 Drag show participants, March 16, Kochoff Hall, University of Michigan - Dearborn. Photo by Ashley Davis.
The Sexuality and Gender Acceptance (SAGA) Club at Henry Ford College partnered with the Center for Social Justice and Inclusion's (CSJI) PRIDE organization at University of Michigan-Dearborn to host an annual drag show on the evening of March 16 in Kochoff Hall. The event, featuring both professional and student performers, is one of many organized efforts to increase safe and inclusive spaces for LGBTQ+ students on campus.
There was a bustling energy in the air as guests packed the room decorated in various pride flags. The stage had a backdrop of long dark curtains, with a catwalk that stretched out towards the audience. Bass from the catchy music shook the floor beneath your feet.
Troy Gibson, who has been SAGA's advisor since 2019, says that a place to feel truly accepted is crucial for students on their journey to higher education: "I think everyone wants a space where they feel they can be accepted and be around others like them. So that's why I feel like the show is such a great environment to get out, have fun, meet others, laugh, dance, clap. I think it's just a great time."
Excited attendee and Henry Ford College student Shardai Duckett expressed her appreciation for the drag art form, "I love the fact that it lets the performer express themselves. It's just a lot of fun and it's open to everyone."
First to grace the stage was the master of ceremony, Tyler Cooper, lovingly known by their stage name, "Sabin." Dancer, activist, host and Grand Valley State University alumnus, Sabin has been a drag performer for more than 20 years.
Cooper shared their favorite part of drag: "I hope sometime in someone's life they get to feel what we feel in the nighttime, because we feel more loved in, like, 38 seconds on stage than most people feel in a lifetime. So my favorite part about performing is this. This is my favorite part." Cooper's bold and alluring personality set the stage for the electrifying performances that followed.
The show's lineup featured: Sabin, Teddy, Bentley James, Desmond Desire, Lady Justice, Michael Christian, Phoenix and Transa Genda.
Lip sync performances ranged from Whitney Houston's "I Wanna Dance With Somebody" to "Yummy" by Justin Bieber and "Zombie" by The Cranberries. With each song, the performers came alive under the warmth of the stage lights to mystify the crowd. A whirlwind of beads, lace, spandex, sequin and glitter danced across the stage in perfect harmony to masterfully channel various personas.
Many performers discussed how drag has influenced their relationship with personal identity. "Well I'm a trans man, so, born female. It helped guide me and gave me an outlet to find the right people to help me," Theodore Muñoz-Aguilar, affectionately known as "Teddy" shared.
Michael Christian, drag performer of over 20 years and recently crowned Mr. Trans Michigan USA 2023, expressed similar sentiments: "It helped me discover identity, really. The first time I was in drag was almost the first time I could look in the mirror, and it's kind of just like, oh, there's me. And I just fell in love with the way it made me feel. And I still feel great doing it."
Cooper added that developing their persona channeled a part of them they didn't know existed, referring to their drag persona, "Sabin gave Tyler strength that he didn't have before. So, confidence in those social situations and overcoming insecurities about my voice, and my body and my teeth and all those things that everybody goes through at one point or another."
Students, faculty and alumni alike recognize that having gender affirming spaces on campus is vital to developing and maintaining a safe learning environment. Bee Taylor, current LGBTQ+ Program Manager at UM-Dearborn, reflected on their* experiences: "I think it's really important to have drag spaces that are safe on campuses because this is a pivotal time for students to be exploring their gender, and to have a safe, artistic space [to explore] not just in your presentation or in your name. I was a trans student in college trying to find a space that was comfortable for me as I was exploring my identity. And part of why I do this work, in general, is to be a support person."
Cooper's experience was similar to Taylor's, adding, "I didn't have those safe spaces, so I had to find [them] on my own. But I think it's so important for us to develop those safe spaces no matter where we're at."
Christian said, "Creating these spaces allows queer students to see what is possible for them. "We come here, and we can make it tangible for people, and we can show them what's possible. You can just entertain and express yourself the way Saban does, or you can find yourself the way Teddy and I have. So I just think it's super important for everybody to be exposed to that."
Danny Rebb, a 1993 UM-Dearborn alumnus was in attendance. Now openly queer, he was excited to see how things have changed. "We had nothing like this. I was pretty much closeted back when I was in college, very few people knew while I was here. I don't even think there was a gay student group then. There might have been one just starting back then, and it's just good to see," Rebb stated.
The drag show has been a fixture on UM-Dearborn's campus for a decade. PRIDE, which is UM-Dearborn's LGBTQ+ organization, now operates under the umbrella of the CSJI, whose mission is "to be an affirming, accessible and inclusive space where learning and compassion is fostered through community and belonging." The group hosts mixers, entertainment nights, educational seminars and panel discussions to increase awareness and handle problems facing the community on campus.
With a mission that aims to "support students in their lives as LGBTQ+ individuals and allies," Henry Ford College's SAGA Club seeks to make LGBTQ+ related educational resources and information more accessible on campus. Their "SAFE@HFC" program is a public network of professionally trained and self-identified community allies designed to provide support.
History was made on the same day of the drag show when Governor Whitmer signed into law explicit civil rights protections to LGBTQ+ citizens of Michigan. The Elliott-Larsen Civil Rights Act (ELCRA) was expanded to outlaw discrimination based on sexual orientation, gender identity or expression, and provides protections for access to housing, employment and public services.
When the stage lights have dimmed and the makeup comes off, drag performers hope to leave a lasting impression and be a source of inspiration for those watching. "It feels really good to have the platform to help youth and go out and be an advocate for trans people and just show that we're just normal people living lives. I'm really just honored to be part of [the community] and [to] have found the strength of character to step up and advocate and platform for Michigan,," Christian said.
Cooper, whose survival of a suicide attempt actually led him to drag, adds, "I've dealt with bullies and hecklers and all sorts of stuff. But I [live proudly] because I don't want kids to know that dark space that I was in for a while." Cooper added, "From the ashes we rise. From a dark place, something beautiful came."
Note: The print edition of this article mistakenly printed the wrong pronoun. The statement should read: "Bee Taylor, current LGBTQ+ Program Manager at UM-Dearborn, reflected on their experiences." The Mirror News editors and staff sincerely apologize for the error.