Will The Detroit Pistons Ever Get Beyond Rebuilding?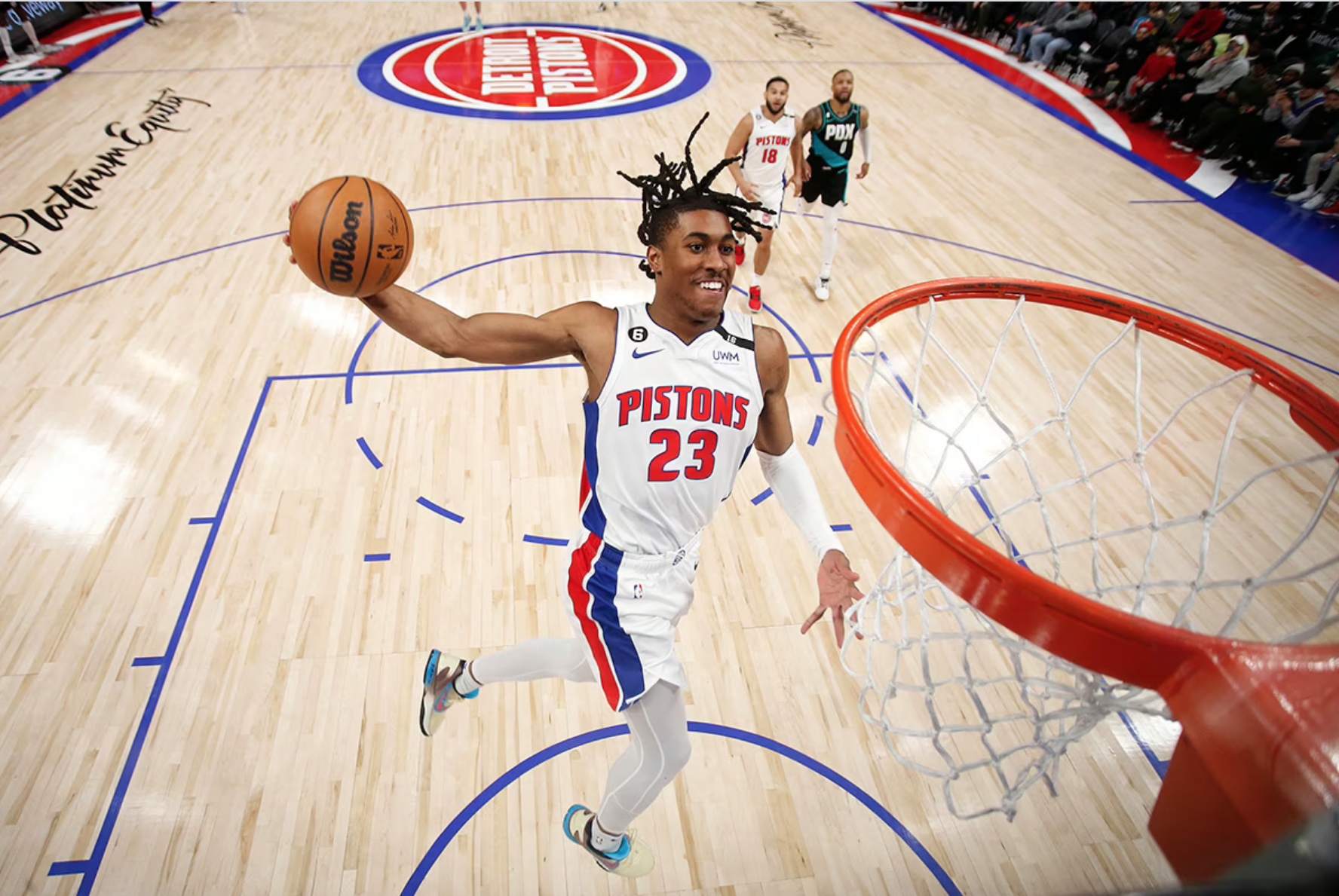 Detroit Pistons point guard Jaden Ivey making a dunk. Photo courtesy Getty Images nba.com/pistons
The Detroit Pistons have made the playoffs only twice in the last 13 seasons. They were eliminated in their two playoff appearances in the first round, winning zero playoff games. In the last 14 seasons, the Pistons have had a winning record once.
The "Bad Boys" who won back-to-back NBA championships in 1989 and 1990, and the Going to Work Pistons which won the NBA Finals in 2004, created a winning culture and a proud fanbase that craves success. But lately, the Pistons have been outright pathetic. Several different blunders by the Piston's front office date back to 2010.
From missing badly on draft picks to overspending on players well past their prime, the Pistons have many fundamental problems that must be addressed. The Pelicans, Cavaliers, Grizzlies, and other teams have successfully rebuilt, so why not the Pistons?
In 2010, the Pistons missed all-star Paul George and drafted Greg Monroe. In 2011, they drafted Brandon Knight instead of Klay Thompson, Kawhi Leonard, Nikola Vucevic, or Jimmy Butler. In 2012, the Pistons drafted Andrew Drummond, whose game didn't improve, and Khris Middleton, whom they let go before he became an all-star and champion with the Bucks. In 2013, the Pistons drafted Kentavious Caldwell-Pope, passing on arguably the best player in the world, Giannis Antetokounmpo. That's not all, they also passed on CJ McCollum, Steven Adams, and Rudy Gobert. It can't get any worse, right? Wrong.
In 2014, the Pistons drafted Spencer Dinwiddie, whom they moved before he became a household name in the NBA, having great success in Brooklyn and now Dallas. In 2015, they missed on Bobby Portis, Larry Nance, Jr., Terry Rozier, Myles Turner, and elite guard Devin Booker. Who did they draft? Stanley Johnson, now a regular in the G League. In 2016, the Pistons decided to take Henry Ellenson, who now plays overseas. They could have had Pascal Siakam, Dejounte Murray, Caris Levert, or Ivica Zubac. The following year, they decided on sharpshooter Luke Kennard, who has become a nice player in the NBA but missed on Donovan Mitchell, OG Anunoby, Jarrett Allen, and Bam Adebayo.
In 2018, they ended up with Bruce Brown, Jr., a second-round steal, eventually getting rid of him, where you guessed it, he flourished into a solid player with the Nets and now the Nuggets. In 2019, with the 15th pick, the Pistons selected Sekou Doumbouya from France. They could have had NBA champion Jordan Poole, Bol Bol, or Kevin Porter, Jr. In 2020, they missed on Tyrese Haliburton, Tyrese Maxey, and Immanuel Quickley for Killian Hayes. Since then, the 2021 pick, Cade Cunningham, has shown promise, but he has been out for this entire season after surgery to his shin. How well he will be when he returns next season is an open question. The 2022 pick, Jaden Ivey, appears to be working out so far.
It's not common for a team to go so many years without drafting a great or elite player. Clearly, the Pistons have found a way to do just that. At best, the Pistons have drafted a bunch of respectable role players.
Do fans have anything to look forward to with this team? Kind of.
French sensation 7'4 Victor Wembanyama is entering the NBA this May, and everyone is going crazy, for good reason. The NBA today doesn't feature many players his size, let alone his ability to play like a guard. Lebron James said, "Everybody's been a unicorn over the last few years, but Wembanyama is more like an alien. No one has ever seen anyone as tall as he is but as fluid and as graceful as he is out on the floor. At 7'4, 7'5, 7'3, whatever the case may be, his ability to put the ball on the floor, shoot step back jumpers out of the post, step back 3's, catch-and-shoot 3's, block shots, he's for sure a generational talent." Steph Curry added, "He's solid. He's solid. He's like the 2K create-a-player…Every point guard that wants to be seven foot – cheat code type vibes. He's a solid talent."
The problem is that the Pistons will only have a 14 percent chance at the number one overall pick in this year's draft, including their needing to be a bottom-three team record-wise.
Let's face it, the Pistons are young, with an average age of 24, and the fifth youngest roster in the league. But how long can we keep pulling the rebuilding card? Or, as Pistons GM Troy Weaver puts it, "restoration."
Pistons fans will tell you the excuse is played out and exhausting to hear. The Stan Van Gundy days were hard to be a part of because the team was in no man's land overpaying for Blake Griffin while surrounding him with young and inexperienced players. It was a sad, unrealistic attempt at a playoff push.
The Pistons were involved with arguably one of the most lopsided trades in NBA history. In the 2020-2021 NBA season, the Pistons received Blake Griffin on a 5-year, $171 million dollar deal in exchange for a first-round pick (who turned out to be all-star Shai Gilgeous-Alexander) and a second-round pick, Tobias Harris, Avery Bradley, and Boban Marjanovic. Some fans went as far as to say the trade "set the franchise back ten years." To be fair, Griffin did have a career year and looked dominant in Detroit, but with zero playoff appearances during his time here, the trade proved unsuccessful. These bad contracts don't reflect the past few years; the trend continues beyond that.
Detroit has notoriously overpaid for players that underperformed. Ben Gordon and Charlie Villanueva both signed five-year contracts with Detroit in 2009. Gordon for nearly $60 million and Charlie V. for about $40 million. Gordon averaged 13 points and 2.4 assists per game in the three years he played for Detroit. Villanueva averaged 8.2 points and 2.8 rebounds per game in five years with the team. You don't have to be a basketball junkie to know those numbers for that price is highway robbery.
Another mysterious contract was Jerami Grant's three-year, $60-million contract in 2020. Detroit hasn't won a playoff game since 2008, so this type of signing seemed to go against common sense. Normally, a team signs a player of his caliber to get them over the hump and compete for a championship. Instead, the Pistons almost put all their eggs in one basket on a team going nowhere fast.
Another legitimate concern that goes under the radar is Head Coach Dwayne Casey's performance. Following a Coach of the Year award in Toronto, he had his hands full in Detroit. So why hasn't he had success? Is it because of the age and talent differences between the Pistons and Raptors? Either way, the Pistons team collectively and the individual players haven't shown enough improvement year in and year out to credit coach Casey with anything. A very important part of being a head coach is developing talent; there's no evidence of that.
It is promising to see Detroit's "stars" Cade Cunningham and Jaden Ivey come along. Both have had solid cases for rookie of the year in their first year in the league. Cunningham features a stoic presence on the court that produces when he needs to, and Ivey has the speed that the Pistons have desperately needed for so long.
As a diehard fan, it is exciting to watch young players get their chance at the NBA level and gel with each other right before my eyes. Although the Pistons don't feature many wins, it's a great place for players to develop and get NBA minutes. Plus, any success the Pistons have exceeds any and all expectations.
In reality, Troy Weaver is cleaning up Stan Van Gundy's mess, and so far, we should be happy with what he's done. Like players, General Managers need time to develop and figure things out. As tough as it is, Pistons fans need to be patient.