Tabletop Gaming Comes to Downriver with The 8th Side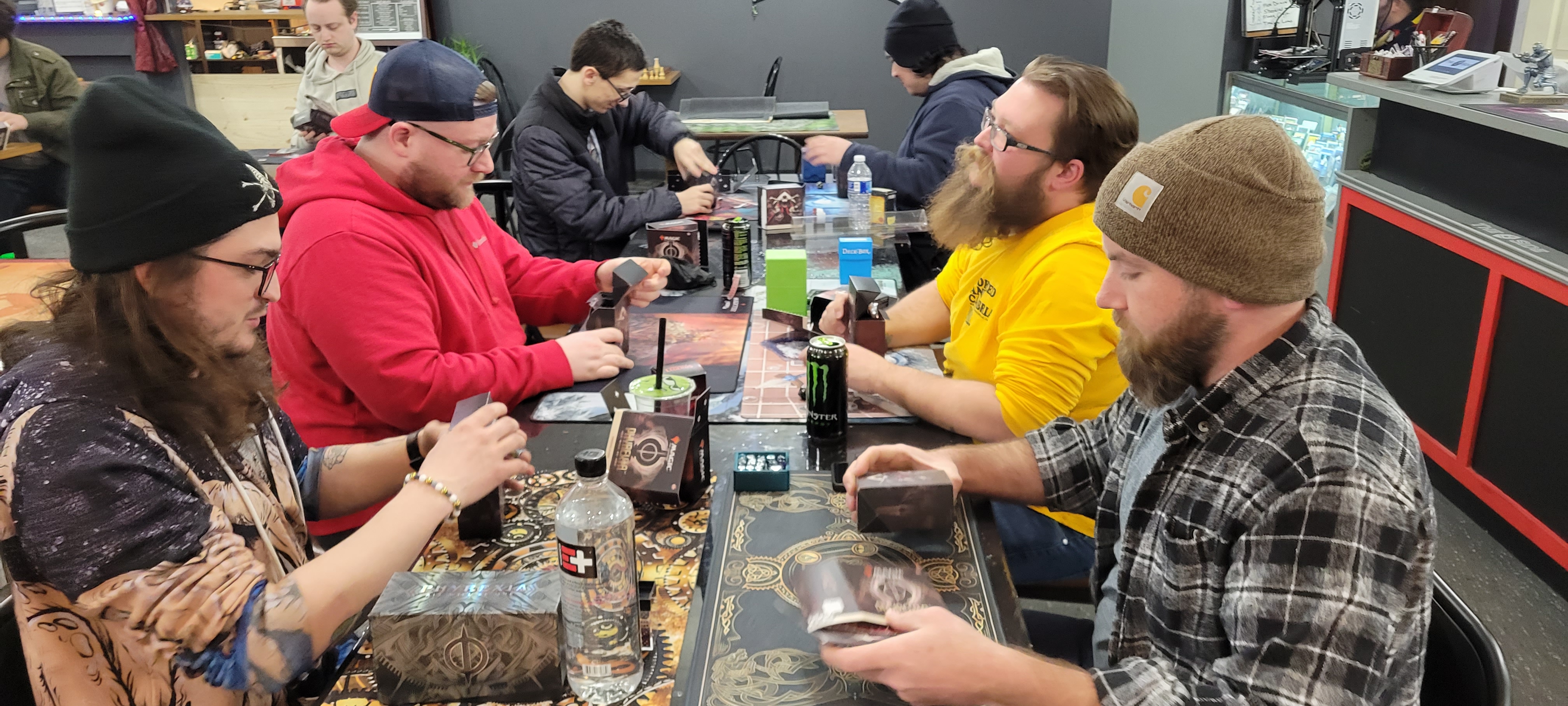 Tabletop gamers at The 8th Side, Lincoln Park, Michigan. Photo by Katherine Warden
For years players of tabletop games in metro Detroit's downriver area have had to rely on traveling to friends' houses or out of the area to enjoy the games they want to play. The 8th Side located in Lincoln Park is a game shop that caters to tabletop games of all kinds, from Magic The Gathering to Pokémon and everything in between.
Opening last December, The 8th Side combines gaming with food. Justin Wong is the owner of the former Hop Sheing's Noodle House. Wong had always planned for Hop Sheing's Noodle House to have the ability to host game nights but was never able to adjust the restaurant to adequately host the games. After becoming a regular of Hop Sheing's Noodle House, Sam Tucker relayed how tired he was of traveling to different friends' houses for tabletop gaming. Finding that Wong had the same issue, Tucker and Wong worked together to develop what would become The 8th Side: part game shop and part restaurant.
The 8th Side converted what used to be a tan dining room full of booths to a sleek gray scaled room with tables set up for play or eating on one side and the shop on the opposite side. This allows the space to be modular and ever changing to fit what is needed. Up to 30 people can now comfortably be able to enjoy a place to play the games they're passionate about. The walls on the player's side of the shop are decorated with donated artwork from fans of the store.
Fans of the shop can pay for a per day table space or pay for a month of play for a small fee where they are allowed unlimited game play. Tucker and Wong wanted to make sure that The 8th Side "is affordable to everyone."
Patrons of the shop have been excited since its opening. Tristan Helms says, "It's been incredibly convenient."
Prior to The 8th Side, the few shops in the area that do sell tabletop games like Dungeon and Dragons and Magic the Gathering limit when or if they have space for players. Shops that do have play time may only run either once a week or once a month. The 8th Side is open for tabletop games seven days a week.
Players of all levels are not only welcomed but encouraged to be a part of The 8th Side tabletop gaming community. Between the staff and more experienced players, they are more than open to helping new players learn the rules of different games and to help all players find their own play styles. On The 8th Side Discord social media app there are open discussions and talks on rules, game play, setting up times to come and play at the shop, and discussions on how to start into the different tabletop games.
Experienced tabletop gamer, Patrick Schalk, says even those who are competitive "aren't going to stomp new players."
The 8th Side hosts different events or games each week, making sure that there is still enough space for non-participants to be able to utilize the shop to the fullest. "Family Game Night" invites all ages to come and rent from the shop's wide variety of different games or bring their own games to utilize the space. The most popular "Magic The Gathering Fridays" offers different ranges of Magic the Gathering games.
Tucker and Wong have hopes to expand events to include other parts of the tabletop game play experience, such as doing a "mini" or miniature figures painting night.
The 8th Side is located on 4232 Fort St. in Lincoln Park. For information on upcoming events and store hours visit: the8thside.com.