HFC Ceramic Alumnus on Fire at Nordic Fire Festival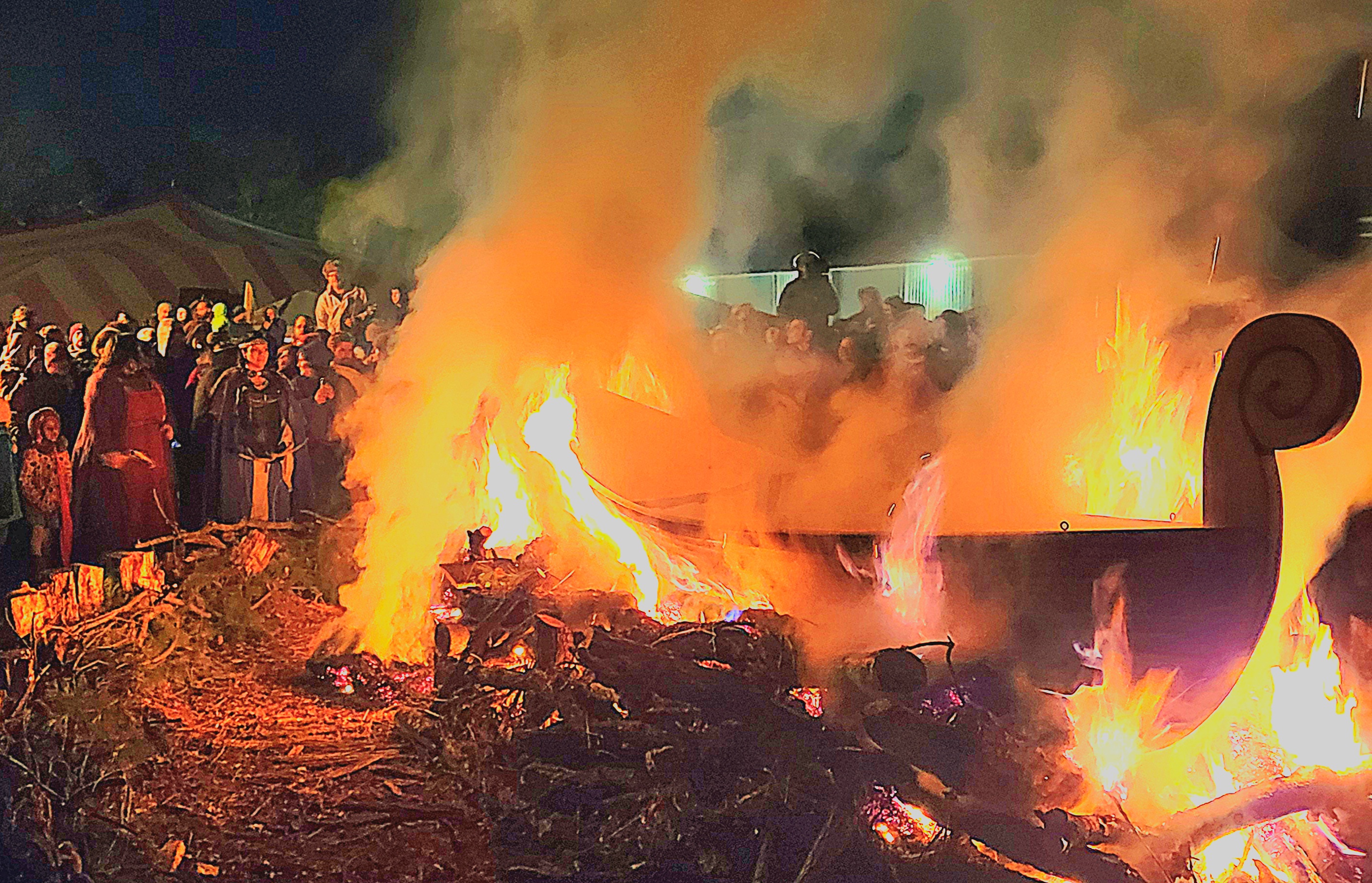 Crowd gathers around burning viking ship at Michigan Nordic Fire Festival, Eaton County Fairgrounds in Charlotte, Michigan on Feb. 25, 2023. Photo by Katherine Warden
Thousands of people were drawn to the Eaton County Fairgrounds in Charlotte, Michigan on the weekend of Feb. 24 for the annual Nordic Fire Festival.
Held each year at the end of February to help bring in the start of spring and the hope for warmer weather, the Nordic Fire Festival was created in 2016 to celebrate Nordic history and culture.
The Festival starts off on Friday night with viking inspired bands, a mead tent, and a selection of black and silver smiths.The opening night concluded with the festival's yearly viking ship burning. Attendees fill the viking ship with wishes for the new year. The lighting of the boat started with a parade through the festival grounds to a pyre of fire near one of the reenactment campgrounds. The pyre was lit via the gondolas of hot air balloons to the delight of onlookers.
The rest of the weekend included historical reenactments, spear throwing and chances for people to try black smithing. Live music and entertainment included modern folk artist Luku the Mad to the acrobatic cirque style Daredevil Circus.
There were also a variety of contests that participants could partake in ranging from best costume to a beard competition.
Many come to participate in LARPing, or live action roleplay. Attendees bring their own LARPing foam weapons or buy them from vendors at the festival. LARPing was featured in the Marvel Disney Plus series, "Hawkeye."
Perhaps one of the most popular parts of the festival is the vendor tents. Each tent is packed with different vendors from jewelry makers to leather makers.
One of the vendors from this year's festival was Henry Ford College alumnus Michael George.
George's business is Ram's Head Craftworks. Working with clay for over twenty years, George began taking ceramics classes at HFC in 2003 and graduated in 2005 before going to Eastern Michigan for his bachelor's degree in business. However, George could not stay away from ceramics.
"Returning to HFC to continue working in clay about a decade ago was one of the best decisions of my life," George said, "In the studio there I've had the opportunity to explore new glazes, firing techniques, and forms while having access to an experienced staff and a supportive community of artists."
George went on to explain how he became involved with the Nordic Fire Festival. "In 2018 my wife and I started vending at the Nordic Fire Festival; it was their third year and our first major show."
For George, the Nordic Fire Festival was a natural fit for his art. "A lot of my work is inspired by medieval European forms and the Nordic Fire Festival with its reenactors is a great opportunity to find people interested in those forms" George said, "We've always done well at this show and it's been great watching the show grow year after year."
George said, "The people at the festival are probably my favorite part, we've met great artists and patrons and it's one of the few shows where bartering is known to happen. I've made some truly crazy trades over the years."
Photos from this year and plans for next year's Nordic Fire Festival can be found on their website: michigannordicfirefestival.com.
Information on Ram's Head Craftworks can be found on Facebook and Instagram.