The Most Magical Place on Earth comes to HFC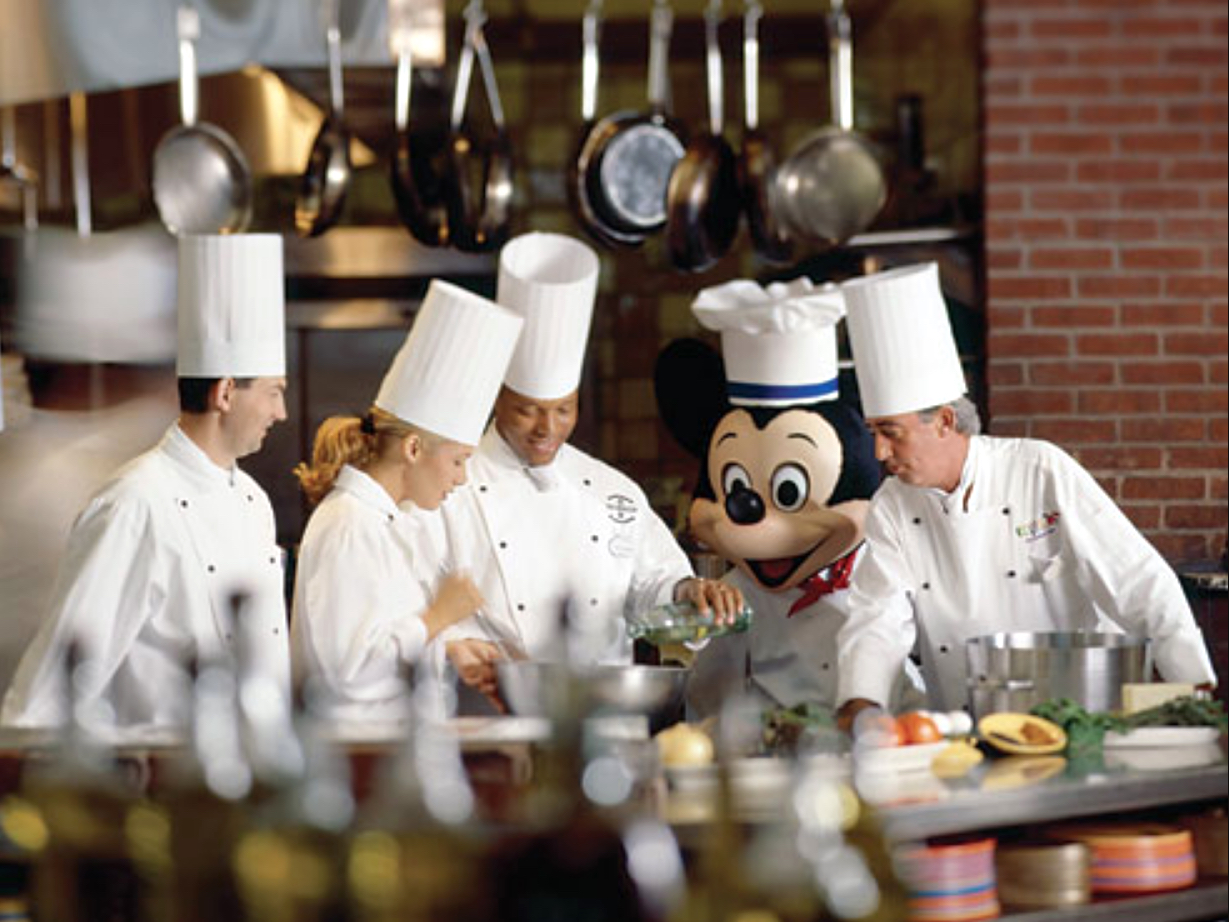 Disney World Chefs photo courtesy Walt Disney Company
This month, Henry Ford College hosted Chef Pauli Milotte, senior culinary recruiter from the Disney College Program. Students in the Henry Ford College culinary program had an opportunity to learn of the opportunities at Walt Disney World in Florida and interview for possible positions.
Chef Milotte has been with The Walt Disney Company for over forty years, originally starting as a line cook out of culinary school. Within five years, he was promoted to chef and team leader with the grand opening of Epcot Center at World Disney World in Florida.
Chef Milotte has extensive leadership experience not only in the culinary program at Disney, including working at all of the parks in Walt Disney World, but also as a senior recruiter, traveling around the globe for the Disney College Program.
Since 1981, the Disney College Program has given students, or recent graduates, real life work experiences by working at Disney's resorts in a variety of areas ranging from food service to retail and sales through park operations.
Henry Ford College's Culinary Arts has a direct partnership with Disney College's culinary program. Students can potentially work at Walt Disney World in Florida, Disney's Aulani Resort in Hawai'i, or Disneyland Paris.
Students can also have the opportunity to participate in some of the international annual events held within Epcot at Walt Disney World, including Festival of the Arts, Flower and Garden, or Chef Milotte's favorite, Food and Wine. Participants would be able to work either in the restaurants or one of the many venues throughout the park.
HFC's culinary program requires students to complete a co-op work study, which is coordinated through the college's Career Services office. The Disney College Program not only fulfills this requirement but also gives students the possibility of finding future employment at Disney.
The co-op positions with the Disney College Program are paid opportunities, with competitive wages depending on the skills of the applicant and available positions. The required working hours would be between 30-45 hours per week. Disney has 500 different dining locations where students can be placed.
Chef Milotte's interview consisted of real-world situations but also permitted students to think creatively. One of the interview questions was, "If you were working today in a restaurant, it's casual dining, put together a plate that you'd like to put on the menu."
Disney College Program students are considered Disney Cast Members, and with that come all of the benefits of that position, including but not limited to full access to parks after shifts or on days off. Students are housed within the Flamingo Crossing Village, with numerous events and programming that are held weekly within the campus, ranging from learning opportunities to fun games to team building events.
The Disney College Program requires that applicants must be at least 18, have completed at least 50 percent of their required core courses, and have a minimum 2.0 GPA for program and an overall GPA of 2.5, and meet the required Disney Look appearance standards as listed on the Disney Career site.
Visit the Get to Know the Disney College Program Virtual Sessions zoom webinars available on the Disney College Program website to learn more about not only the culinary program but other educational and career opportunities.
For further information on Henry Ford College co-op opportunities, including with the Disney College Program, contact Career Services at: 313-845-9618 or careers@hfcc.edu.