HFC Students Gather To Honor MSU Victims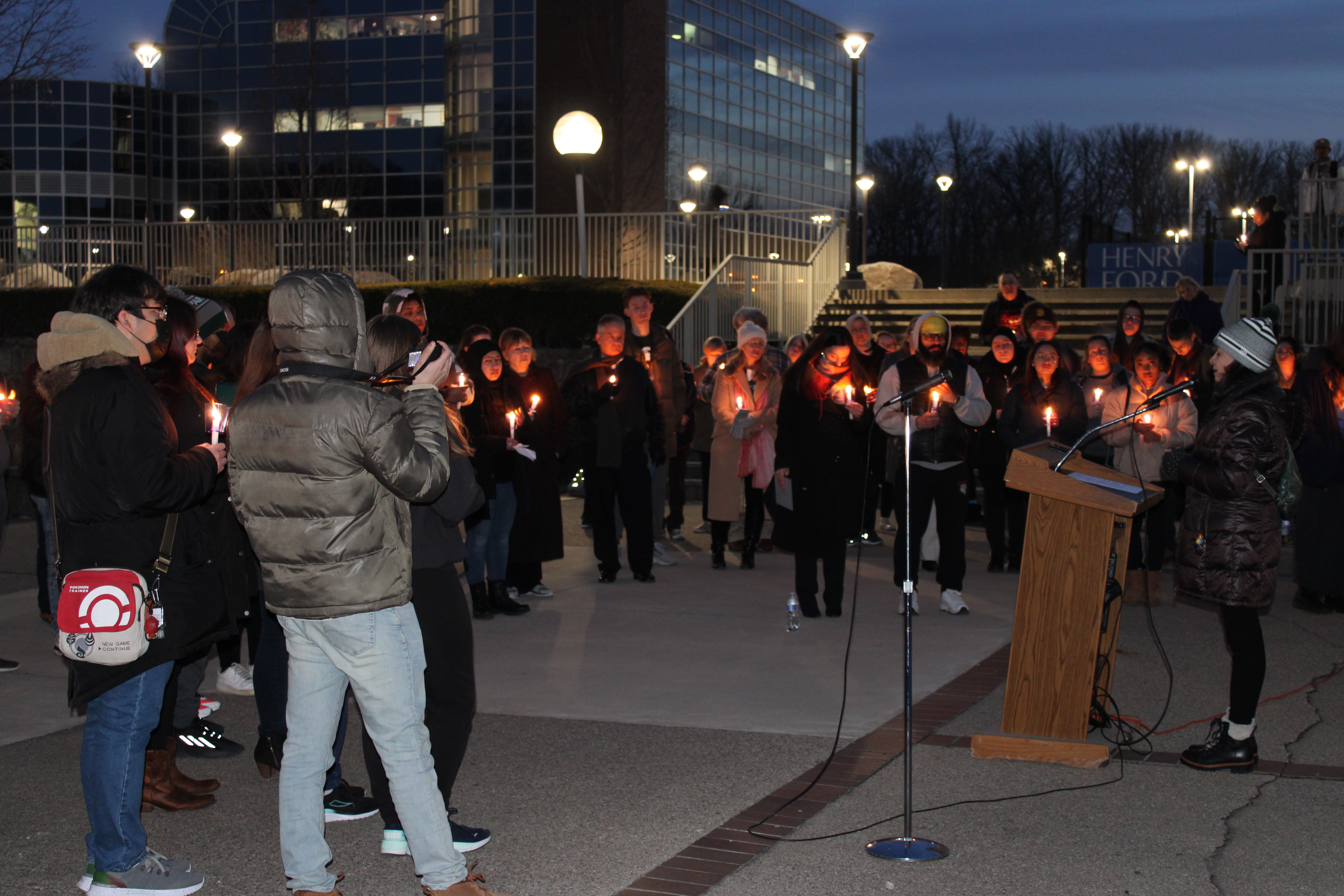 Students, staff, and faculty gather at Henry Ford College in Dearborn, Michigan, for a vigil on Feb. 20, 2023, remembering the victims of the MSU school shooting. Photo by Ashley Davis
On the evening of Feb. 20, Henry Ford College students, staff and faculty gathered in the school's courtyard in Dearborn, Michigan, to honor students who died as a result of the mass shooting that took place on the campus of Michigan State University on Feb. 13.
The vigil was organized by the HFC Student Council. Henry Ford College President Russell Kavalhuna and student representatives from campus organizations joined Student Council President Kat Peters.
Cassandra Fluker, director of student activities at HFC talked about the importance of the campus providing a space during these times: "We are demonstrating and promoting unity by allowing students time and space to grieve and reflect on the value of life and the importance of family and connections. When students bond, they heal together, and the process is more comforting because they are with one another, experiencing the same emotions. I greatly admire and appreciate HFC's student leaders for standing up and showing that HFC cares. They resonate with empathy, positivity, and regard for life."
Student Council President Kat Peters, who was one of the vigil coordinators, shared similar sentiments: "I think times like [these are] a very important time where people shouldn't feel alone, and experiences like this ensure that."
Many attendees shared their fears for the safety of their loved ones and close friends who attend MSU. Peters said, "I have quite a few friends or people that I went to high school with that go to MSU. Thankfully, all of them are safe. But one of [my friends] knew one of the people that unfortunately died. And I'm a really empathetic person so I was feeling for them. I can't imagine how that would feel to actually lose somebody."
Fluker expressed her sympathies as well: "My heart goes out to the families of the MSU students. The students were all involved in campus life and shaping their lives to make an impact on the world. As the HFC director of student activities, I value their level of engagement. They were making a difference and aligning themselves for future success. It deeply hurts that their lives were cut short. Students have my full support in honoring the MSU victims. It's part of the healing process for all of us."
Peters believes a student support group could be beneficial in meeting the need for social, mental and emotional support required to process traumatic events like campus shootings. "We used to have coming together sessions, like self expression sessions where people could just come virtually and talk about whatever and connect with other students. I would really like to bring those back," Peters said.
The increasing amount of school shootings has influenced campuses to place a greater emphasis on prioritizing campus safety. Henry Ford College experienced its own shooting in 2009. Fluker talked about the importance of providing students a secure place to learn: "It is critical that the campus community is safe via proper procedures and other risk management protocols. The Campus is home away from home, and it is vital that we, as campus community members, are aware of our surroundings at all times and keep our eyes and ears open. If something looks suspicious, don't hesitate to contact Campus Safety or notify a faculty or staff member who could notify Campus Safety immediately. Unfortunately, Henry Ford College experienced a school shooting in 2009; that shows that no institution is immune from such a devastating and life-wrenching act. The entire campus community must stay vigilant."
Many people feel that the gun violence taking place on college campuses across the country is such a layered issue with no single answer. Peters noted that there have already been 52 shootings just this year. Peters said, "That's more than one-a-day at this point. I just want change, whatever that may be. I don't have the solution, but I definitely want to try to find one. Definitely better gun safety laws."
If you are a Henry Ford College student in need of assistance to cope with this event or any other traumatic situation, Counseling Services is available to support you. Contact counseling@hfcc.edu or 313-845-9611 to schedule an appointment.