The Hawk Squawk Survey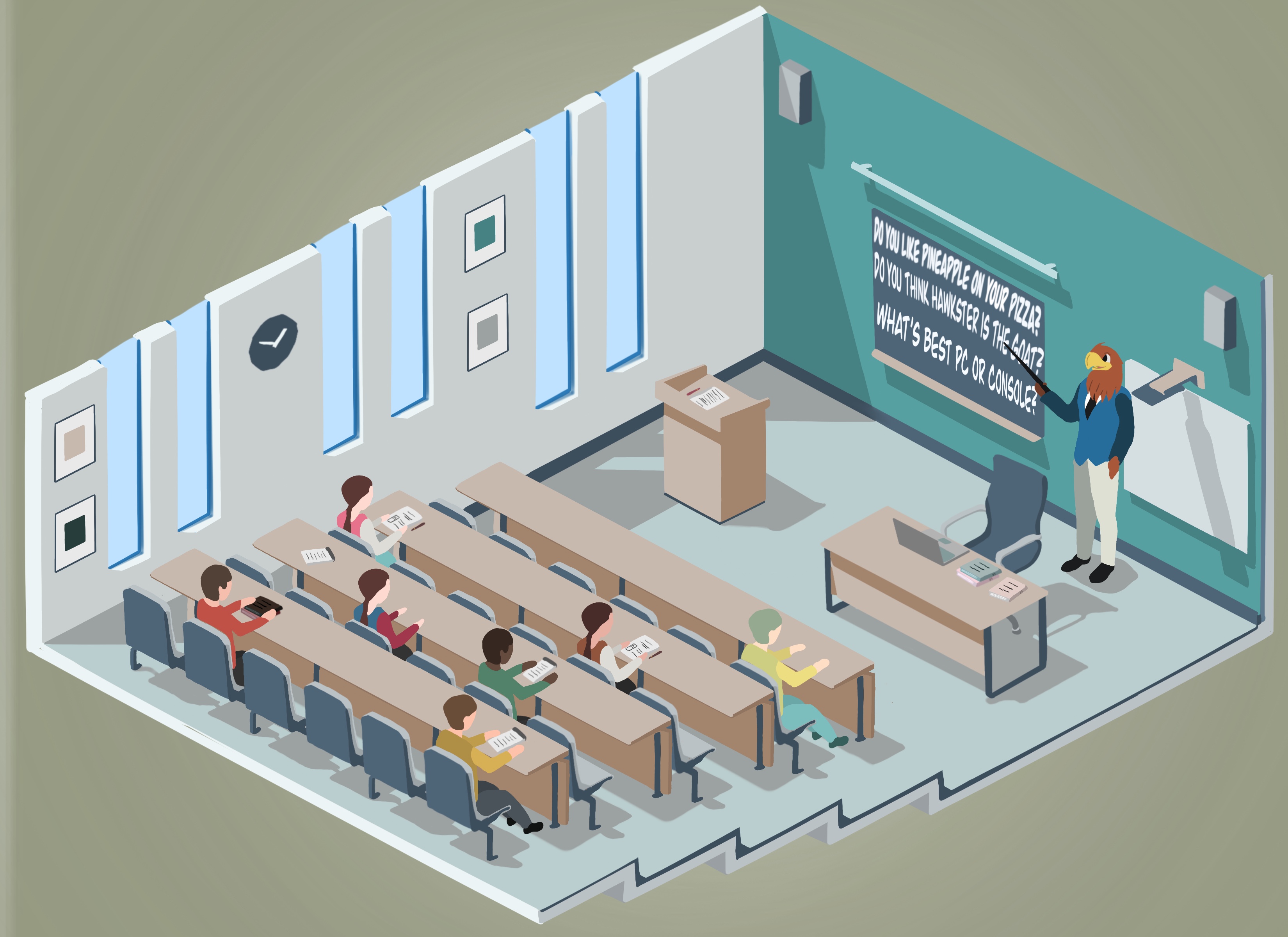 Illustration of Hawkster conducting survey by Edgar Gutierrez
Last fall, the Hawk Squawk Survey launched as an initiative to get feedback from Henry Ford College (HFC) students. The survey was conducted by the College's institutional research department and was developed by Eileen Brennan, the Interim Director of Institutional Research and Business Intelligence.
The institutional research department provides data about HFC students. They write reports for the government, college leadership, and departments at the college. Assistance is provided for the administration and departments to help understand the students. Additionally, the department hosts focus groups with students to gain a better understanding of their experiences at the college as well as their views.
The "Hawk Squawk" consists of a short survey emailed to students 1-2 times a month. It usually has around five questions, four serious and one not-so-serious. These surveys provide information to the college on student opinions and experiences. The greatest challenge they face is hearing back from more students.
Research Analyst, Bridget Smith-Botos, states, "Our research has told us that students want to have their voices heard, especially those in Generation Z." Short surveys provide an opportunity for students to regularly offer their opinion on a wide range of topics. It is one of the ways the research team is trying to accomplish its goal.
Results of the survey are collected and shared with both students who participate along with the college leadership. The results impact students because the college leadership becomes knowledgeable of the decisions made on a wide range of topics on campus and considers them when hosting events or establishing improvements.
The Hawk Squawk contains questions such as "Hoodies or sweatshirts – which are better?", "Does pineapple belong on pizza?", "What do you think about Daylight Savings Time?" Smith-Botos mentions that as researchers, they get stereotyped as being too serious. While this occasionally can be true, research can cover all sorts of topics. "The pineapple on pizza question is still hotly debated in our department. It is our way of having a little fun, but we hope it is fun for students too," Smith-Botos said.
So far, the research department has learned that 50 percent of students prefer hoodies over sweatshirts, 63 percent of students do feel that pineapple belongs on pizza, and 66 percent of students would like to see faculty and tutors available online and in person for their last minute questions during finals week.
According to Smith-Botos, HFC is currently working on initiatives in their department to help inform others on campus how to improve student success, which is a significant focus of the college's strategic plan.
For the first year, the research department used "convenience sampling." It is a method adopted by researchers where they collect market research data from a conveniently available pool of respondents. The intent is to bring as many students to participate as possible. Therefore, it is vital to note that all students are welcome to sign up. Smith-Botos shares, "As we move into next year, we will continue to expand our recruiting efforts to recruit a group of students that represent the college population overall."
Given that the survey suggests more than half of the students prefer online classes without live meetings, Smith-Botos says the information is relayed to the college leadership, who would then make decisions about how courses are offered at HFC.
The Hawk Squawk Survey's primary goal is to give students a voice on campus. It is essential to the college leadership that they know what students are experiencing and what can be achieved to better serve them.
The greatest challenge is that they do not hold a large sample size. It is one of the most effective ways that could potentially increase the reliability of the survey's results. Smith-Botos and the research department hope more students will sign up to participate and hear a considerable number of students' voices. "The fun questions often serve as an icebreaker or way for us to get to know students in ways that aren't as serious as how you like to take classes," Smith-Botos said.
Students can sign up to receive the Hawk Squawk Survey on the Mirror News website: mirrornews.hfcc.edu. Students who already signed up should keep a lookout in their Hawkmail for the Hawk Squawk Survey with the latest selection of questions. It only takes 5-10 minutes to respond to the survey questions.
Questions and requests for information from Institutional Research, Planning, and Accreditation can be directed to: irr@hfcc.edu.