Michigan Colleges Address Nursing Shortage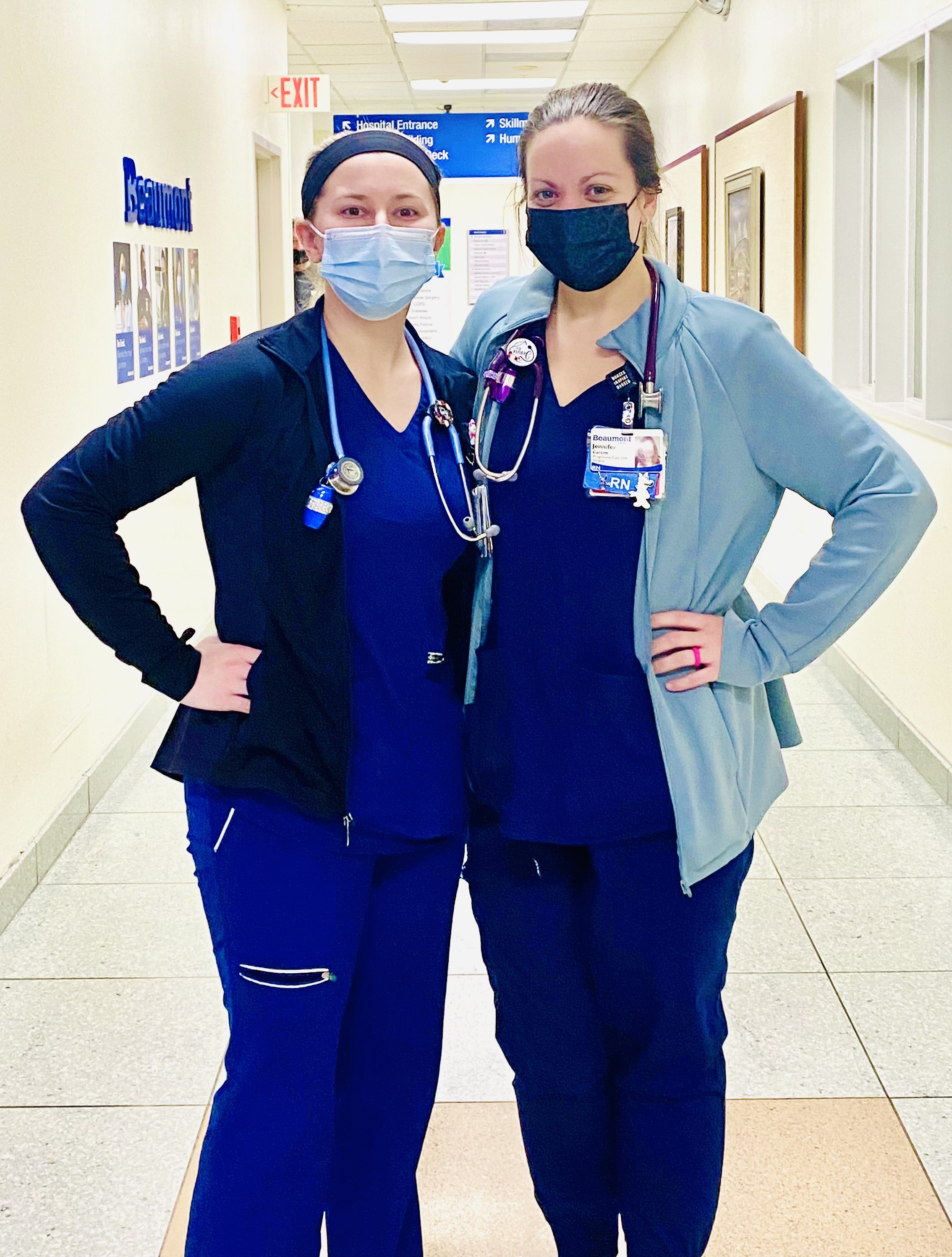 On the right is Registered Nurse, Jennifer Cavzen, and to the left is Registered Nurse, Kim Desimpelaere both working hard to carry out their responsibilities at Beaumont Hospital. Photo by Zynab Al-Timimi.
Nursing shortages have become a nationwide concern. The need for qualified health care personnel is causing American hospitals to struggle. Sometimes patients may have to wait longer in emergency rooms if staffing is in short supply. The labor shortage can mean that hospitals and clinics have to shut down services because not enough employees are available.
Hospitals have had to depend on temporary nurses to fill gaps caused by the staffing crisis. Corewell Health (formerly Beaumont Health Spectrum Health) and other Michigan health providers were suffering a staffing shortfall even before the pandemic. Now, 26 months into the COVID-19 outbreak, the shortage of nurses may be reaching a breaking point.
Nurses are working with excessive workloads and increasing pressure. In New York City, more than 7000 nurses went on strike, protesting inadequate patient care brought on by understaffing and overcrowding. They have spoken of beds being left in packed hallways and nurses forced to care for dozens of patients at a time.
State officials project that between now and 2028, Michigan will require an extra 6,620 registered nurses each year to fulfill the demand for healthcare.
In order to address the nursing shortage, the Michigan Community College Association (MCCA) in partnership with the Michigan Association of State Universities, Michigan Independent Colleges and Universities, and the Michigan Health and Hospital Association proposed a state-funded program to help community college nursing students transfer to a four-year college or university to finish their bachelor's of science in nursing degree. The $56 million program was approved by the Michigan state legislature and Governor Gretchen Whitmer. The program offers grants of up to $2 million to community colleges.
Private health providers are also setting up programs with Michigan colleges and universities to address the nursing shortage. Corewell Health developed the BHSH Spectrum Health West Michigan Nurse Scholar Program with Grand Valley State University. The plan is to invest more than $19 million over the next five years to grow Michigan's nursing workforce.
Corewell Health also announced that it intends to donate more than $10 million to support nursing scholarships at Oakland University. Applicants for these scholarships are required to work for Corewell Health for a minimum of two years after graduation.
Paige Goga works for Corewell Health in the cardiac catheterization lab holding areas and operating rooms at Beaumont Hospital, Dearborn. Goga states, "The hospital has resorted to travel nurses just because of how short-staffed they are." Goga adds, "The nurses have even told me how difficult it has been to carry out all their responsibilities. It has reached the point where multiple units have closed down entirely."
Corewell Health volunteers are present as an additional set of eyes and ears around the hospital. A former volunteer member, Hasan Farhoud, states, "After and during the COVID pandemic, it has been widely reported that many hospitals across the country are struggling with a nursing shortage that they are unable to resolve. So that is why I decided to step up and help. Hopefully, in the future, we can see the next generation of students work to turn this issue into an abundance."
While individual hospitals may find short-term methods for dealing with the nursing shortage, the issue is affecting hospitals across the nation, which means the need for long-term solutions remains.
Beaumont Volunteer, Rachel Nkrumah, maintaining cleanliness of stretchers in the ER. Photo by Zynab Al-Timimi.