Looking Back at the Lions Exciting Season and Prospects for Next Season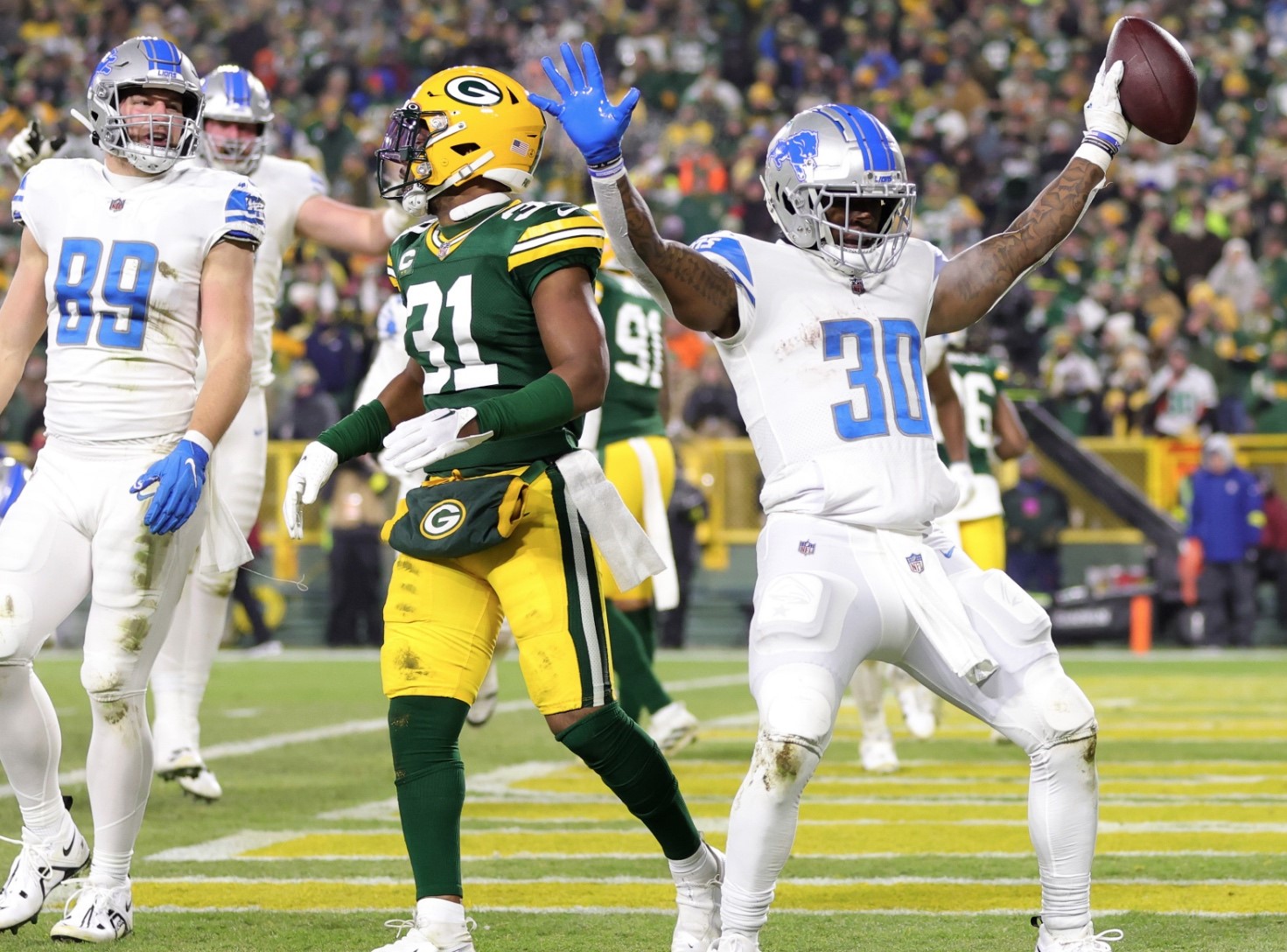 Running back Jamal Williams of the Detroit Lions in 20-16 win over Green Bay, Jan. 8, 2023, in Green Bay, Wis. Photo courtesy NBC Sports.
The 2022-2023 Detroit Lions had a turnaround that no one saw coming. Fresh off a 3-13-1 record and last place in the NFC North last year, expectations weren't high for this year. Some analysts had them going to the playoffs, but others thought it would be another year of the "same old Lions." NFL Film's "Hard Knocks" series created excitement around the team that hasn't been seen, probably ever.
Vegas had them at 6.5 wins, and rarely do teams not come close to this prediction. After a 2-8 start, the Lions went on a tear, ending up at 9-8.
Things were somber in Detroit after an abysmal start. A decent season didn't seem out of reach after a 2-3 start, but it was back to their old ways before long. Many fans were calling for Defensive Coordinator Aaron Glen's job. Dan Campbell's play calling was a glaring problem, and it seemed that his upbeat and motivating demeanor wouldn't translate to wins.
In reality, some teams take time to gel, especially with a rookie-filled defense like the Lions had. It looked like the hyped-up local rookie Aidan Hutchinson was a bust early in the year. His performance was a huge disappointment paired with the slew of other problems the Lions had. By the end of the season, Hutchinson comfortably made his way into the Rookie of the Year conversation boasting 9.5 sacks and three interceptions.
Jared Goff has put the Lions in an uncomfortable position heading into the new season; he played so well that no one knows whom to draft. Spend five minutes listening to sports talk on the radio or at the barbershop with a bunch of diehard fans, and you'll quickly hear the controversy. You can make a case, either way, to draft a rookie QB in the first round, or wait until another year.
A respectable 99.3 percent passer rating is more than enough to carry a team to the playoffs. With two first-round picks in this year's draft, it will be interesting to see how the Lions approach the most important position on the field.
Unfortunately, the record-setter Jamal Williams is a free agent, and his future with the Lions remains to be seen. Most players who break Barry Sanders' records tend to ask for top dollar in their new contracts, and I can't blame them. But the emergence of young running back Deandre Swift looks very promising if he can stay healthy.
The receiving core is very good, but not elite. The highly anticipated rookie Jameson Williams will see his second year of action after only playing a few games in 2022. His explosiveness alongside one of the league's best, Amon-Ra St. Brown, will be special. Lastly, the reliable veteran D.J. Chark became a free agent but will hopefully find a way to stay in Detroit.
Anyone that knows football will tell you that the game is won "in the trenches." Believe it or not, the Lions have figured it out. With a top ten unit, Penei Sewell and Frank Ragnow are the anchors blowing holes open for the dangerous run game we saw in 2022. With all five starters returning, it's hard to imagine the Lions struggling on offense in the coming years.
As a lifelong fan, it's nearly impossible not to root for Head Coach Dan Campbell. His press conferences overflow with passion for the team and the desire to win for the city. There's nothing funnier than hearing him mic'd up and cheering on his players with his genuine personality.
There was a real scare that Offensive Coordinator Ben Johnson would find a head coaching job after his outstanding performance in 2022. He did have interviews with other teams, and most OCs would jump at the opportunity to coach an NFL team. Thankfully, he decided to stay and finish what he started in Detroit.
Defensive Coordinator Aaron Glen also interviewed with the Arizona Cardinals. At the time of this writing, he has not accepted the position. It was exciting to see the incredible transformation his defense had. He was at the lowest of lows with one of the worst defenses in the league in the first half of the season, but he found a way to make it happen. A significant injury to star defensive back Tracy Walker topped with a bunch of rookies; nobody should have expected much from that group. But it's safe to say that overall, they have exceeded expectations.
The Lions had been through the wringer with poor draft choices, bad coaches, underwhelming players, and a national media that seems to overlook them or use them as a punchline for jokes every year. If any city deserves a winner, it's Detroit. Reputation plays a big role in free agency, and it's safe to say that Dan Campbell has earned a good one. Plus, the team is heading in the right direction and has finally gained the respect it deserves from the media. Will it be enough to attract the attention of free agents?
With Aaron Roger's future in Green Bay in limbo and a Minnesota team that the Lions split with last year, there's no reason the Lions can't fight for 1st place in the North. Oh, I almost forgot about the Bears; you never know.
The Lions were one Seahawk's loss away from getting over the hump and getting into the playoffs. I hate to say 2022 was a moral victory, but I have to, with all things considered. Momentum is everything in sports, and Detroit definitely has it coming into 2023.