Interview with the Executive Director of Intercultural Community Center in Dearborn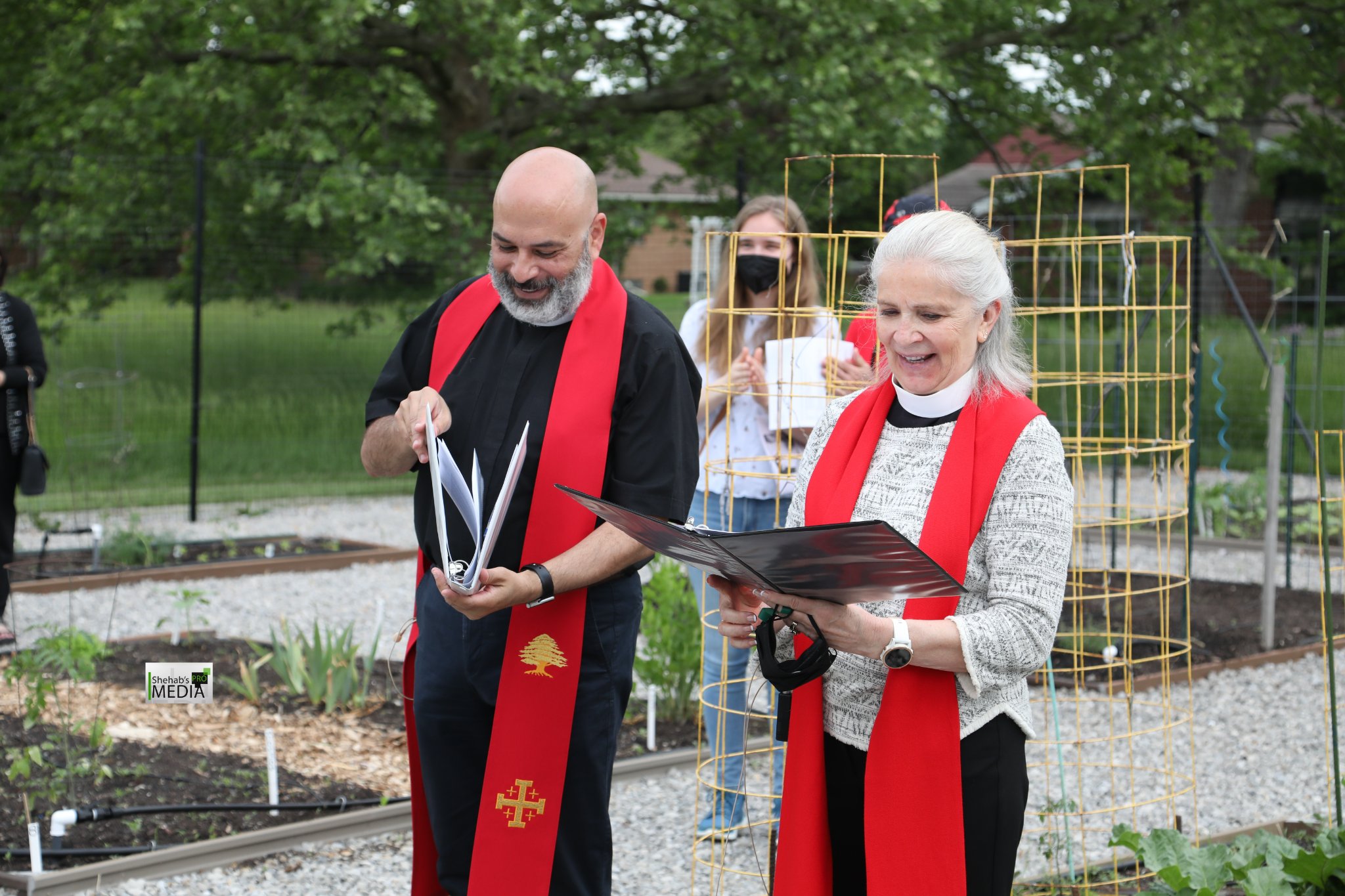 The Rev. Halim Shukair (left) and Rev. Terri C. Pilarski (right). Photo courtesy Shahab's Pro Media
Rector of Christ Church in Dearborn, Rev. Terri Pilarski, had the foresight to create an intercultural community center for Dearborn residents outside of their homes and workplaces. Rev.
Pilarski, recognized the impact of Christ Church's long history with Dearborn's interfaith community. Christ Episcopal Church in Dearborn received $260, 000 from Trinity Wall Street to start the community center. Pilarski shared information on the community center with The Mirror News.
KD: What is the Intercultural Community Center in Dearborn?
TP: ICCD gathers individuals and groups from various cultural backgrounds into an intercultural community to cultivate deep, meaningful, and long-lasting relationships, to exchange and learn from one another, and to work together in education and service initiatives for the wider community. ICCD offers a "third space" (beyond home and workplaces) where people can meet, experience hospitality, and become more rooted in the cultures of the Dearborn community. ICCD actively develops key relationships to increase understanding between various cultural groups and of the wider community. Our mission is to be the networking hub in Dearborn for nonpartisan social justice action. Currently we have about fourteen individuals and groups who meet monthly and work on developing ICCD and participate in our various events. Last year we co-sponsored an Earth Day seed exchange, the second annual Dearborn Juneteenth event, a Palestine-Israel Forum, and two singer songwriters in our music series that supports local artists. The ICCD has formed out of an original and ongoing Partnership in Faith between Christ Episcopal Church (an English speaking congregation) and Mother of the Savior (an Arabic speaking Christian congregation). These two congregations began sharing a building in 2019 and are a model for developing effective intercultural relationships that value differences and what we have in common.
KD: Please share the history of the Intercultural Community Center in Dearborn.
TP: Over the years many local groups and organizations have used Christ Church's building for their meetings and events. The building has been a resource for the community and it has been recognized as a community center. Also, Christ Church members and Mother of the Savior members have built trusting relationships, and over the years the neighborhood around Christ Church became increasingly diverse. As a result it is a natural evolution for an intercultural community center to be formed from this history. A task force was formed in June of 2021 to explore what an intercultural community center would actually look like. The task force comprised members from groups that use the building for their events. By the fall of 2021 the task force had grown to include individuals and members from the wider Dearborn community. And by the winter of 2022 a grant had been written to request funding to establish the infrastructure of the ICCD including hiring staff, creating a website, and building a digital library with resources that will help others develop their own intercultural partnerships. That grant was approved and the funds received in July of 2022.
KD: What makes the Intercultural Community Center in Dearborn (ICCD) stand out from other organizations like it?
TP: I am unsure of any other organization like the ICCD in SE Michigan. It is unique. We truly are building a future with an effective relationship between and amongst the diversity of people who live in this area. We are working to value our differences while also addressing our common concerns for the environment and to create healthy conditions for all people.
KD: What are some of the future plans of the Intercultural Community Center in Dearborn?
TP: We are still building the infrastructure to establish a solid base for the ICCD. In addition we are working with Salina Schools for a fundraiser in May that will help them create healthy playscapes for the children. We are also sponsoring music events with three upcoming singer songwriter events planned between February and March: Anissa Lea on Feb 19, Angela Davis on March 26, free at Christ Church, Dearborn, and one more being developed.
KD: Please share examples of people who have been helped by the Intercultural Community Center in Dearborn?
TP: So far the ICCD has co-sponsored an Earth Day seed exchange and PFAS contamination information series (with Littlefield Action 4 Social Justice), the second annual Juneteenth event with H2BE (Homage to Black Excellence on June 2022), and a Palestine-Israel forum.
KD: What are the communities that the Intercultural Community Center in Dearborn seeks to help and why?
TP: Anyone in Dearborn who is invested in creating effective relationships within our diversity is welcome to work with and through the ICCD to help make an impact. ICCD works with interfaith groups, social and civic groups like the League of Women Voters, LAHC, Littlefield Action 4 Social Justice, and Salina Schools. By networking and supporting one another we can have a greater impact.
KD: What has the response from the community been to the work of the Intercultural Community Center in Dearborn?
TP: People have been excited and thrilled to know that this organization exists and want to participate.
KD: How might students get involved with the Intercultural Community Center in Dearborn?
TP: Students can join in on our monthly meetings where we get to know one another and plan events.
To learn more about the Intercultural Community Center of Dearborn, visit their Facebook page: facebook.com/ICCDearborn, or contact the acting Executive Director, Terri Pilarski, terri@christchurchdearborn.org or the ICCD consultant, Jim Gettel, jim.gettel@gmail.com.