Detroit Historical Museum Showcases Three New Student Exhibits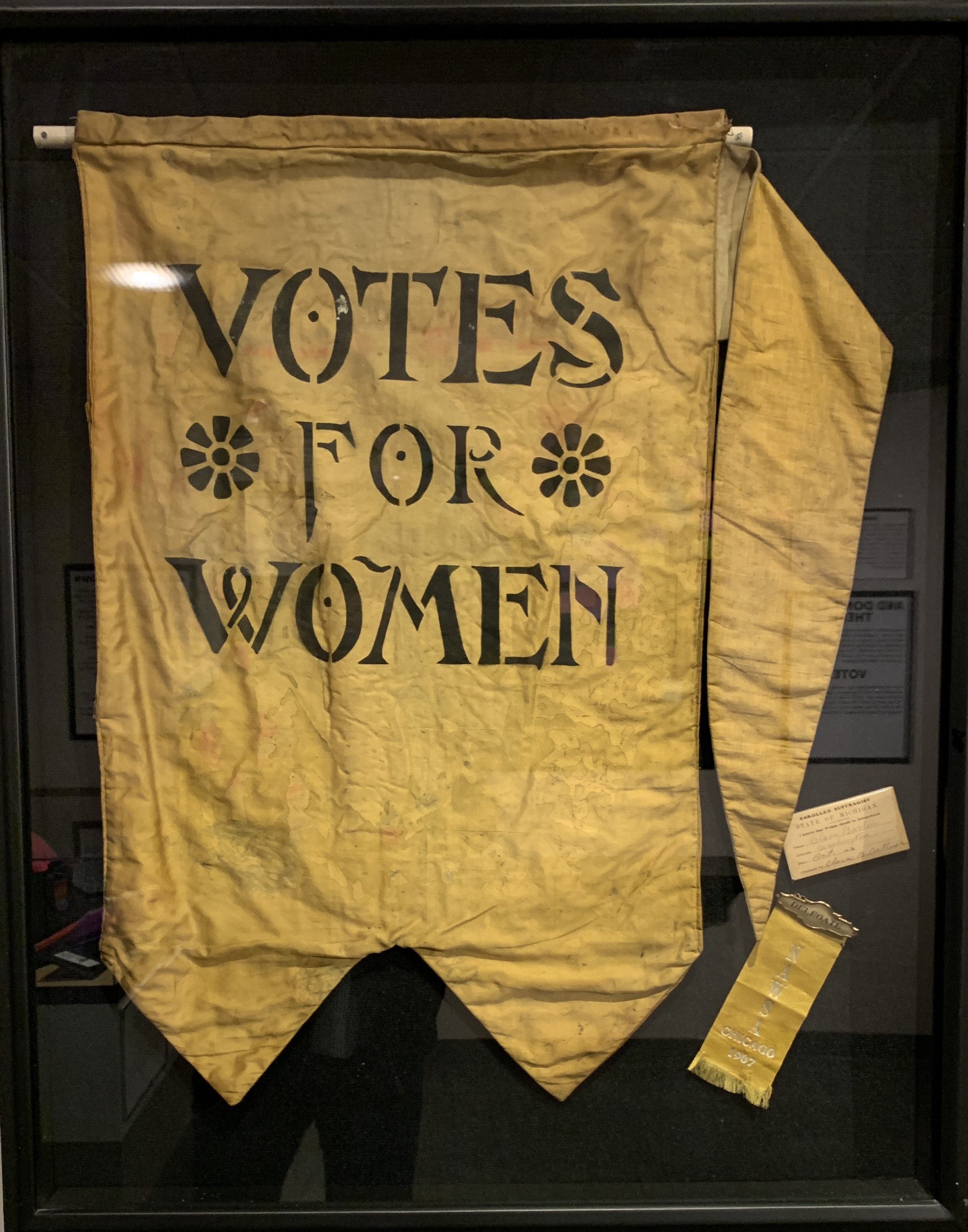 "Then and Now: Women's Social Movements in Detroit" exhibit, Detroit Historical Museum. Photo by Mirror News staff.
The Detroit Historical Society and eight Wayne State University history students collaborated to showcase three new exciting exhibits at the Detroit Historical Museum. "Dallying in the Alley," Then and Now: Women Social Movements in Detroit," and "Movie Palaces of Detroit" offer us glimpses into Detroit's rich history and contributions to greater society.
Believing that anyone can contribute to history, William (Billy) Winkel saw an opportunity for students. Winkel, assistant curator at the Detroit Historical Museum, connected with Tracy Neumann, director of public history at Wayne State University, Winkel worked closely with eight students from Wayne State University's public history program who developed the three exhibitions.
The development of the student exhibitions was a lengthy process. Students were allowed to choose their own topic and find corresponding supporting material either via the museum's archives, or by requesting donations from community members or other institutions. The next step was making the topic more specific or narrowing down the information to focus on a particular perspective. Students drafted the informational panels. Afterwards, there was editing by curators and museum staff and review by Detroit Historical Society board members, then designating a location was the final step.
Some students even added their own personal items, establishing a connection between themselves and the topic. "The students also had things they felt represented them and the story they wanted to tell," said Gary North, museum exhibition installation manager, pointing to a display case containing a pink hat, rainbow boots and other items.
"Dally in the Alley" is the city's biggest community festival that takes place in the Cass Corridor neighborhood. Music, dancing, games, food, art and access to social services are among the attractions. Its origins date back to 1977, when community members protested a Wayne State University proposed demolition of the neighborhood's historic homes. The festival is the brainchild of the North Cass Community union, an advocacy group incorporated in 1978, organizing around safe and affordable housing, civic engagement and food accessibility.
The "Dallying in the Alley" exhibit is nestled in an "alley like" space of the museum. The display cases filled with bright and colorful t-shirts and posters tell a story of the festival's unique and exciting past. North talks about how the museum had to use its community connections to gain access to artifacts for this section. North explained, "These items aren't actually a part of our collection. One of our volunteers who recently passed, his name is Ralph Rinaldi, he was responsible for helping design some of the Dally posters. He worked in our print shop downstairs." North points to an old photo from Dally of children playing in a kiddie pool and said, "We have a staff member who actually went to Dally as a kid, that's him."
The exhibit, "Then and Now: Women's Social Movements in Detroit," seeks to compare the fight for women's rights 100 years apart from the suffrage movement that began to pick up steam in the late 1800's to the more recent struggles for equal pay, reproductive rights, and freedom from domestic violence. An interactive "call to action" wall encourages visitors to share ideas.
Students seek to honor the advancements made from the contributions of women in Detroit. Organizations like the Michigan Equal Suffrage Association (MESA) and Detroit Equal Suffrage Association were at the forefront of lobbying that, after several failed attempts, led to the passing of the 19th Amendment, which finally allowed women the right to vote.
Building onto the foundation of the suffrage movement, the exhibit transitions to acknowledge the present issues women face in today's society, combating respectability politics, state violence, assaults on reproductive rights and unequal pay. The space acknowledges two notable activists and their contributions to Detroit and social movements. First is Clara Blanche Arthur, former president of MESA, who was an advocate for children and helped create the first public playgrounds and pools for Detroit. Second is Adrienne Maree Brown, an activist and feminist author who has worked with various nonprofits to change Detroit narratives through creative works.
"Movie Palaces of Detroit" highlights the city's impact on the film and cinema industry as the city experienced major growth in the early 20th century due to the success of the automobile industry.
Alyssa Noch, one of the students behind the exhibit, explained that "one of the graduate history students at Wayne State University, Jay Williams, came up with our topic. He wanted us to focus, in part, on the differing architecture of the movie palaces in Detroit." Noch continued, "Taylor Claybrook and I wanted to add the examination of the social and cultural history surrounding the movie theaters."
Noch explained, "They [production companies and studios] were interested in investing in every major populated city, which Detroit definitely was." At one point, notable theaters had existing relationships with names like 20th Century Fox and Paramount Studios, making Detroit the ideal place for premiers. According to The Detroit News, there were more than 100 theaters in the city by 1950. As of present day, only two are operable, and the remaining have been repurposed as community spaces, concert venues, recording studios, churches or other businesses.
Noch feels the preservation of these places is necessary to maintain a connection to the community. Noch observed, "These theaters were not only a part of Detroit's history, but they were often central gathering places for the Detroit community. For some of these theaters that were made into community art centers, it is sort of a 'calling back' to what they always were. Theaters have always been a place of community. They entertain, sure, but they also connect people."
Noch observed, "I think Detroit's theater legacy displays Detroit's historic prominence in the entertainment industry which then can be seen as justifying the return of a revamped entertainment district in Detroit."
Noch said, "The process of working with a museum curator to put on a student-made exhibit was interesting and informative. There is a lot of work that goes into preparing everything for the exhibit – picking the topic, picking the objects, writing the panels and reading all the sources you've gathered."
The Detroit Historical Society was founded in 1921 and started as an initiative to collect and restore historical artifacts. "We have over 100,000 artifacts." said North, sharing how they continue to maintain their archival database.
It has since evolved into a fundraising hub for all the society's locations, which include Dossin Great Lakes Museum and Historic Fort Wayne. Their mission, "Detroit stories and why they matter," has been a focal point and a catalyst to help reimagine and restore the city's legacy.
"Most of the items that are on display permanently talk about different decades and important things that happened, in the cultural sense, through Detroit," said Kimmie Dobos Wolfe, who is the manager of education and public programs at the museum. In recent developments, their community gallery space has served as an opportunity to bridge the gap between the museum, local community members and other nonprofit organizations. It has hosted over 60 collaborative works.
The Detroit Historical Museum is eager to continue collaborating with community members or organizations that may have concepts in mind for a potential exhibit. "You can connect with us, and we'll help you develop. Just like if we were to do one [an exhibition] ourselves, we will reach out to make connections and find things to make the exhibit work." North said.
The museum is currently featuring an exhibit titled "The Hustle," which seeks to showcase over 60 black business owners who were nominated by community members. Honorees will be rotated on a three-month basis.
On Feb. 12, the current community gallery exhibit on the 1997 Red Wings Stanley Cup Team will come to an end, featuring a closing ceremony with former team members. The next exhibit will feature photography works from "Humanize the Numbers," a collaboration between the Michigan Department of Corrections and University of Michigan to share personal narratives about mass incarceration.
For information on existing and future exhibits, go to the Detroit Historical Museum link at: detroithistorical.org.
"Then and Now: Women's Social Movements in Detroit" exhibit, Detroit Historical Museum. Photos by Mirror News staff

Dally in the Alley posters, "Dallying in the Alley" exhibit, Detroit Historical Museum. Photos by Mirror News staff
Built in 1925, Grand Riviera Theater cost over $1 million and seated over 3000. It had state-of-the-art electric lighting and "atmospheric" special effects. Closed in mid-1970s and remained vacant until demolished in 1996.