"Avatar: The Way of Water" Setting Box Office Records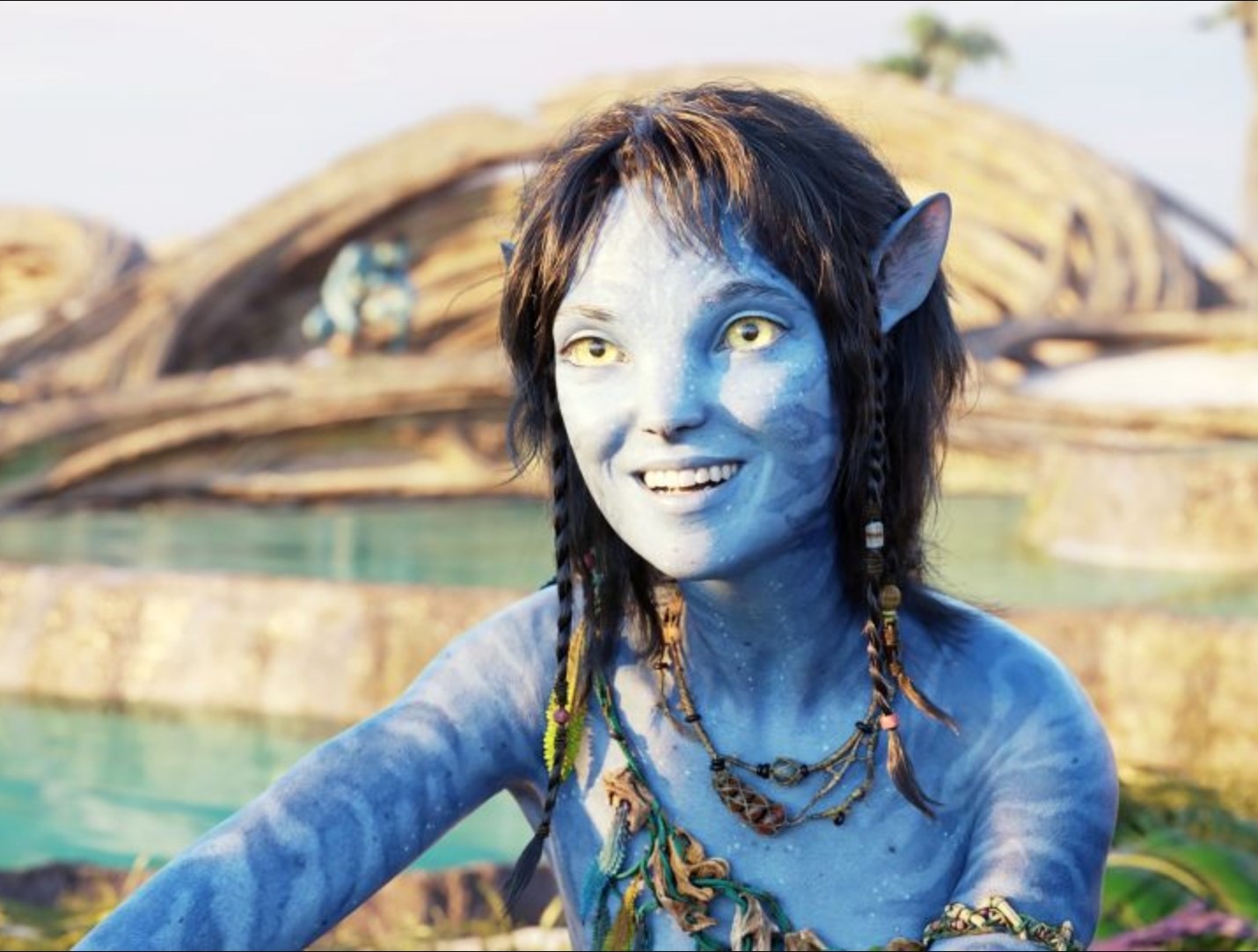 Kiri, voiced by Sigourney Weaver, in "Avatar The Way of Water." Photo courtesy Disney Co.
On December 16, 2022 "Avatar: The Way of Water" was released in theaters. It has now surpassed "Spider-Man: No Way Home" and might become the highest-grossing movie of the pandemic era. It took Cameron 13 years to release Avatar 2. One reason is he started filming Avatar 3 alongside Avatar 2. Most of the central cast came back to reprise their roles and a new set of characters are introduced into the franchise.
Sigourney Weaver comes back as a new character, Kiri, and returns as her old character, Grace Augustine. Weaver told Screenrant, "There's definitely a transfer of the curiosity and the love of nature. Grace much prefers to be in Avatar form and be out in the forest and studying things, and I think Kiri has a different way of expressing all that. She is just one with nature. And where that comes from, I'm not sure. But it's very much in the script, and luckily in the movie you will get to see her try to make more of a connection with Grace. I think there is a scene where she talks about hearing Eywa's breathing."
Weaver goes on to say, "I wasn't really sure what happened to Eywa when Hometree is destroyed, but clearly she still exists in some form. Eywa is [why] Kiri can hear things that other people don't hear. I think it makes Kiri quite uncomfortable, but I think because she's so sensitive to all of nature that she would also be sensitive to Eywa."
Jake Sully (Sam Worthington) is now a father of four and takes his job seriously. He will do whatever it takes to keep his family safe. Even though Jake is the main character it felt like his character was more on the back burned so that his kids have the spotlight. Neytiri (Zoe Saldana) will also do whatever she can to protect her children and will follow Jake's lead. It felt like Neytiri had fewer scenes than Jake.
The film centers on the children: Kiri (Sigourney Weaver), Neteyam (Jamie Flatters), Lo'ak (Britain Dalton), Tuktirey (Trinity Bliss), and Spider (Jack Champion). Ronal (Kate Winslet) and Tonowari (Cliff Curtis) have two children who are part of the supporting cast: Tsireya (Bailey Bass) and Ao'nung (Filip Geljo).
Neteyam is the oldest out of the four Sully children. He is the prodigy and is protective of his younger siblings, and is a level-headed person compared to Lo'ak, the black sheep of the family. He is hot headed but he does care for his family. Kiri is the eldest sister and the most leveled-headed of her siblings. Tuktirey is the most naive out of her siblings.
"Avatar: The Way of Water" moves from the forest with the Omatikaya clan to the ocean with the Metkayina clan. The Metkayina have a really cool design. They have more of a green blue skin tone with ocean waves and blue or green eyes than their terrestrial counterparts; their eyes are bigger and have a nictitating membrane, or "third eyelid," and have a wider tail, and their forearms and lower legs are wider as if they have fins, unlike the Omatikaya with their more dark blue skin tone with Tiger stripes and yellow eyes. The Metkayina look more like a fish compared to the Omatikaya who look more feline. Both clans have a leader and a spiritual leader. The Metkayina leader was Tonowari and his wife Ronal is the spiritual leader.
The pacing of "Avatar: The Way of Water" is much better than the first movie. There was no point in the movie where a scene felt slow and drawn out. Every scene felt very impactful. The narrative and visual standpoint of this new movie far surpasses the previous movie. The underwater scenes were absolutely beautiful. The colors were very vibrant and the CGI is incredible.
James Cameron is widely regarded as one of the most prolific directors of our time, having brought the world such films as "Titanic," "Terminator," "Aliens," and "Avatar." Cameron had co-founded the visual studio, Digital Domain, with Stan Winston, which is behind the visual effects in "Avatar 2: The Way of Water." Cameron claims that the vision for Avatar came to him in a dream. It took Cameron 10 years to make the first Avatar. He first wrote the story in 1995.
Cameron brought the Avatar script to Digital Domain in 1995 to see if it was possible to create, Cameron recalls the special effects experts said, "You are basically out of your mind. We will not be ready to do it for years." He decided to wait until they developed the technology. In 2005, Cameron had the chance to revisit the script. It took him three and a half years to make the first Avatar. Half of that time was spent writing the script, creating the world, and developing the technology. In 2009 "Avatar" broke multiple box office records. It became the highest grossing movie and the fastest movie to gross $1 billion dollars, and would go on to earn $2.5 billion worldwide. It also set records for the highest grossing movie in the 3D and IMAX formats.
Cameron stated on HBO Max's Who's Talking to Chris Wallace, "It looks like just with the momentum that the film has now that we'll easily pass our break-even in the next few days, so it looks like I can't wiggle out of this — I'm gonna have to do these other sequels," and, "I know what I'm going to be doing the next six or seven years." He shared that the third film will have the concept of fire represented by the Ash people. In this movie it might show the Na'vi in a more negative light compared to Avatar and Avatar 2.
"Avatar: The Way of Water" is now in theaters. MPAA Rating: PG-13 for partial nudity, intense action, and strong violence and language.