Women's Basketball Trying to Rebuild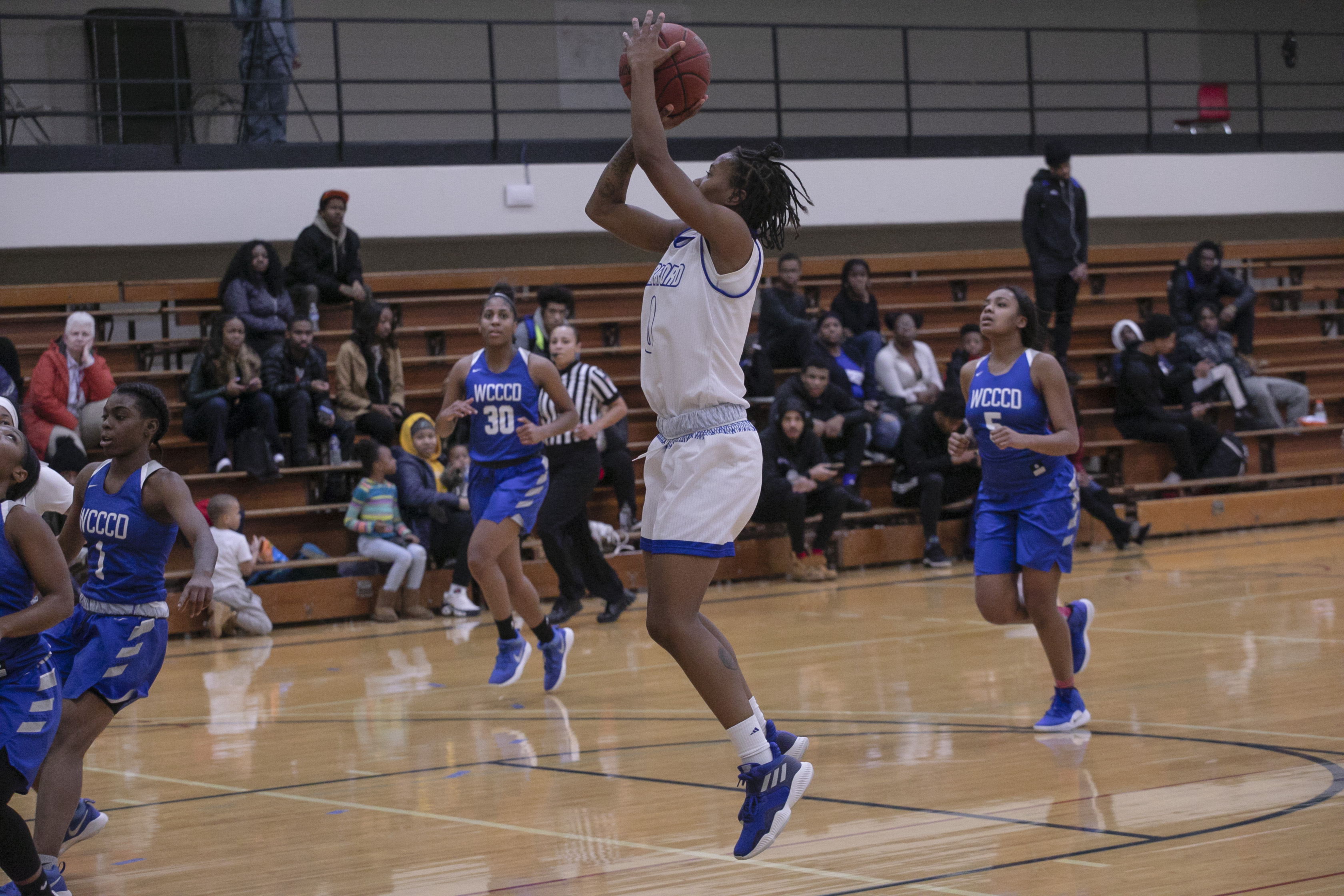 Mariah Mitchell Henry Ford College Women's Basketball. Photo by Joshua Tufts
Change is never easy. The Henry Ford College Women's Basketball team recently hired their fifth coach in six years. Coach Darrell Smith has a rich history of coaching at local high schools and led the Motor City Hawks, a travel team, to three consecutive national titles. Being a first-year coach on any team comes with its challenges.
One game this season featured only five eligible players. In basketball, there are five players on the court at all times.
"It's a process of development, but we're putting some things in place to add some stability to the program and move us forward," Smith said. "That won't happen overnight, but I think we're moving in the right direction to make that happen."
Smith said that recruiting is tricky with funding. He is trying to spread scholarships out strategically to attract as many players as possible instead of allocating too much toward one player. Players being offered a scholarship is a common way for community college teams to fill roster spots.
Smith and his staff are already eyeing local high school players for next year. Walk-ons are welcome. Four players just joined the team from Saudi Arabia. There are also recruits interested from Canada, but housing is an issue.
While Henry Ford College athletes can find student housing at the Union, which provides apartments primarily for students attending the University of Michigan-Dearborn, space is limited.
Smith is happy with his team's development, although they have yet to win a game this year. He said, "The most important thing is to try and create the best student-athletes possible. That's where our stability will come from." Smith said he wants his team to play competitively for four quarters.
This year's roster is freshman heavy, with ten freshmen and three sophomores.
The star point guard, Dajia Tyson, tore her ACL in this year's first game. She won 3 state championships at Detroit Edison High School.
Smith is confident the team will rebuild. "I don't think it's going to take a lot for us to get over the hump," said Smith.
Shawnta Standifer, the team's leading scorer, continues to shine after significant life changes. She recently attended Glen Oaks Community College before she had a child and found a home at HFC. She is balancing full-time classes, being a mother, and playing collegiate sports. Her father supports her by watching her baby at every practice and attending every game. Coach Smith said Standifer has been gaining interest from 4-year universities to play basketball.
Interim head coach Brianna Johnson said that strength and conditioning have been challenging this year but is happy with the team's athleticism.
The next game is Dec. 14 at Glen Oaks Community College.