Check Mate: Henry Ford College and Chess Club Reunite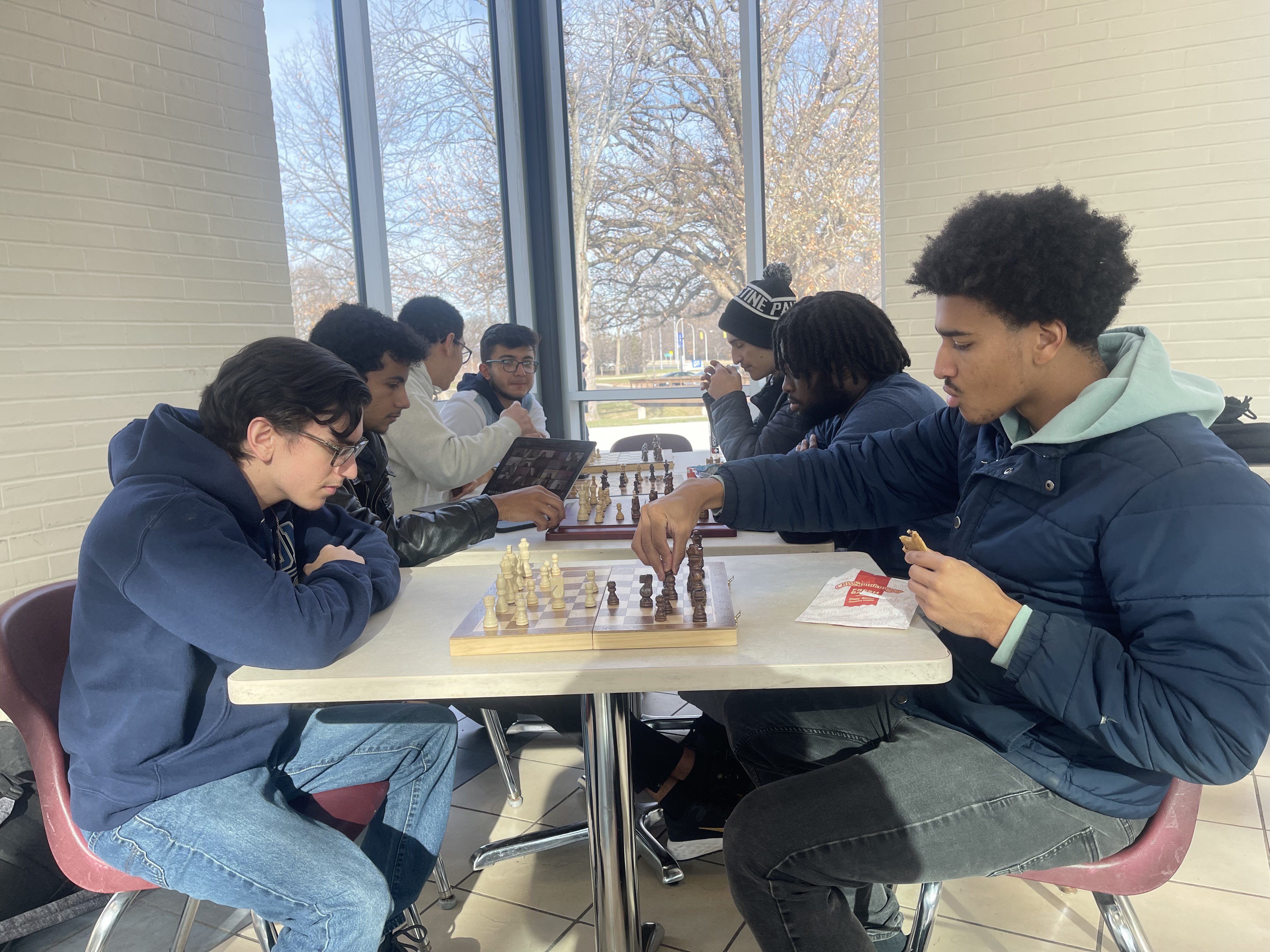 Henry Ford College Chess Club members in the Pavilion of the Student and Culinary Arts Center, Henry Ford College main campus, Dearborn, MI. Photo by Anthony Stone.
The Chess Club has officially returned to Henry Ford College after several years of inactivity.
The club's purpose is to provide a social outlet for HFC students who play chess and to teach all interested how to play the game of chess. The club also promotes various skills such as team building, decision making, and thriving in a competitive environment as well as enhancing the chess skills of current players.
Membership is free and open to any currently enrolled HFC student, alumni, or staff.
Prospective members who have expressed hesitation about their ability and lack of chess knowledge will find that current members range from beginner to advanced. Experienced players have endless resources for new players, such as YouTube channels, books, drills, and more.
The club is made possible by President Rameez Contractor, Vice President Anthony Stone, and Secretary Jacob Gulley, all HFC students.
Contractor had doubts about forming the club and becoming the club's president because the college requires a formal Constitution for every club, a president, vice president, secretary, and treasurer. But after reading a book by The Chess Committee of America on running a club and doing more research, Contractor decided to make it happen. The HFC Chess Club is looking to fill an open Treasurer position.
"I initially didn't even think that it was going to be a lot of people, so when I found out it was going to be 20 plus people that were interested in joining, that's when I knew it was going to be big. I was very surprised," Contractor said.
He said all members joined through word-of-mouth advertising in one month.
Contractor said, "It's hard to manage so many personalities. Also, finding people that are committed." The club plans to hold meetings to get input from different perspectives and hold votes on important topics. Also, those who can't attend in person can make an account on Chess.com and join the HFC Chess club on the website or mobile application. There are round-robin and knockout tournaments held on the online club.
Starting this upcoming winter semester, the Henry Ford College Chess Club plans to form a team and compete against other colleges. Depending on the size of opposing teams, an internal rating system will be created to select the best HFC players to compete.
In collaboration with the Henry Ford College Community Service Club, a "Chess For Change" fundraising tournament is in the planning stages. As membership increases, the club plans to organize beginner, intermediate, and advanced tournaments so everyone can play at their level. Winners will take home t-shirts, ribbons, and chess boards.
The benefits of chess are endless. It improves memory and pattern recognition, develops creative thinking, and raises abstract reasoning awareness. Medical studies show that chess can lower the risk of Alzheimer's disease and dementia and treat schizophrenia. Chess can even increase IQ levels. Anatoly Karpov, Grandmaster and World Champion 1975-1985 and 1993-1999, has said, "Chess is everything: art, science, and sport." British statesman Sir John Simon has been quoted as saying, "Chess is a cold bath for the mind."
There are plenty of social opportunities as well. Regardless of age, race, gender, or income, players can make friends from all walks of life. Millions of people around the world play chess casually and competitively. It became so popular that IBM created a chess-playing supercomputer called "Deep Blue." An early form of artificial intelligence, Deep Blue beat Gary Kasparov, who was the world champion from 1985-1993, in a match in 1997, after previously losing to him in 1996. Today, similar technology, now called chess engines, have reached ratings well beyond current Grandmasters.
Contractor pointed out that someone rarely takes up chess and regrets it. For those who take an interest, the learning never stops.
According to Chessjournal.com, there are over 9 million variations after just three moves and 288 billion possible positions after four moves.
Chess dates back about 1500 years to India. It is played in increments of 1-minute games, 5 minutes, 10 minutes, or more. Classical chess means no time limit, causing some games to last several hours. It's estimated that there are over 2,000 variants of standard chess. Some include 4-person chess, games with more pieces, more squares, and unorthodox board layouts.
Like boxers, some chess players are offensive, some are defensive, and others are counter-attackers. Strategies and styles are limitless.
The HFC Chess Club members regularly play at 1 p.m. on Tuesdays and Thursdays in the pavilion in the M building. However, anyone on campus able to play can message the group on Discord if they would like to play on different days and times. The winter schedule will be determined at the club's first meeting.
The Chess club is on Instagram at @henryfordchessclub and on Discord at Hawk Chess. Official announcements about tournaments, updates, and changes will be on Discord. There will be flyers posted around campus to give information about upcoming meetings, events, and contact information.
To get involved, ask questions, or make suggestions, contact Rameez Contractor at rcontractor@hawkmail.hfcc.edu or by phone at (313) 413-9934.