The White Whale Comes to HFC with "The Passage"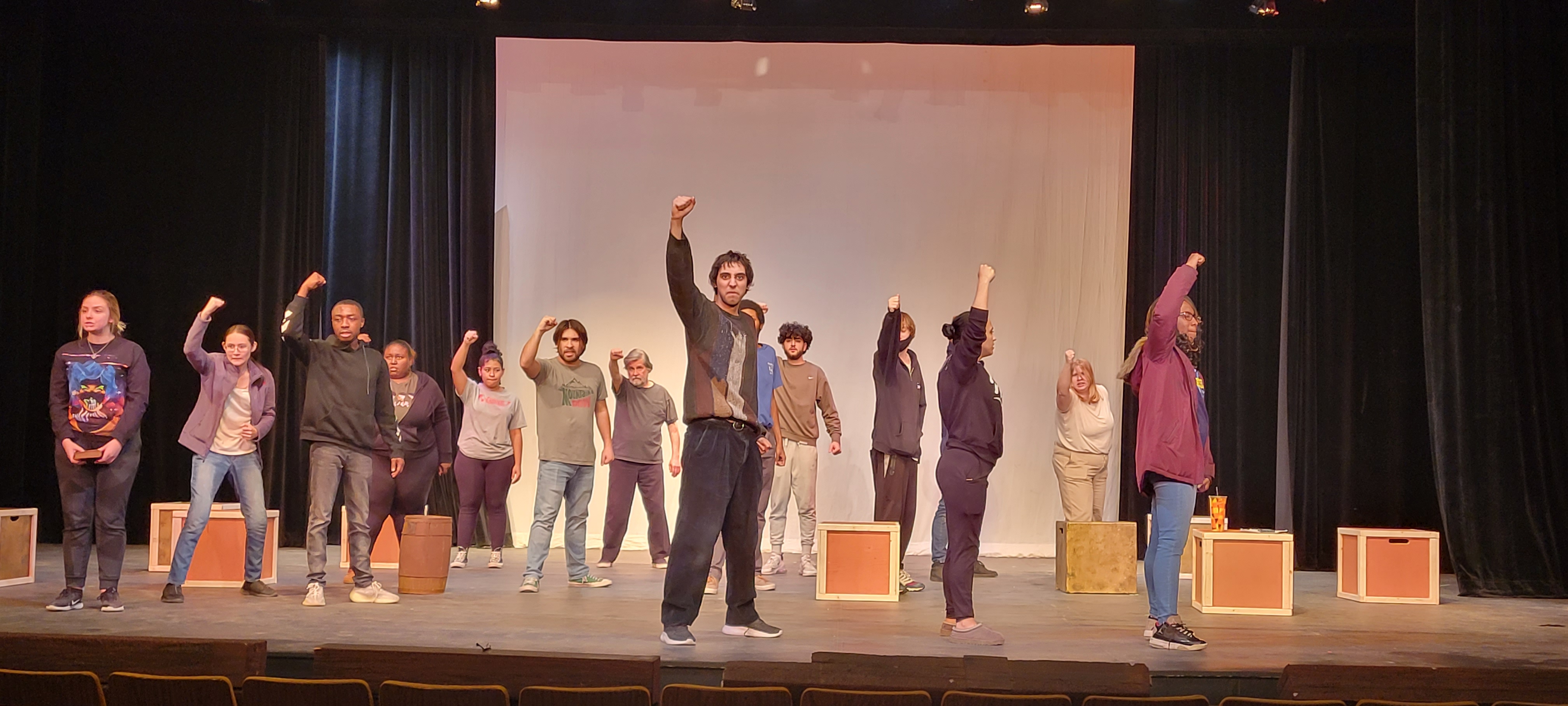 HFC Theatre students in the cast of "The Passage". Photo by Katherine Warden.
From Nantucket to Henry Ford College's Adray Auditorium comes "The Passage," the first production put on by new theatre department director John Michael Sefel.
"The Passage" is written by American playwright Robert Lawson, and is a retelling of the classic Herman Melville novel, Moby Dick. This unique and contemporary production showcases not only an obsessed Captain Ahab steering his crew on a blind path of vengeance to kill the White Whale Moby Dick, but it also gives face to characters only briefly talked of in the book, such as the wives of the crew and those left on shore.
Sefel explains why he chose "The Passage": "I wanted to start with 'The Passage,' based on the novel, Moby Dick, because it was the most famous example of a deeply-American story I could think of that dealt with a character who simply could not move on. Captain Ahab is one of literature's most famous examples of what happens when someone refuses to move on. The decisions Ahab makes at sea—his anger and his vengeance—these things not only doom himself but all of his crew that followed him and so many of their families and community back in Massachusetts. I fell in love with Robert Lawson's rendition. Unlike others, it isn't interested in recreating the novel as much as it is in creating an almost dreamlike exploration. The novel is told from the perspective of a young sailor named Ishmael, and Robert Lawson's version feels like skipping through the young man's journal, learning about strange and wonderful events through the sailor's eyes. I also loved that, unlike the novel, 'The Passage' doesn't just concentrate on the sailors, but also on their loved ones back at home. Herman Melville's novel seems to be a world populated almost entirely by men. 'The Passage' does a good job of expanding that viewpoint."
"The Passage" features the work of over thirty HFC students and staff. It also showcases the collaboration between many college departments and programs to create a blending of the storytelling, music, dance, puppetry, and film in this delightfully morbid story.
Sefel says, "I reached out to various program leads, instructors, staff, and students all over campus, searching for ways to allow this to become something far bigger than 'just' a theatre project. The response, I am so proud to say, was overwhelming. People from the music program, ceramics, design, telecommunication, Student Activities, and so much more got involved. When people come to see the show, and see not only acting but music, puppets, film, and more, they'll be watching the work of Hawks from throughout our college community. That campus-wide collaboration has been a unique and absolutely heart-warming quality that has made the long hours and hard work absolutely worth it." "The Passage" is told from the perspective of Ishmael, a young sailor on his first whaling voyage. Kourtney Collins who plays Ishmael is a social work major. Collins has previously acted in HFC Theatre's productions of "Mary Poppins," "Mamma Mia," and "Five Women Wearing the Same Dress."
Collins says, "the most difficult part of the play so far has been figuring out how to convey a subtle but tangible difference between narrator Ishmael vs. real-time Ishmael." Ishmael not only interacts with the rest of the cast but also with the audience throughout the production.
As the designer and crafter of the puppets used within the production, I have seen first-hand the hard work that has gone into this production. My puppetry work involved crafting two life-sized skeletons which appear in act two. The skeletons play a turning point for the crew of the Pequod, but in an unexpected and funny way. Each skeleton is a mixture of wood, foam, and various other materials.
Puppeteering the skeletons are actors Zuri Jamal and Aiyanna Moore. Jamal, a theater major whose first play with HFC will be "The Passage," said, "The most enjoyable part of the play was playing with the puppets and giving a feel of how we'll be maneuvering across the stage carrying bones along with us." Jamal added, "I enjoyed being able to lighten the mood for this dark and grim retelling, and I hope everyone will enjoy it as well!"
Sefel shared what audiences can look forward to from this performance of "The Passage": "The biggest thing audiences should know coming into this is it is VERY different from most plays. It has no interest in realism—instead, the play jumps through different stories and settings, following what almost feels like dream logic. The play can be silly or deadly serious, it has music but isn't a musical, it has puppets but isn't a kids' show, and it features Captain Ahab hunting the white whale, but it isn't a strict adaptation of Melville's novel. It really is its own strange, wonderful thing—and I promise, it's approachable, it's fast-paced, and it's likely very different from any play you've ever seen."
"The Passage" will be performed in the Adray Auditorium at Henry Ford College's MacKenzie Fine Arts building F in Dearborn, Michigan. Performances will be held on Thursday, Friday, and Saturday, Dec. 1-3 at 8 p.m., and Sunday, Dec. 4 at 2 p.m.
Tickets are $12 for General Admission, $7 for HFC students, faculty, staff, as well as seniors and students under 18. Current HFC students, staff, faculty, and administration are welcome to bring two non-perishable pantry items to the box office on the nights of the show in support of the Hawks' Nest Food Pantry for 50% off the price of their tickets. Tickets may be purchased in advance at https://www.hfcc.edu/campus-life/theatre.