Library Street Collective and Louis Buhl & Co. Present Three Exciting New Exhibits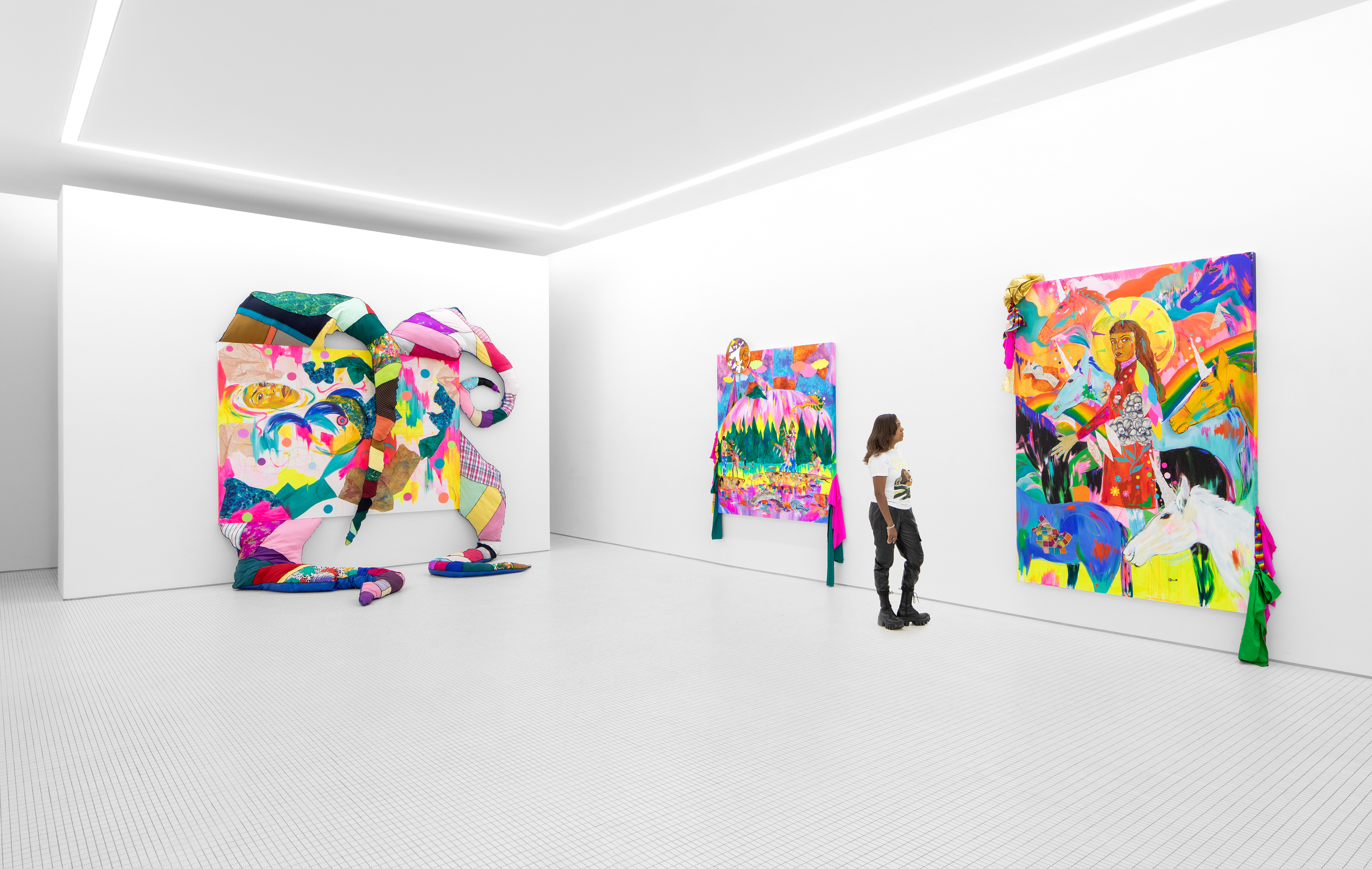 *From left to right: "Naga," "It's on the Mountain Top!," "The Black Unicorn," 2022, Jamea Richmond-Edwards. Photo by PD Rearick. Image courtesy of the artist and Library Street Collective. *
Library Street Collective exhibit "Currency" is a solo exhibition of award-winning artist Jamea Richmond-Edwards, who was born and raised in Detroit. The exhibit is being shown simultaneously in Detroit and in New York City at the Kravets Wehby Gallery. Richmond-Edwards says of her exhibit, "'Currency' basically encapsulates the ideas that have been running through my mind the past couple of years, and so I decided to exploit the concept creatively. 'Currency' explores capitalism. 'Currency' is a medium of exchange, both verbally or intellectually. 'Currency' is being current—current as in the now."
Jamea Richmond-Edwards graduated with her Bachelor of Art degree from Jackson State University in 2004, where she studied painting and drawing. She then received her MFA from Howard University in 2012. Richmond-Edward told the Mississippi Museum of Arts, which featured her work, that "I didn't have to visit a museum to understand art. My generation inherited the artistic and cultural legacy of the Motown Era that our parents experienced firsthand in the city." Richmond-Edwards is a historian, painter, and a black indigenous American female. She is also very spiritual. Richmond-Edwards was selected for this exhibition because LSC heard that she was making work about Detroit and they thought it would be a great opportunity to both exhibit this and foster that relationship. She has been very interested in motifs. Baer-Schwartz stated that this opportunity allowed her to explore a sense of home and insert herself back into her home. Fashion and textiles are very important to Richmond-Edwards and this show was her first time using different fabrics.
In "The Fire Next Time," corn and cherries are on a table which is a callback to a point in Detroit's history in which the crops were used as a form of currency. The dragon in the painting is from the book "The Fire Next Time." The dog in the picture is indigenous to Richmond-Edward's ancestors who were native to the Americas as well as to Egypt. The people depicted in the painting are her and her husband. Her son is also in the painting holding a serpent which in the past has been depicted as something evil but in her painting, it is shown as a goddess.
Growing up, Jamea had an aunt that was a drug addict. She did not think anything about it as her aunt was a goddess to her. Unfortunately, her aunt got brutally murdered and the painting "Naga" is a reflection of that. It shows how a goddess can be viewed in the wrong light. The painting looks as though it is enveloping her. The painting has serpent like attachments that come out of the painting and spill onto the floor.
The next painting in the show is "It's on the Mountain Top!." This painting is about Richmond-Edward's first UFO encounter and takes place on Stone Mountain. This painting also depicts a serpent in the water. The figures that are shown in black on top of the painting could be her ancestors or aliens. The exhibit's theme, "Currency" is seen in the exchange in this painting of the energy beams coming from her and her family's heads. To me, it looks as though she and her family are exchanging words telepathically.
"The Black Unicorn" is her final piece in this exhibition. Prior to the pandemic, Richmond-Edwards was living in Washington, D.C. When Richmond-Edwards moved back home to Detroit during COVID, she found that a lot of the buildings in Detroit had unicorns and dragons on them when she was exploring. In the painting, she depicts herself riding on a black unicorn. She is inserting herself back in the landscape of the city. She has feather-like shapes coming from her back. Richmond-Edwards found that feathers are in a lot of apparel across different cultures but notes that Detroit had a lot of minks and furs due to it being a fur trading city. The key in the corner of the painting is a representation of her home.
Library Street Collective was founded 10 years ago. The partners were very interested in fostering relationships and helping build the careers of emerging artists as well as to support them. This has been their mission. With their public projects that they have been able to put on for the city of Detroit, they created great opportunities where they were able to nurture, assist and enhance the showcasing of young talent.
Melanie Baer-Schwartz, gallery manager of the Library Street Collective, was originally from Miami, Florida. She graduated from the University of Michigan where she studied Fine Art and Art History. She went to Sotheby's Institute of Arts and graduated with her Master's degree in Contemporary Art. Baer-Schwartz has worked in galleries and auction houses in New York. She had the opportunity to become the art director at the Henry Shi Gallery in New York.
Baer-Schwartz decided that she needed a change in atmosphere because she started to feel burnt out in New York. She was not looking to move to Detroit but when she met the partners JJ and Anthony Curis and saw their vision and passion for the artist; she knew that she wanted to be a part of it too. She has now been a part of the Library Street Collective for three years.
Baer-Schwartz's favorite work in the collection is "Naga" because Richmond-Edwards used different fabrics to create the serpent-like attachments. "It feels like something new," says Baer-Schwartz. "Naga" is also my favorite in the exhibit. The tentacle-like attachments come into the space and draw you in.
Baer-Schwartz explained that exhibitions at the Library Street Collective are normally planned two years in advance to give the artist time to see the vision of what they want to show. "Currency" will show through Nov. 30.
The next exhibition will be by McArthur Binion. He is from Detroit and has a foundation called the Modern Ancient Brown Foundation. He has not had a solo show in Detroit since 1975. Library Street Collective is proud that they have the chance to be the ones who will host his return show. There will be self portraits that he has been working on since 2016. Binion is married to author and playwright Ntozake Shange.
For information on future exhibitions and events, visit: lscgallery.com.
Library Street Collective has a sister gallery right next to it called Louis Buhl & Co. This gallery works with local artists and helps bridge the gap with emerging artists compared to Library Street Collective which works with more experienced and established artists.
Gretchen Altenberger, gallery associate at the Louis Buhl & Co. Gallery, gave me a tour of the latest exhibits. Altenberger started working at Louis Buhl & Co. last April. She studied Illustration and Oil Painting at the College for Creative Studies in Detroit. Altenberger expressed how it has been an amazing experience getting to know the artists and learning how the gallery operates.
The Louis Buhl & Co. Gallery currently has two exhibits. The main gallery exhibit is Tyrrell Winston's "Suicide Squeeze." Winston is a Detroit-based artist who practices contemporary art, with a narrative revolving around sports and their existence within culture. Winston has three sculptures involving basketballs and cigarette boxes that he has been working on since 2016. His Inspiration for them was David Hammon's "Night Train" sculptures, which were made out of liquor bottles that he found on the street. Winston also has an installation that features signatures from famous athletes repeated over and over, much like the athlete is expected to do for fans who want their autographs. The piece asks us to think about the relationship between sports fans and the famous athletes they both admire and criticize.
In the back of the Louis Buhl & Co. Gallery is a space for the "Salon Highlight: Davariz Broaden" exhibit. Broaden is a newly emerging Detroit artist. Broaden started painting in 2021. His painting in the exhibition shows beauty within the Black community and are centered around jazz music. Broaden says of his paintings, "All of this is very symbolic for me, jazz being super free sonically and the gold instruments having a connection to gold trophies or medals. These are typically rewards you receive while celebrating after you win something in life. Being able to create freely in a world full of compromise is my win, so the goal is to continue to celebrate with my work."
The Louis Buhl & Co. Gallery has a gallery store in back with a small collection of work from different artists that are available for purchase. My personal favorite was G.E Liu's "Mask Booklets." Liu created three booklets made out of masks and silk that have anime style pictures inside them showing different signs about the COVID pandemic.
Both "Suicide Squeeze" and "Salon Highlight: Davariz Broaden" will be on exhibit through Nov. 30. For information on future exhibitions and events, visit: louisbuhl.com
The Library Street Collective and Louis Buhl & Co. galleries are located at The Belt 1260 Library Street Alley, Detroit, MI 48226. Admission is free.