Koja Sushi Puts Korean Spin on Asian Delight in Dearborn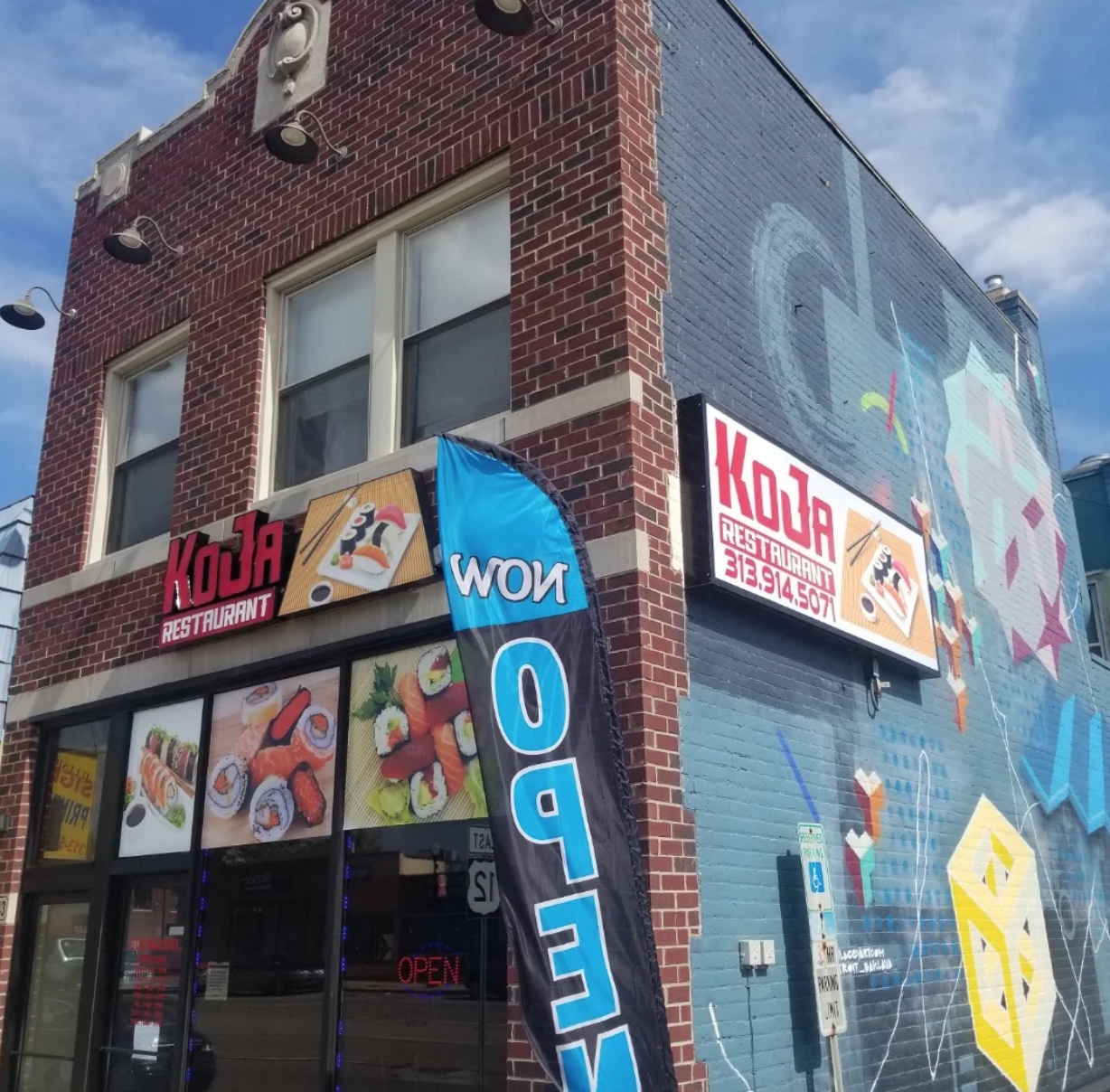 Koja Sushi in Dearborn photo courtesy Koja Sushi
While Dearborn, Michigan, is known for its Arab American restaurants and bakeries, there is a small sushi restaurant that deserves attention. Jin Hong, owner of Koja Sushi on Michigan Avenue, uses his sushi expertise to provide his customers with a homey environment while serving up a unique variety of Asian cuisine. Koja Sushi, which opened in pre-pandemic 2020, can be described as a cozy little restaurant where the staff treats you like family. Hong states that he takes pride in the quality of his food and the welcoming environment where customers are greeted as they enter and thanked as they exit. Hong explains that the name of his restaurant "Koja" is made up of a combination of the words "Korean" and "Japanese." Hong describes Koja Sushi as a spin on a traditional sushi restaurant explaining that traditional Korean dishes are added to the menu as well.
Hong is of Korean origin and his expertise stems from his twenty-plus years of working as a sushi chef in Dearborn, Michigan. Beginning his career as a well-known sushi chef at the popular restaurant Oyaki Sushi in Dearborn Heights, Hong's expertise landed him a restaurant of his very own. Hong states that the atmosphere of Koja is much different from Oyaki, explaining that working in a larger restaurant with more than twenty people was extremely difficult. What sets Koja apart from other sushi restaurants is the small atmosphere which allows Hong to put all of his focus and dedication into making greater quality food.
Hong chose Dearborn for his restaurant because he had been working in the Dearborn and Dearborn Heights area for over ten years and knew the location well. Because Hong had designed Oyaki's sushi menu in the past, he knew what sushi rolls would cater to customers the best. Hong also explains that there are better opportunities for business growth in Dearborn as Asian cuisine is an uncommon occurrence. Hong proudly explains that he doesn't worry about making food to cater to Dearborn specifically and expresses his appreciation towards Koja's regulars.
Although Hong agrees that location is an important aspect of running a business, he explains that the quality of the food is the most important part of running a restaurant. Hong says people travel far to come to Koja Sushi knowing the care put into the food.
Because of Dearborn's predominantly Muslim community, Hong states that he doesn't sell alcohol or pork out of respect for his Muslim customers although pork is commonly incorporated into Asian cuisine and drinking is a common form of socialization in Korean and Japanese culture. Hong explains that it doesn't make sense for him to sell halal food while also selling alcohol at the same time.
Although smaller than most, Hong expresses his gratitude for the small space because there is more focus on the customers and the food. Hong is very noticeably involved in his restaurant as he participates in taking customers' orders and greeting them with an enthusiasm which proves his dedication to his guests. When asked about the changes Koja has had to endure since the start of the Covid-19 pandemic, Hong stated "When I opened it was very busy, I was happy, but then dining was shut down which became very hard for the restaurant." Hong expresses his gratitude by stating that he doesn't like to complain because "it's not only me, everyone was shut down."
Koja Sushi takes a modern approach to interior design by incorporating comfortable furniture, sleek flooring, a mini chandelier, and the most distinguishable, Islamic calligraphy. Although the design is more modern, Koja's Asian culture is considerably prominent through the Korean music playing out of the speakers and the Japanese Maneki-Neko, or lucky cat ornament sitting atop the cash register. Hong's Certified Professional Food Manager and State Food Safety Certificate of Completion awards are framed as well as Koja's very first bills.
Hong explains that Koja's ingredients are none other than fresh fish and vegetables sought from locally sourced distributors, and the mixture of Japanese and Korean food allows customers a wider variety. Some sushi recommendations from Hong include the popcorn lobster roll, chili shrimp roll, Michigan roll, Las Vegas roll, and firecracker roll. Some of the most popular Korean dishes Hong explains are hot stone bibimbap, which is described on the menu as marinated "beef, vegetables, rice, and egg with spicy sauce," and tteok-bokki which can be described as "rice cake, fish cake, and vegetables in a spicy sauce." Hong takes pride in his Korean roots and explains that he'd like to add more Korean dishes to the menu in the future.
Hong is currently content with the state in which Koja's success is at, but explains "Every business person wishes to grow their business. If I have a chance, why not. But I've only been open for two years so maybe later I'll focus on growing in the future."
Koja Sushi is located at 14245 Michigan Ave, Dearborn, MI 48126. Hours are 11 a.m. to 10:30 p.m. on Mondays, Wednesdays, Thursdays, and Fridays, 12 p.m.- 10:30 p.m. on Saturdays, and 1 p.m. - 10:30 p.m. on Sundays. Koja Sushi is also hiring.