Henry Ford II Honors Program Opens New Hub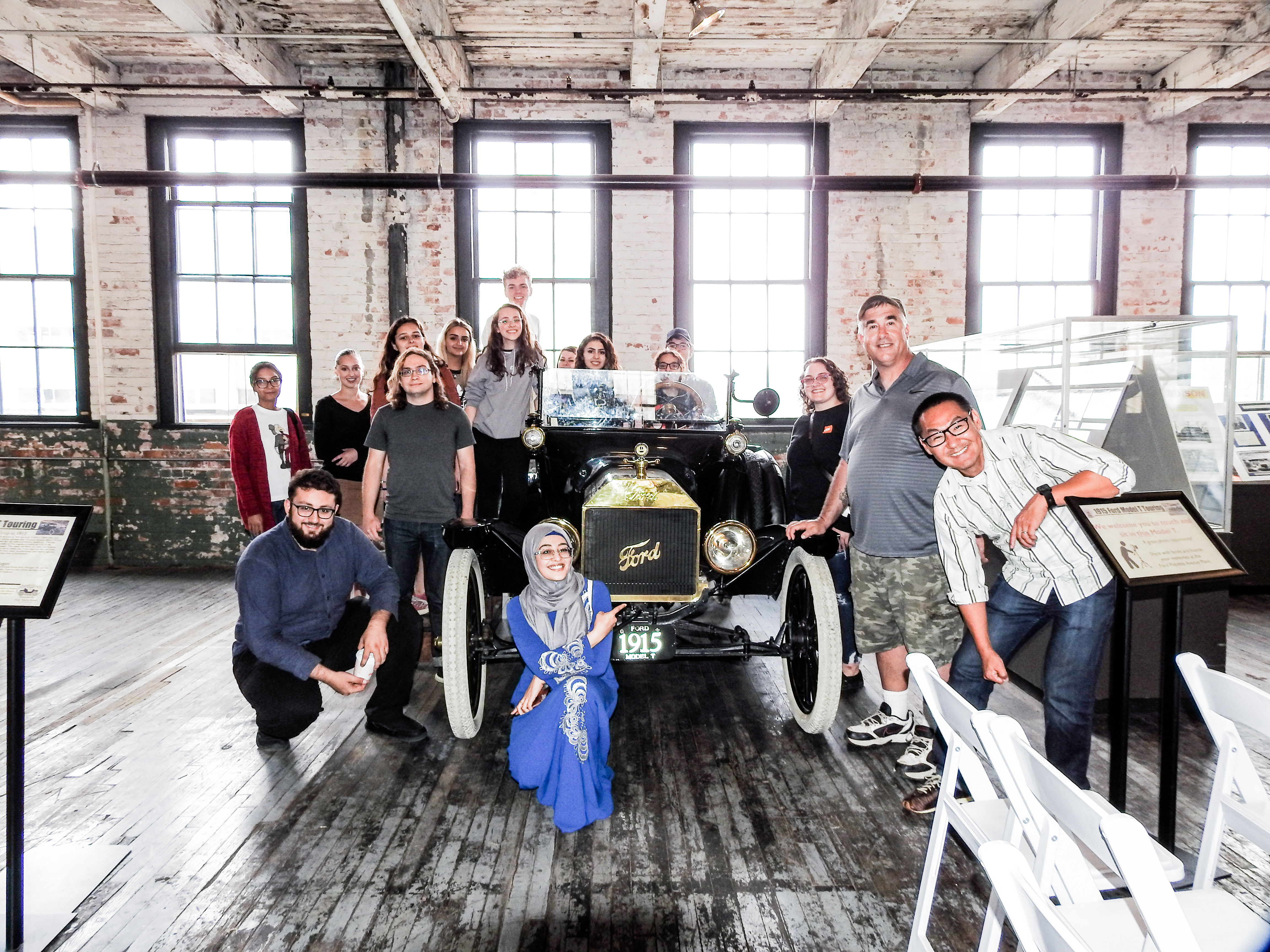 Honors Program students at Ford Piquette Avenue Plant Museum trip. Photo by Rakha "Rose" Albayat
Once located in a small office in the Campus Safety building N, the Honors Program is now established in a new, fully furnished space on the first floor of the Liberal Arts building K in room K-103. The "Honors Hub" offers honors students complete access to a "HyFlex" classroom; a fully stocked kitchen; a study area filled with free school supplies; a regular library and "crib" library, which holds free textbooks for some college courses at HFC; a transfer office for students to work one-on-one with advisors from partnering colleges; and a sensory room with a hammock and bubble wall.
For more than 40 years, the Henry Ford II Honors Program has served Henry Ford community college students by providing them with academic and professional opportunities, valuable skill sets, and unique experiences. "I like to think of us as an incubator for innovative education at HFC," says Dr. Adam Hazlett. In 2021, Hazlett became the new director of the program. As director, he continues the program's commitment to academic excellence. "We strive to find talented students and connect them to the professional, personal, and academic resources that can help them become the most successful human that they can become," Hazlett continues.
In their new space, the program hosts a plethora of events for students that focus on a theme: social, recruitment, transfer, or student success. Social occasions include fun events like alumni get-togethers, bowling, game days, and more. Student-success-themed events are designed to help students navigate college. For instance, "student mentor gatherings" are informal lunches where students meet with their faculty-assigned mentor to discuss their progress and questions pertaining to the program. The Honors Program also organizes or helps coordinate transfer events and field trips to partnering schools, like the University of Michigan, Eastern Michigan University, and Wayne State University. Last month, honors students were invited to an overnight trip at the University of Michigan in Ann Arbor to learn about their programs, experience campus life, and more. Sarah Eljahmi, an honors scholar and early college student at HFC, went on the field trip and said "I feel like the tour equipped us with plenty of resources that we need when applying, once we're admitted, and throughout our education." Visiting the UM Ann Arbor campus gave Eljahmi a glimpse into her academic future after she graduates from HFC and attends a four-year university.
Students admitted into the Honors Program receive scholarships that can cover up to full tuition per semester. This generous scholarship has allowed many honors students to focus on their coursework and extracurriculars without the burden of full financial responsibility for their education. Robert Schilp, an honors student and full-time athlete at HFC, says "It's really hard for me to work a job and pay for school," he adds, "my scholarship has made it easy for me to get an education without having to worry about paying for [school]." An honors scholarship can take immense pressure off students as it can cover most of their tuition. Another benefit of joining the program is priority registration for classes. Honors students are eligible to sign up for classes earlier than students who are not part of the honors program. This perk eliminates the stressful task of securing a spot for a course or instructor.
The Honors Program also gives students special access to honors courses and seminars. The Honors Colloquium is one unique honors course held in the fall semester. Students have two colloquium courses to choose from. One colloquium focuses on the history and culture of Detroit, which includes field trips to different cultural sites around the city, such as the Detroit Institute of Arts and the Detroit Opera House. A second colloquium based on a different topic is selected on a bi-annual basis by the Honors Council. Last fall the topic was climate change.
In addition, second-year students in the program take an honors directed study, a research course where students are given the opportunity to conduct undergraduate research with a faculty member over the semester, with a topic of the student's choice. Their research projects are then presented at a formal Honors Symposium held at the end of the semester. Leah Mantei, a Henry Ford II Honors alum, took two directed studies and researched Egyptian media and political philosophy. "That experience was so impactful," she says. "These studies really helped me learn more about the details of specific topics and to take ownership of my work and to be proud of my progress in topics that I initially knew nothing about," Mantei shares.
The program also requires full-time students to complete two honors-level English courses and Great Works—a class devoted to reading influential books and having intriguing discussions about them. The honors courses challenge students while equipping them with valuable knowledge and experience, which makes them a rewarding part of the program.
The program is designed to serve and benefit students. In return, honors students are asked to maintain specific requirements, such as completing community service, attending transfer seminars, and keeping a GPA of 3.5 or higher. While admission is not guaranteed for every student, the Honors Program does not want students to be discouraged. "I always like to say that we won't be your safety net, but we will be a pillow upon which you can fall, but not be totally defeated," Hazlett explains. He adds, "If you like challenges, enjoy the company of like-minded people, and are interested in pushing yourself, the honors program is for you." High school seniors and current HFC students (with at least one year left) are heavily encouraged to apply, as they will undeniably receive numerous benefits, opportunities, and experiences that will prepare them for their future endeavors.
During the school week, HFC students are encouraged to tour the new hub and pick up an application. If you are interested in joining the Honors Program, contact Dr. Adam Hazlett at honors@hfcc.edu, or visit the Honors Hub in K-Building (K-103) to pick up an application. Photos of the new hub are provided online at: mirrornews.hfcc.edu