Henry Ford College among Sponsors of Annual Diversity Conference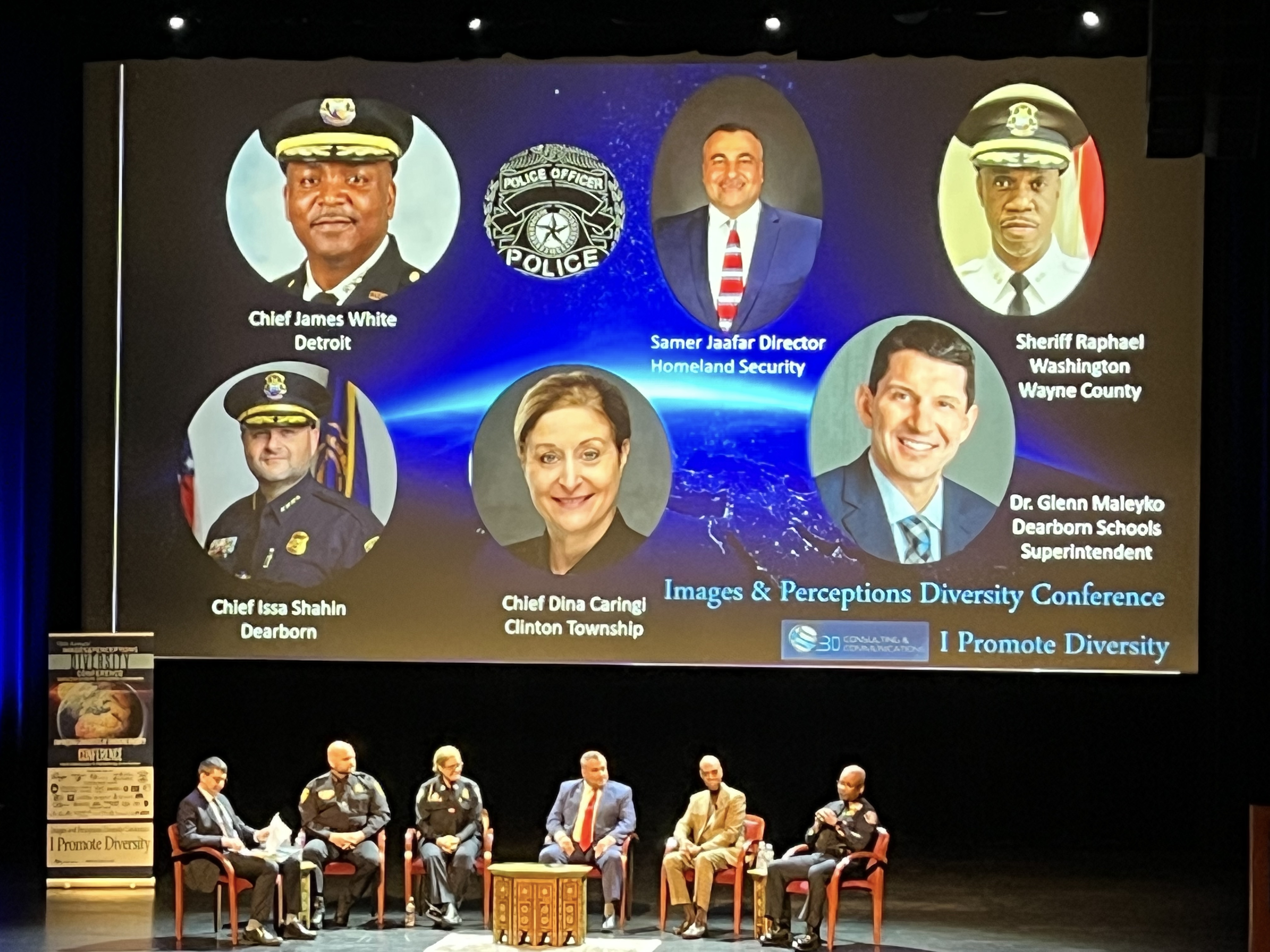 19th Annual Images and Perception Diversity Conference in Dearborn, Oct. 20, 2022. Photo by Anthony Stone
Henry Ford College was among the sponsors of the 19th Images and Perceptions Diversity Conference held on Oct. 20 at the Ford Community & Performing Arts Center in Dearborn. Other local sponsors included Dearborn Public Schools, Crestwood School District, and the Arab Community Center for Social Services (ACCESS).
The conference brings together Americans of different backgrounds and professions to help them understand and appreciate diversity and encourage them to share understanding with others in their communities.
The event started as a response to the 9/11 attacks in 2001 to provide an open dialogue about Arab Americans. Life as an Arab American at that time was more challenging than ever.
Siham Awad Jafaar started the event in 2002 at University of Michigan, Dearborn. Jafaar facilitates diversity training for government agencies and corporations. The original name was "Images and Perceptions of Arab Americans."
"We figured we needed a safe space for people to come and ask questions, get some facts, get some answers," Jafaar said.
The first year brought in about 80 people, including media personalities, political science teachers, and social studies teachers.
"People walked out of there with a different perspective, with a different perception; they had facts. They were able to answer questions that were posed to them with facts and an understanding," Jafaar said.
After conversations with her friends in the Hispanic and LGBTQ+ community, Jafaar decided to expand the conversation to other races and disabilities.
Notable figures in Metro Detroit attended this year's conference. Fox 2 Detroit Anchor Charlie Langton, Detroit Police Chief James E. White, NAACP President Dr. Wendell Anthony were among the featured speakers. Topics revolved around diversity, equity, and inclusion (DEI) in different fields.
City of Dearborn Mayor Abdullah Hammoud opened the conference by saying, "We are honored to be the capital of immigration," referencing Dearborn. He said that diversity is the city's strength, and residents can celebrate by having dignity for their neighbors.
COVID-19 was a topic of emphasis during the conference. Dr. Tony Abood of Detroit Medical Center said he noticed different socioeconomic communities handling the pandemic differently and that some stay quiet about mental health. He referenced a poll by The University of Michigan that showed nearly half of the parents studied noticed new or worsening depression in their children since the pandemic. "It takes the parents to accept that instead of hindering the children," Abood said.
The conference also touched on issues of DEI regarding the justice system.
Attorney Saul Green said, "If we could fix society by putting people in jail, we would be the safest country in the world." He noted that 1/3 of black boys have the risk of going to jail during their lifetime. U.S. Attorney Dawn Ison said that prevention has shown to be the best way to reduce crime.
University of Michigan Law Professor Barb McQuade pointed to the correlation between poverty and crime. She said that failure to invest in minority communities is part of the problem.
Wayne County Sheriff Raphael Washington said, "It's important that leadership looks like Wayne County." He mentioned the vast array of ethnicities his department needs to relate to.
Detroit Police Chief James White said, "When you don't have diversity, you create the opportunity for inequity." White emphasized the importance of listening to kids and what they are experiencing. He said that adults need to lose the idea that they have it all figured out because they are adults.
Diversity in the media was also a topic of discussion. MSNBC News Anchor Richard Lui, an Asian American, shared his thoughts. "Do we listen to understand?" He said it's important to avoid labeling different cultures in stories. For example, instead of "An African American family is struggling," say, "a family is struggling." Subtle yet critical changes can make a difference in DEI. He cited a study done by Stanford University where people who didn't like each other were told to meet three times and have a conversation. Nearly every participant noticed their happiness increase and their dislike for the other person diminish after three meetings. Charlie Langton said, "I want differing opinions. Because to me, it's a better story. The art of this is, you have to make someone comfortable." He said it's best to go right into different cultures and interact.
NAACP President Dr. Wendell Anthony gave his thoughts. "You can have a diverse corporation, but if they're not at the table where the decisions are made, then that's not inclusion."