Fifty One-O-One Restaurant: Best Kept Secret on Campus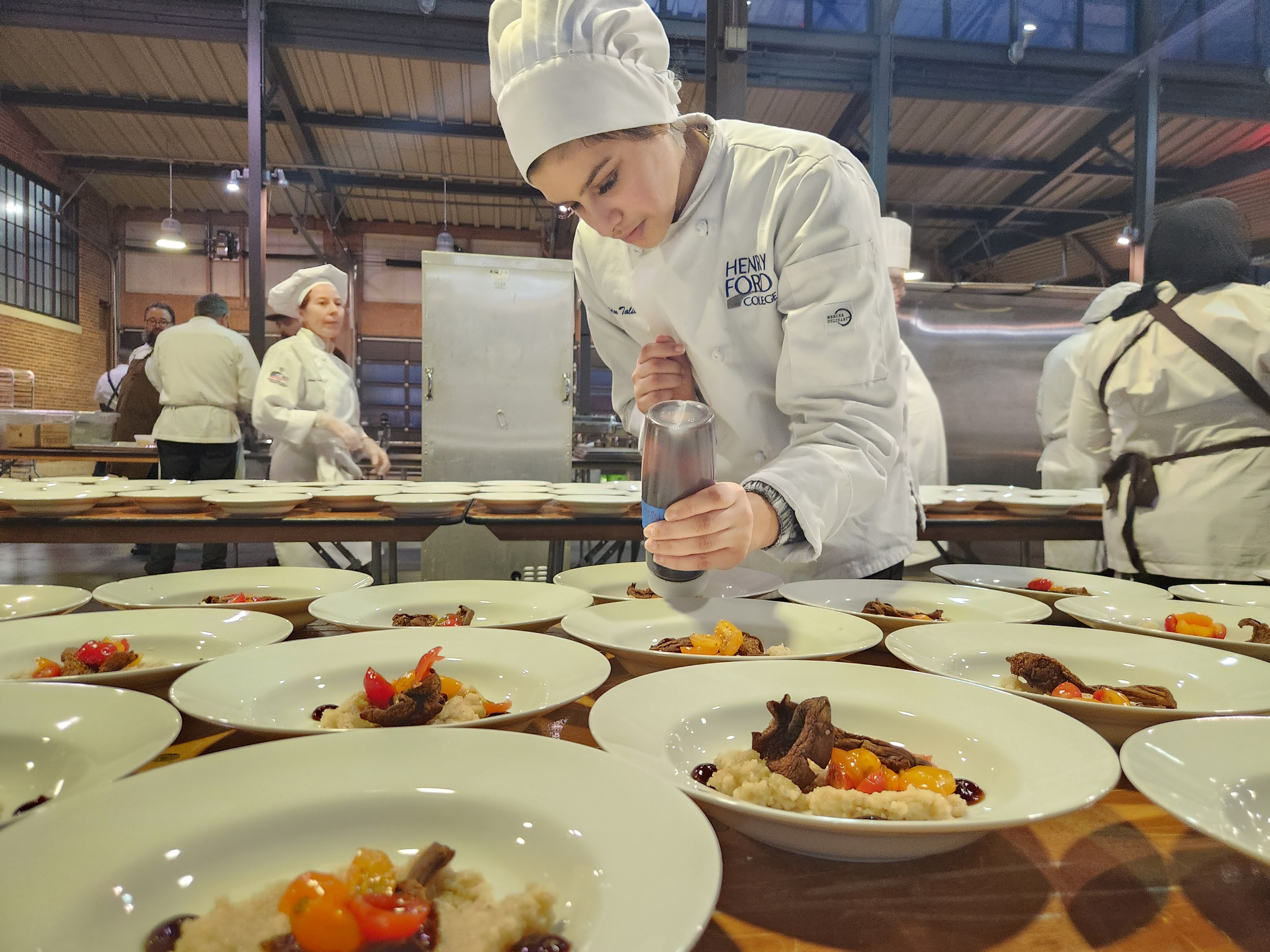 HFC culinary student at Eastern Market Harvest Gala Oct. 14, 2022, Detroit. Photo courtesy HFC Culinary Arts.
Among the many food choices in Dearborn, Michigan, Henry Ford College has perhaps one of the best kept secrets: The Fifty-One-O-One. Located in building M on the College's main campus, the culinary student-run restaurant prepares some of the best food in the metro-Detroit area.
Chef de Cuisine Joseph Cosenza, who has been teaching culinary arts at Henry Ford College since 2012, shared his passion for food and for teaching with The Mirror News.
Katherine Warden: How has your experience been working with the restaurant but also working with the students?
JC: Since we changed our restaurant concept back in 2018, it's been really remarkable. We're able to focus all of our food now on sustainable and seasonal ingredients. We source all of our produce from local farms. And so we're teaching our students not only when the seasons change as the food changes, but your cooking techniques change as well.
KW: How have you been dealing with the restaurant during COVID?
JC: So we've been back since July of 2020. We took the first couple of months off to figure out what we were going to do. We finished the Winter 2020 semester in July and August. We've been on campus since then and we haven't had any issues. We had some struggles in the lab with mask mandates, just because taking off the mask, you have to wash your hands, put the mask back on you have to wash your hands. So there's a lot of slowing down in the kitchen and a lot more hand washing. But they're all practices that we've been doing since we started in the food industry anyway. And so it really didn't affect us too much. KW: I know that a few years ago, the restaurant went through an update. Has it been updated since then?
JC: One of the things that you'll notice around the building is that we've kind of changed our marketing, and we've changed some of the logos on the restaurant. Aside from that we're still really focused on highly seasonal ingredients and finding the best ingredients possible. Tomorrow's Oktoberfest where we're expecting 300 people, about 150 for lunch, 150 For dinner, which is always nice. It gives the students the opportunity to see a different style of service, not always a la carte, but they'll see buffet service. Last Friday, we were down on Eastern Market. We cook all the food for their Harvest Gala, which is the largest fundraising event for Eastern Market, which is one of our industry partners. And with that the students got to set a six course plated dinner for 400 people.
KW: How's the student body been?
JC: You know, it's easy to teach when you have students that want to be something. And so they're highly driven. They're highly motivated. We had 40 students down at the [Eastern] Market last Friday night to help with this event, all volunteering their time to work.
KW: How have you as a chef been seeing newer students?
JC: Right now, we've had a big shift in our enrollment. We have a very high proportion of students that are under the age of 23. And so all these kids are coming straight out of high school, and they know they want to be chefs. We've missed a large part of what used to be our core group, which is the 25 to 35 year old student, non traditional student, I suppose. But what we're seeing is a more motivated, highly technical student that has a higher level of engagement with what's going on in the industry, who the chefs are that they should be following. So it's been really a lot of fun the last couple of years.
KW: Is there anything you're looking forward to putting out there maybe with new seasonal products or new seasonal menus?
JC: Yes, two things actually. One is our fall scholarship dinner. It's November 5. We are going to offer six courses with cocktails. We bring a jazz quartet in from the music department to play music. It's a fun night. It's $55 a ticket: $45 or $40 of that goes to our scholarship fund for culinary students. The rest of it goes to pay for the cocktails and the food. The other thing is in the spring of 2023. We're going to be celebrating our 50th anniversary as a department on Henry Ford's campus. So we're looking forward to a huge celebration in April.
KW: Is there anything that you would like to say to students who thought about culinary but have always been a little timid about joining the program?
JC: Not every one of our students is going to go on to be a great chef, not every single student is going to end up working in a restaurant or in food service. The bottom line, I think for me, is if I can help that student who doesn't go into the industry have a set of life skills so that they can feed their families better and be more knowledgeable. Pay attention more to whole foods and produce. Looking at animals in a different way, buying meats in the right fashion, not commercially raised, then I've done my job. So we're not always saying hey, we want to produce great chefs. Of course, that's what we want to do. But at the same time, we know that that's not the expectation for everyone. And so being able to build those life skills is also part of it. When I went to culinary school, we would all stand at a table, we would all make the same thing. And I was just like, This is not how it is at a restaurant. So we looked really hard at how we could do this. And we've been doing it for about 25 years now. And it works really, really well. And we've seen that our students go out into the industry and they're able to grow faster within the organizations that they're working in, as opposed to taking more time.
KW: Is there anything else that students can be looking forward to?
JC: The big thing is the a la carte service. You know, we're open every Tuesday, Wednesday and Thursday for lunch from 11:30 a.m. to 1:15 p.m. Our wellness food truck is open every Tuesday, Wednesday and Thursday from 11 a.m. to 1 p.m. And so their menu rotates throughout the semester. They do six different menus. We're currently doing a Tex Mex style menu this week. Next week, we will be doing what we call a California menu. So it's like kale and strawberry salad and chicken burgers. And then we'll start our menus over again where we'll go back into what we call modern comfort, which is a healthy take on Southern food. We will do an Italian menu, an Arabic menu, an Asian menu. And then in the restaurant itself we're getting ready. I'm getting ready with the change in weather to start changing some of the dishes that we had on the menu last week. We changed over all of our first courses so you're starting to see things like butternut squash on the menu. Carrots are back on the menu. Brussel sprouts are on the menu. And then we'll start getting into braised items and more comfort style foods, some heavier meat and pastas.
For more information on Fifty-One-O-One, go to: hfcc.edu/5101.