Behind the Scenes at Youmacon 2022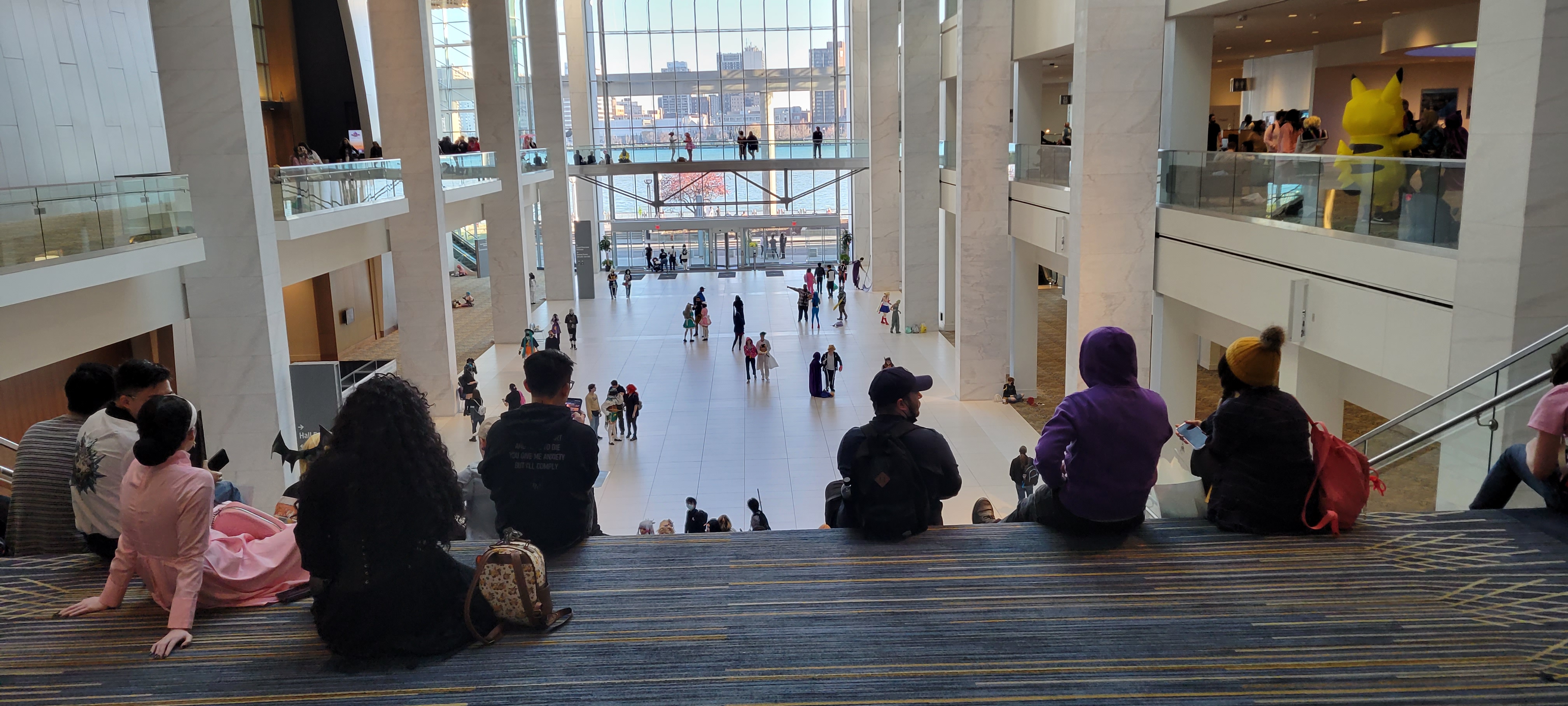 Youmacon 2022 riverfront entrance to Huntington Place (formerly Cobo Hall, Cobo Center, and TCF Center) in downtown Detroit. Photo by Katherine Warden.
Youmacon, one of the largest anime conventions in the world, is held annually in Detroit. Usually held during Halloween weekend, this year's Youmacon was pushed back to the first weekend in November. The name comes from Japanese words meaning demon or ghost. It was founded by Morgan Kollin in 2005. Kollin was inspired by other conventions like Anime Central and Ohayocon. It is currently the biggest anime convention in the midwest. In addition to the organizers, participants spend months preparing for the convention. There are 50-plus panels, the Maid Café, the Game Room for video games, a Tabletop Room for board and card games, the Dealer's Room where you can buy merchandise from several vendors, and much more.
I had the opportunity to interview some of the staff members to get to know what happens behind the scene.
Jim Chenault is a veteran vendor of the Youmacon Dealer's Room, where one can purchase a wide variety of anime-related souvenirs, ranging from soft plushies to the cold steel in which Chenault specializes. I was lucky enough to catch him on one of his rare moments of downtime at his busy booth, which garners many stares and stops from attendees.
Keana Freeman: So what is the Dealer's Room to you?
Jim Chenault: It's a place where people can come and get anime collectibles but I am more so in the business of selling hand forged swords. The advantage of coming into a dealer's room is that unlike when you shop online, here you are able to touch and physically interact with the things you usually can only see on screens or in books.
KF: What does Youmacon mean to you?
JC: The owner Morgan wanted to start his own show so went to a lot of other shows to see what he liked and didn't like about them as well as what worked and what didn't work. He also took special care to make sure the dealers could get good spacing as well as make profits. The result of all of this is that I think this is one of the best run shows out there and I do over 40 a year and have been for about 55 years. We are friends and he has been really loyal to me and I to him.
KF: What was your first Youmacon?
JC: Year one. Missed the next year, but haven't missed one since.
KF: How do you get ready for a show?
JC: Know your business and what you are selling.
KF: What is your favorite part of the show?
JC: Making sells! But seriously, I love talking to the people, especially the kids. They see all these characters they idolize and here, they can be those characters and meet other people who are into what they are. Regardless of age or any differences, here, people can be what they want and be accepted by others; that's what makes these conventions so special.
KF: Can you tell us any stories about the Dealer's room?
JC: Here, you become like family so it's like a reunion! Some you want to see and others you don't!
Next up was the Maid Café a place one can be waited on by adorable maids with snacks and drinks. Aimee Jones was the person over both the Maid Café and Live Ops and I was able to nab a few moments of her time between the two services.
KF: What does Youmacon mean to you?
AJ: Where people can come together and be themselves with people who may not be in their communities. It's like a place of freedom and celebration of Japanese media and inspirations. It's amazing the talent people come in with as well.
KF: What is the Maid Café?
AJ: The idea is a place where people who have fantasies of being rich and powerful can live out that fantasy by being waited on by cute maids. Our place is less to treat you as a master but a special and loved person. In that way it's the same as a Japanese maid cafe without the bad gender stereotypes that can be associated with it. Also ours is more cosplay based.
KF: When did you first join the Maid Café?
AJ: Third Youma 2007 along with the owner who was at the time a girlfriend of one of the con chairs and we were the first con to do it. Due to an incident I helped with I have found myself as the owner. As long as you can do what needs to be done and treat people right, things go well.
KF: When is the earliest you plan?
AJ: I will start next week for 2023 but the board has been working on it since a few months ago. It's best to get crew lists early to ensure availability. This is my other 40 hour a week job!
KF: How has the Maid Café changed over time?
AJ: The gender stereotypes have become more inclusive as opposed to how it is in Japan and the size has changed as well. We even sold out Saturday. It was originally just one day with 30 minute sections but they are now an hour!
KF: What is your favorite part?
AJ: To see the people and talk with them. To see my maids become these caring people who get to make others feel good and seen. It is about showing people that they are special.
KF: Can you share any interesting stories about the Maid Café?
AJ: We made our own treats the first couple of years and had bubble tea well before most of America; there was a whole complex process to prepare it as well. Billy West also came! [Billy West is a famous American voice actor whose credits include "Space Jam," "Futurama," "Ren and Stimpy," and "Catdog."]
KF: How do you choose the panels?
AJ: We are 100 percent fan run so you have to post what you would like. I post that the panels are open and we all read the submissions and see if they are more geared towards Japanese anime and if things are safe as well. Some are repeat hosts and 18+ panels are popular as well.
KF: Is there a limit on panels?
AJ: Yes, but each year is different as the submission and room changes. This year 190 were submitted and we ended up with about 185 so we actually don't deny that many.
KF: How has COVID affected Youmacon and the Maid Café?
AJ: Didn't have it [the Maid Café] last year due to concerns with masks. We have made it so less hands on things are being done and ensuring that people are wearing masks and or vaccinated. Less people submit panels early on as well though things have picked up this year compared to last.
KF: Are you in charge of anything else?
AJ: I am in charge of the teams who check badges at panels, IDs for the 18 and up panels as well as sitting in on the panels to make sure the panels go well as well as numbers. This helps us better judge who to and who to not allow to have panels along with advice.
KF: How many people do you usually need to do all of this for the live events?
AJ: I usually prefer a staff of about 50 people. This year I have 35 since it's a lower show though I could have used about 5 more bodies!
KF: How does one apply?
AJ: We have it onsite, so if you come, you can actually work. We also do referrals. If you work a certain amount of time, you get reimbursed for your badge purchase!
Youmacon 2023 plans are already in the works. For information, go to: youmacon.com.