Arab American National Museum Connects the Community Through Art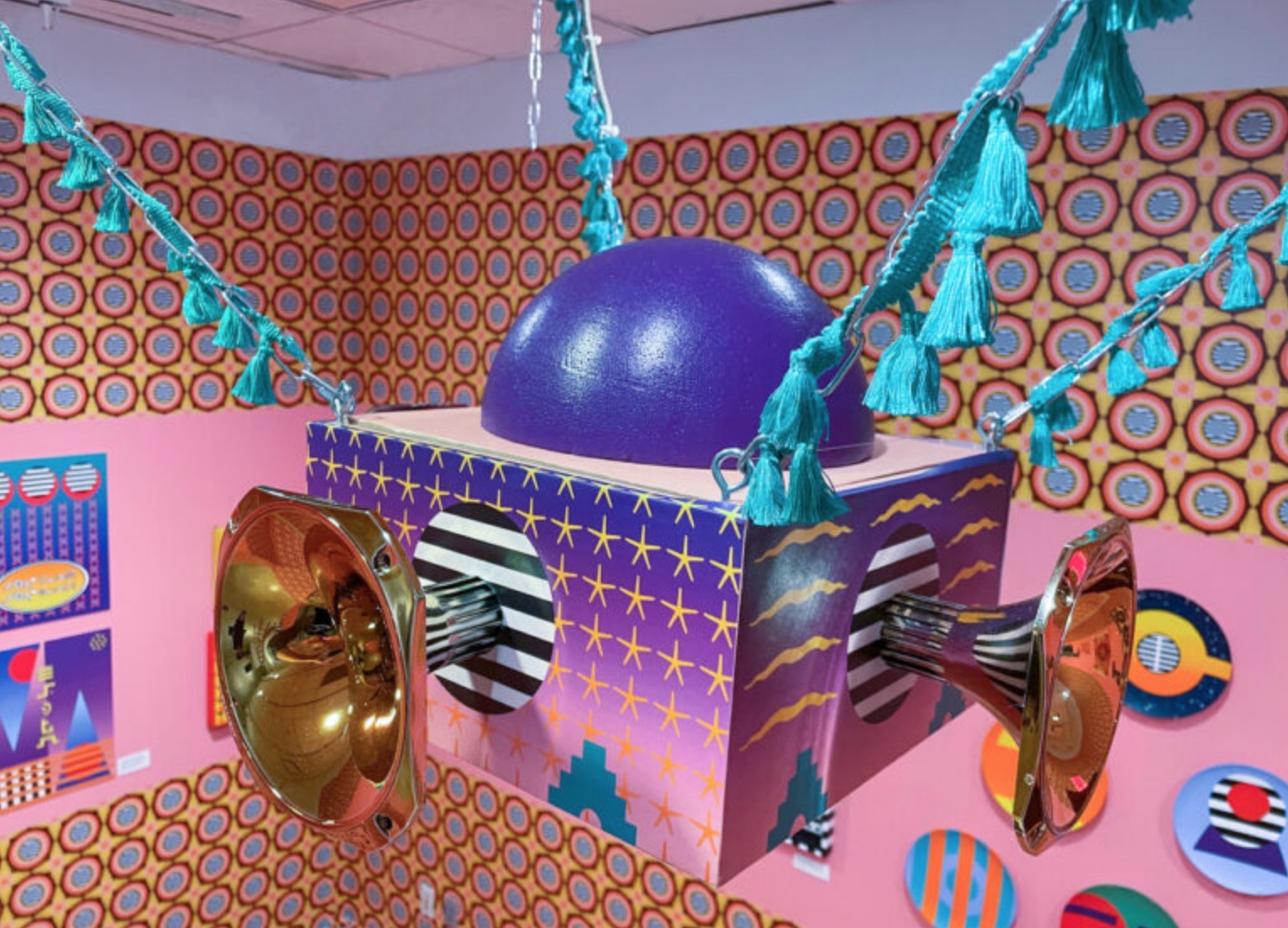 Close up of "Souvenirs from the Future" Elsayed and Demirjian. Photo courtesy AANM
The Arab American National Museum in Dearborn is hosting three new exhibits.
The first is "reCRAFTED Histories: An Installation" by Zahra Almajidi, presented until Dec. 31, located on the second floor of the atrium.
Zahra Almajidi is a metalsmith and artist who creates handmade items using conventional and cutting-edge methods. Almajidi elevates contemporary art to a new level by drawing inspiration from her parents' history. She recreates and constructs objects, giving them new meanings. Currently, she is the Assistant Technology Coordinator at Cranbrook Academy of Art and an adjunct professor at Wayne State University.
The next exhibit is "Cultivate & Grow An AANM Artists + Residents Retrospective," displayed until May 6, 2023. In order to promote both existing and up-and-coming Arab artists while promoting the program, AANM introduced the Artists + Residents initiative in 2016. Since then, they have been able to encourage artistic development, build connections between artists working in various fields, and promote community involvement. In addition to the artworks on display, the exhibition includes an installation by Dahlia Elsayed and Andrew Haik Demirjian called "Souvenirs of the Future." The exhibit offers a look at a collection of items from an unknown future that tells the story of Mustaqbaaahpolis (future-breath-city)—a city based on the exchange of information, beauty, and emotions in a society free of "chrononormativity" and invasive economy.
The exhibition called "al-Falaq" by Alia Ali will fascinate the eyes of many visitors until Dec. 31, 2024. It takes on the form of an octopus sculpture hanging under the AANM dome, with 81 digital screens along the "tentacles" displaying videos and pictures that embrace a variety of objects, ideas, and heritage. Ali's inspiration came from her childhood years living in and between seven different countries, amongst the 67 ones she had already traveled to in the past. She also grew up with five languages that gave her the ability to travel without worries.
Elizabeth Barrett-Sullivan is the curator of exhibits at the Arab American National Museum. Barrett-Sullivan started as an intern in the Curatorial Department in 2006 and worked her way to her current role in 2009.
According to Barrett-Sullivan, the Arab Community Center for Economic and Social Services (ACCESS) is a Social Services Organization that started in the south end of Dearborn in 1971, "looking at a holistic view of what the Arab American community needed to survive and thrive." ACCESS started with "the vital factors of the community, such as food and shelter, eventually branching out into a Cultural Arts Department from which the AANM stems," Barrett-Sullivan says. In the late 1990s, ACCESS leadership started looking into ways to form a national museum and connect with other Arab communities throughout the U.S. The Arab American National Museum officially opened on May 5, 2005.
Barrett-Sullivan explains that the impetus for the museum in the late 1990s was because "there was an emphasis on teaching others about Arabic culture and how wonderful it can be since it is, unfortunately, marginalized and misunderstood." Barrett-Sullivan went on to observe, "I think we have seen that part of society continue, so I believe it is important to have a museum dedicated to the Arab American story. There is still this misinformation out there because the community is changing all the time. We want to act as a place that is both a community space for the Arab American community and an educational space for everyone." The museum had to close on March 13 of 2020 due to the pandemic and reopened on Feb. 11 of this year. Barrett-Sullivan explains, "We still had to engage with our community and work with school groups to provide lessons and content in the classroom in a completely different environment. Everything moved digitally and we started offering virtual programs. It was rewarding to be able to do a lot of digital work because we reached a much wider audience, especially, in terms of location and number."
Barrett-Sullivan said that the "Cultivate and Grow" exhibit grew out of the museum's artists and residence program. The exhibit looks at the past two years of the museum's visual artists, performing artists, and writers from the residency program. Barrett-Sullivan explains, "The point of the exhibit is to show how they can be in conversation with each other through their work while being supported and provided with space, making Dearborn a central hub for these artists." To illustrate her pleasure in selecting art for the exhibit, Barrett-Sullivan said, "It was great to see how the pieces that we commissioned from an artist, Zahra Al Majid, similarly reflected the work that she was doing with her portraits; she also did a workshop reflecting not only on her own identity and work but also on the present such as the topic of COVID—dealing with society and how it has changed."
Barrett-Sullivan highlighted Yasmine Nasser Diaz, who was artist in residence in March of 2020. Diaz grew up in Chicago and now lives in California. Diaz studied graphic design and has been working steadily for a number of years, including solo shows and installations throughout the country. Diaz's work focuses on her own personal family history. According to Barrett-Sullivan, "The exhibit we did with her mostly focused on girlhood, 'coming of age' nostalgia for those younger days." With the museum being closed during much of the pandemic, improvements to buildings could be worked on and additional staff were hired. Barrett-Sullivan said, "We have more people in our programming department now because we are doing such great public programs, which require a lot of support. We have made construction changes to our lower level by adding a new sound system because it is vital to think about how our content is being delivered to the audience." In addition to the three new temporary exhibits, the museum has permanent, or what Barrett-Sullivan calls "our core exhibitions" called "Coming to America," "Living in America," and "Making an Impact," which have been part of the museum since it opened. "Since our opening, we have made little changes here and there like altering artifacts or adding stories. Overall we have not taken much out but were able to add ten more artists to our 'Coming to America' gallery. It has been difficult with the pandemic to deal with. We continue to try and make up for it by having programs that better reflect the newer communities," said Barrett-Sullivan.
Long term, the AANM has a strategic plan that goes five to ten years in the future. "Basically, it is a plan that does not necessarily give a specific roadmap of things that are set in stone. It is like a visioning board for the future for expanding our collections, archives, and national reach," said Barrett-Sullivan.
In addition to art and history, the museum has a long-standing Arts Academy program that teaches photography lessons for middle school and high school-age children. "We have many more during the summer that last a week or two long. But during the school year, it is like an after-school program activity. Last year, we got funding from General Motors to do writing fellows with high schoolers who wanted to be writers and learn more about the art of writing. The best part is that at the end of that program the final projects were all compiled into one book and published, which we now have and make available. The program is going to continue next year as well. Lastly, we do Arabic-English story time for young children and their families. Overall, we try to provide a range of programs for different age levels altogether," said Barrett-Sullivan.
The Arab American National Museum has become "an anchor on the Dearborn Community," said Barrett-Sullivan, "People know we influence the area and that we hope to become a community based space. A place relevant to them and maintaining that effect in our programs too."
Currently, the museum is open three days a week, Thursday through Saturday from 11 a.m. to 6 p.m., and on Saturdays, 12 p.m to 6 p.m. For more information on new and upcoming exhibitions, visit: arabamericanmuseum.org and @ArabAmericanNationalMuseum on Facebook, Instagram, and Twitter.