Woodworking Exhibit at the I.M. Weiss Gallery in Detroit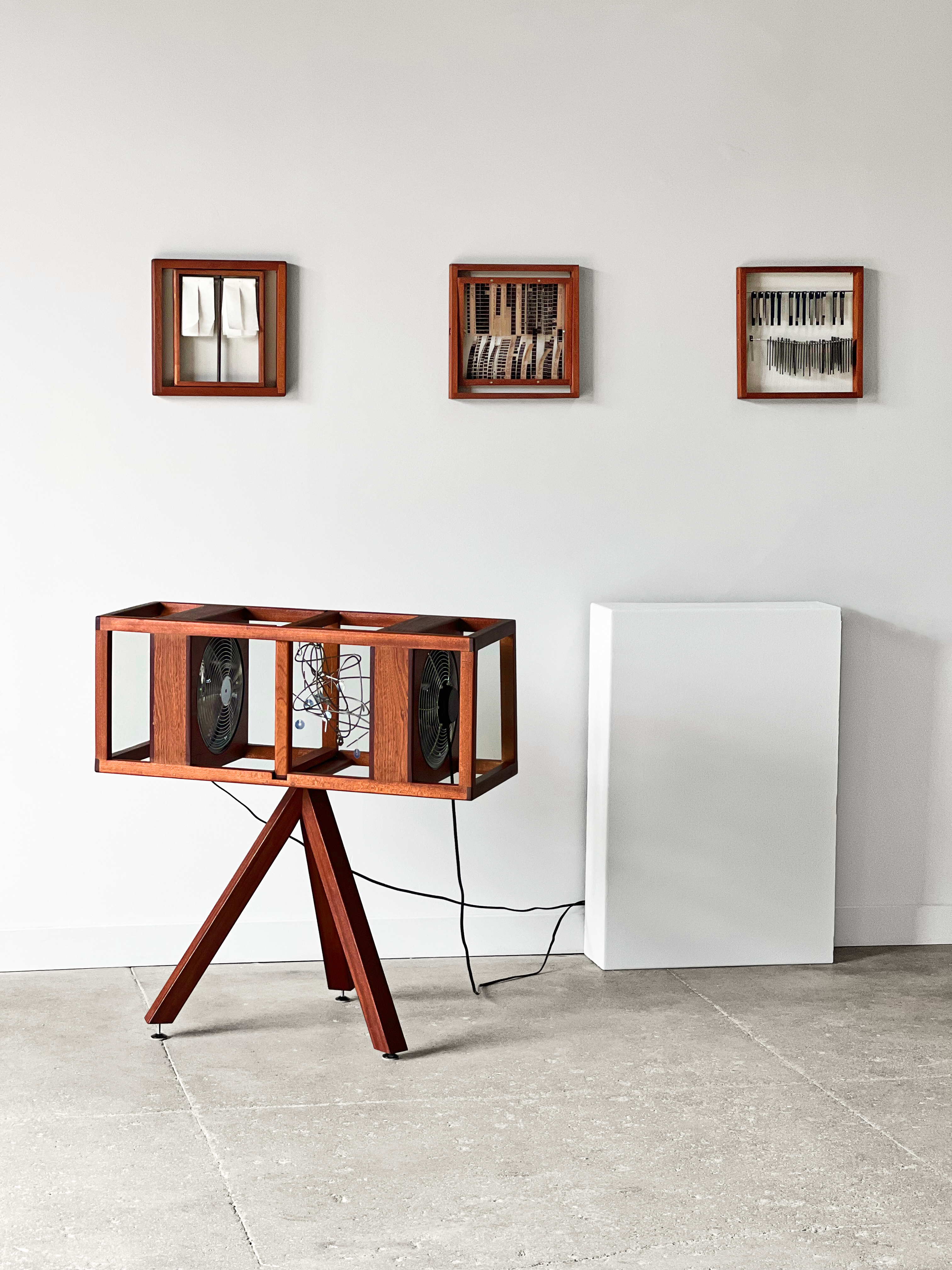 "White Noise Machine" by Breanne Johnson. Photo courtesy I.M. Weiss Gallery
Woodworking as a process and art form are on exhibit at the I.M. Weiss Gallery in Detroit. With "Perspectives in Contemporary Woodworking," Isabelle Weiss and her Business Manager, Kate Bickel, curated this exhibition for Detroit's "month of design," which was this past September. Weiss wanted to show the diversity within a single medium. She felt that a lot of people have certain perceptions about woodworking that might be limiting. "Perspectives in Contemporary Woodworking" is about "Focusing-in on the nuances of this quintessential craft discipline, the exhibition features artists adapting various modes of woodworking to create conceptually and aesthetically diverse objects."
Kate Bickel, the gallery manager, helped Weiss put this current exhibition together. Bickel graduated from the College of Creative Studies in 2022 with her degree in textile. This exhibition is the first to showcase textiles and furniture pieces.
There are four artists' work that is on display for this exhibition: Forrest Hudes, Breanne Johnson, Seth Keller, and Dawson Moore. All work on display is for sale. Forrest Hudes is a second generation Jewish-American woodworker, designer, and artist. He was "Driven by a passion for discovering contemporary forms for traditional objects that reinforce and encourage social progress." Hudes studied theater and performance art at Amherst College. He uses his experience in theater and performance art as inspiration for his pieces. He enjoys bringing out certain inequalities in the wood that are often overlooked like fluidity and softness.
Hudes's pieces in this exhibition are the Wormhole Bench, The Transfiguration, Oak Plate, and Oak Dish One, Two, and Three. The Wormhole Bench sits in front of The Transfiguration, which is a large abstract wooden wall sculpture. Hudes really wanted to create a work that would really show the fluid nature of wood. His process is layering and gluing planks of wood together by how the grains in the planks work with each other. He then hand sanded them with sandpaper by following the natural flow and softness of the wood. The Wormhole Bench and the Oak Dishes only use oak wood, and The Transfiguration uses different wood species. The Transfiguration is my favorite piece in this exhibition because the softness of the curves reminds me of a beach next to an ocean and it has a real calming effect.
Breanne Johnson is self-taught and lives and works in Detroit. She has a bachelor's degree from University of Chicago in Visual Art and Political Science. Johnson shares citizenship with the United States and the island country of Curaçao. In 2022, Johnson was the recipient of the Pophouse Design Fellowship. She is currently working on her MFA in the 3D Design Department at Cranbrook Academy of Art. As an artist and a designer, Johnson strongly identifies as someone who is a creative problem solver. Weiss notes that "Her design work focuses on phenomenological home items and furniture that examines our relationship to the social and physical spaces we inhabit."
Johnson's pieces in this exhibition are "White Noise Machine" and "Noise Screen One, Two, Three, Four, and Five." She explores conceptual, insulation, and environmental work. Her "White Noise Machine" is one of her conceptual pieces. It has a retro design, and it uses sapele wood. "Noise Screen One" uses machine parts. "Noise Screen Two" uses projection strips. "Noise Screen Three" uses random metal pieces. "Noise Screen Four" uses coffee filters. "Noise Screen Five" uses metal rods and thread. All material for the screens are found objects which makes the piece conceptual because you can't really tell what they are and where they came from. Each screen makes a different noise when placed into the white noise machine. For this piece, Weiss expresses that "It's an interesting play on our perception of materials and sound as a way of defining design objects and materials."
Seth Keller "is a Chicago-based designer, whose work explores the systems of manufacture, design and culture, and brings form to objects based on research, observation and intuition." He studied literature and fine art at UW-Madison and UNC-Asheville, and design at Parsons School of Design. He also has a Master's degree in 3D design from Cranbrook Academy of Art and is a faculty member there. Keller is also an Ann Arbor based wood worker. He lives on a Saw-mill property on the edge of Ann Arbor.
Keller's pieces in this exhibition are "Prima Side Table," "Frame Shelf" and "Room Divider." His design process is finding different aspects and quality of wood that has often been overlooked like the tenancy of strength in wood. He uses the saw-mill process to create his art pieces. "Frame Shelf" and "Room Divider" show the end process of a very smooth surface that hides the reality of the material. Weiss states that a lot of the time only the end process of woodworking is seen, the smooth shiny surfaces. Keller, on the other hand, shows all the markings of the saw-mill process and shows what is hidden underneath the smooth surfaces.
Dawson Moore lives and works on a 6th generation 88-acre tree farm in Harbor Springs, MI. Moore harvests his own lumber. He got into woodworking by making wooden spoons. He has taken a few classes but is mostly self-taught. Moore is the only self-taught wood worker in this exhibition without having a degree in art. According to the notes he provided to the gallery, Moore is inspired by "Educational Sloyd, a craft teaching system developed in Sweden in the 1870's, which emphasizes making projects grow in degree of difficulty over a period of time through the gradual introduction of complexity of shape, procedures and tools." He only utilizes hand tools and hand-carves when creating his pieces. He uses kilns to dry his wood so that they shrink to bond the pieces together. He does not use glue or nails. Moore uses Windsor woodworking techniques that are over 100 years old.
Moore's pieces in this exhibition are "Low-back Post and Rung Rocker," "Comb-back Stick Chair," and "Object Evolution." "Object Evolution" represents the seven phases of how to create a wooden spoon. It not only shows how to create a spoon, but it also shows how any object is made from a log to a finished object. Weiss expresses that "there is something beautiful about a simple spoon." Learning how a seemingly simple wooden spoon goes through such an artisitc procss to be created is beautiful.
On September 23, Dawson Moore hosted an in-gallery studio session on spoon making. Patrons watched Moore carve a wooden spoon from a block of wood. Kate stated that Dawson made his first chair two years ago. The woodworking exhibit ended on Oct. 22 with a gallery talk with all four featured artists.
I.M. Weiss Gallery, originally called Next: Space was founded in 2014 by Isabelle Weiss. The gallery was originally located in Ferndale, but Weiss needed a bigger space and found a bigger building in Detroit. Weiss studied Art History in college and is also an accredited appraiser and contemporary fine/decorative arts specialist.
Weiss is from Michigan and knows the history of furniture and objects design. In 2013 she realized that there are no galleries that focused on furniture and objects design. Weiss decided to create a gallery that focused on furniture and objects. Artists now have a place outside of academic settings to show off their work. She is helping them build their portfolios and relationships with other artists that are like them. Her favorite part of her job is helping artists make connections with one another who might not have ever had the chance to meet each other. Her mission is "to nurture a new generation of our region's iconic craft and design legacy." I.M. Weiss gallery is located on 2857 East Grand Boulevard #104 Detroit, MI 48202. For upcoming shows see the gallery website: imweiss.gallery.