Whitmer Versus Dixon: Michigan To Decide On Reproductive Rights In Upcoming Election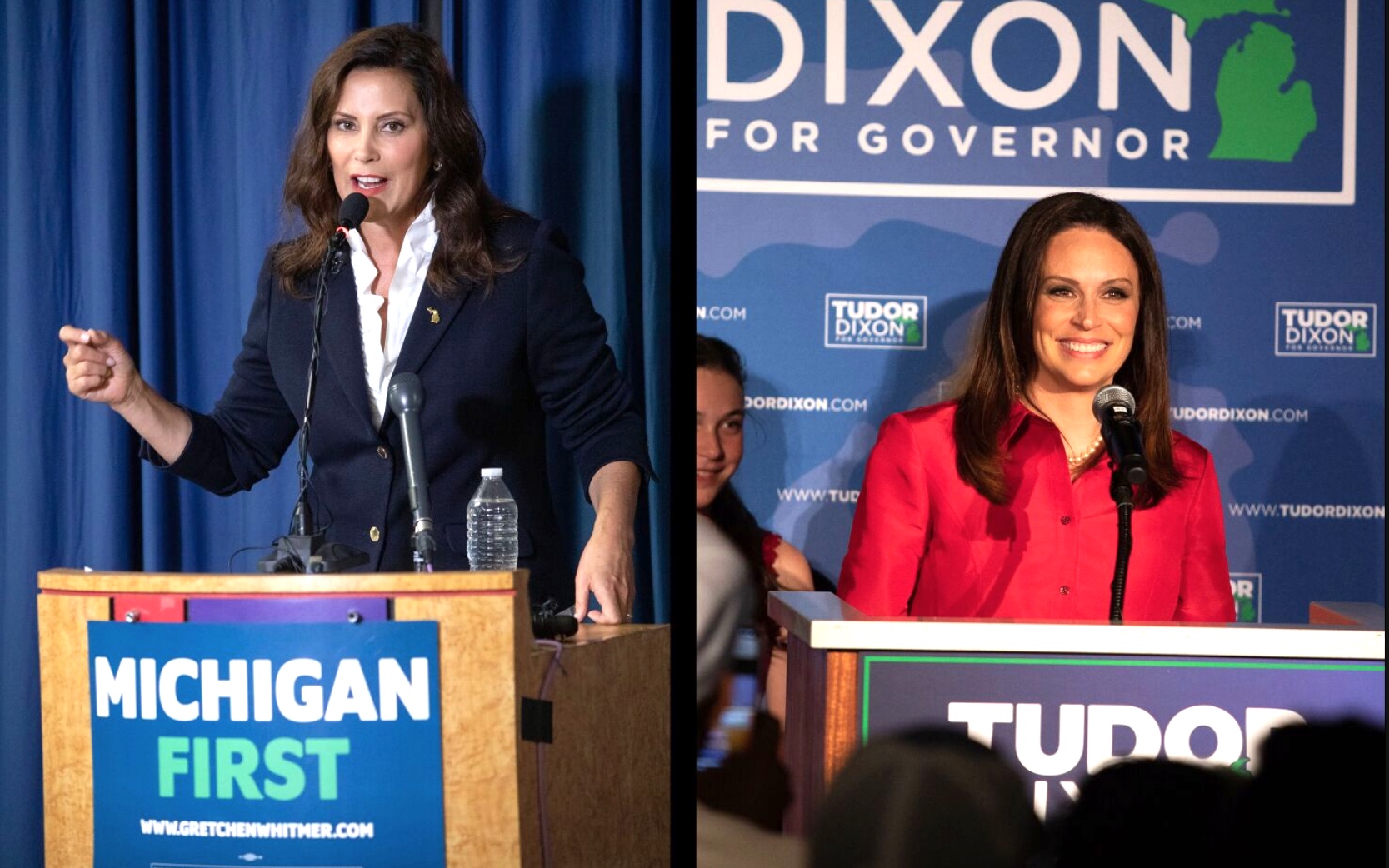 Gretchen Whitmer (D) vs Tudor Dixon (R) for Governor courtesy_Chalkbeat
Michiganders were asked in a survey this past September what was motivating their voting for the upcoming election between a variety of factors like inflation and the cost of living, jobs and the economy, threats to our democracy, crime and violence, or education, among others. The largest portion (34.4 percent) responded abortion and women's rights. This is not surprising given the Supreme Court's recent unpopular overturning of Roe v Wade which had previously protected abortion as a constitutional right for the past 50 years. Public polling organization, Pew Research Center, found in July of 2022 that 62 percent of Americans nationwide say abortion should be legal in all or most cases.
Now in the post Roe America, whether a woman will be legally allowed or have availability to certain aspects of women's health is placed firmly in the hands of their state government. The Michigan survey showed 43.5 percent of female respondents, 24.6 percent of male respondents, and 58 percent of those who identify as "strong Democratic" cared more about this issue than any other, arguably constituting the main motivating issue overall.
Michigan's statewide general election will be held on Tuesday, Nov. 8. Polls are open from 7 a.m. – 8 p.m. Michigan candidates for Governor include incumbent Gretchen Whitmer (D) and her challenger, Tudor Dixon (R). Records show that Whitmer – affectionately referred to as "Big Gretch" – secured nearly 1 million votes in Michigan's August 2022 primary election compared to Dixon's almost 250,000 of approximately 650,000 Republican votes cast between all available candidates. For the first time in history, Michigan's next Governor is guaranteed to be a woman regardless of who wins the general election. This is poetic considering reproductive rights will also be on the ballot.
Regarding the highly visible abortion issue, Whitmer is pro-choice with a quote on her website reading: "I will fight like hell to protect every Michiganders' right to make decisions about their own body with the advice of a medical professional they trust." Whitmer is currently fighting to revoke a nearly 100-year-old state law on the books, which may or may not have taken precedent after the Supreme Court's recent Roe v Wade decision, effectively prohibiting abortion in Michigan. As of August 2022, an Oakland County Circuit Judge has issued a "preliminary injunction" against the law, temporarily pausing it.
Whitmer commented, "While today is welcome news, my team and I will remain vigilant in protecting reproductive freedom. The sad reality is that a number of leaders in the state are actively looking for ways to make sure Michigan's draconian 1931 law, which bans abortion for all women, doesn't include exceptions for rape or incest, and criminalizes nurses and doctors who offer reproductive care, is the law of the land. I am proud of my team today, but our work continues." Endorsed by former President Donald Trump, Tudor Dixon's campaign website states she is a "strong pro-life leader who possesses the ability to lead Michigan towards being a life-affirming state." Dixon has shown she supports forced birth laws except when to preserve the life of the mother. In an interview with Detroit journalist, Charlie LeDuff, Dixon is asked to clarify if other exceptions may apply, "The question would be like, a 14-year-old who let's say, is a victim of abuse by an uncle. You're saying [she should have to] carry that [pregnancy to term]?" She pivots and doesn't answer directly. LeDuff presses her restating the question, "Yes, or no?" Dixon replies, "A life is a life for me. That's how it is."
While Dixon is making voters infer the specifics of her position on this pressing matter, Whitmer is taking things a step further in the other direction. In July of 2022 Whitmer signed an executive order stating a refusal to "extradite women [and] providers who come to Michigan seeking reproductive freedom," suggesting the state could serve as a safe haven of women's health for Americans seeking refuge from states where abortion is illegal.
Making this hypothetical scenario more salient is the recently publicized example of a 10-year-old Ohio rape victim who had to travel to Indiana to receive an abortion at only six weeks of pregnancy due to Ohio law defining it illegal to perform an abortion if there is a "detectable fetal heartbeat."
One of Dixon's obstacles in defeating Whitmer is that Dixon doesn't have nearly the cash flow of Whitmer. A comparison of the two candidate's official financial records show Whitmer has raised about as much during the month of August as Dixon has raised throughout the course of her entire campaign, at 2.5 million dollars that is a fundraising ratio of 28-1. This is bad news for Dixon, a former steel industry executive, because she will need to spend ample resources on costly advertisements to improve her poor name recognition.
Polling from September has shown that about 20 percent of Michiganders said they have "no opinion" on Dixon and another 20 percent have "never heard of her." Meanwhile, a majority have heard of Whitmer, also known as "that woman from Michigan," if for nothing else than the October 2020 FBI arrest of more than a dozen domestic terrorists for orchestrating a plot to kidnap Whitmer involving the use of "weapons of mass destruction" with aims to "instigate a civil war."
Polling analytics website, FiveThirtyEight, provides a running tally of different publicly available political polls attempting to account for "each poll's quality, recency, sample size and partisan lean." The standings as of this October show Whitmer with a 12-point lead with 51 percent of public support to Dixon's 40 percent. Register to vote and sign up to receive absentee ballots for all future elections at www.michigan.gov.