Parents Demand Book Ban at Dearborn Public School Board Meeting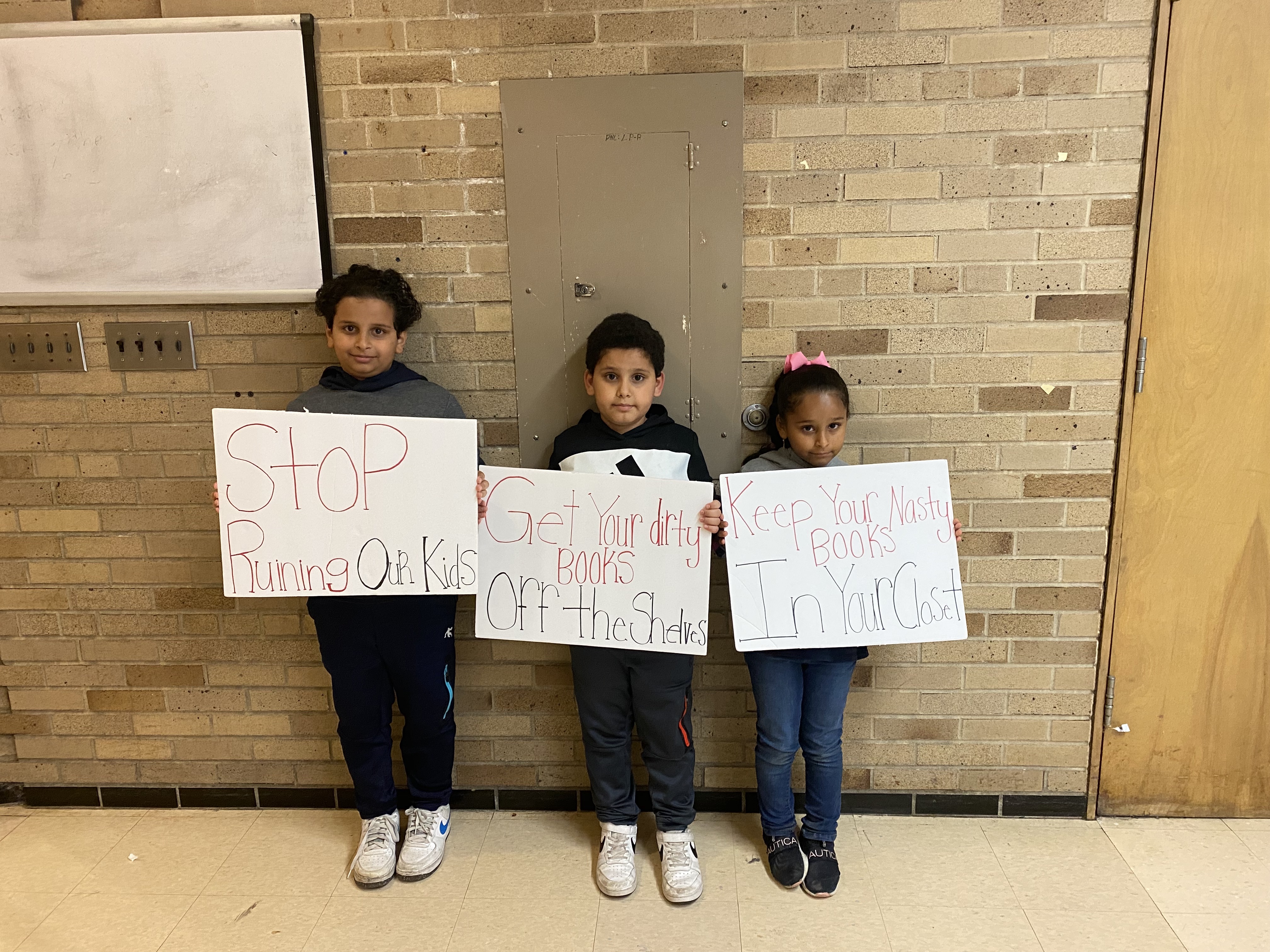 Children holding signs on Oct. 14, 2022 Stout Middle School Dearborn, MI photo by Aliyah Mansour
On Oct. 13, hundreds of parents and concerned citizens gathered at a Dearborn Public Schools board meeting to advocate for or protest against the banning of books, including some with LGBTQ+ themes.
Although not all of the books share the theme of LGBTQ+, the books containing the LGBTQ+ theme are what have sparked a large majority of outrage within the community. Several DPS parents claim that the books are too sexually explicit for children.
In September, DPS parent, Stephanie Butler issued complaints to Dearborn Public Schools officials and Dearborn police about her concerns regarding the books that children in Dearborn Public Schools are allowed access to via school libraries and through the e-book app Sora. Her concern specifically centered around the book "This Book is Gay" by Juno Dawson which she claimed contains sexually explicit content intended to harm young children. Butler announced her concerns via social media which caught the attention of many Dearborn citizens and sparked protests.
Dearborn Public Schools have temporarily restricted access to six books while they are being reviewed by school officials. The books are: "Push" by Sapphire,"The Lovely Bones" by Alice Sebold, "Eleanor and Park" by Rainbow Rowell, "Red, White and Royal Blue" by Casey McQuiston, "All Boys Aren't Blue" by George M. Johnson; and "This Book is Gay" by Juno Dawson.
In a press release, Dearborn Public Schools states that Dearborn parents do have the option to request that their child not be exposed to certain material following the "Parent Opt-Out for Media Materials" form.
Dearborn Public Schools' K-12 Curriculum Consultant, Dr. Ross Groover explains parents have the right to request the reviewing of a library book they consider inappropriate. The process consists of communication between parents and principals regarding the concern of the book. This results in a physical examination of the book as well as a thorough review done by the school's media specialist. If books are considered safe after review, they are to be put back on the shelves. Parents are able to request a second review if dissatisfied with the first.
Dearborn resident, Mohamed Ali doesn't feel that his rights as a parent are being respected as he believes that the school district is making the parental choices for the children. Ali states that the Dearborn community is not willing to accept keeping these books on the shelves and he won't stand for them, even if he has to remove his four children from the Dearborn Public Schools district. Ali explains that gay representation in today's media and now in school libraries is pushing children toward the acceptance and normalization of the LGBTQ community.
Tina Descovich, the co-founder of Moms For Liberty, states that her biggest concern was that "parents were not involved in education." Descovich was thrilled to see so many protesters in support of the book ban, "one of the reasons we launched Moms for Liberty was to get parents engaged." When asked about citizens' next step if the book ban is rejected by the Dearborn Public Schools board, Descovich states "the next step should be to work to get the school board members replaced if they don't listen to these parents tonight." Moms for Liberty is a nonprofit group that organizes to "help unify, educate, and empower parents to defend their parental rights at all levels of government." According to Media Matters, Moms for Liberty has nearly 200 local chapters and has supported recent book ban campaigns in Florida, Texas, Indiana and California.
Jojo Gremel, a 19 year old DPS alumnus spoke to the Dearborn Public Schools board on behalf of the LGBTQ+ community stating, "I refuse to let other children be traumatized in the same way I was. I need to fight for the queer and transgender kids because I was one of them and I didn't have anyone in the system fighting for me." Gremel went on to say, "If you take these books out of schools where children are sent to learn, you are aiding and endangering LGBTQ youth's lives." Gremel said, "It's as simple as not buying mustard if you don't like it. If you don't want to read it, don't check it out." Gremel argued, "These books written by queer and transgender authors for queer and transgender kids are the most reliable and safe options." After being cut off by the three minute timer, Gremel was booed by many in the audience.
On Sept. 26, in front of the Dearborn Henry Ford Centennial Library, a free speech rally was held, consisting of Dearborn citizens, parents, and teachers who are in opposition to the book ban. Organizers of the free speech rally wrote in a statement to the Dearborn board of education, "History has proven that book bans are never about banning books; they are about banning ideas and people." The prepared statement added, "We are here to say that we understand exactly what this fight really centers on: The rights of LGBTQ and minority students who daily have their very humanity and right to exist questioned inside Dearborn Public Schools."
Dearborn Mayor, Abdullah Hammoud stated in a recent Tweet, "Our libraries serve as a gateway to knowledge, to imagination, and to possibility. When it comes to our city's libraries, for the sake of our children, no book will be removed off the shelves." Following his Tweet, Mayor Hammoud received support and criticism. One Twitter user by the name of @MiRighttoRead commented in support of Mayor Hammoud's Tweet stating, "We commend your leadership Mayor Hammoud! Thank you for standing strong against censorship!" Meanwhile, another Twitter user by the name of @Mounir_marine commented, "You did not look at these books, they contain destructive materials for the child, he will not be able to continue education and will deviate."
Trustee Mary Petlichkoff, member of the Dearborn Public Schools Board of Education says, "Dearborn has prided itself on defending our minority communities over the years, but those minorities are not just reflected by race, ethnicity, or religious beliefs. Dearborn has been held up as an example of how community relationships can be built despite our differences and yet today we see a growing fear of divide and conquer." Petlichkoff adds, "We must share in the responsibility of valuing all of our community members and the argument appears to no longer be just about books." Petlichkoff says,"We do understand what's appropriate and inappropriate, but we have a responsibility to represent the entire community which is made up of a variety of community members who need to be reflected as well."
The next Dearborn Public Schools board meeting is scheduled for 7 p.m. Nov. 14, at Ten Eyck Administration building at 18700 Audette St. Dearborn, MI. Live-streams of the Dearborn Public Schools board meetings are available on the Dearborn Schools YouTube channel: https://www.youtube.com/user/dpscommdept